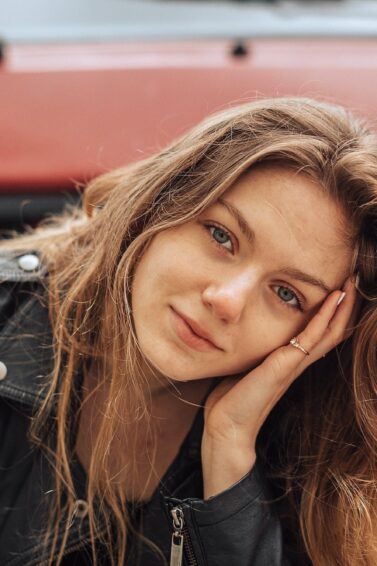 23 Ways to Wear Cinnamon Hair Color
We can't get enough of this spicy winter shade of hair color.
If you're anything like us, the annual itch to change up your hair color or length is almost due. There's something about the colder months that inspires a change of pace. Whether it's taking the plunge and getting a thick fringe, opting for some face-framing highlights, or simply cutting all your hair off, there's something for everyone! Lucky for you, one of the hottest hair colors of the season has already debuted: cinnamon hair color. This spicy and cool hue of dark red is anything but subtle but its depth and dimension make it something out of the ordinary.
23 Ways to Wear Cinnamon Hair Color
One of the great things about this color is that it's inherently unique and easy to customize even further. Lighter and brighter hues will brighten up your face and can serve as a breath of fresh air in the winter gloom. If you're a classic New Yorker and a frequent all-black-outfit-wearer, sometimes it's nice to be able to depend on your hair to make a statement. This bright hue of cinnamon hair color does just that.
It's important to note that upkeep is key for a shade like this. We suggest grabbing TRESemmé Keratin Smooth Color Shampoo and Conditioner. Think of this duo as insurance for your fresh color. It promises to keep your cinnamon hue bright and bold long after you leave the salon.
1. Darker Hues
As we mentioned above, cinnamon hair color is not a one-size-fits-all hair color trend. It can be uniquely tailored to your preferences! As always, the key to achieving your vision is to talk to your stylists with photos. Bring in an inspiration photo of the color you want to achieve and that way you will know you two are speaking the same language.
This is another example of another way to wear the cinnamon hair color trend. This darker hue pairs beautifully with long natural curls. This deep cinnamon color is perhaps a more classic winter-friendly shade and a gorgeous way to get in on the trend.
If you're looking for the perfect color refresh, just keep scrolling to check out how people are wearing the color, ahead.
2. Classic Cinnamon Hair
For those of you wondering what a true cinnamon hair color looks like, just take a peek at this impressive shade! Cinnamon hair has spicy, copper tones while still maintaining a warm brunette base. You can go down the subtle route with this cinnamon wash, or go full-on with a vibrant red hue.
3. Cinnamon Blonde Hair
This beauty's cinnamon blonde hair is giving us serious hair envy. This bright blonde-red combination delivers the perfect cinnamon hue that adds an instant glow to your complexion.
4. Cinnamon Balayage
Trust us, this cinnamon balayage is sure to have a maximum impact wherever you go — especially if you team it with a bouncy blow out hairstyle. If you haven't quite mastered the classic blowout yet, you can also use a large curling iron to curl just the ends under.
6. Cinnamon Brown Hair
Yes, cocoa cinnamon hair color does exist! It requires an ultra-dark base color, which is then brightened up with burnt cinnamon highlights. This is a great way to dip your toes into this trend without committing to a full head of this color.
7. Dark Cinnamon Curls
The best part? No matter what your hair length, you can still get in on the mane benefits of this tasty trend. Just look at how this beauty ups her color game by adding in striking cocoa-cinnamon highlights into her stylish, curly bob.
8. Toasted Cinnamon Hair
Keep your chestnut brown strands looking the part for formal events or work alike, with this classy, toasted cinnamon ombre dye job. The subtle transition from darker to lighter cinnamon hues keeps this style soft and understated.
9. Cinnamon and Pumpkin Tones
This dreamy combo mixes together cinnamon and pumpkin tones throughout the lengths, for a dazzling color that screams autumn. Ideal for the fall months, this color will last you long into the winter and beyond too!
10. Cinnamon Red Hair
You'll definitely want to give this fiery cinnamon hair color a try if bold hair looks are your kind of thing. Keeping your roots darker will give your mane that '90s grunge girl vibe everyone is talking about.
11. Cinnamon Curls
This pretty cinnamon shade is the perfect color to rock if you're looking for a hue that'll help make your curl pattern pop. Give your cinnamon curls the attention they deserve with the TRESemmé Keratin Smooth Shine Serum. This serum is formulated with keratin and Marula oil from Africa and is designed to help provide frizz control, softness and leave your mane looking on-point.
14. Cinnamon Rose Hair
If you live for all things rose gold, this romantic, tousled 'do is all you need to look at to convince you to try cinnamon rose hair color. This pink-ish hue is a sweeter and softer alternative to a more classic cinnamon hair color.
15. Cinnamon Braids
Adore braids as much as we do? You'll love showing off your new cinnamon hair color with braided hairstyles, like this chic half-up, half-down braid. We just love how fresh highlights pop when braided!
16. Gold Cinnamon Hair
Featuring a dark brown base and playful golden cinnamon tints, this low-key shade is guaranteed to take your everyday style to eye-catching heights. Opting to showcase your brand new cinnamon hair color in an ombré style like this one is the best way to get in on two trends at once.
17. Dark Cinnamon Hair
Combine the right shades of dark chocolate and cocoa-cinnamon to create a deep hue that's all kinds of sexy. While many women are drawn to lighter strands when trying to create an impactful style, we're firm believers that darker shades can make just as big of a splash!
18. Sleek Cinnamon Hair
Want to make an impact with your cinnamon color choice? Then you'll want to take note of this sleek and shimmery cinnamon shade, which seamlessly melts from one hue to the next.
19. Bronde Cinnamon Hair
Residing at the lighter end of the cinnamon hair color spectrum, this sun-kissed bronde is a great way to boost your mane's lightness. With a combination of light blonde highlights and a host of brown hues peppered throughout, this hue is bound to make you shine bright.
20. Cherry Cinnamon
A deep cocoa cinnamon hair color that incorporates subtle cherry tones is sure to inject some fun into your strands. Plus, it's ideal for those who prefer sticking to darker shades.
21. Cinnamon Red Melt
For those with darker hair wanting to add some Insta-worthy dimension (like this), consider getting a mix of highlights to enhance your natural hue. We can't get enough of this multi-dimensional color!
22. All-Over Cinnamon Hair
An all-over cinnamon hair color is actually a great option for those with bangs. And, this pretty mane is a serious case in point. Use a curling iron to recreate these soft waves and show off your fresh cinnamon hair color!
Looking for more hair color inspiration? Be sure to check us out over @AllThingsHairUS!
Prev Article
Next Article
All Things Hair on Instagram