10 Insider Tips We Learned Backstage at NYFW
In terms of "Instagram" versus "reality," the scene backstage at New York Fashion Week is just as it appears on the 'gram. Chaotic, exciting, bustling, and magical; each season brings a new wave of innovation and collaboration. With lead stylists and designers teaming up to execute their vision to Fashion Week perfection, it's a hub for inspiration and the promise that big dreams do come true. Each artist in the room has climbed the ranks for their seat at the table backstage, and the borderline disbelief and extreme pride are palpable. After all, it is New York Fashion Week.
"The most attractive quality about covering NYFW for the past four years is that electrifying magnetism of professional hairstylists, models and designers coming together to make runway magic for a few minutes," Milena Prinzi, Editor-in-Chief of All Things Hair says. "But leaving an impression that will last for a whole season. The rush and adrenaline of being backstage is incredibly addictive.
10 Tips from Backstage at NYFW
This year, we are sharing 10 insider tips we learned backstage. From hair tips to lessons on patience in the face of extreme chaos, here are 10 lessons learned this season:
1. Don't go anywhere without a rattail comb.
Whether you are creating ultra-precise parts in your hair or smoothing down loose strands of hair, a rattail comb is an essential part of any hair stylist's kit. The point on one end allows you to separate sections of hair, while the comb doubles as a detangler and frizz-fighter. A rattail comb is to a hairstylist what a knife is to a chef. Essential.
2. A makeup brush will help fight flyaways.
In the crossover moment we never saw coming, a makeup brush took center stage in the hair department backstage this season. Lacy Redway is pictured above misting a makeup brush with hairspray while creating the lustrous glass tresses  for LaQuan Smith. This powerful hairspray can singlehandedly fight frizz, and with the addition of the attention to detail the tiny hairs on a makeup brush offer, it's unstoppable.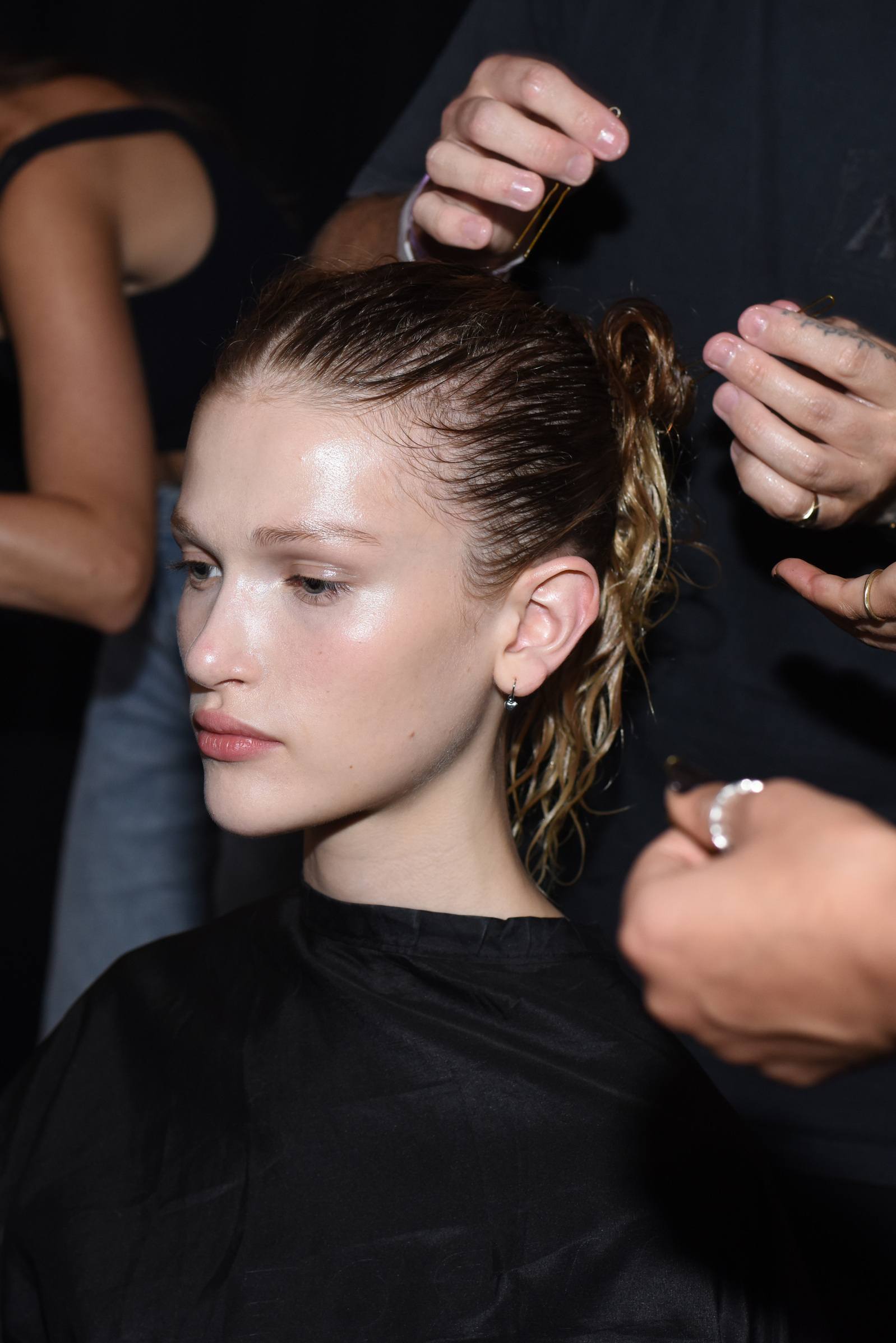 3. Effortless-looking styles do require effort.
The downtown bun created by Guido Palau for KHAITE is proof that effortless-looking styles actually require quite a bit of effort. Every look you see on the runway is the brainchild of hours spent compiling inspiration and steeped in collaboration. It takes an army to send models down the runway looking perfectly imperfect, with not a hair out of place.
4. Your kit isn't complete without a spray bottle.
Anyone paying attention to NYFW news knows that wet hair is making a comeback this season. While a long-lasting wet hair look is created using a careful cocktail of hair products, the value of a simple spray bottle of water cannot be overlooked. Prepare to create a red carpet-ready look and make sure you have a spray bottle of water on hand.
5. Runway hairstyles are all about collaboration.
Lacy Redway and Christian Siriano go way back to the start of Siriano's career in fashion. Redway reminisced about their start together when talking to press backstage at NYFW this season, and stressed how excited she was to be working together with the designer again. While not all professional relationships have been around as long as theirs, this level of creative integration requires a high level of collaboration.
6. Precision takes time.
You might think that the experts have reached a borderline magical level of efficiency when it comes to styling. And while their styling techniques do mostly seem second nature by now, there is a level of precision and perfectionism that just takes time. Lacy Redway coached the other stylists backstage as she demoed the satin strands style backstage at Siriano and reminded them to go slow.
7. Layering texture will create a high-end style.
This season's looks are proof that layers of texture are the key to creating a high-end runway-worthy style. Whether it's wet hair wrapped up in a knot, silky strands punctuated by satin ribbons, or finger waves gelled into place, each look featured layers of different textures and elements that work together to create a dimensional style.
8. Mousse isn't only for curly hair.
If there is one thing we learn anew each season backstage at NYFW, it's that mousse isn't only for curly hair. Stylists frequently use mousse products on more than just curls. They use mousse to create volume at the roots of a style, reduce frizz, and simply as a base for just about any style.
9. Don't be afraid to ask for help.
Teamwork makes the dream work, both in real life and backstage at NYFW. When instructing the hairstylists to create center parts so sharp they will "give you a paper cut," Lacy Redway recommended they turn to their fellow stylists for help. Sometimes you need a second set of eyes on your work to achieve hair perfection.
10. Patience is a virtue.
All that being said, what strikes us most when spending time backstage is how focused, calm and patient the stylists remain in the face of intense chaos and stress. Whether they are creating an intricate hairstyle or navigating a bustling scene backstage at NYFW, patience is always a virtue.
Make sure to follow us @AllThingsHairUS to catch all future NYFW coverage!
Prev Article
Next Article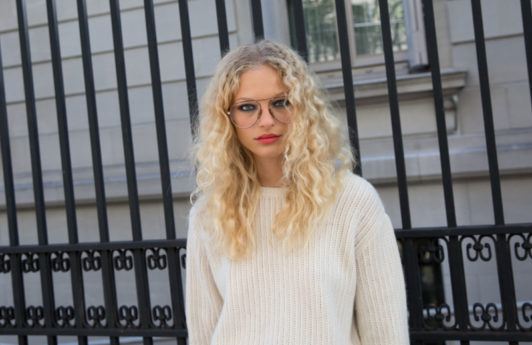 Gallery
How to Gracefully Transition Blonde Hair Into Fall: A Street Style Guide
Toe the line with some forgiving roots.
See article
All Things Hair on Instagram