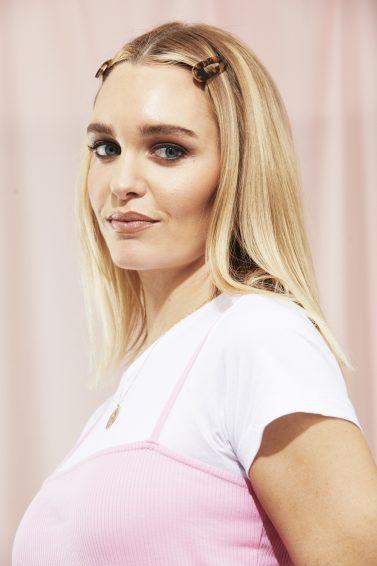 Try the Foxy Eyes Trend for an Instant Eye-Lift
This little hack will give you a subtle facelift.
Just before the world got turned upside and everyone began practicing social distancing, we were seeing a new eye trend on the runways and created by influencers. The foxy eye trend is the use of some simple tricks to create a fake eye-lift. After all this time laying low, it can be fun to play around with hairstyles and makeup to try and create a new look for yourself. We've seen how to snatch a ponytail to give yourself an instant facelift, but what if you don't want a full updo to look on point? With these tricks, you can keep your hair down. One of the easiest ways to achieve this trend is through a sneaky hair hack that no one will suspect. We'll teach you three techniques you can try to master the foxy eyes trend!
How to Achieve the Foxy Eyes Trend
1. Section off the top half of your hair.
First, prep your hair with some dry shampoo to create a little volume, we recommend Dove Between Washes Clarifying Dry Shampoo. Now, it's time to get started. To find where exactly you should start gathering, create an imaginary line just above your eye line, create the section from there up. This can be messy, you'll be taking it down anyway to complete the style.
2. Gather two small sections on either side of your hair.
Use a small elastic or bobby pins to bring these sections together. This is how to create the eye-lift for the foxy eyes trend. When you pull back your hair and tie it off make sure it's slightly lifted and taught, to keep that illusion of higher set eyes. You don't want to make it too tight, but tight enough so that it won't become loose throughout the day.
3. Release the top section.
Once you're done creating the foxy eyes, release the top section of hair to cover up your work. Once you've hidden this section of hair you can continue styling! Whether your curl, straighten or create a low updo, this foxy eyes trick should stay in place. Finish any look with some hold and added texture with a spritz of TRESEemmé Total Volume Hair Spray.
Others Tricks to Achieve the Foxy Eyes Trend
These tricks are makeup oriented but help further achieve the illusion of lifted eyes and a more awake look.
1. Fill in your brows at a higher angle.
When filling in your eyebrows, try to make them straighter, instead of fulling filling in the arch. Some women are shaving the tail ends of their brows to achieve this style, but if that's too drastic you can cover the ends with some concealer or use some soap to brush up your hair to avoid creating an intense arch.
2. Do your eye makeup to create a lifted look.
If you want to do a full eye look to create the foxy eyes trend, you can use some eye shadows to further the illusion. When applying eyeshadow, make sure you stop right by the corner of your eye, if you drag it out further it will create a droopier appearance. You can also bring your darker outer corner color a little closer to your eyebrow to help create the lifted appearance.
Prev Article
Next Article
All Things Hair on Instagram