3 Sassy Head Scarf Looks for the Weekend
Indian summer, what is up? This gorgeous pocket of warmth we've been enjoying lately means, for one, that we can squeeze in a few more transitional touches before we bundle up for the rest of the year (sandals in October—who knew?). Details such as colorful, robust prints and head scarf looks are both spirited and practical ways to inject the mood of the season into our everyday style. Lower humidity also makes these looks easier to maintain and frizz a thing of seasons past, so the odds are ever in our favor—at least for a few more days or so.
Below, we list three super-cute ways to wear a head scarf looks to sass up the rest of your weekly wardrobes. Try these looks quickly, before it gets super chilly again!
3 Hot Head Scarf Looks for the Week/Weekend
1. Retro Hairband
A head scarf looks whimsical when fashioned in a vintage-inspired style. In this case, using it as a headband on the base of an easy beehive gives it a cute, mod appeal. This technique is also pretty simple: Either fold your bandana lengthwise across your crown and knot it at your nape, or do it in reverse and loop it once at the front (as shown) and tuck the remaining ends in the back folds.
2. Hippie Headband
Wrapping a head scarf around your head à la urban hippie was big during festival season, but can definitely extend towards the latter months too. A moodier ethnic print gives your scarf a warmer, earthier feel, and when looped lower on the head, has a double purpose: It elevates your look with a savvy, on-trend vibe, while also keeping your ears warm and that shock of thick, wavy hair free to wisp around as it pleases.
3. Top Knot
What's better than one knot? Two, of course! Head scarf looks that center around a top knot give an instant shot of style into an otherwise regular hairdo. Ladies that want to look a bit more polished (and sans baby hair) at the gym or while running errands can try this technique too, as this look helps you go around your business while still looking stylish and like you made an effort. To achieve this look, tie your scarf or bandana into a triangle and wrap it around the base of your head before knotting it in the middle. Anticipating a hot, heavy, super sweaty workout? Fold it into a skinnier strip instead to keep your neck fabric-free.
Looking for more ways to spiff up your hair this season? Check out our lists of the hottest fall trend roundups.
Prev Article
Next Article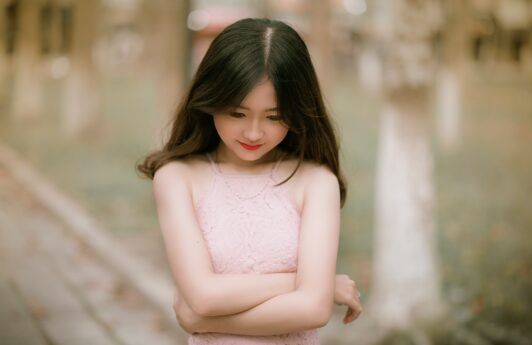 Article
The Secret to Creating the Perfect Middle Part Is Easier Than You Think
Say goodbye to volume and hello to your new perfectly sleek style.
See article
All Things Hair on Instagram