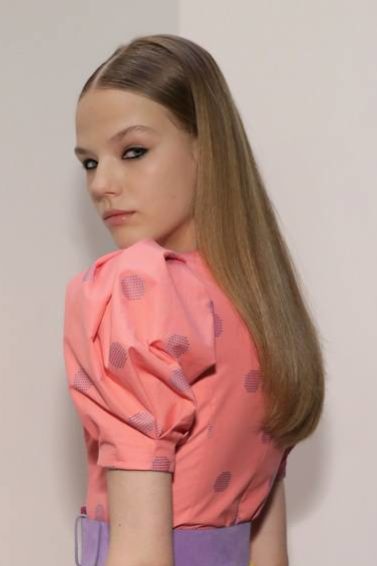 Get the 'Sleek Is Chic' Look from Carolina Herrera NYFW SS '18
This look won't ever go out of style. 
Messy and effortless hairstyles have been dominating the beauty scene lately, making many of us wonder whether or not neat looks are even still a thing. Every trend has its run, but if you're still wearing hairstyles without a touch of frizz in sight, you're ahead of the game. Neat hairstyles are still chic and we've got the proof.
According to the hairstyles created for the Carolina Herrera New York Fashion Week Spring/Summer 2018 runway show, sleek is chic and it always will be. Odile Gilbert, TRESemmé NYFW Stylist, created smooth, pin-straight hairstyles with a slight bump at the ends for a touch of body. If you want to score the look at home, we've got the backstage details on how you can do it yourself. Read on to learn how you can transition from effortless hair to putting just a bit more effort to recreate 'sleek is chic' styles from the runway.
Sleek is Chic Hair from Carolina Herrera
When it comes to recreating our favorite hairstyles from the runway, we also like to give our own unique spin on the look. Below you'll see that the sleek style created consisted of a super straight middle part. While we're obsessed with middle part hairstyles, there's nothing wrong with trying the look with an off-center part or a deep side part. Play around with the style that best suits your face shape and perhaps your mood, but today is a middle part kind of day so scroll down to get started!
STEP 1: Start by washing hair with TRESemmé Keratin Smooth Shampoo and Conditioner. The key is to have straight hair that looks like you've got it professionally done. This formula will control frizz without the dull finish.
STEP 2: Before heat styling, generously spray TRESemmé Keratin Smooth Heat Protect Spray to damp hair and apply TRESemmé TRES Two Extra Hold Mousse to the roots. The mousse provides your hair with body without the sticky or stiff feeling.
STEP 3: Create a clean center part and blow-dry, use a curling iron to soften the ends and create subtle curve.
STEP 4: Take the section of hair before the ear on each side and secure underneath the remaining hair with an elastic band at the nape of the neck.
STEP 5: Secure the look with TRESemmé TRES Two Freeze Hold Hair Spray for a neat and even consistency.
Want more of our New York Fashion Week Coverage? Get behind-the-scenes backstage coverage here. If you need help picking your next read, let us give you a hand: If you fancy wild hair, we've got the perfect style from the Jonathan Simkhai show for you.
Prev Article
Next Article
Tutorial
Tutorial: How to Create a Pull Through Hair Crown
A not-so-basic looking hair crown to try. It's easy!
See article
All Things Hair on Instagram