Long Hairstyles for Women: Hair Ideas and Boredom Busters
A little bit of inspiration for those days when you're in a hair rut.
If you've been coveting blogger-length hair for ages and spent months growing your hair out to achieve Pinterest-worthy locks, you might have passed the excited stage and moved into full-on boredom. If you've mastered, photographed, and Instagrammed enough intricate braided styles, you may find yourself getting a little bit bored of the hair you painstakingly grew. We know the feeling. Today, we're talking about long hairstyles for women who are looking for something new. Maybe you're thinking about cutting it all off into a chic lob and need new hairstyles to hold you over until you work up the courage. Or maybe you're completely committed to your length and just need some inspiration to help you to try something new. From an ode to vintage hairstyles to braids galore, check out some of our favorite long hairstyles for women that you've got to try.
Long Hairstyles for Women: How to Switch Up Your Look
1. Length + Texture = The Perfect Messy Knot
Take advantage of the volume you can only achieve with hair this long and coil it on the top of your head for a ballerina-esque top knot. To achieve this look, tease the crown of your hair for maximum volume and focus on pulling pieces out around your face. Pull the pieces down before you secure the knot so that you can visualize what it will look like when you're all finished. Choosing the right strands is key for a style that varies from your standard messy top knot. Finish off with a mist of Suave Professionals Luxe Style Infusion Plump Hold Hairspray to hold that coveted messy volume into place all day.
2. Accessorize
If you're here because you're heading in the direction of a dramatic cut and looking for new styles to hold you over, investing in hair accessories is an investment in your short-haired future. A simple bun is taken to the next level with strategic barrette placement and a little eye-catching metallic action is an unexpected way to brighten up your face.
3. Go Retro
Do you usually wear your hair pulled back and you want to try a part? Maybe the opposite? A retro inspired bouffant is softened by parted strands that frame your face. This style is all about the gloss up on top and a spritz of hairspray on your comb will ensure smooth and strong hold. Dove Style+Care Extra Hold Hairspray has all the hold and none of the stiffness.
4. A Braid Within a Braid
An intricate style? Check. A trendy braid? We've got you covered. Keeping your hair out of your face? Always a plus. Put those long locks to good use and create one three-strand braid at the crown of your hair and then incorporate it into a larger braid. Pancake the pieces of the each braid for enviable fullness.
5. Change Your Part
An easy way to change up all your usual styles that you've exhausted is by changing the side in which you part your hair. Go bold with a center part or slightly soften your features with a deep side part. Blowdrying your hair is key to creating a new look like this and adding some mousse before you dry your hair will ensure volume for whatever your new may be. Use some of the TRESemmé Beauty-Full Volume Touchable Bounce Mousse, which is ideal to help create fullness without making your hair feel sticky.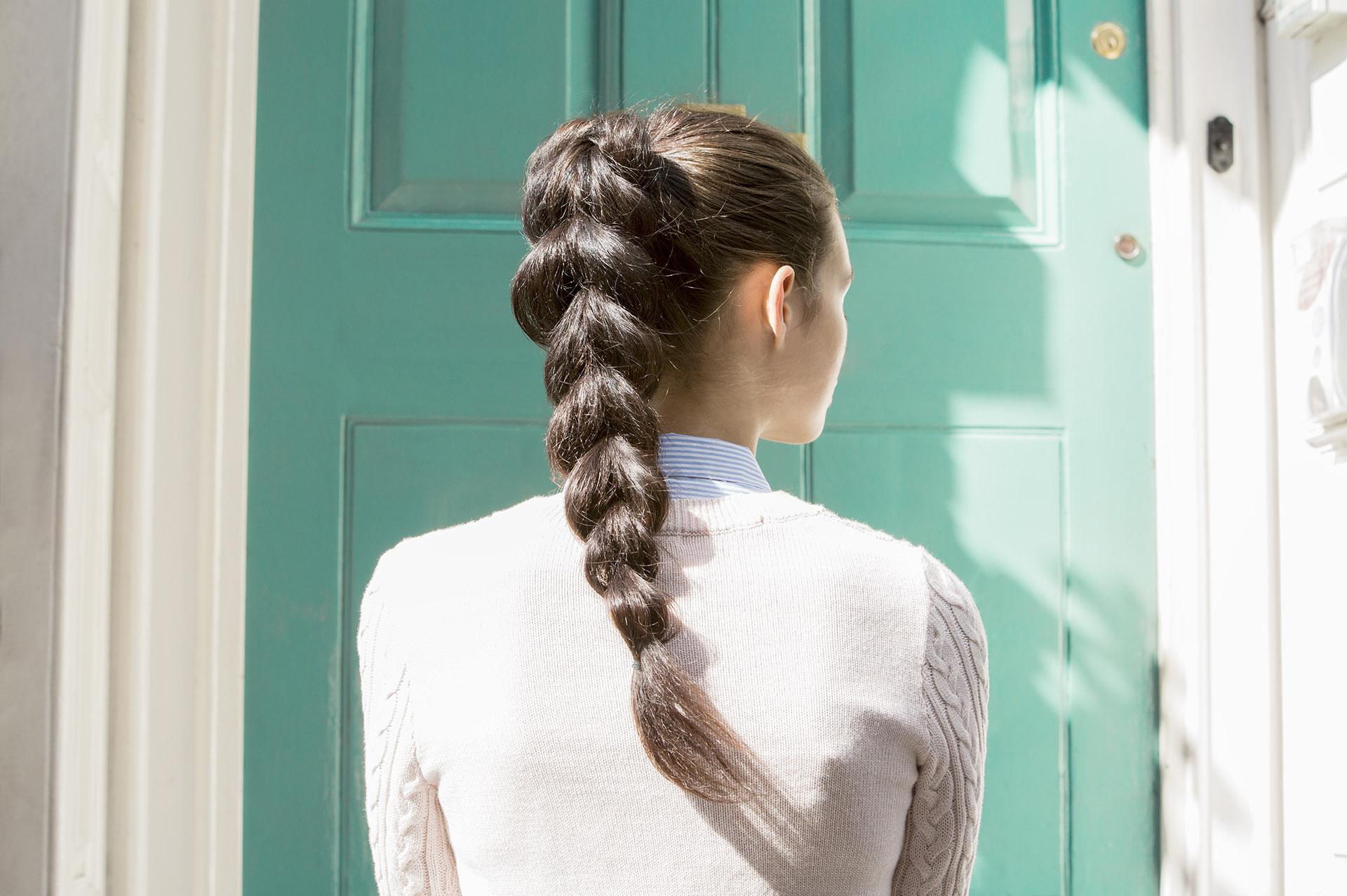 5. Pull-Through Braid
Everyone knows that a long swishy ponytail is a classic go-to for long haired girls, but the pull-through braid ponytail is the secret to hair that serves as your best accessory. Check out our easy tutorial to help you recreate this style and let it be the finishing touch to every look.
Looking for more long hairstyles for women? Check out our guide to long hairstyles for difference face shapes. 
Prev Article
Next Article
Tutorial
Tutorial: How to Master a Crown Braid in 8 Easy Steps
Wow them all on your next conferenc call.
See article
All Things Hair on Instagram