All About Dark Brown Hair Color
Discover the perfect shade of dark brown hair.
Dark brown hair is a sultry and gorgeous shade that works on a variety of skin tones. However, like with most hair colors, women with darker shades might get bored and find themselves wanting to mix things up a bit.  Women with dark brown hair may not realize this, but there are tons of different shades for them to experiment with and test out. From sleek rich hues to deep and modern shades, brown hair always seems to look effortlessly put-together. Whether you want to enhance your brown hair or go darker, check out our list of dark brown hair color ideas to help you figure out what dark brown hair will work for you.
Dark Brown Hair Guide
All hair is composed of pigments that defines its color. Those with dark brown hair have higher levels of eumelanin and lower levels of pheomelanin (Note: blonde hair has tons of this second pigment).
1. Rich Chocolate
We love chocolate everything, so it's pretty obvious that this is one of our favorite dark brown hues. This rich deep color gives a polished effect that looks stunning on all skin tones. A sultry shade to try for blondes or light-haired brunettes, rich chocolate-brown hair is absolutely stunning.
2. Dark Ombré
Dark brown hair can also experiment with the dip-dye look. Opt for a shade or two below your natural brown as you accentuate its natural richness with a stylish, dark-to-light highlighting process. If you don't love it, you can rest assured that it will blend into your hair in no time, creating subtly gorgeous highlights on your ends.
3. Golden Brown
A cross between medium and dark brown, this shade is known for its deep golden tones. Women who have dark brown hair can have a lot of flexibility with this shade, which we're sure will revive your look without having get too drastic.
4. Reddish Brown
A killer shade to try if you want to enhance your brown hair in a low-key way is to add in some vibrant red. Consider opting for semi-permanent lowlights to test out this color, and then go permanent if you're ready to seriously commit.
5. Black-Brown
Hair that's almost black will effortlessly shine with some serum. Those who have this look naturally will love how the natural brown hues come out to shine with just a little bit of sun.
6. Brown Cinnamon
Enhance your locks with some gorgeous cinnamon highlights. This fun, reddish shade plays with your natural color as it gives you a vibrant edge.
7. Midnight Brown
If you don't want to go black, try a color that is pretty close to it with midnight brown. Renowned for its all-over dark hue, this look is bound to turn heads as you showcase a bold and eye-catching look.
Dark Brown Hair Product Suggestions
If you go the dyed dark brown hair route, you'll need to incorporate a color safe shampoo and conditioner into your hair care regimen. Try out TRESemmé Keratin Smooth Color Shampoo and Conditioner. This system works to promote healthy hair while also protecting it from the damaging effects of heat and hair dye.
If you also find that you hair is especially frizzy, a serum like the Suave Biotin Infusion Anti-Breakage Serum can help smooth out your hair as well as make it shiny.
Trying dark brown hair or even just enhancing what you have is a great way to experiment with color. Be bold and have fun!
Prev Article
Next Article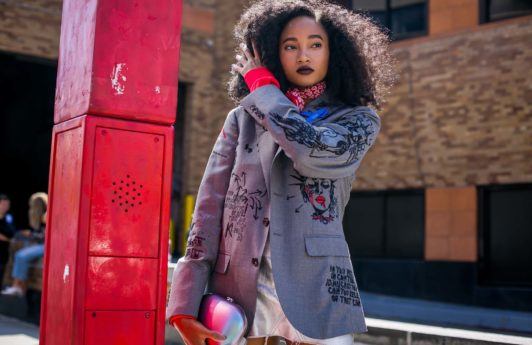 Gallery
15 Trending Hair Colors for Black Women Taking Over Social Media
Have some fun with that 'do!
See article
All Things Hair on Instagram