50+ Grunge Hair Looks That Are More than Just Whatever
Ain't no party like a '90s grunge hair party!
It looks like we're never getting over grunge hair. But you can't really blame us: For a lot of people, the '90s trend is a safe haven to run to whenever reality-glam fatigue strikes. Maybe because it's the easiest "look" whenever we're in a rush, or perhaps we're still not over our Seattle garage band phase. Or, hey, maybe a girl just doesn't want to wash her hair for three days straight, and this finally makes it legit for her to do so!
Whatever it is, we'll always have a special place on the mantel for the '90s grunge hair trend, and looks like we're not alone in this. If the runways and streets are any indications, this love affair ain't going nowhere—just see the massive level of inspiration we were able to cull below!
Casual-Chic and Always Cool: The Best '90s Grunge Hair Trends
Ah, the golden days of bedhead. Rumpled, tousled hair came to the fore during the 1990s, an offshoot of the era's pervading minimalistic, less-is-more aesthetic. Lightly layered haircuts allowed us to give our blowdryers a much-needed break, resulting in styles that were as innocent as they were natural. And what was cooler than looking like you literally couldn't care less?
1. Staticky Lob
Don't shy away from frizz when you're going for a grunge hairstyle–embrace it! Literally the definition of rolled-out-of-bed hair, complete with blanket creases and halo frizz—and It girl center part!—for good measure.
2. Beachy Kinks Grunge Hairstyles
Another big grunge-era trend: homemade salt spray, which was a Pinteresty blend of simple kitchen table salt and tap water. Spritzed onto locks, and ta-da, instant beachy texture.
3. Haphazard Soft Grunge Hairstyle Bends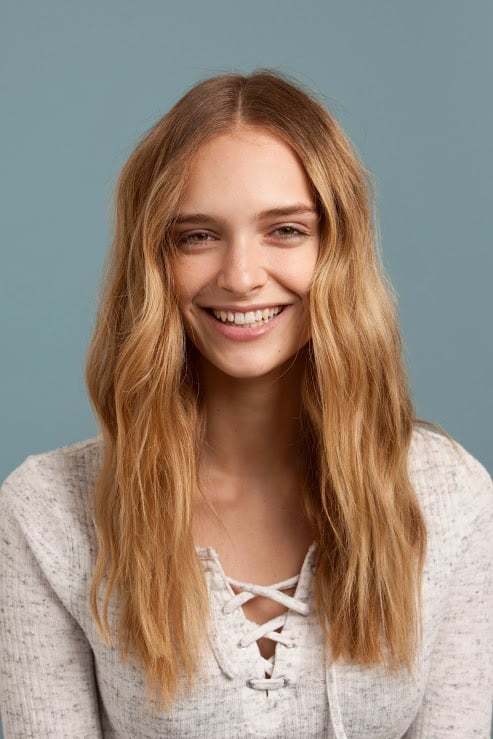 Longer lengths showcase a matte, beachy wave the best. A soft grunge hairstyle like this adds some texture to your hair without having to spend a long time styling it.
Avoid unwanted frizz by adding a little Suave Air Dry Cream Heat Free Styler before heading out the door.
4. Lob with Beanie
Greasy Hair 101: Always keep a beanie on hand, in case someone needs to make a bodega run. What can we say? It's a foolproof way to deal with greasy strands.
5. Matte Layers
A dull finish was a prized look back in the day, giving rise to the popularity of paste and wax in addition to salt spray.
Texturizing sprays, like Suave Dry Texture Finishing Spray, easily recreate this grungy tousle, no problem.
6. Tousled Bob
Urge in this texture on straight to wavy hair by running some texturizing wax into a damp bob. This grunge hairstyle gives you the perfect air-dried touseled texture.
7. Diffused Part Soft Grunge Hairstyle
Before the over-styled Early Aughts, everyone was a bit chill with their hair partings, resulting in fuller, more natural looks. A diffused part like this creates a soft grunge hairstyle.
8. Messy Waves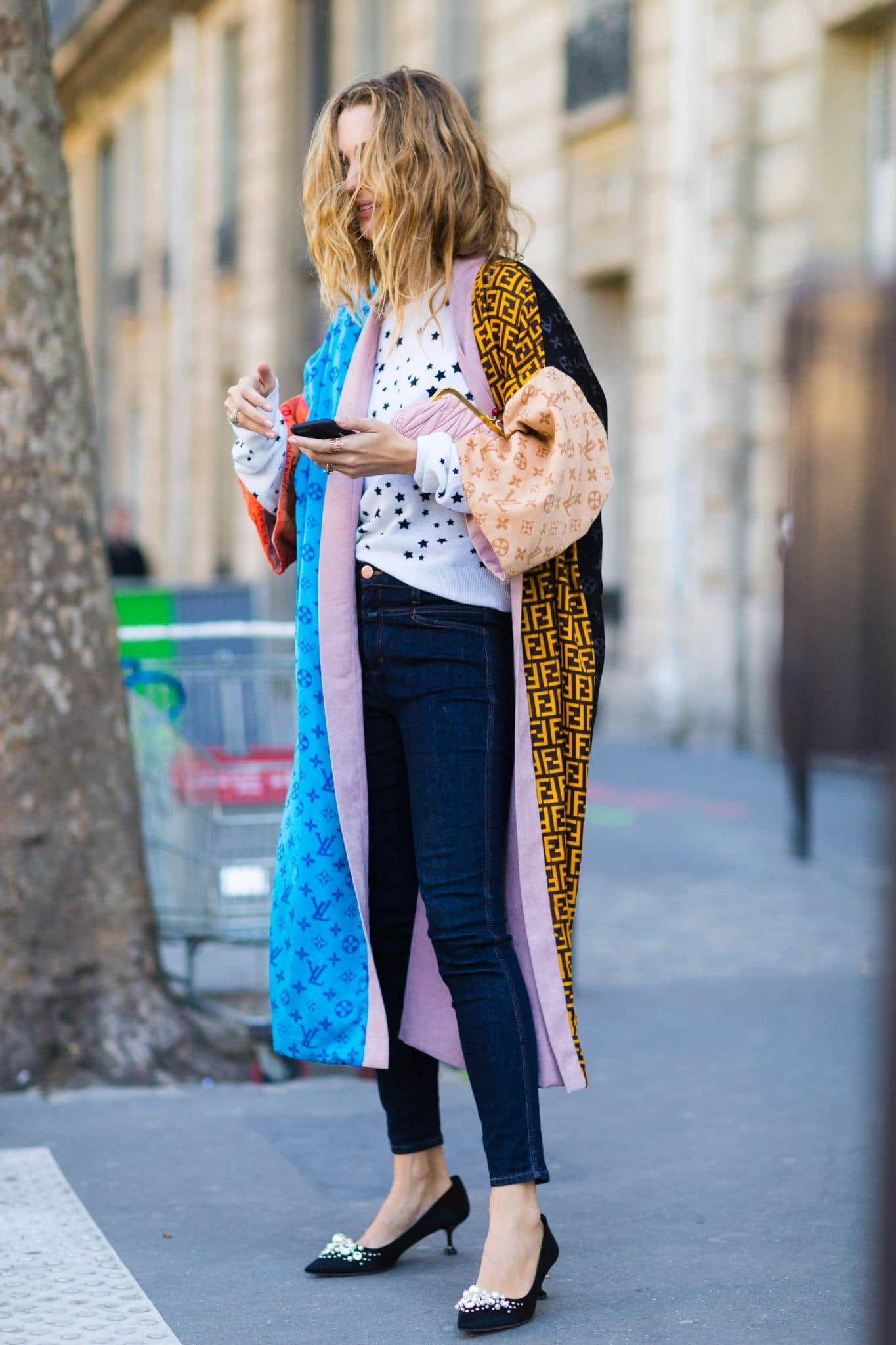 Another member of the (Late) Breakfast Club included messy, finger-combed waves. This look is one of the most sought-after grunge hairstyles because it's the perfect balance of done-up waves and messy texture.
9. Natural Waves
We don't know what we love more: the clean, single-process brown, or the air-dried crumples. Don't forget to add a side part for an even grungier look.
10. Natural Waves, Pt. 2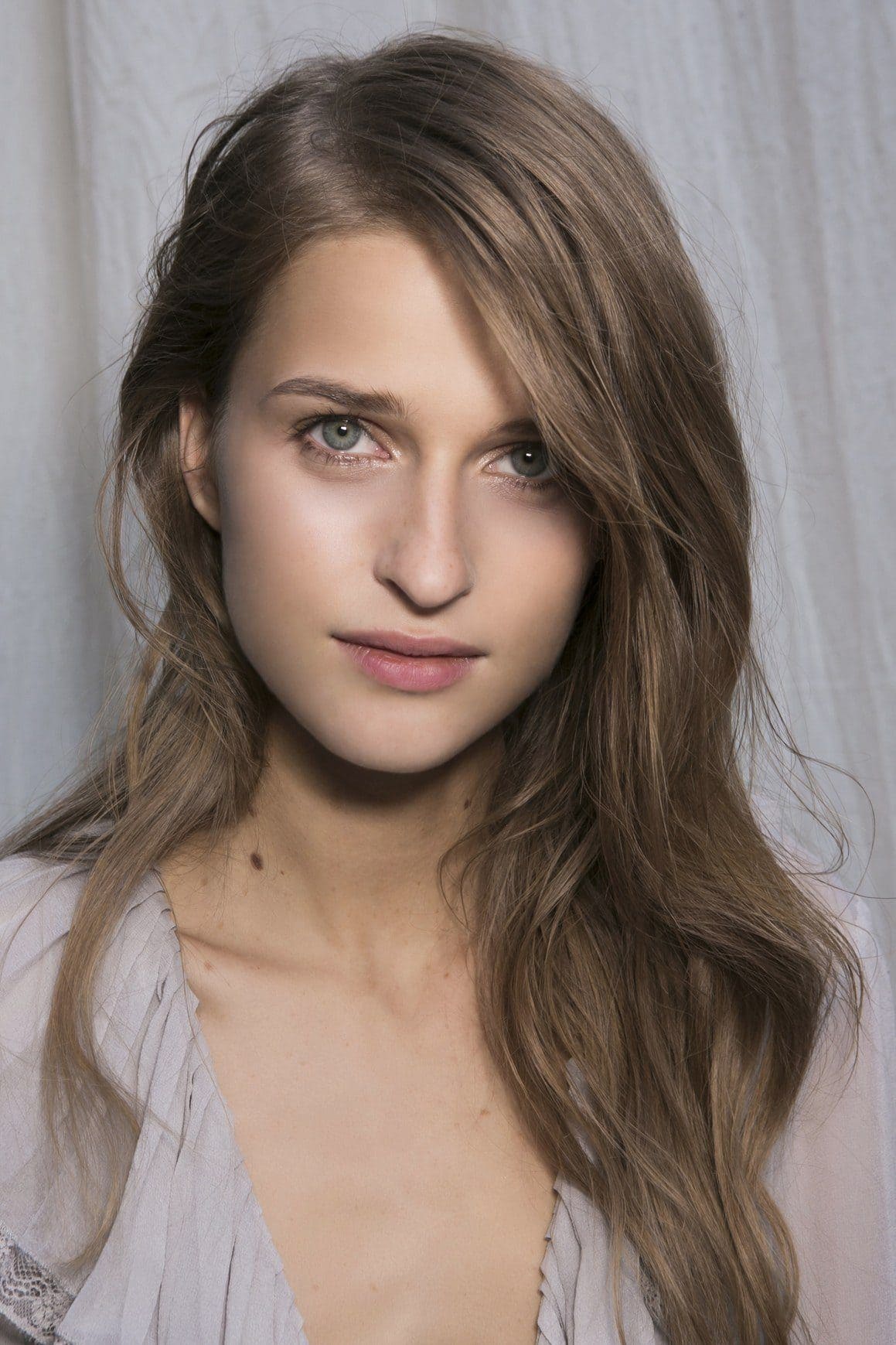 The '90s were definitely peak ash brown years. Love how the shade gives this otherwise basic look a sweeter, more homespun appeal.
11. Crunchy Platinum
Bleached blondes have a natural stiffness to them which air-drying maximized, giving this look more edge. Take advantage of the stiffer texture when going for a grunge hairstyle.
12. Center-Parted Lob
Or what we all really looked like before going to town with a flat iron (kinda love it though!). For a grunge style, there's no need to straighten your strands here.
13. Rich-Girl Hair
Named for the texture party girls get the morning after a bender, but totes egalitarian in its easy-to-wear appeal. A look like this practically thrives off of second-day hair.
14. Air Dried Bangs
If you have a wavy or curly natural hair type, then we highly recommend going for some air-dried bangs. This look gives an edge to normally styled bangs, and you don't have to do a thing to achieve them.
Wet or Gelled
Taking things to a higher plane was the wet/stringy look, which may or may not be completely artificial, depending on your commitment level. Those who chose the manufactured route took to high-shine gels to get that telltale wet look. If you were of the more, shall we say, chill persuasion, you simply let Mother Nature—and your natural oils—take their course? Grunge hair at its most OG!
Try TRESemmé TRES Two Extra Firm Control Gel for a glossy yet non-crunchy finish.
15. Raked Pony
Ditch the fine-toothed comb and simply use your fingers to pull back your ponytail after gelling for a raked look. This look keeps your hair out of your face without having to worry about achieving a perfectly smooth base.
16. Gelled Low Knot
Who doesn't remember this '90s trademark? A severely gelled base together with a "punytail" or baby knot (not to mention hoop earrings!) was almost iconic.
17. Wet Bob Grunge Hairstyles
A gelled base and loose, stringy ends impart that popular surfer-slash-truant-slash-burnout look that's (surprise!) earning top marks in high fashion today.
18. Brush Back
A longer version of the gelled bob, this slicked-back style, opens up the forehead and is a pretty sexy evening option. It gives off all of the model-off-duty vibes.
19. Brush Back on Natural Hair
Those with natural-textured hair can also get in on the wet look trend without relaxing their locks. This is easy to do and can be achieved with gel for a quick look.
20. Post-College Bob
The hairstyle of choice of angsty fresh grads at the time, this full yet super-short crop gained even more street cred with a bit of grit.
21. Stringy Layers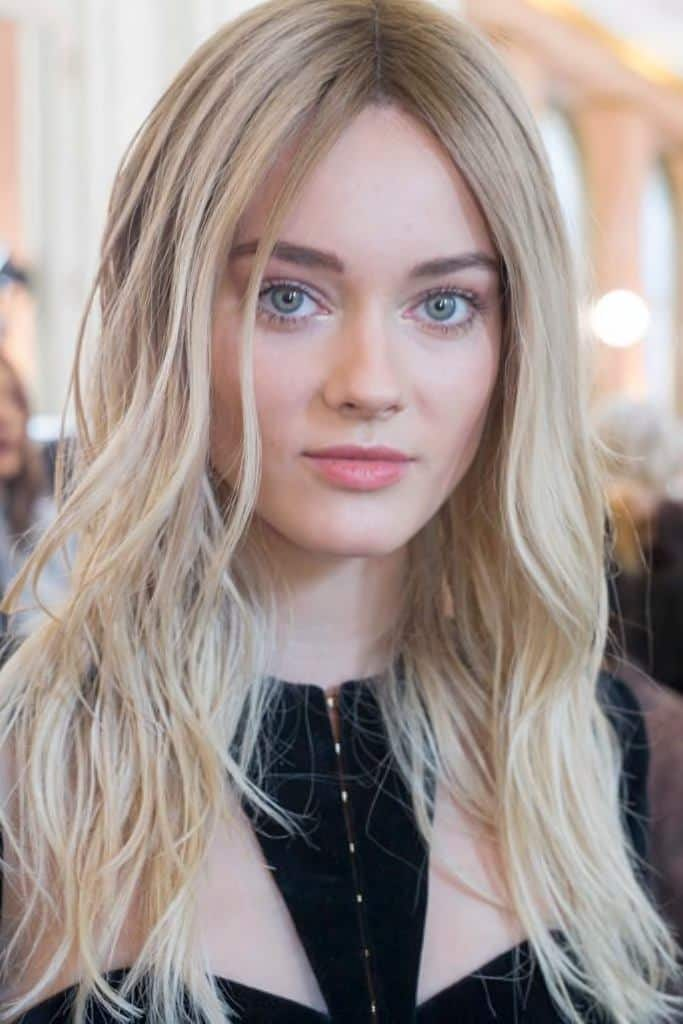 Not to be outdone are these second (?…third?)-day layers, which artfully helm to your facial structure, giving you a more "natural" appeal.
22. Stringy Lob
Lobs can rock a matte, no-greasy texture too, with the help of a texturizing cream, such as Bed Head by TIGI Manipulator. This product adds control and grit to your style, which is essential for grunge hairstyles.
23. Gelled Center Part
Take your standard center part look to the next level with a sleek, gel finish. This look tames frizz at the roots, giving you a sleek style without having to sacrifice your part for a completely brushed-back style.
Bob Grunge Hairstyles
If you never had a bob back then, were you really a '90s baby though? Such was the widespread popularity of this low-maintenance unisex haircut, which was the decade's valentine to the whole androgyny wave. Unlike its ends—which were satisfyingly blunt a—short grunge hair, particularly the soft bob, made quite the pointed statement.
24. Bob with Beanie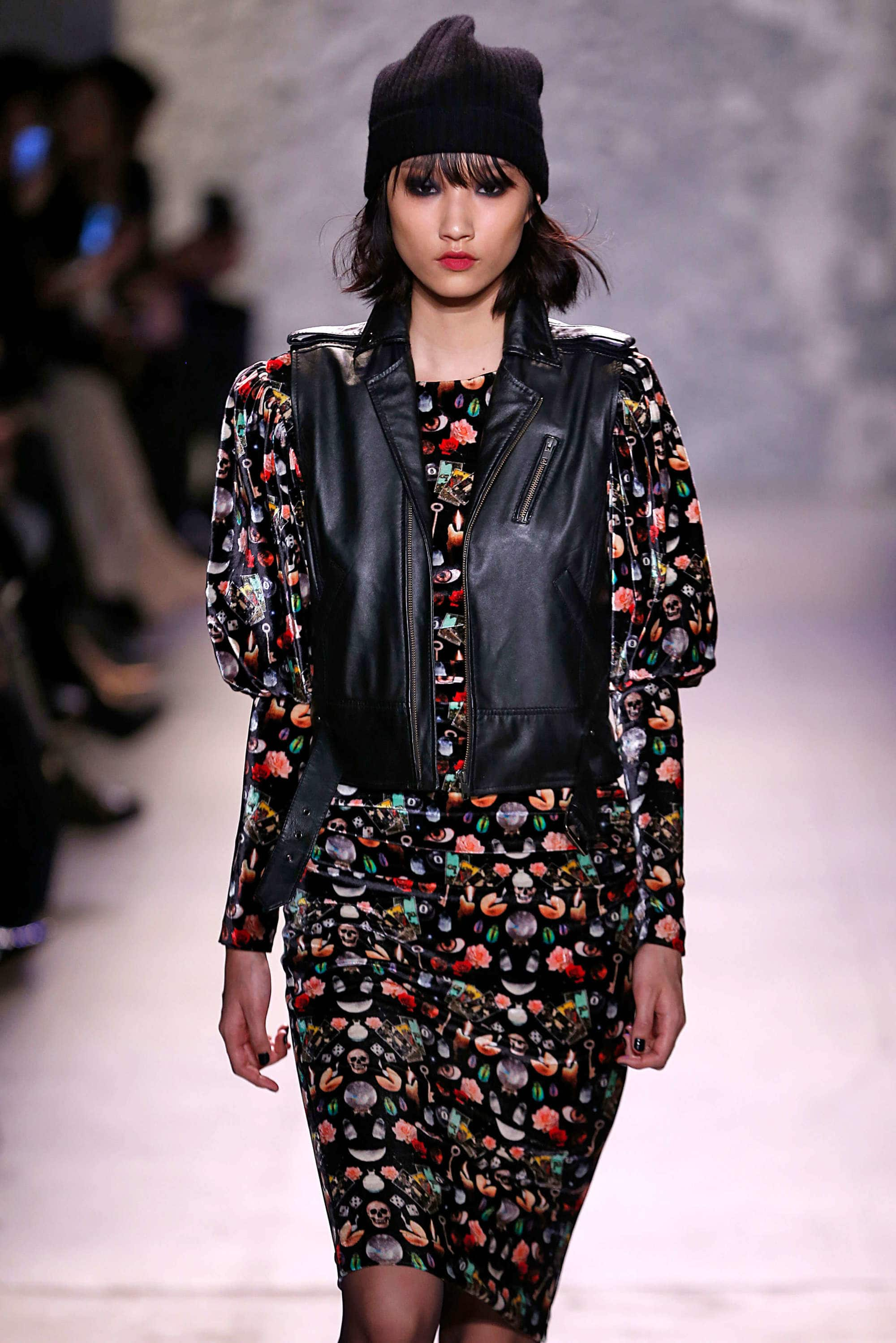 Universal savior of no-wash days, the beanie looks just as cool on a fringed bob as it does on longer lengths.
25. Blunt Bob
The sheath of power! One of the era's most definitive haircuts beloved by teenage and corporate women alike was a chin-length, fringeless bob cut with no layers.
26. Under the Ear
Surprisingly low-maintenance given its short length, the lip-level bob epitomized the relaxed, casual aesthetic of the decade.
27. No Part
Floppy hair works with bobs as well, where one's parting would usually depend on which hand they used to tousle-dry. The no-part look is perfect for achieving soft grunge hairstyles.
28. Tucked
If confidence is your true face shape (without any smoke and mirrors via waves or layers) was a hallmark of success, then the hair-tucking '90s kids had it all figured out.
29. Soft Wedge
First-generation layered bobs featured subtle layering at the bottom, mostly just to encourage a flipped-under look. Simple times!
Alternative Color Grunge Hair
In a time when glamazon supermodels(JPG) and shellacked makeup owned the mainstream outlets, a counterculture of grungy waifs and neo-gothic looks, featuring quirky, somewhat subversive touches, came about. These offered a reprieve from high-gloss magazine beauty standards—hence the term "alternative"—and gave "unpretty" options such as muddy browns, grays, blues, and greens an unofficial seal of approval.
30. Blue Wedge Bob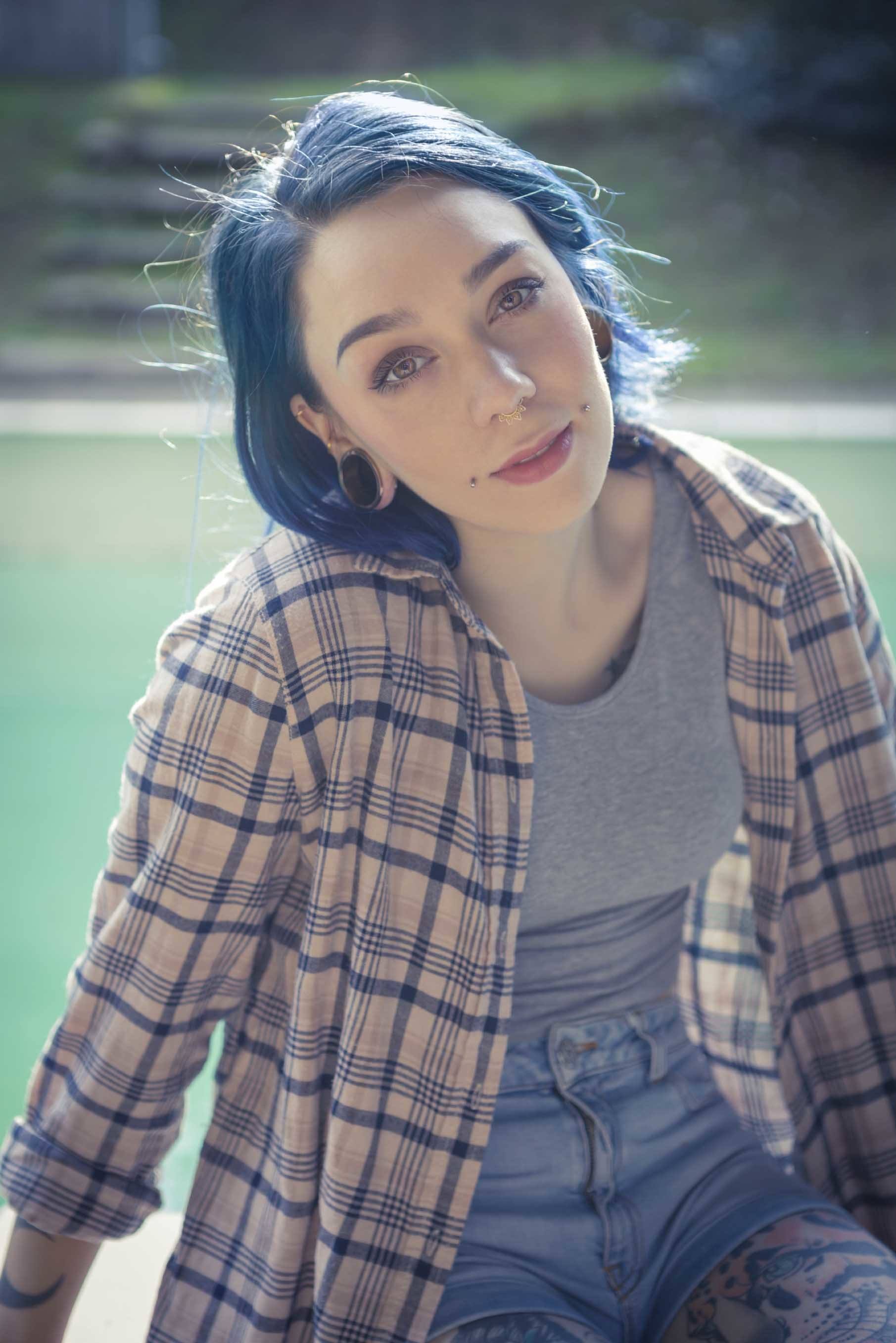 A basic bob gets edged up with a shot of bright blue hair color. A bright hue like this brings new life into a simple bob haircut.
31. Blue and Green
A faded combo of blue and green remains on point when paired with a trendy half-up top knot. Wearing your hair in a half-updo does shows off the variation between the blue and green colors.
32. Inky Pigtails
Grunge hair during the late '90s also took on a witchy, new age vibe, thanks to pop culture references and teen movies. Navy and teal hair colors, together with neo-boho details such as chupalla hats, crisscross detailing, and crystals, made their way into mainstream fashion.
33. Dutch Braids
While the natural hair community had been embracing cornrows for years, it was during the underground club scene in the late '80s and '90s that inverted braids and punky styles hit a fever pitch with other hair types.
34. Ashy Gray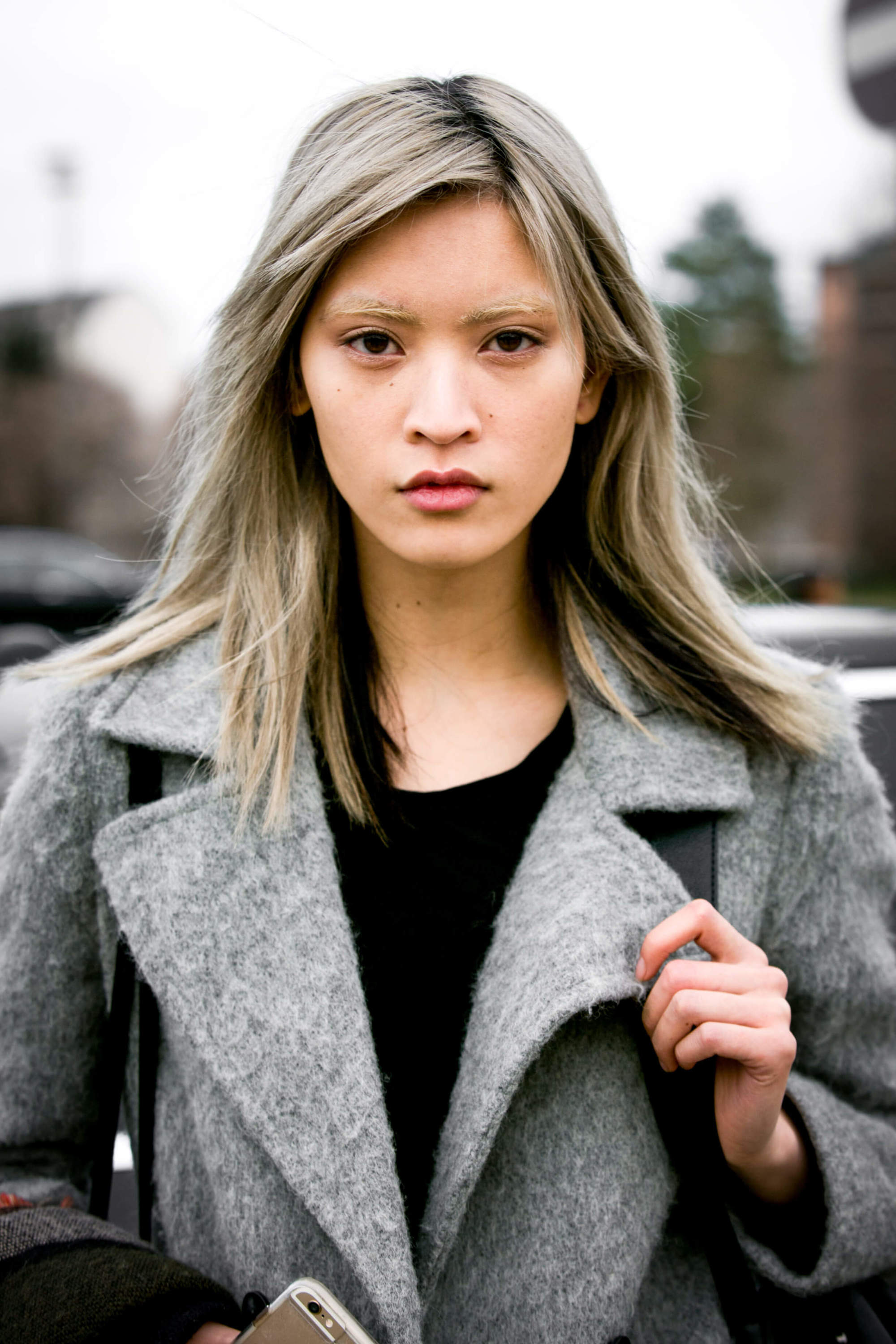 This rooty, smoky shade is quiet, but still cutting edge. A color like this leans into the gray trend without being a totally gray look.
35. Griolet
Dull gray-violet in a matte, slightly porous finish (with that exaggerated side flip!) remains a popular look. If you're going for a hair color that's slightly platinum but has a little bit of color then this is the perfect in-between for you.
36. Silver Space Buns
Hit two trends in one with this on-point shade of silvery gray and a pair of club-kid space buns. You can never go wrong pairing trends together.
Maintain the brilliance of this color by adding TRESemmé Gloss Clear High Shine Deep Conditioner into your weekly routine.
37. Gray Ombré
Who says ombré and balayage were reserved for blondes and brunettes? Trying this look on dark hair that fades into a gray hue is an amazing option if you want to take part in the gray hair trend, but don't necessarily want an entire head of gray hair.
38. Matte Lob
Chunky strips give this otherwise simple white lob even more personality. The striped off-white look enhances the grunginess of the hairstyle.
39. Green Crop
That brush-up style was another favorite way to wear a short boy's cut 'do. To turn this style into a statement, opt for a vibrant hue like this bold green color.
40. Mint Highlights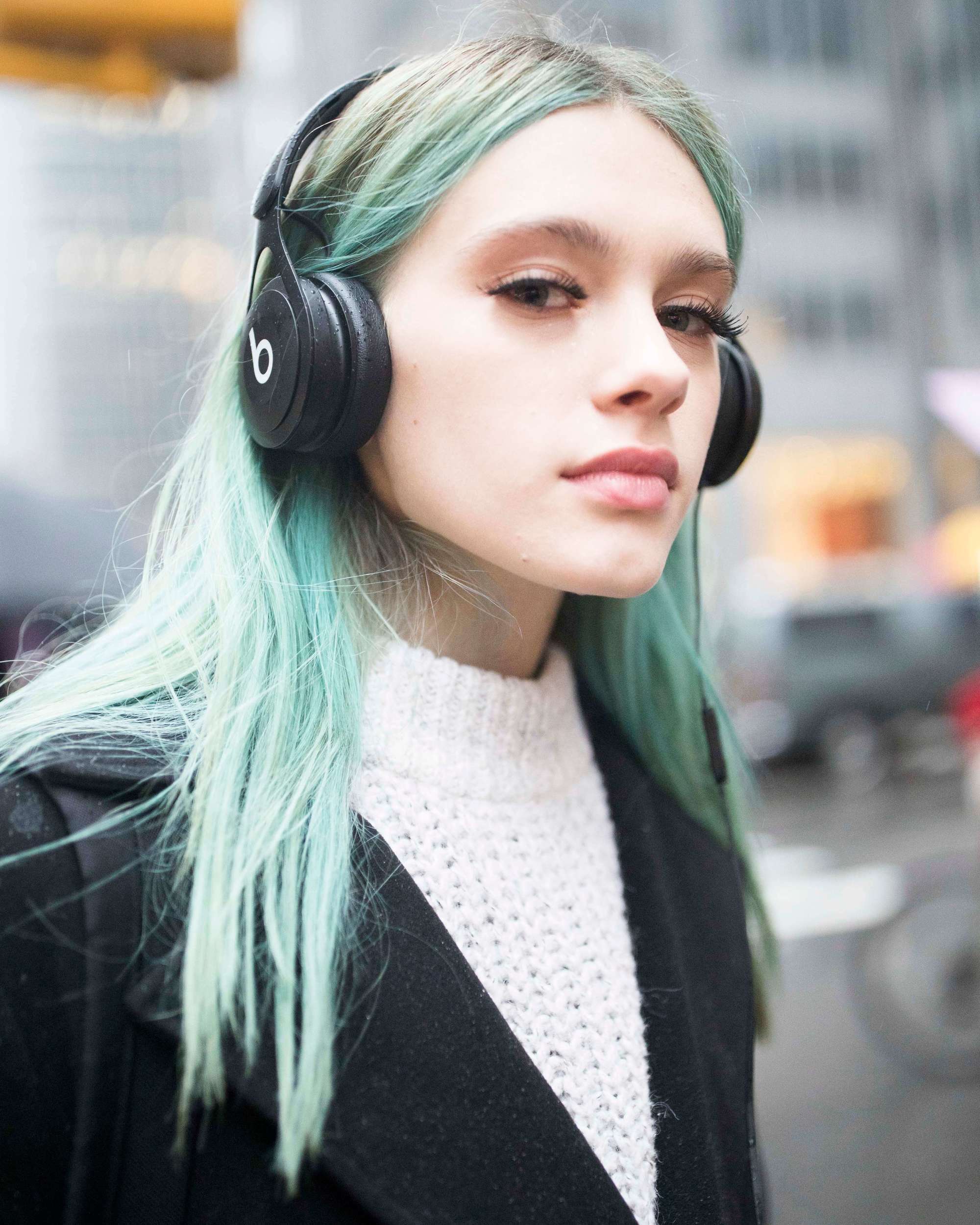 Modern mermaids never go for basic highlights; that we can assure you. This aqua color looks stunning when paired with soft grunge waves.
41. Purple Ombre
Create a bold ombre look with a royal purple color. We love how well this purple pairs with a black or dark brown root.
Fringe Grunge Hairstyles
Perpetuating the against-the-grain aesthetic rebellion of '90s grunge hair was the sudden rise of the bold bang. Part candy-raver, part Gen X ingénue, it was—and remains—the style detail of choice for the anti-heroine who had no time whatsoever to spare for your conventional, "flattering" beauty ideals. Movies of the decade presented countless versions of this famous cinematic trope, whether via the Manic Pixie Dream Girl-slash-quirky-BFF in 1990s romcoms, or the sultry femme fatale that led film-noir leads to their demise.
42. Baby Bang with Beanie
Between the blue, the bang, and the beanie, there's so much to unpack here. We'll let that adorable overall look speak for itself.
43. Blunt Bob with Fringe
As feature-flattering as a baby bang can get, and paired with a sleek, on-trend long bob to boot.
44. Choppy
Angle those scissors sideways if you want to recreate this natural, wispy version. A choppy look with layers is extremely on-trend right now, so it's very wearable!
45. Micro-Micro
Those super-short bangs on a choppy pixie cut, teamed with pencil-thin brows, are serving major throwback vibes.
46. Fringed Shag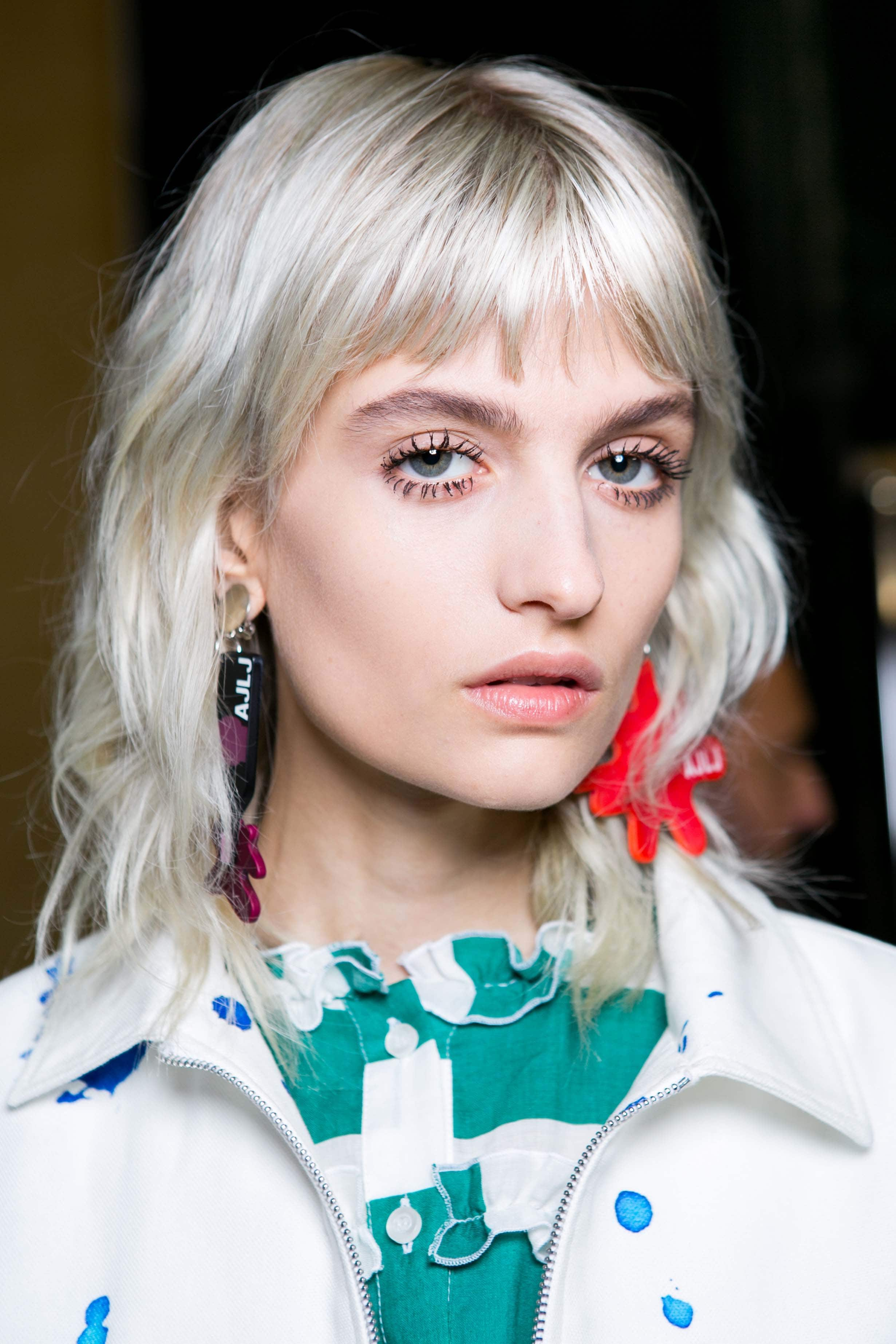 This runaway hairstyle hit gets infused with a bit of grungy flavor with a baby bang.
47. Quirky Soft Grunge Hairstyle Pony
Piecey bangs are the perfect addition to a soft grunge hairstyle. Fringe like this adds a touch of quirkiness to your look while still keeping it soft. Plus, you don't need to worry about any harsh, pulled-back styles when you have fringe.
48. Model-Off-Duty Bangs
This wavy, tousled version works perfectly with a curly bob.
49. Jagged Cut
The jagged cut is the ultimate bang for those trying to embrace the grunge lifestyle.
Updo Grunge Hairstyles
Equally as popular as leaving hair gritty? Rolling it up in an unkempt wash-and-go bun. Topknots, space buns, and twisted half-updos were relied on to keep our second-day locks from crudding up our foreheads, all the while making a stylish, somewhat anti-establishment statement. For some, it was also an extension from clubwear and sportswear to streetwear, a natural progression still relevant to this day as seen via the athleisure movement.
50. Braids and Buns
This in-your-face rendition has the camp of the era written all over it, from the space buns to fishtail pigtails to even a skinny accent braid.
51. Easy Half-Up Topknot
A chic, more understated way to pay homage to the grunge hair era includes a high topknot and airy silver waves.
52. Dip-Dye Buns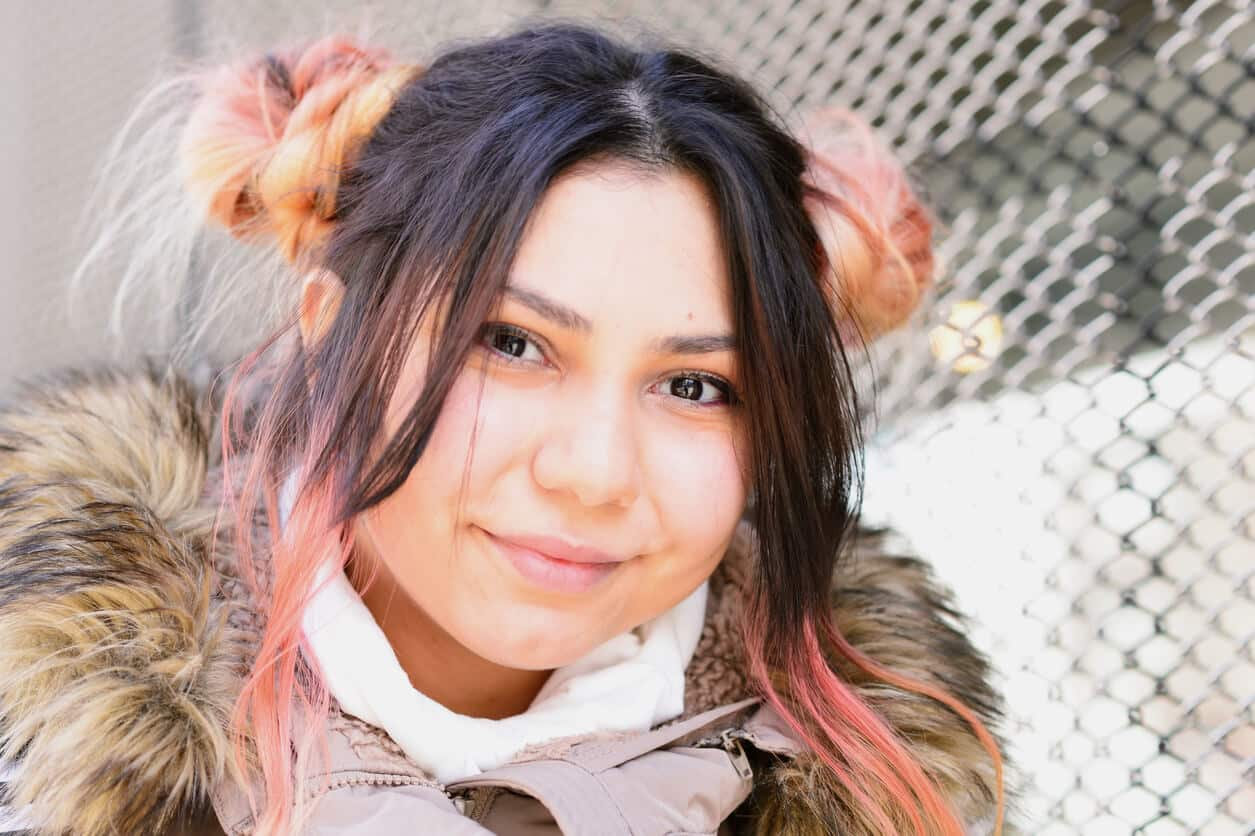 Make ombré (or grown-out) pink work even harder by wearing it in space buns, a style that gives it an instant two-tone feel.
53. Spiky Half-Up Buns
Chinoiserie was another well-received '90s fashion trend, and somehow a bunch of messy twisted buns provided the ideal foil to the high cheongsam necklines and elaborate embroidery.
54. Figure Eights
For those with bangs too short for a full bun, the figure-eight twist became the next best thing. Just secure in the center with a bobby pin, and leave the rest of your lengths to free-fall.
55. Braided Top Knot
A half-up top knot that had "feeder braids" at the base was another play on the Dutch/cornrow aesthetic.
56. Rope Twisted Bantu Knots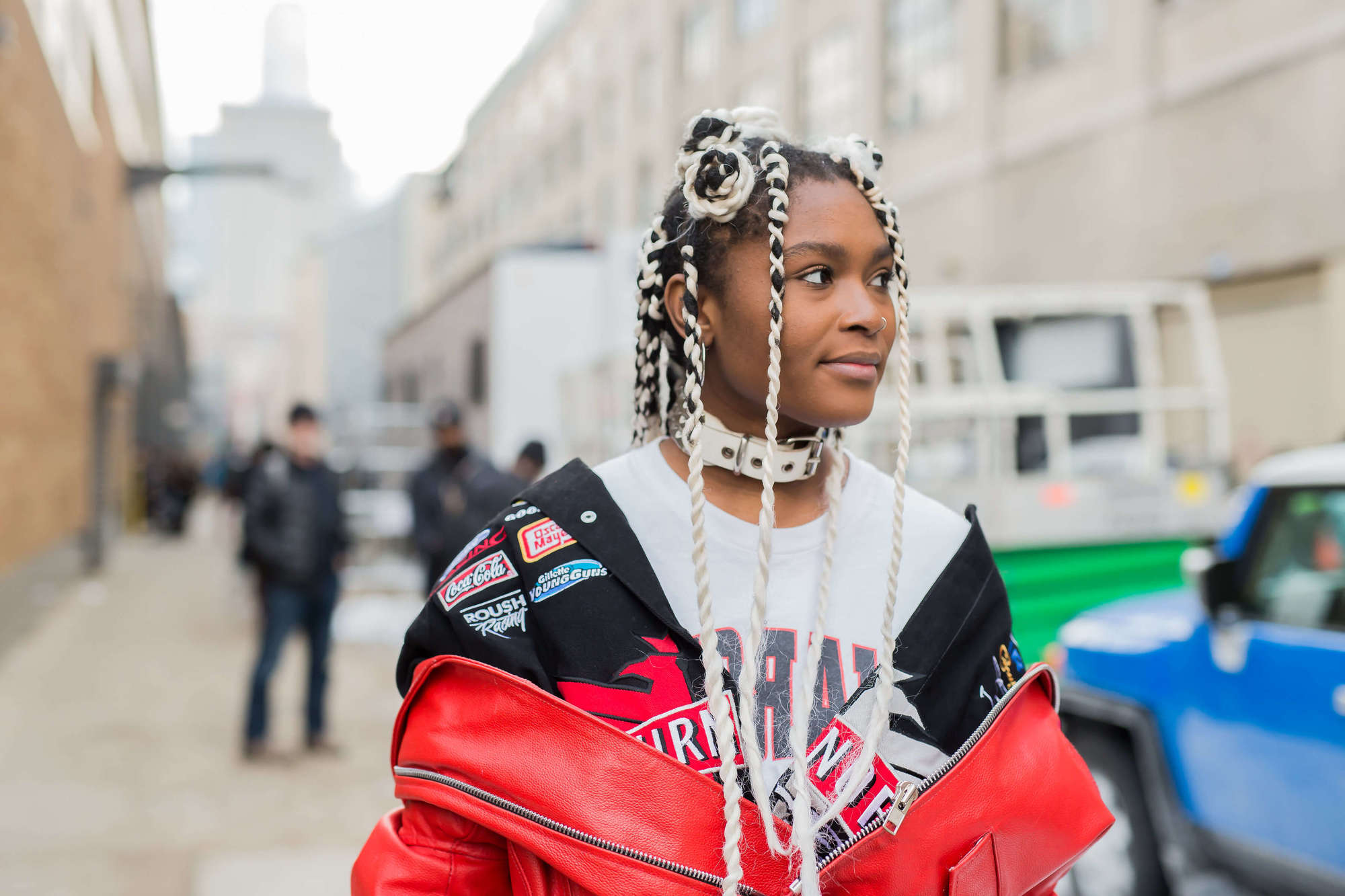 A clubbier version of popular box braid hairstyles worn by African-American women, two-toned rope twists provided a graphic punctuation mark to streetwear.
Thanks to the resurgence of the '90s, grunge hairstyles have been bigger than ever. Whether you opt for a gray color or piecey bangs with a bob, there are a huge variety of styles you can try to help you achieve a grunge look.
Prev Article
Next Article
All Things Hair on Instagram