Second-Day Hair: 21 Looks for Second-Day Strands
Rock these Day 2 looks during those can't-be-bothered-to-wash days.
There are two types of girls: Those that wash their hair in the morning, and those that do not. For a lot of us in the latter group, second-day hair is a bag of mixed reviews. Some women have hair that just gets more fabulous the dirtier it gets, earning a certain textured rumple that gives it traction and a totally enviable, cool-girl grit. For others, second-day hair is, for better or for worse, oilier, and accrues some added slip—or, dare we say, grease—the longer it remains unwashed.
Suffice to say, second-day hair is a reality for most women who are currently quarantining themselves. Whether it's an issue of circumstance or preference (you like the less-frizzy look you get in between shampoos), there are hairstyles that can take advantage of your unwashed texture while still looking fresh, clean and most importantly, not lazy. To get you through your second-day hair with ease, we've collected our favorite root-hiding looks. Read on to check out 21 cool second-day hairstyles:
21 Looks for Second-Day Hair
1. Bubble Pony
A bubble or segmented ponytail reins in the ruffled strands you get when you wake up in the morning and whips it up into a fashion-forward updo with little stress. To achieve, gather all your hair up with your fingers into a high ponytail. Secure at the base with a hair elastic, and continue tying off downward segments every few inches, creating your "bubbles."
2. Half-Twist
Half-twists are a boho-chic, festival-flavored look that also take advantage of that second-day hair bend, or a blowout that's been slept in. Give your hair a well-meaning brush to detangle, twirl sections around your fingers to create casual waves then part hair in the middle. Twist each hairline section away from your face and pin near your temples.
3. Top Knot
That day-old layer of sebum can make for a perfectly smooth top knot, which makes this look ideal for those whose hair gets stringy when unwashed (plus it camouflages any grease spots.) Flip your hair over and gather it into the very top of your crown. Using a fine-toothed comb (or your fingers, for a more model-off-duty feel), smoothen down the base and twist hair into a rope, and coil it around itself to create your knot. Loop a hair elastic around the knob to secure.
4. Loose Fishtail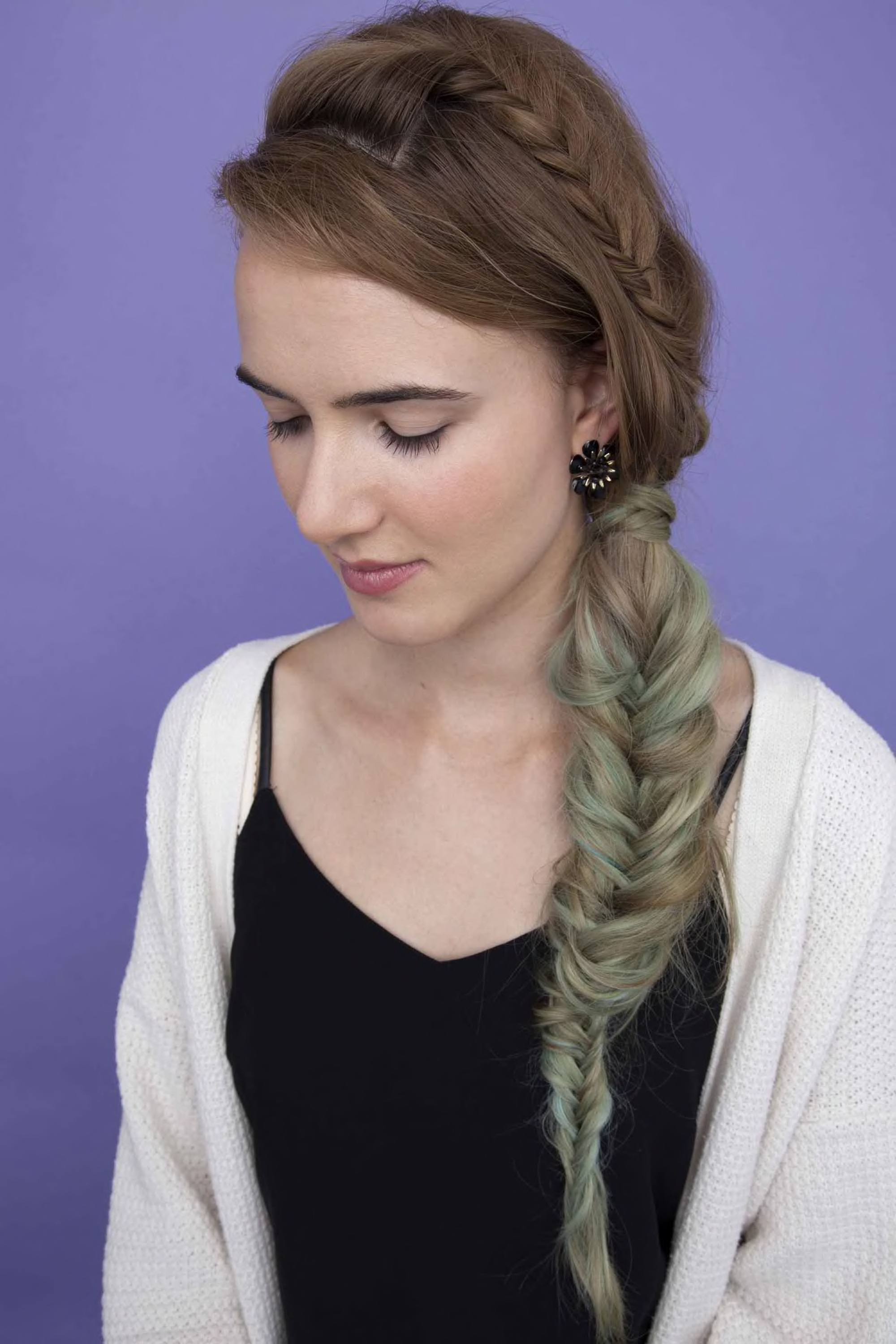 A rough, haphazard fishtail braid, perhaps even worn to one side, is a look that holds well on unwashed hair. There's less fuzz in the plait itself, and it's still directional enough to look like you made an effort.
5. Wavy Ponytail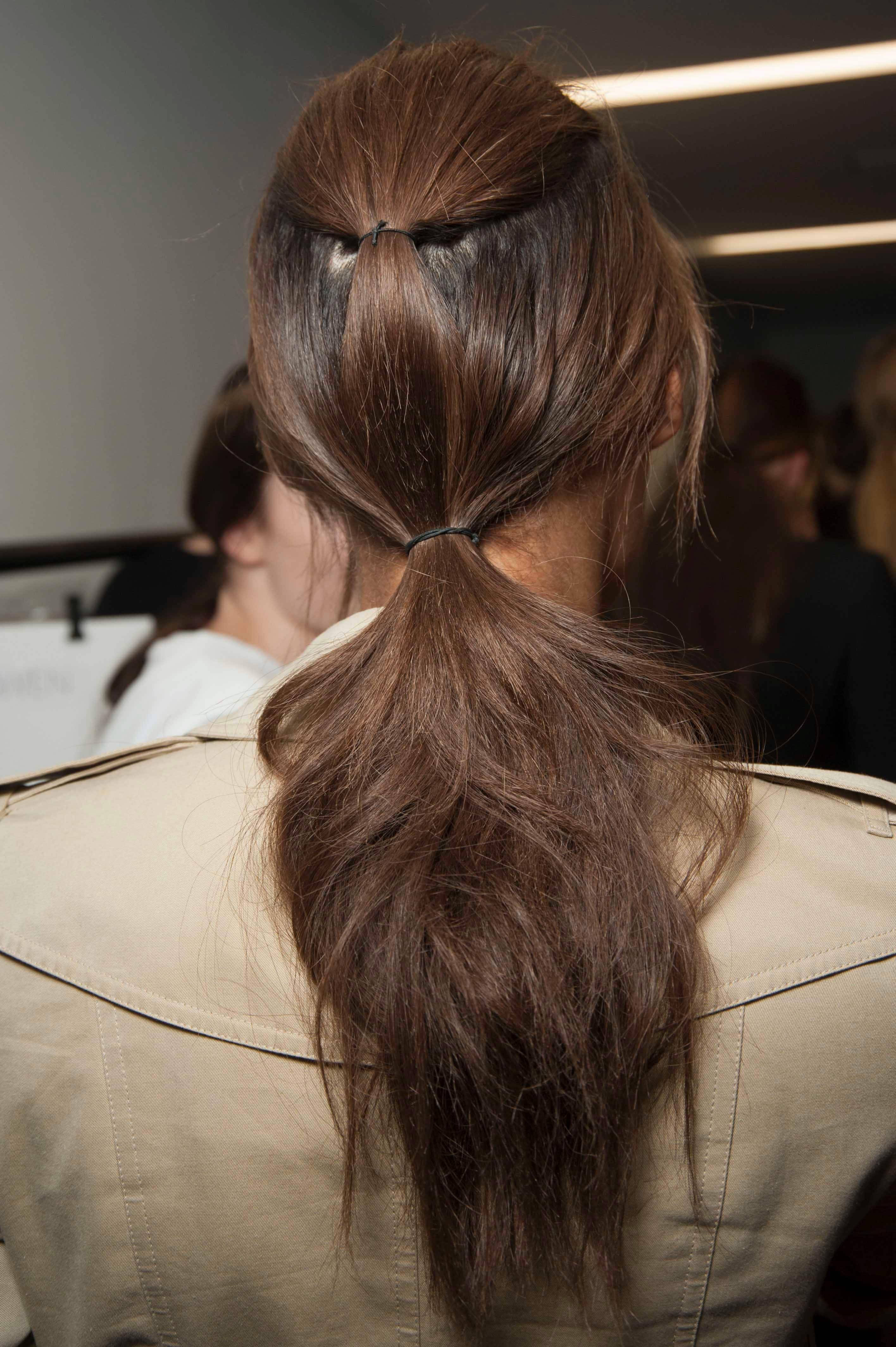 A textured low ponytail is the hair version of no-makeup makeup. A simple misting of TRESemmé Volume Thickening Spray to your roots is all you need to prep for this hairstyle too. Afterwards, flip your hair over, giving your roots a tiny shimmy and flip hair back, creating a diffused middle part as you do so. Gather your hair at the nape and secure with a hair elastic, tugging out a few strands around the hairline to soften.
6. Space Buns
A great second-day option for Black women who are looking to switch up their second-day hair (or even for other hair types that want a different way to wear a chignon), think about giving space buns a try. Plus, this look is a cinch to pull off so long as you've got strands long enough to twist into knobs without unraveling. Section hair off in as many parts as you want—some do grids, some do half-moons, some just do pigtail buns—and twist each section into a rope, then coil into a bun and secure with an elastic or some pins.
7. Baby Beehive
Second-day hair can also be lend itself to some majorly backcombed looks. Try your hand at a pretty volumized hairstyle that's also an awesomely stylish throwback. Achieve a 1960s-inspired beehive by teasing the hair at your crown from mid-length to roots, then create a center part with the "fluff." Tie your non-teased hair in a low chignon, then smooth the fluff over your bun, securing with pins. Finish with some hairspray and a fabric headband to hide the seams.
8. Classy Teased Updo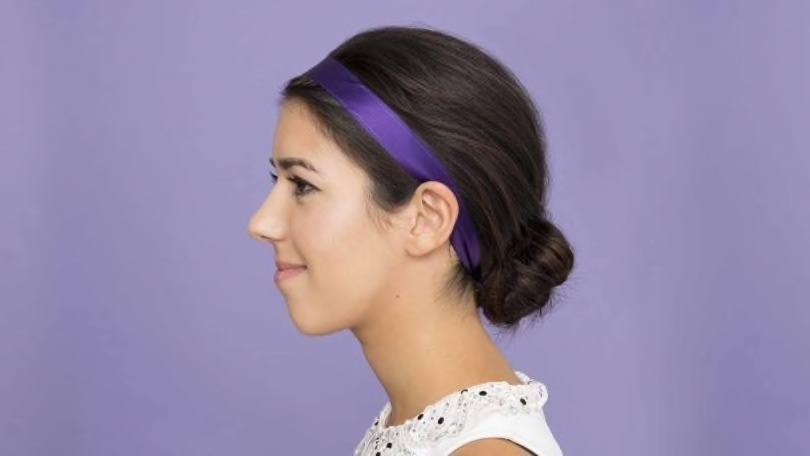 This look is so elegant you can't even tell it's done on second-day hair. For looks like this one that still have your roots showing, make sure you use a little dry shampoo. We like Love Beauty and Planet Coconut Water & Mimosa Flower Dry Shampoo because it refreshes your roots in seconds. Dry shampoo your roots, then backcomb hair for a little volume at the crown of your head. Pull your hair into a low bun and top with a pretty ribbon to complete this polished look.
9. Bandana Updo
Don't want to deal with second-day hair? Just pull it right out of the way. We love to do top knots on day-old hair because they're super chic and tuck away dirty-looking hair like no other. Top with a thick bandana to cover your roots with style. Need to learn how to tie a bandana? Check out this tutorial for step-by-step instructions for bandana headbands.
10. Easy Crown Braid
Or, you could just cover your roots with a pretty braid instead! We love how gorgeous crown braids look and, as it turns out they aren't all that hard to do! Follow our tutorial to learn how to create a simple crown braid. When you're done be sure to give your hair a good spritz of TRESEemmé Total Volume Hair Spray. It helps keep your voluminous crown braid intact all day.
11. Half-Up Space Buns
It's no secret that we're big fans of space buns around here. What can we say, they're just super fun. They're also a great second-day hairstyle to wear because no one will be looking at your roots. If you have long, thick hair, try this half-up style. Just separate the top half of your hair, and part down the center. Wrap each side into a mini bun. You can even pull your mini buns extra tight to get a sleek look on your roots.
12. Braided Top Knot
Curly hair tends to run on the dry side, but that doesn't mean you'll never have to deal with oily-looking roots! Whenever you have oily roots wear this pretty braided top knot. The braid can distract from oily roots while getting your hair off your neck.
13. Boho Waves
We're sure you've heard the old wives' tale that oily hair is easier to curl. So, why not! Rock your second-day hair with big boho waves.
14. Slicked-Back Hair
Who says you need to make second-day hair look clean? Why not rock the wet, slicked-back look instead? We love this look because it's so quick for such a high fashion appeal.
15. Faux Hawk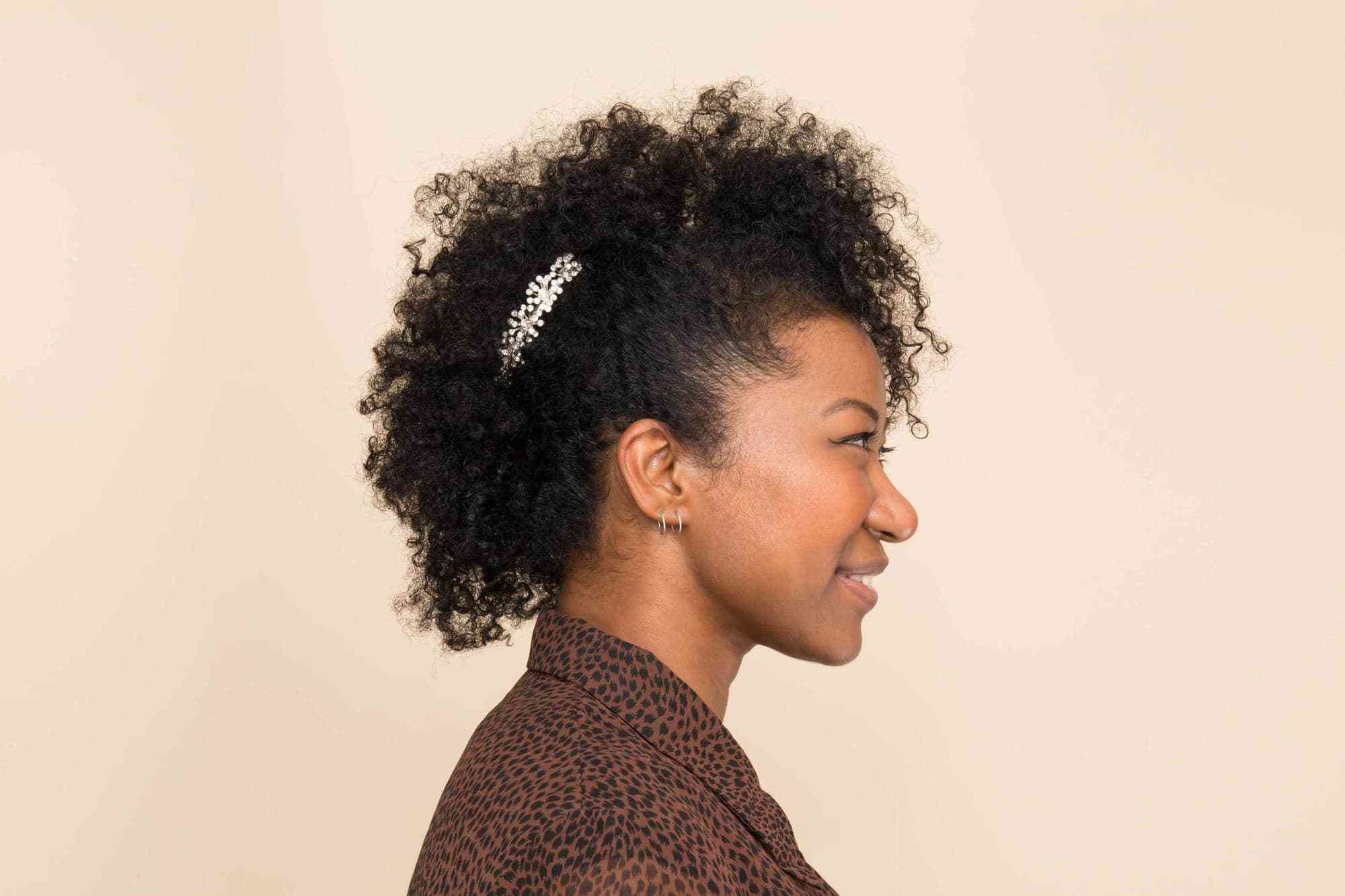 One of our favorite "Cool Girl" styles works pretty effortlessly as a second-day style. Simply gather hair from both sides and collect in the middle, clipping it together with a large clip or several bobby pins. You'll hide any grease, showcasing a modern style to boot.
16. Messy Ponytail
While we mentioned a few structured ponytails to rock on your second-day hair, we also think it's worth mentioning the messy one. Go for a low pony (or bun), leaving out face-framing tendrils to complete the style.
17. Snake Braid
Cover up your second day with the coolest braid around. Master this coiled braid in our snake braid tutorial.
18. Low Bun
For a dash of elegance, opt for this low chignon. A summery look to boot, we are all about these gentle face-framing layers that put your second-day hair towards the back as your face takes center stage.
19. Messy Half-Up
Love the half-up style for second-day hair ideas or really any old time. This look can be a messy, mussed-up look or something more polished.
20. Underneath Braid
Turn those braids upside down with the cool underneath braid look. A style that's made its way on the runway, we are all about this concealed braid idea that takes the attention of your style towards your back. Rock this look after you master our under braid tutorial.
21. Hat
Okay: Not exactly a style, but a hat is definitely worth mentioning when we're speaking about hair that hasn't been washed. Opt for a signature hat for the summer that looks gorgeous with waves.
Prev Article
Next Article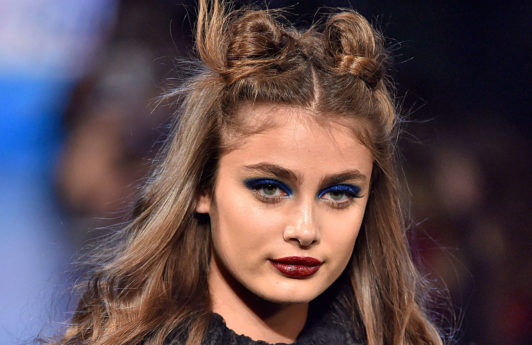 Tutorial
16 Different Ways to Wear Trendy Space Buns (and 2 Tutorials!)
We are happily spacing out over this hair trend.
See article
All Things Hair on Instagram