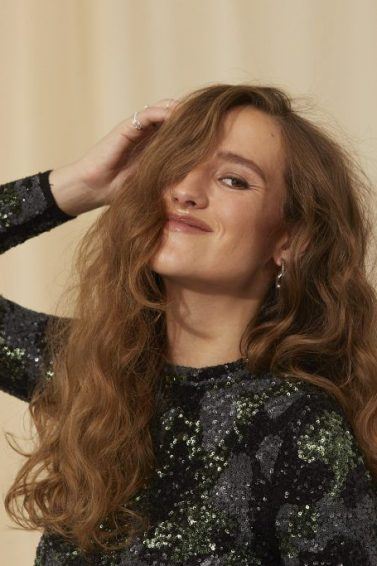 Get Rid of Frizzy Hair with these Holy Grail Frizz Fighters
Say hello to our latest crop of fave frizz fighters!
Let's face it: Everyone has had their share of nightmare hair phases where frizz was constantly in the picture and wants to learn how to get rid of frizzy hair. Some people had to dial back on hot tool usage, tight hair ties, and others have just learned to live with the frizz. We're here to say that you don't have to live with frizz or feel like you need to give up your favorite styling tools and accessories!
There are many different products you can use to help maintain strong strands that won't break and cause frizz. If it's already too late, and we know for most it already is, there are also holy grail items that will tame your frizz so you don't have to worry about it ruining a good hair day.
How to Get Rid of Frizzy Hair
You deserve better than unwanted frizz popping out of your hairstyle, we know you worked hard on it! Start implementing some of these tips into your regular routine to help get rid of frizz. You don't even need to use them all, even just one can drastically change your hair health.
1. Wash with caution.
When considering the texture and finish of your hair, it's extremely important to wash with caution! This means not using just any shampoo or conditioner. We suggest making sure to wash and condition with a moisturizing duo.
2. Condition on the regular.
Adding an extra layer of conditioning love can make all the difference for those prone to frizzy hair. Try SheaMoisture 100% Virgin Coconut Oil Daily Hydration Leave-In Treatment to boost your moisture levels.
3. Say goodbye to your high-friction towel.
Rubbing your strands dry with a regular towel is a quick path to frizzy hair. Instead, try a microfiber towel to dry your strands!
4. Use a heat protectant.
Using a heat protectant before you use any heat styling tools will help you maintain the health of your hair, lead to less breakage, and therefore less frizz!
5. Use a diffuser (if you have curly hair).
Calling all curly-haired girls! Using a diffuser to blow dry your hair will create a smooth finish and a shiny bouncy curl.
6. Invest in a silk pillowcase.
We have no doubt that you've heard the hype around silk pillowcases — this cult favorite luxurious purchase will cause less friction than a standard cotton pillowcase does on your strands. Talk about beauty sleep!
7. Hydrate your hair!
Hydrate, hydrate, and hydrate some more! Just like your skin needs moisture, your hair can get thirsty too. Use the leave-in conditioners, hydrating hair masks, and hair serums listed below to hydrate your hair.
8. Rinse with cold water.
Finish your shower with a blast of cold water to seal the cuticles in your hair for a super sleek, frizz-free finish.
9. Air dry when you can.
Air drying your hair is good for the overall health of your strands and can help with frizz, too! As we mentioned above, less damage means less breakage and smoother and silkier strands.
10. Space out your washes.
Space out your washes to hold onto all this newfound moisture and to avoid drying out your hair! The less you wash, the more hydrated your hair will stay.
Our Holy Grail Products to Help You Get Rid of Frizz
1. Hair Mask
When your goal is to learn how to get rid of frizzy hair, you need to know that beating this challenge is an inside job. That's why it's key to start with an intensive reparative mask that will infuse your strands with intense hydration. Nexxus Humectress Moisture Restoring Masque helps create a protective barrier of moisture around each strand to help prevent unwanted frizz.
2. Smoothing Cream
A smoothing cream is a great product that will give your hair extra shine and make sure flyaways and frizz stay down throughout the day. Use a few pumps of Bed Head by TIGI After Party Smoothing Cream on the mid-lengths of your strands to keep your style smooth and frizz-less.
3. Nourishing Hair Oil
If you suffer from major frizz, hair oil is a great product for you. Oils not only tame frizz, but they also work on repairing the damaged hair. Replenish your strands with Love Beauty and Planet Hope and Repair Coconut Oil Ylang Ylang 3-in-1 Benefit Oil to prevent split ends and get rid of frizz.
Thinking about trying out any of these frizz-fighting products? Be sure to snap a picture and tag us @AllThingsHairUS!
Prev Article
Next Article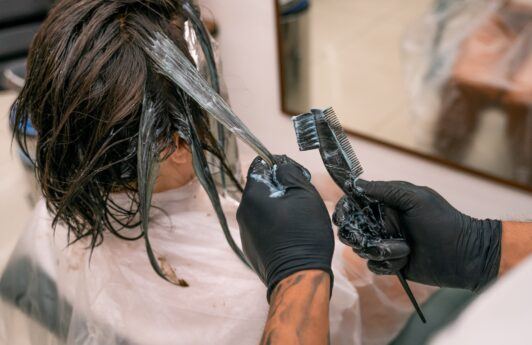 Article
11 Best Shampoos for Bleached Hair in 2022
The first step to giving color-processed hair some serious TLC.
See article
All Things Hair on Instagram