6 Quick and Effective Damaged Hair Remedies
We love our hair, so it should be no surprise that we want to keep it as healthy as possible. Healthy hair is beautiful hair, trust us. But damage and dryness can happen to the best of us–that's why we love damaged hair remedies that can soothe our distressed ends, making them feel smoother, softer and shiny! With the cold winter months, dryness and damage is especially common where you may need a little extra TLC to treat your hair. Read up to check out some of our favorite damaged hair remedies to treat your distressed tresses.
Damaged Hair Remedies that Can Help Your Hair
1. Get a trim.
We're sorry to break it to you but the best way to deal with damaged hair is to get rid of it. If your hair is very damaged, it may very well be past the point of no return. A light trim, even if it just half an inch will help your hair feel much healthier. It can also help to prevent breakage on your ends!
2. Always use a heat protectant.
If you are an avid heat styler, you need to protect your fragile hair from high temps. If you've ever burned yourself on a hot tool, you'll know those things are hot. Just think about what it's doing to your hair! Always play it safe and start every heat style by using the TRESemmé Thermal Creations Heat Tamer Spray.
3. Use hair masks.
After you're done washing your hair, at least once a week, use a hair mask. We like the Suave Professionals Coconut Milk Infusion Intense Moisture Mask for dry and damaged hair. Using a mask will help to infuse your hair with much-need moisture, resulting in soft and shiny strands.
4. Switch up your look.
Did you know that wearing your hair in those really tight styles like braids and ponytails might be causing your hair to break? Not only can you get breakage where a hair tie sits, but it can put too much stress on your scalp. In extreme situations, this could even cause your hair to fall out or thin! To remedy this quickly, try out heat-free styles where you take a break from your blowdryer, opting for heatless styles for curls and braids.
6. Take a break from your blowdryer.
Sometimes you just need to give your blowdryer (flat iron, curling wand, and even crimper) a break! Opt for air-drying your hair (yes, you can air-dry your hair in the winter) allows your hair to naturally dry without the use of heat. Be sure to use some leave-in conditioner to tame any fluffiness.
7. Dye your hair darker.
This is more-so for bleach blondes. Dying your hair a darker shade can help immensely in making sure you don't bleach your hair so often. Although we love blonde hair, there is no doubt that bleaching can be damaging. Going for a darker hue gives you much more time in between dye jobs, giving your hair a rest.
Need more damaged hair remedies to help soothe your hair? Check out these tips on creating a hair masking routine.
Prev Article
Next Article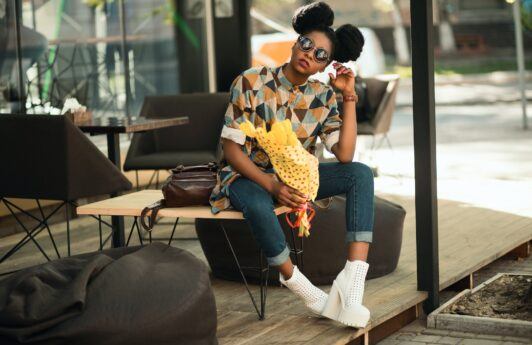 Article
This is the Best Conditioner for Thick Hair
Hydrate your coarse strands with one of our top picks.
See article
All Things Hair on Instagram