34 Hair Braiding Styles We Love and a Tutorial on How to Create Your Own
Take some inspiration and switch up your hair by trying out these fun braid styles.
When it comes to intricate hairstyles, oftentimes a braid can help bring the look to life. With lots of different hair braiding ideas, it's the perfect time to try out these gorgeous looks that we love for their longevity, intricate appearance and the fact that they're so versatile. Whether you're looking for a more laid-back look for the gym or want to rock some cool braids styles for work, we've got you covered with our round-up of some of the most popular hair braiding styles featuring some classics (we're looking at you, fishtail braid) to those with a twist, quite literally.
Read on to check out some of these hair braiding ideas we have in rotation this season and plan on wearing throughout the year.
34 Hair Braiding Ideas You've Got to Try
1. French Braided Pigtails
We loved this hair braiding idea when we were little and now that we're #adulting we love them even more. Perfect for a brisk run, a trip to the supermarket or even a night on the town, French braided pigtails are the epitome of not having to sacrifice style for comfort. This pulled back look not only keeps your hair out of your face, but it also provides a mini facelift depending on how tight your braids are.
2. Side-Swept Three Strand Braid
Best for long hair, a side-swept braid keeps everything in place without taking away from the exquisite feel of flowing locks. When you pair the side-swept braid with an off-center part, you allow your hair to sway nicely over your eye for a more laid-back, mysterious vibe to an otherwise demure look.
3. Milkmaid Braids
You can create two braids situated just right on top of your head, and in seconds, can look like you stepped right out of Pinterest. This super simple hair braiding idea looks much harder than it is when in reality, it's just two traditional braids wrapped around your crown and secured with a few bobby pins. To keep things extra whimsical, gently tug out a small face-framing section on each side and add a soft curl with a curling wand or iron. To get these royal braid hairstyles to stay put all day look, use Dove Style+Care Extra Hold Hairspray. Not only will it lock in your style, but it'll also add a touch of shine too.
4. Double to Single Braid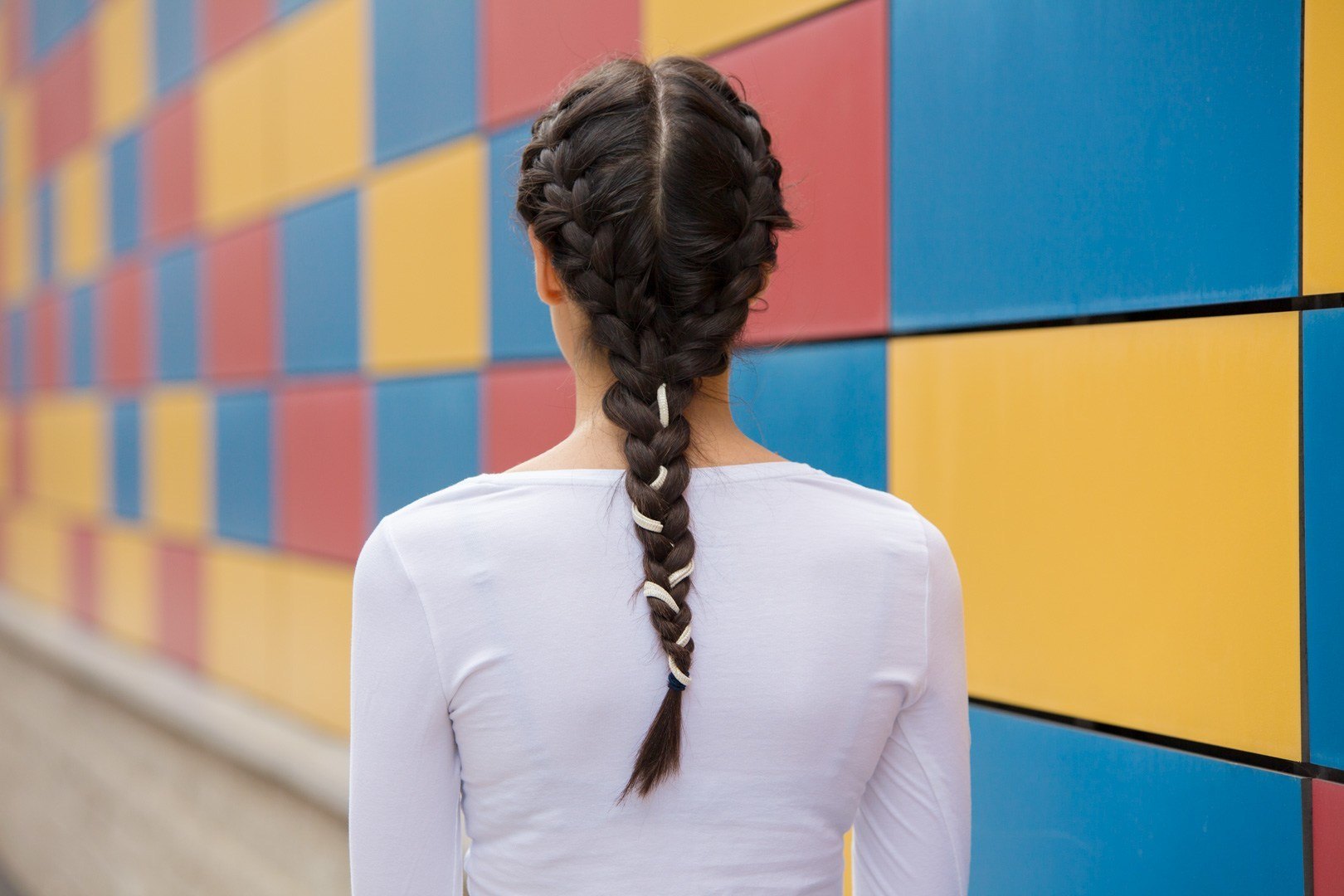 There's just something about the symmetry of mirror-imaged French braids to frame your face. Similarly so, there's a certain air to pigtails, too. If you're looking for the added oomph up front but want to keep it clean-cut in the back, we recommend merging two french braids into one traditional braid.
5. Modern Braided Messy Bun
As if the braided bun hairstyles on the red carpet weren't enough. This hairstyle is our go-to transitional hair braiding idea. It's professional enough for an interview and fancy enough for a gala. Bonus points: You actually don't need to use any heat styling tools to achieve the look. Just make sure you seal the look with a strong-hold hairspray.
6. Braided Ponytail
Braided ponytails are that one easy hairstyle every girl needs in her hairstyling arsenal. And, they're also a great way to turning your boring ponytail into a fresh new look. To create this hair braiding idea, simply apply a serum, like TRESemmé Keratin Smooth Shine Serum, to the ends of your hair to tame frizz, and braid all the way down to the ends.
7. Mermaid Braid
This dreamy look is all about loose braids that feature a half-up style. We love this modern-day hair braiding idea that you can easily master in our mermaid braid tutorial.
8. Colored Box Braids
We were deeply inspired by the green box braids worn by wardrobe stylist Hope Morgan. As Hope predicted, color braids aren't going anywhere any time soon. This year we are loving the colored box braid hair trend. It's a great protective style and a fun way to play around with hair color without the commitment. If you plan on wearing this trend, be sure to use dry shampoo to refresh your hair in between washes.
9. Upside-Down Braided Ponytail
This hair braiding idea trend is a major hit and we just can't get enough of this upside-down braid. When recreating this look, you can play around with many different variations. Opt for big braids for a bold look, or fine cornrow braids for a look that's on the subtle side. Don't want multiple braids at all? A single braid will do.
10. Scarf Braid
Take advantage of the restful Sunday-night sleep you got the night before and rock an intricate scarf braid for Monday. The first day of the week always sets the tone—and let's not forget what a great hair day does for your mood!—and this pretty, polished look shows you made an effort to show up and dress up. It also keeps hair out of your face while you deal with those dreadful Monday emails, and stylishly coasts you through until after-hours cocktails with the work buds.
11. Accent Braid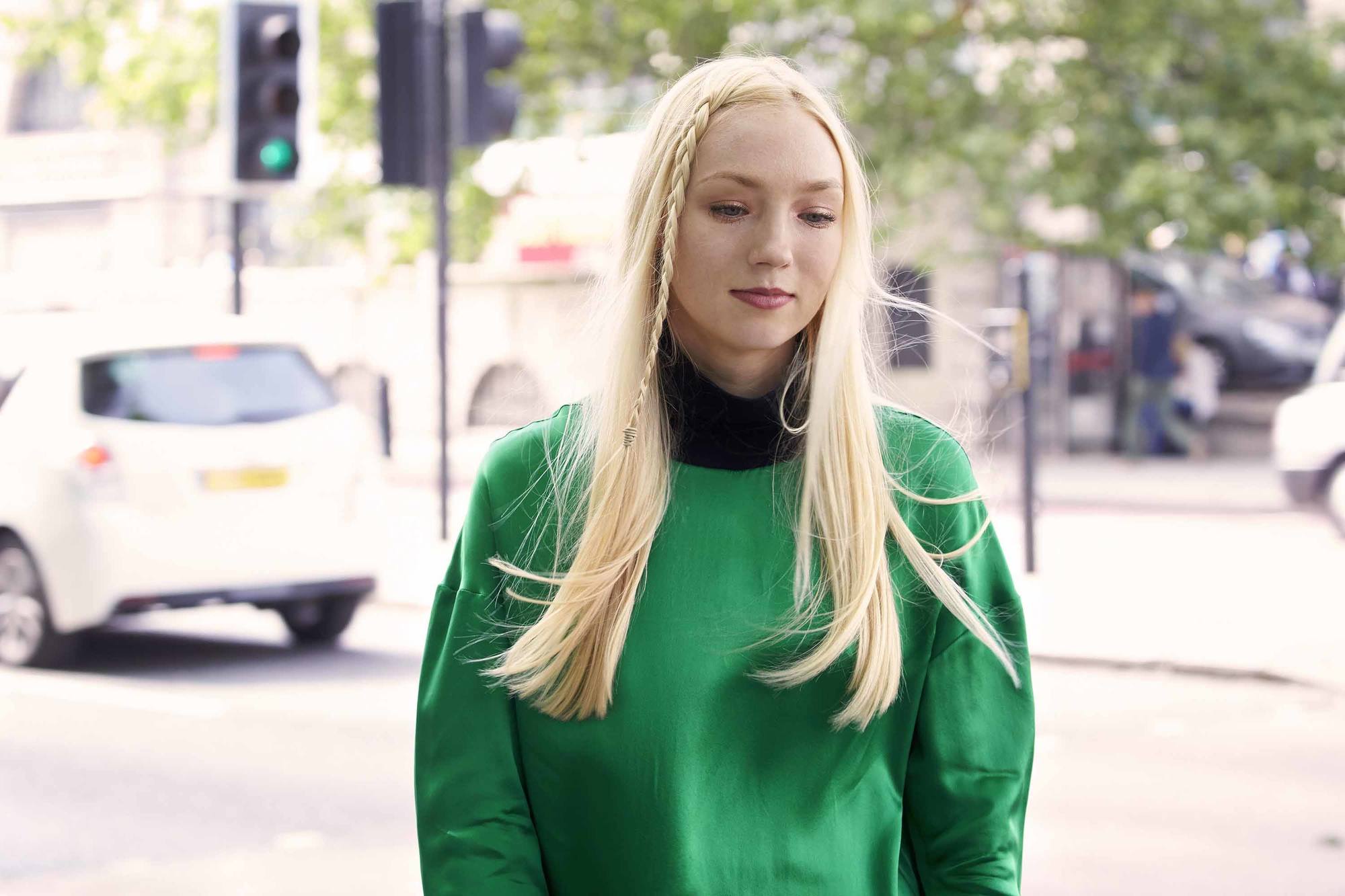 A skinny plait, whether worn hidden or as an accent braid hairstyle near the hairline, is a clever way to upgrade a normal blowout. It gives a cute, slightly schoolgirlish feel (especially when paired with fall's buttoned-up silhouettes). It's also the quickest hair braiding idea you can do en route to work while stuck in your commute, so feel free to wing it—the regular three-strand braid is technically foolproof.
12. Upside-Down Braided Bun
Snap yourself out of the hump-day slump with a perky, super Instagrammable upside-down braided bun. This braided hairstyle features a French braid that starts at your neckline and goes upwards, joining the rest of your hair in a cool top knot. To achieve, simply flip hair over and start French-braiding upwards—or just hack it with a regular three-strand braid pinned in the middle. Either way, it's no-nonsense but also stunningly cute, a.k.a. #hotd goals.
13. Perky Fishtail
Just in case you went overboard with the ladies' night mojitos the night before, a high-perched fishtail plait can give an instant facelift. All it takes is gathering hair into a cheerleader pony and creating that herringbone braid after it's been tied. Pancake the weaves so they're artfully undone (you know, like your morning-after eyeliner), secure with a hair tie and just prep for some low-key hair-flipping all day.
14. Crown Half-Updo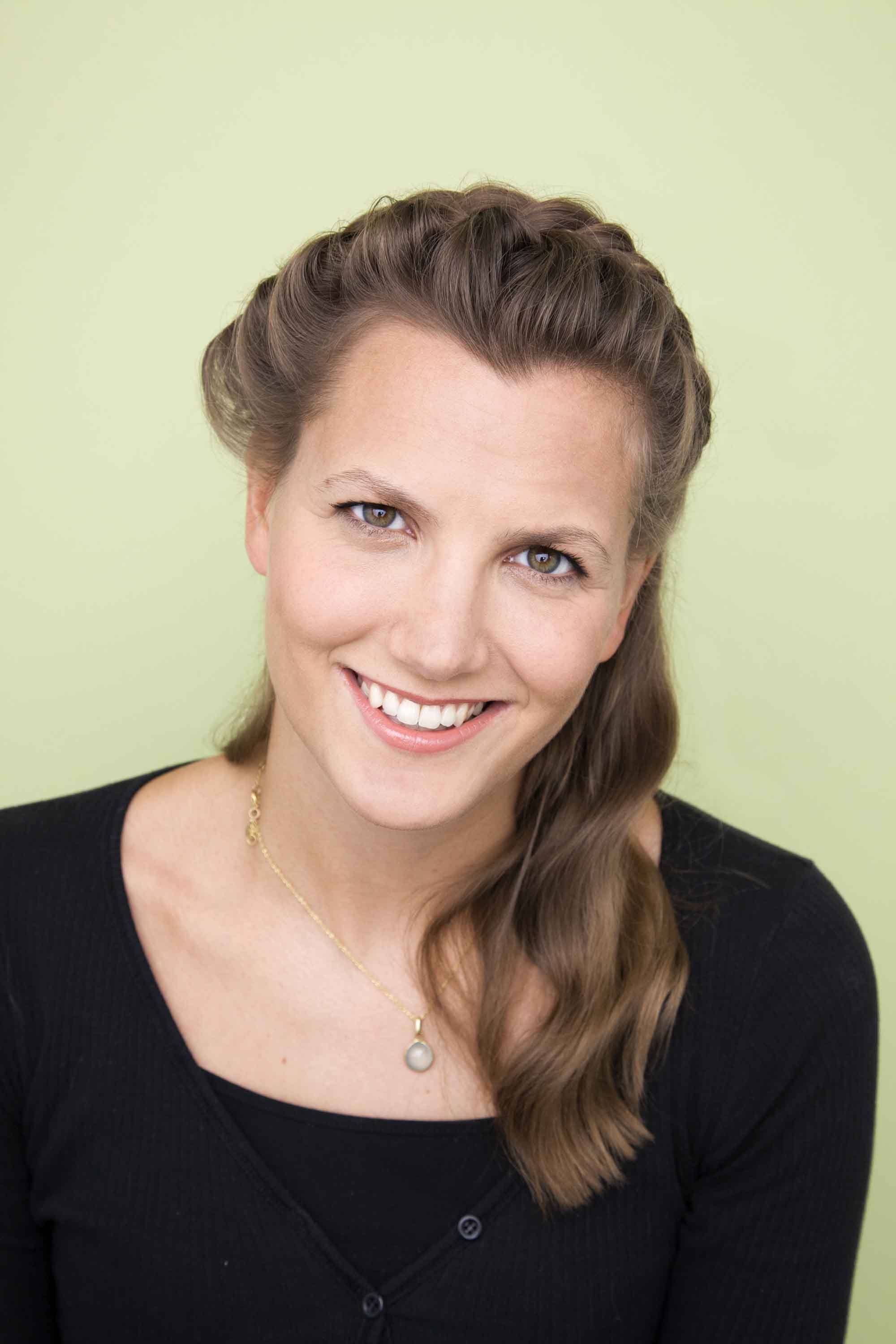 Confession: We're all about double-duty hair, and nowhere else does it come to the fore as much as our Fri-yay looks. The crown braid—which is just a horizontal French braid, worn from ear to ear like a headband—is the epitome of work all day, party all night. It keeps our vision free to crunch in those numbers and also instantly unfurls to sexy, loose, flattering waves around your hairline the moment the clock strikes happy hour.
15. Box Braids
If you're planning to have a low-maintenance summer when it comes to your hair, opt for box braids. This hairstyle can be worn long-term, but be sure to wash and care for your hair as usual. Keep your braids shiny looking all summer long with the help of hair oil. Use a gel to keep your hairline in control. While wearing box braids you can try a multitude of hairstyles, we fancy this half-up bun hairstyle.
16. Loose Braid
Need a mid-week refresher? Other than using dry shampoo to soak up excess oils from your hair, update your look with a loose braid. After spritzing your roots with dry shampoo, like Dove Detox & Purify Dry Shampoo, which removes oil from roots without leaving visible residue, massage it in then move on to braiding the ends of your hair. If you happen to create a tighter braid than expected, no sweat! Tug at your braid on each side to loosen. Back-comb the end of the braid to lock in the braid. No need for hairpins or hair ties!
17. Triple Cornrow Braided Bun
Cornrows, or as many love to call it, boxer braids, are one of the coolest braided hairstyle ideas and it's just as ideal for a tennis match, as it is for a boxing match. Prep your hair with a styling oil, like Suave Professionals Moroccan Infusion Styling Oil, for some instant shine. Then, part your hair into three sections and clip away. Cornrow each section down to your nape, then roll the ends into a low bun.
18. Crown Braid Low-Do
Crown braids aren't just for festivals. Bring your A-game to the tennis court by rocking this easy and quick hairstyle. Simply part your hair at the crown as you create a French or Dutch braid. Then, gather the back section of your hair into a low bun.
19. Side Braided Box Braids
Transform a stylish protective hairstyle like box braids into a style that works for your superb tennis skills. Sure, you'd love to whip your hair back and forth, but that may not feel good against your face while in your element. If needed, refresh your roots with dry shampoo. Gather hair to one side, create a thick braid and secure the ends with a hair elastic.
20. Half-Up Cornrows
Since half-up hairstyles are having a serious moment, it's no wonder why a braided rendition makes our list of top hair braiding ideas. Depending on the look you're trying to go for, you can create any number of cornrows leading into a top knot, messy bun or even half-up ponytail. Ideal for a weekend stroll and spotted at trendy fashion shows just last September, cornrows are sure to make you stand out.
21. Half-Up Flower Braids
Love the look of space buns, but want to take it up a notch? Instead of simply twisting your hair into clubby-looking, matching top knots, start with braids and carefully coil them around themselves to create a bud-looking chignon. Say it with flowers!
22. Undone Accent Braid
There's just something about an undone braid that makes things look that much more effortless. To achieve, simply use a texturizing spray to give your hair a little extra grit in order to help your undone braid stay in place. Next, begin a regular three-strand plait from your partline to your earline and secure with pins or a clear elastic. Once you have woven your masterpiece, add a few spritzes of a medium-hold hairspray to make the look last all day.
23. Half-Shaven Braid
Want to rough up your regular hair braiding styles? Create some buzz, quite literally. For those of you working with a half-shaven head or are rocking the super-trendy undercut, braids are a totally rad way to take your edgy look one step further. To get the look, check out our tutorial on how to create a super easy half-shaven braid.
24. Fishtail Tie Backs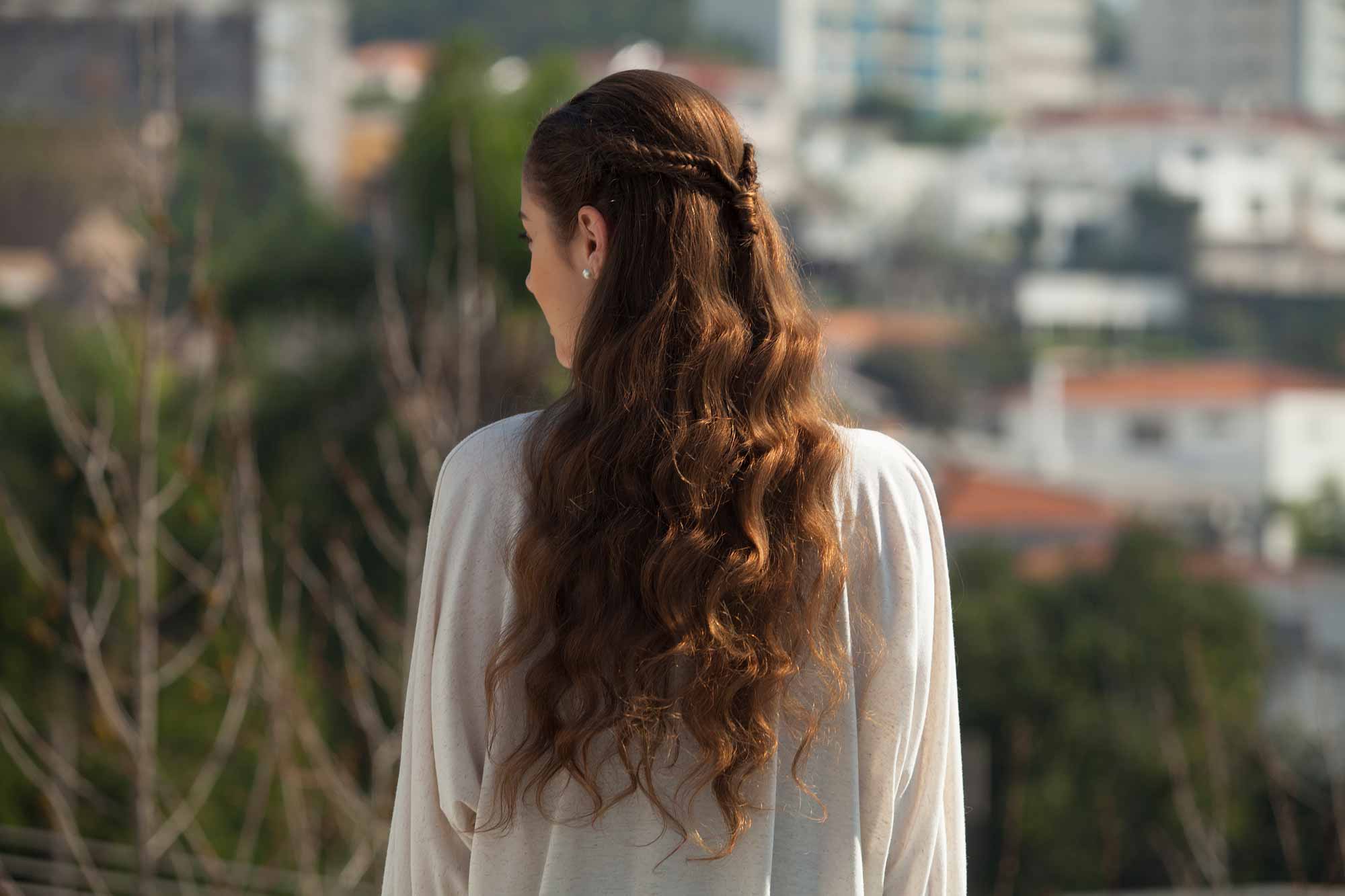 Every once in awhile, it's nice to embrace your inner goddess and let it shine through the way you do your hair. One of our very favorite hair braiding ideas is this super simple pull-back created with fishtail braids. Simply take a small section on each side of your head and create a mini fishtail braid. Once you have both braids, secure them together with a clear mini elastic. And just like that, voilà: hair braiding ideas come to life.
25. Double French Braids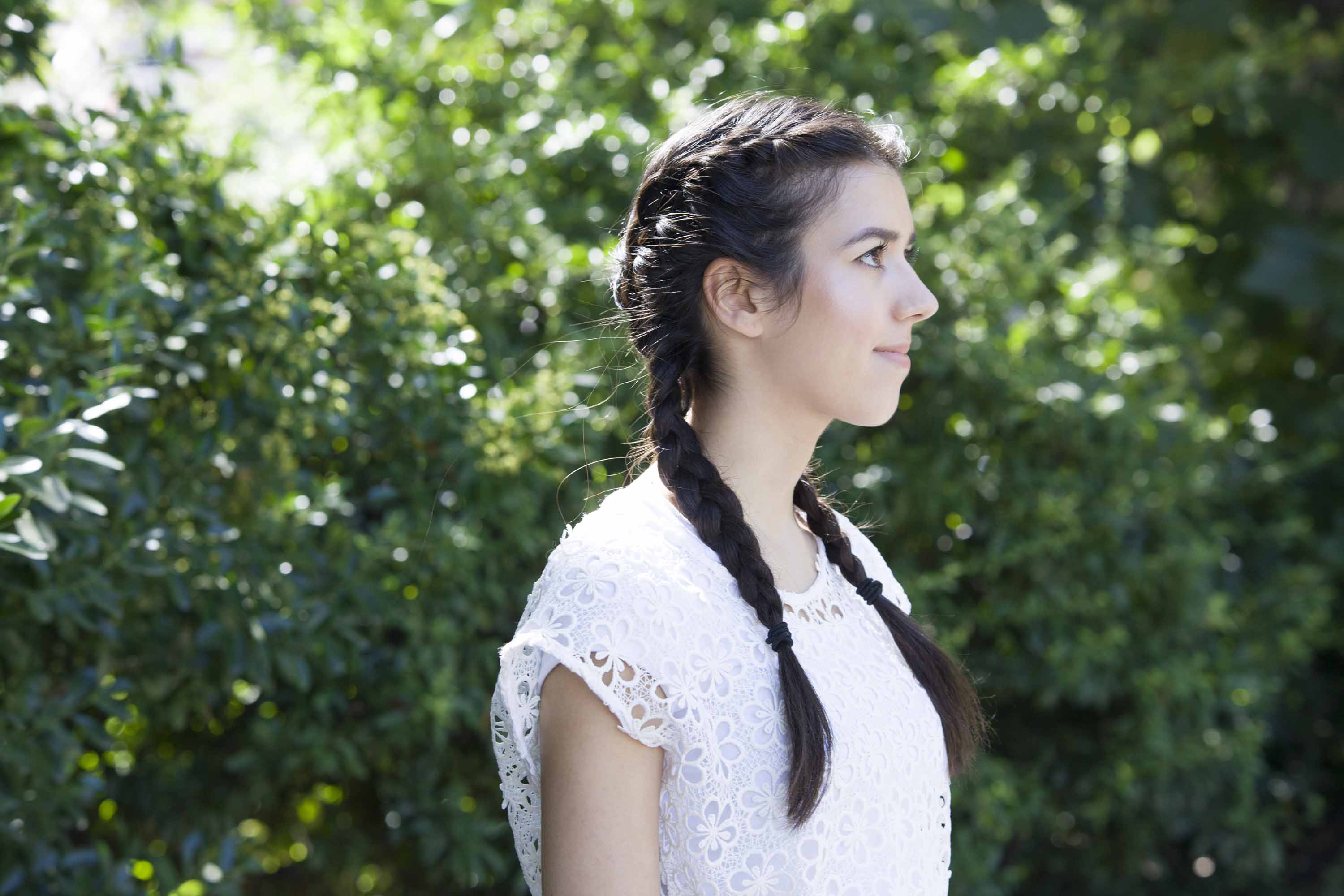 While these braids are fun to wear for play, they are just as good for work. Pair this hairstyle up with chic work attire to make them a bit more office-friendly. To style, part hair down the center, then create a Dutch or French braid on each side. Use some serum or oil add shine and tame flyaways.
26. Half-Up French Braid
It's no secret that we're swooning over the half-up trend right now, which is why it made it to our top edit of braid styles. Part hair from ear to ear and clip the back section away. Braid your hair on a diagonal angle on each side of your face, all the way to the ends. Bring each braid to meet at the back of your hair then pin together. Release the back section of your hair, create loose curls for a more playful look or leave it straight.
27. Transitional Crown Braid
We love this crown braid for days when you have an after-work event on your agenda with no time to head home to get prepared. Whip your hair up into this transitional braid style in the morning. Gently detangle your hair with a brush (we love the boar bristle brush). Then, part your hair to the side and begin to braid against your hairline all the way around.
28. Hidden Braid
Hidden hair braiding ideas are great when you want to showcase your natural hair texture with a subtle braid. Prep your clean hair with some heat protectant, then flat iron your hair until it's completely straight. Make one braid or twist to frame your face and pin back to the side. Create another braid that hangs down with the rest of your hair. To make sure that your braid doesn't come undone, backcomb the ends or tie with a fun yet work-appropriate hair accessory.
29. Half-Crown Braid with Bun
This is the minimal approach to the full-on crown braid. Part the front section of hair and set aside for your braid. Gather your back section into a low bun and secure with hairpins. Braid your front sections, wrap the ends around the base of your bun and pin in place.
30. Textured Fishtail Bun
Fishtail braids on a pigtail ponytails may not be your type of work hairstyle. Pile your fishtail braids up loosely into this eye-catching bun. Pull hair to pancake and create texture and a fuller effect. Spray some hairspray onto your chic bun to set it in place.
31. Messy Braided Pigtails
For casual get-togethers, we love these casual braided pigtails because they look cute with a hat on, and they can handle the resulting hat hair. Start by creating two braids ending the braid in line with your ears. For a wavy effect on the ends of your hair, spray a sea salt spray onto your hair and you'll be good to go.
32. Twisted Braid
This twisted braid is one of the hair braiding ideas that's simply gorgeous for the holidays. And you want to know the best part about this look? It's way easier than it looks. All you need to do is a traditional braid but leave out a one-inch section of hair at the nape of your neck. End the braid a couple of inches above the ends of your hair. You can curl the ends for even more texture and depth. Take that one-inch section and wrap it around the braid and use it to cover your hair tie. See? Super simple. Seal in your style with some hairspray to ensure that your look stays in place all day long.
33. Snake Braid
We love this snake braid updo that adds a cool edge to your holiday look. Check out our full tutorial on how you can master the snake braid updo for your next holiday party. Just be sure to have enough bobby pins to secure this look in place.
34. Half-Up Crown Braid
As much as we love the traditional crown braid, sometimes you want to keep your length too! This style is great because it works for all hair types. You can totally rock this style with straight hair, curly hair, and box braided hair, too. Get the look by sectioning off just the front part of your hair from ear to ear. Then, create a braid following your hairline and secure with a hair tie behind one of your ears. Then, just leave the rest of your length down and you'll be set!
Tutorial: Twisted Updo Hair Braiding Ideas
Prev Article
Next Article
Gallery
Twist Braids: 6 Ways to Elevate Your Braided Styles With a Twist
Rock braids in your hair with these cool and very trendy twist braids.
See article
All Things Hair on Instagram