Dutch Braid Guide: Step by Step Tutorials and Plenty of Inspo Styles
Find out how to do a Dutch braid in different, totally unique, totally trendy ways.
You've probably seen just about every celebrity wearing this fierce, distinctive look. Braid aficionados know Dutch braids not only as a reverse French braid, but also as one of the hottest hair trends making the rounds today. So much so that we immediately had to revisit how to Dutch braid and and put together a tutorial for our readers, as this much-copped look definitely deserves its 15 minutes.
The Dutch braid, especially when worn Double-Dutch style (a.k.a. pigtails), keeps your strands completely secured and away from your face, with little risk of unraveling. This is perhaps one of the reasons why this braided pigtail look is so popular during the hotter, more humid, no-hair-around-my-face-please months.
How to Create a Dutch Braid
We're willing to bet that learning how to create a Dutch braid was never so high on your list of priorities before. The dutch braid is a more recent addition to the trendy hairstyles department, but it came in full force. Loved by celebrities and Instagram fitness influencers alike, the dutch braid is both utilitarian and cute. Need we say more? Read on to learn how to dutch braid, and then see different ways to incorporate the variation that's best suited for you:
How to Create Dutch Braid Pigtails
How to Create a Dutch Braid Flat Solo Braid
We're spoiled with so many choices on how to Dutch braid, yet one of our favorites has got to be the simple solo braid. This version of the Dutch braid is a versatile stand-alone that, just like the French braid, can be worn to virtually any occasion.
Unlike the French braid, the Dutch braid stitch, as mentioned above, is done by using the underhand process in which the strands of hair are crossed under one another. We love how this kind of braiding results in a mohawk-inspired hairstyle due to its bumpy, center placement. Read on to check out an easy and simple way to create a single Dutch built-in braid:
How to Create an Accent Dutch Braid
Another braid trend we've been loving is the accent braid. This hairstyle is basically just a skinny version of your favorite braid—which, in this case, is the Dutch braid—that can either be shown off at the hairline or hidden amongst the rest of your hair, hence its name.
To learn how to master this look, TRESemmé, Stylist Tyler Laswell shares how to create some beach waves with a cool Dutch accent braid. Read on to check out his insider tips on how to master this look in no time:
Step 1: Use a curling iron.
Using a medium-size curling iron, create loose waves randomly until all your hair is curled. Lightly tease at the roots for added volume.
Step 2: Separate your hair.
Create a side part. Starting at the hairline of the smaller section, create a Dutch braid that follows the hairline, going behind the ear to the nape of the neck, then continuing through to the ends.
Step 3: Lock in the style.
Finish the look by spritzing with TRESemmé Compressed Micro Mist Level 2 Hold Curl Hair Spray. 
Step 4: Add Some Flair
Embellish the braid by using a cool hair accessory, like a hair ring, for added flair.
How to Create a Dutch Crown Braid
One of our favorite braided looks this time of year has got to be the Dutch braid. It ticks all the boxes—super-trendy, campy, and sweet, plus it's also an awesome heatless method to achieve killer curls. But what if you're in love with the look but also want to stand out from the crowd? The answer: Go for a Dutch braid crown.
Step 1: Create a side part.
Using a fine-toothed comb (or your fingers, if you want a more tousled, natural-looking part), create a side part on your head. Comb through.
Step 2: Take a section of hair where your part starts.
Pinch a two-inch section of hair on your thicker side, and split that section into three smaller sections. Then take the left strand and cross it under the middle, then cross the right strand under the middle. Bring new strands in from each side each time you finish a link.
Step 3: Continue all the way around your head.
Continue your Dutch braid crown all the way around your head, remembering to take new hair from the top and bottom as you move across. You'll eventually end up on the opposite side of your part.
Step 4: Switch to a regular dutch braid.
When you reach the point above your opposite ear, that means you've run out of scalp! Switch your stitch to a regular Dutch braid, and secure at the ends with a thin hair tie.
Step 5: Loop the tail across your head behind your first braid.
Tuck the end in with a bobby pin to hide.
Step 6: Finish with hairspray.
Smooth down any flyaways and halo frizzies with a spritz of hairspray, like TRESemmé Compressed Micro Mist Hairspray Extend Hold Level 4. This will also ensure that your style styles are in place all day long.
The 5 Strand Dutch Braid
1. Upgraded French Braid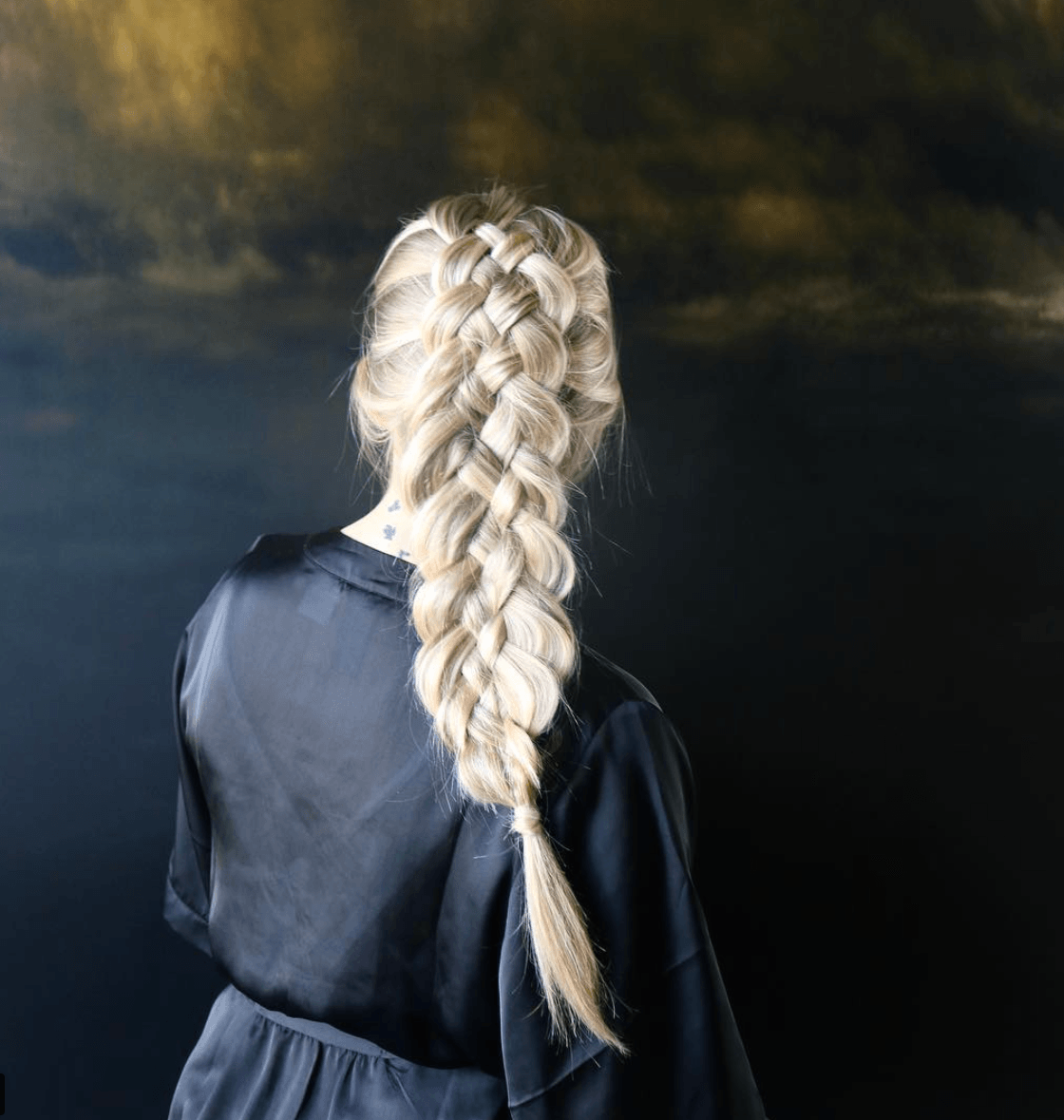 Upgrade your classic French braid by opting for a 5-strand Dutch braid instead. Start this style at the crown of your head and bring it all the way down to the tail of your ponytail.
Finish the look off by tying a strand of hair around the end of the braid and sealing everything off with a mist of hairspray. We suggest a stronghold hairspray like TRESemmé Compressed Micro Mist Hairspray Smooth Hold Level 2. This look was created by the talented Laura Gravina of @LaurasLookBook.
2. Wrap-Around Braid
This wraparound dutch braid headband allows you to show off your length while still incorporating a braid into your look. When adding curls, don't forget to protect your strands and prep them with a protective spray like TRESemmé Thermal Creations Heat Tamer Spray. Check out the talented Megan of @HolliBeauty_, who created this gorgeous look.
3. Accessorize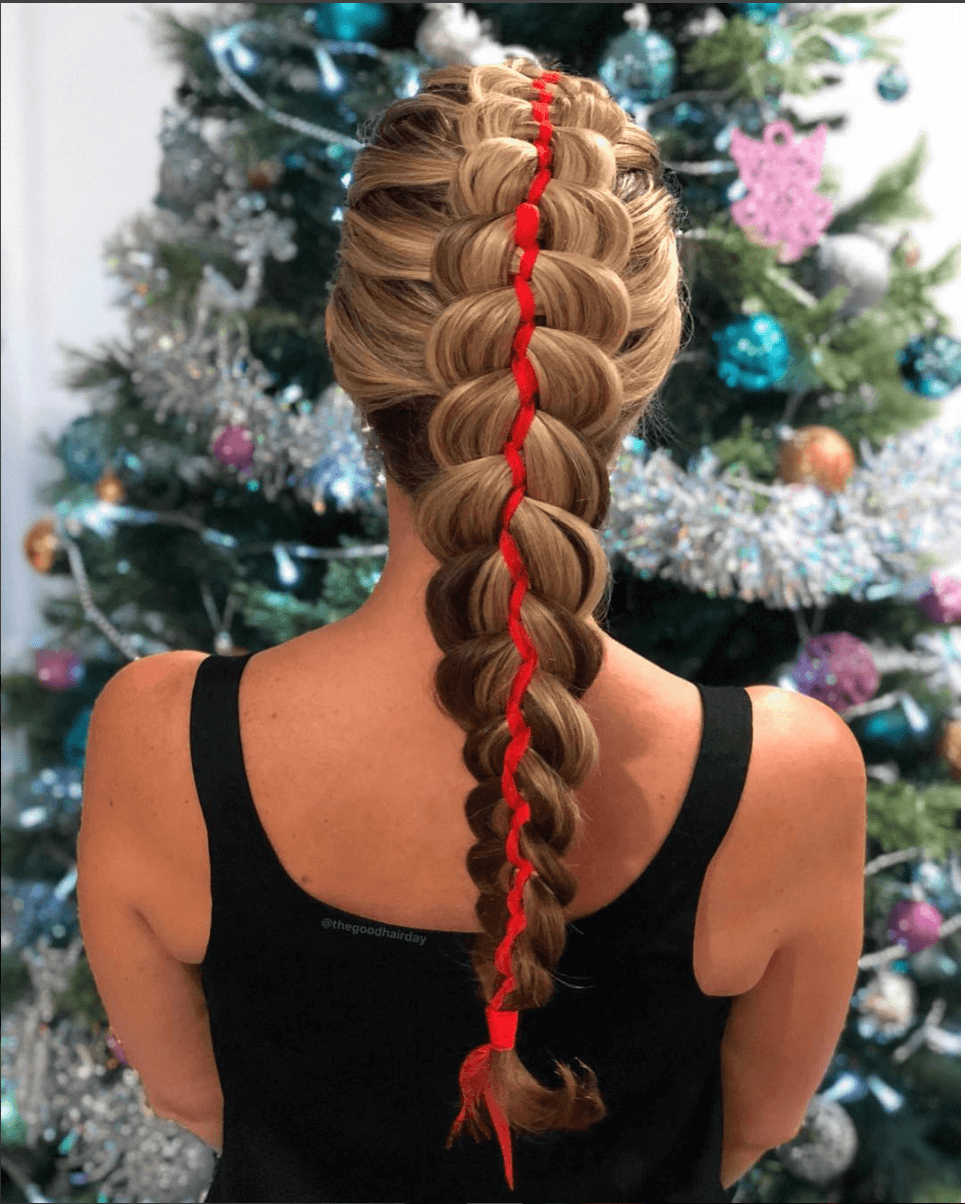 Consider adding a holiday-ready accessory like a vibrant red ribbon to your style. Brianna of @TheGoodHairDay created this beautiful braid and added a pop of red color to brighten up the look. Add a little bit of volume and breathe new life into second- or third-day hair before beginning this braid by spraying your roots with Dove Refresh+Care Volume and Fullness Dry Shampoo.
Are you thinking about trying out one of these styles? Be sure to share the results with us over @AllThingsHairUS!
Prev Article
Next Article
Article
How to Braid Short Hair In 5 Easy Steps
Rock your short hair with braids! Get the full scoop in this fun hair tutorial.
See article
All Things Hair on Instagram