Tutorial: How to Do Box Braids in 2 Ways
THE classic protective hairstyle you need to know about.
Box braids, a set of individual braids usually done either on natural hair or extensions, is a classic braided hairstyle and technique that is both a look in itself and a foundation for other looks as well. It's a go-to protective hairstyle for Black women as well as those with tightly curled or natural-textured hair. It's a style that can be worn as-is or embellished, on short, medium, or long hair, and left in for over a week or longer, lending to its popularity as one of the most versatile braided looks.
Lots of today's trends use box braids as a starting point, so you'll be sure to get lots of mileage out of this fundamental braid. If you also need some wash and care and styling tips, we've got that covered, too! Read on for a couple of tutorials on how to do box braids, including a '90s-inspired style:
Box Braid Hair Tutorial: From Braiding to Styling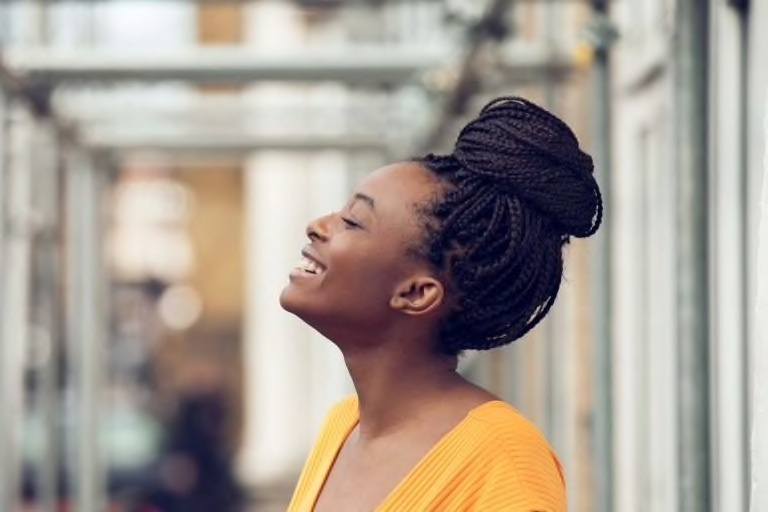 The beauty of this box braids tutorial is that it can be done on various widths of braids. You can choose between tiny micro braids or a set of jumbo braids. The latter requires a shorter amount of time, while smaller braids can take around 7 to 8 hours. Whatever you decide is totally up to your style preference, and well, how long you can sit tight!
Step 1: Begin with clean hair.
Begin with clean, dried, detangled hair. If you plan to wear this hairstyle for a long period of time, we suggest you don't skip the deep conditioning step.
If you are braiding with the addition of synthetic braiding weaves, don't blow-dry your hair bone-straight. Leave a bit of texture to help with grip as you braid.
Step 2: Freestyle your sectioning.
You can section hair off into four equal sections, focusing on one section at a time. Alternatively, you can freestyle: Part a small to medium section of hair (it doesn't have to be perfect!). If you're going for a more uniform look, create square-, triangle- or diamond-shaped partings for each section using the end of a fishtail or rat-tail comb.
Step 3: Begin to braid!
After parting your first section, pinch some hair, split it into three as you would a regular three-strand hair, and start off each braid by anchoring it with a knot. Aim to braid each section as snug as you can. Continue this method throughout the entire head.
If you're working with extensions, take a strand and bend it in half. Apply the bend of the extension to the root of the section of hair you're working with on your head, tie it off in a knot, and begin to braid the hair as normal, incorporating the extension as you braid downwards.
Step 4: Lock in your style.
 Once you're done, spray your hair with hairspray to finish and style as you desire. One of our go-to's is TRESEemmé Total Volume Hair Spray.
How to Style Box Braid Hair
If you tried out this tutorial with hair extensions, you can play around with length as well.
You can cut long extensions into a short box braid bob or lob. You can also loosen the braids from the ends to the mid-shaft, and then curl with a curling iron or hair wand for a curly box braid hairstyle.
If you kept it long or if your hair is long on its own, consider trying a box braid updo. A top knot or pompadour hairstyle is a fun idea!
How to Maintain Box Braid Hair
One of the pros of this hairstyle is how low-maintenance it is once done. At night, wrap hair with a silk or satin scarf or sleep on a silk pillowcase to avoid friction on your braids.
One thing you need to keep in mind is that you still need to protect your strands. Box braids should be washed, cleansed, and conditioned every week or bi-weekly.
To dry, squeeze or gently wring your hair. In between washes, you can use Dove Detox & Purify Dry Shampoo, concentrating on the root area to refresh your scalp.
Lastly, pay close attention to your edges and hairline. Apply a moisturizer of your choice to avoid dryness, and keep any flyaways in place with the help of hair gel, like TRESemmé TRES Two Mega Firm Control Gel.
How to Box Braid for a '90s-Inspired Bun
Step 1: Wash your hair thoroughly.
We prefer using a gentle shampoo and a conditioner, like Suave Sulfate-Free Cleansing Shampoo and Moisturizing Curl Conditioner, that moisturize so you don't overstrip your hair (Note: Natural and curly hair types are typically drier than others.). Starting with clean, well-rinsed locks is a crucial step to creating braids, especially when you plan on leaving them in for longer periods of time. 
Step 2: Apply a detangler or leave-in product.
Box braids are a smaller, tighter kind of plait. Products that provide an extra shot of moisture—not to mention tame any frizz and offer that telltale "slip"—such as The Good Stuff Volumizing Hydration Foam, are great box braid primers as they can help prevent any damage to the strand while you weave.
Step 3: Blow-dry hair until 90 percent dry.
The last thing you want to do is tug and manipulate fragile wet hair. Make sure to remove any knots as you dry by gently brushing locks out with a detangling brush or wide-toothed comb.
Step 4: Section off your strands.
Divide your head into four quadrants (top right, top left, bottom right, bottom left) and clamp up three sections, leaving one loose section to work on at a time. It's usually easier to start braiding the lower sections first.
Step 5: Divide and conquer.
Pinch some hair from your loose section around one inch from your scalp, and further divide that pinch into three thin strips. Proceed to create a simple three-strand braid from the roots downwards. Make sure to leave some slack near the root—too-tight braids can cause breakage and unnecessary tension on your scalp. Box braids are usually tight enough to stay intact without a hair tie—some opt to "seal" them off with some hair wax or oil, or even dip the ends in hot water. We suggest gently securing the ends with a tiny hair elastic for more longevity.
Step 6: Repeat!
Continue the pinch-and-braid method on all remaining mini-sections of your one quadrant, ensuring that each pinched section is even. Once the entire quadrant is braided, move on to the next quadrant, until your entire head is covered in ropes of braids. Ed's note: The entire box braid process can take anywhere from four to 12 (!) hours, depending on your hair length and thickness, you/your stylist's speed and skill level, or if you're working with extensions. Be patient!
Step 7: Use a hair oil.
After your braids are done is a good time to nourish the scalp with some hair oil. Coconut or Argan oil can help soothe any rawness from tugging and braiding. A serum or oil smoothed over your braids, such as Suave Professionals Moroccan Infusion Styling Oil, can also help tame flyaways, help prevent strand breakage and hold down any halo frizzies.
Step 8: Create your half-updo.
Using your fingers or the tail of a fishtail or rat-tail comb, section off the braids near your crown. Gather into one giant ponytail and coil it around itself at the top of your head, securing at the base with some strategic tucking with bobby pins or use a wide, gentle, fabric-covered elastic at the base. Done!
Prev Article
Next Article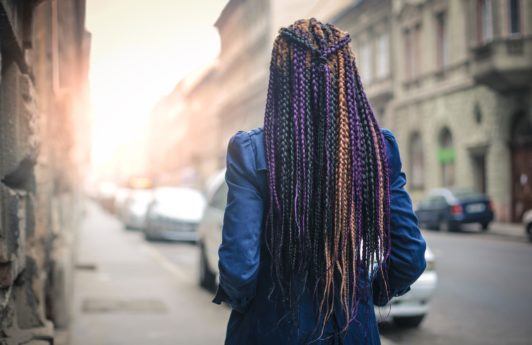 Gallery
10 New Ways to Wear Thick Box Braids
10 ways to wear beautiful, thick box braids.
See article
All Things Hair on Instagram