44 Best Box Braids Hairstyles for Natural Hair to Try this Season
Dress up your hair with these cool box braids hairstyles.
One of the hottest looks to hit the scene each time the weather turns up is a set of different types of box braids. And although we love the practicality of this style during warmer weather, this protective hairstyle is perfect for just about any season, and its versatility allows it to be styled in just about any way you want.
Head-Turning Box Braid Hairstyles
Whether you feel like letting them loose or popping them into a top knot bun, your box braids add detail, texture, and overall coolness to even your fuss-free, most get-up-and-go of looks. You definitely don't want to skip out on this eternally trending 'do, so give one of our top 47 refreshing box braid styles a try to see why everyone is loving this protective look.
Head-Turning Braid Hairstyles
How to Do Box Braids
Best Type of Hair for Box Braids
How to Wash Box Braids
1. Ombré Box Braids
Give your box braids a glowing look by creating an ombré look. Whether you want your hair to have a natural color gradient with blonde box braids or choose cool pastel-colored ends, this dip-dyed vibe is perfect for giving your braids a pop of color.
2. Medium Box Braids
Your braids are already in an amazing style, so why hide them by putting them up? Wear your medium-sized box braids down for full impact.
3. Box Braids in a Bun
One of the major reasons why we love box braids is because they give an added punch to any look, as seen on this side bun. This simple hairstyle gets a fun, flirty, and texturized revamp with the help of some cool braids.
4. Box Braids Half-Updo
Dress up any classic style with this cute mini half-bun. Simply gather the top half of your braids up into a half bun to recreate this look.
5. Blue Box Braids
Need a little splash of color in your life? Then try out a fresh and soothing blue hue.
We know that hair dye can suck the luster out of your strands, so make sure you replenish any dry, locks with Suave Professionals Honey Infusion 10-in-1 Leave-In Conditioner. You can also opt for some colored extensions to avoid any dye damage altogether.
6. Top Knot Bun
If you want a style that's as low-maintenance as you (or, you know, as we all aim to be!), then try out this easy top knot bun.
7. Box Braids Ponytail
Even the classic ponytail gets an amped-up feel when styled with box braids. Try this slightly off-center style for a cute and flirty look.
8. Thick Box Braids
Let your bun swing low with this style to create a laid-back, bohemian look. This looser style allows you to show off your braids and keep them out of your face.
9. Light Brown Box Braids
If it's a particularly bad hair day for you and your hair, there's always one style you can always rely on box braids paired with a beanie. It's effortlessly chic, and looks totally Insta-worthy… and is especially clutch when navigating these unpredictable spring showers and flurries!
10. Micro Box Braids
This simple switch-up to the classic ponytail is perfect for any occasion. This mid-height ponytail is flattering on everyone!
11. African Box Braids
No matter where you're headed to, this is one of the classic box braid hairstyles that will always look cute.
12. Box Braids on Short Hair
Who said that box braids were only for long hair? Short-haired girls can rock these braids just as well, especially in a bobbed look, as above. It's one of our favorite ways to wear shorter braids.
13. Purple Box Braids
Create a cosmic fusion of color with these jewel-toned plaits. We love this combination of colors for a truly unique look.
14. Crochet Box Braids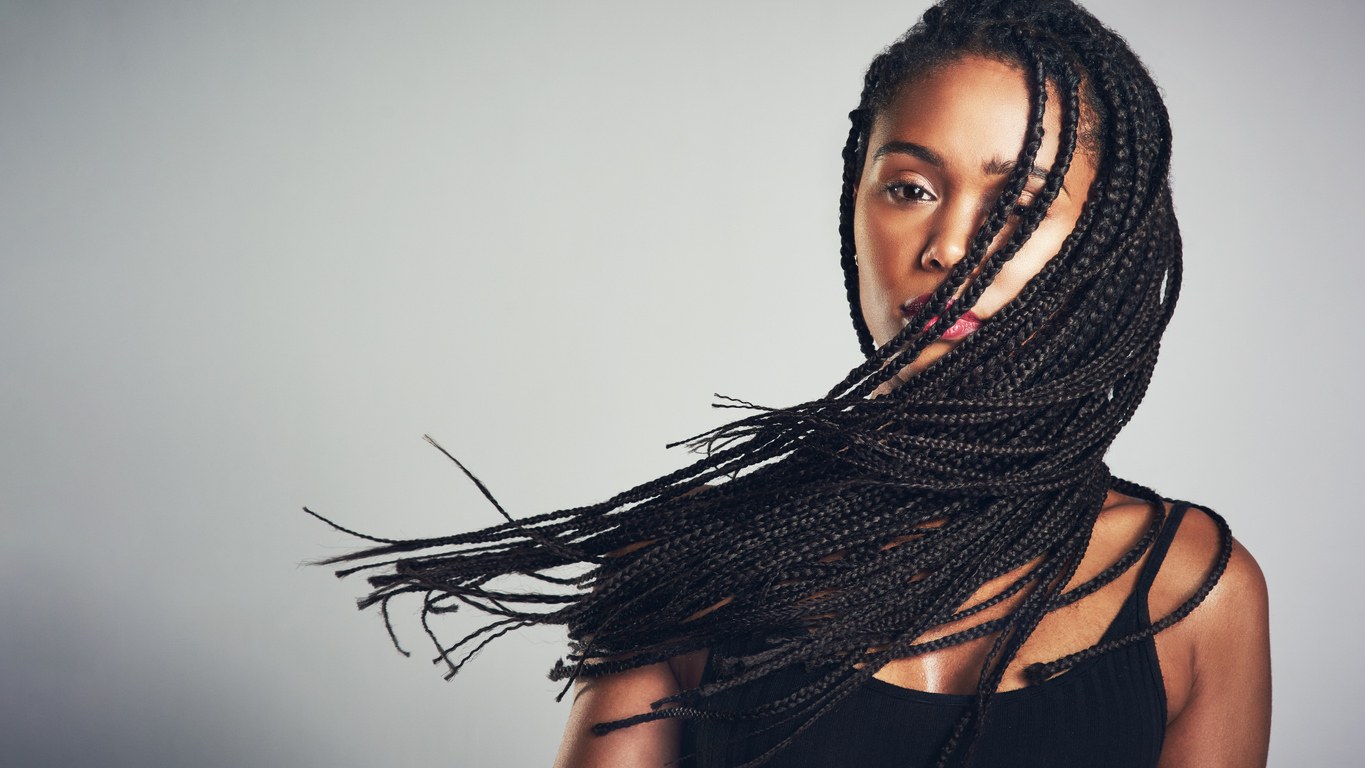 Crochet box braids are latched onto cornrows for a completely customizable style of every color and length. This longer option allows you to make a statement with your braids and style them in different ways depending on your mood.
15. Long Box Braids
Add some easy length to your style with long box braids. Contrary to the time it takes to grow your natural hair, opting for long box braids is an easy and instant way to achieve some length.
16. Twist Box Braids
Add some texture to this classic style with twist box braids. This style is a classic for a reason and is a great go-to braided style.
17. Shoulder Length Box Braids
We love this shoulder-brushing length, as it's both chic and unique. Infuse this length with gray-white hair for a multi-dimensional trendy look.
18. Short Box Braids
This is your chance to test out shorter hair without making too much of a commitment! We love this bob length for a chic and laidback look.
19. Pink Box Braids
Make a bold statement with your braids by opting for hot pink braiding hair. This length and color combination is sure to make a major statement.
20. Medium Knotless Box Braids
This mid-length style is both chic and unexpected. Tie your braids back into a half-up style to keep your hair out of your face.
21. Large Box Braids
Believe it or not, larger box braids don't take as long to create. Because your stylist uses larger sections to create the braid, the entire process goes much faster!
22. Honey Blonde Box Braids
Try this honey blonde hue and go a little lighter with your box braids. we love the dimension and intention this adds to any look.
23. Goddess Box Braids
Consider goddess box braids if you're looking for something a little different. We love this texture and length combined for a super unique look.
24. Bob Box Braids
You can customize just about every aspect of your box braids from color to length to thickness. Try this bob box braids length for something a little different!
25. Black and Blonde Box Braids
This ombré transition from black to blonde is a beautiful option. This is also an easy way to get in on multiple trends at the same time.
26. Big Box Braids
Big box braids allow you to make a statement with your style. We love this oversized look for anyone looking to make a major statement with their braids.
27. Waist Length Box Braids
Why hold back with the length of your braids? We love these waist-length plaits! Go for a dramatic style and opt for lots and lots of length.
28. Triangle Box Braids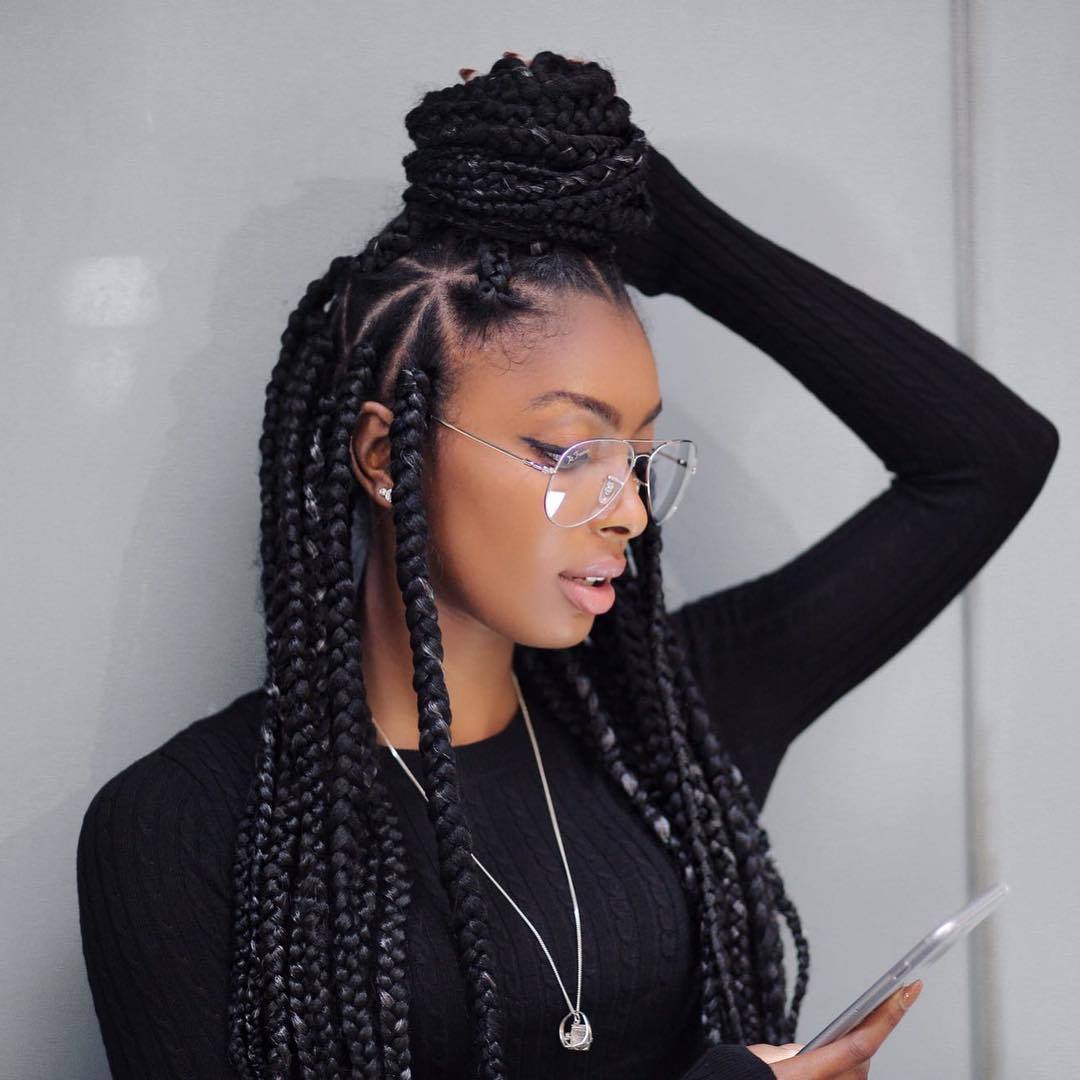 Triangle box braids consist of a unique structure that leads to a triangle-shaped base of your braid. This is a unique take on classic box braids and an easy way to make your braids stand out.
29. Small Box Braids
Small box braids can be worn up, down, or in any style in between. We love how chic and romantic this half-up style is and how easy it is to achieve.
30. Rubber Band Box Braids
Add some detail to your style by accessorizing your braids with rubber bands. This detailed beautiful style is intricate and so cool for any season.
31. Red Box Braids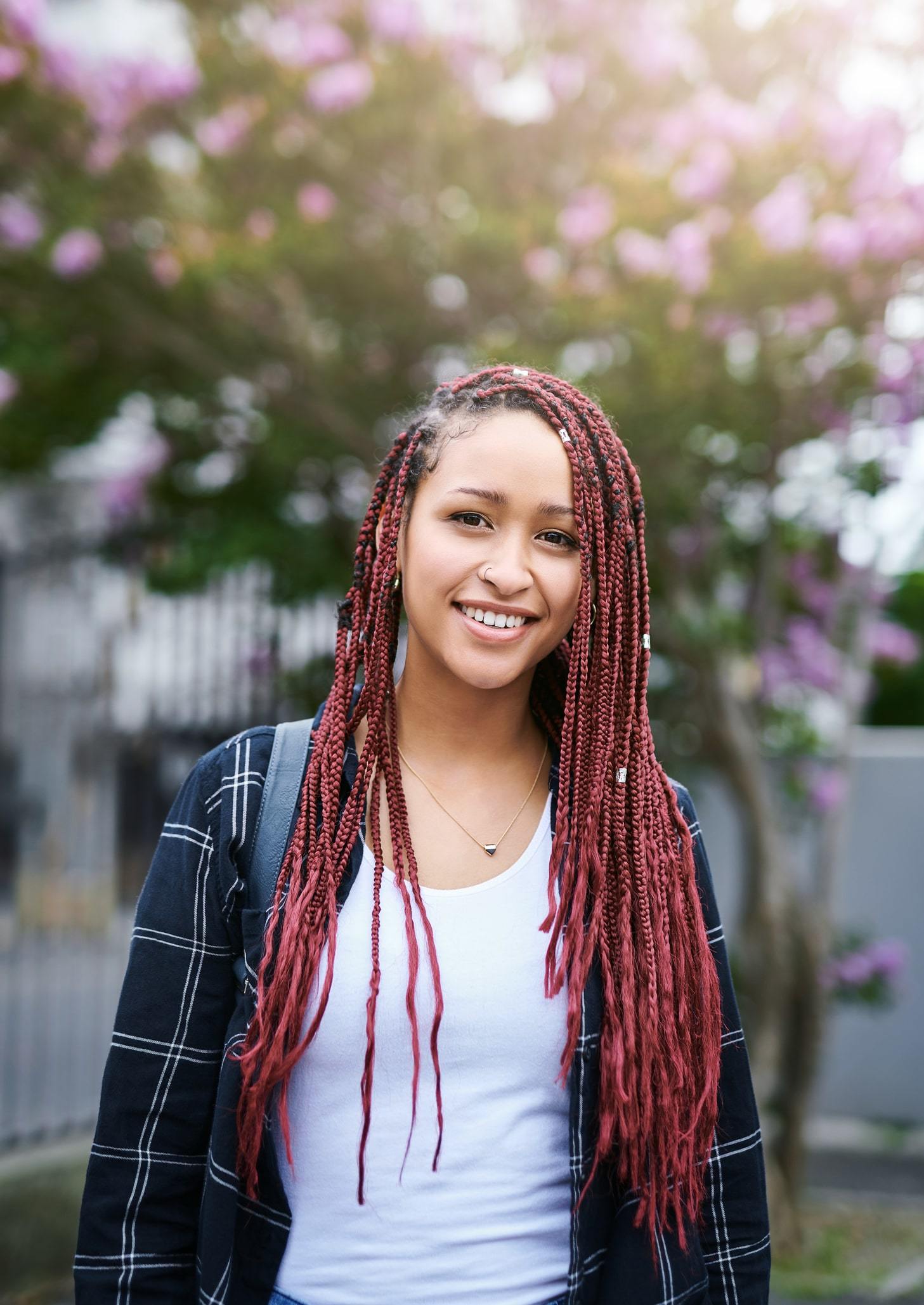 This fiery red hue is another beautiful option for your braids. Pair this fiery color with a long length to truly make a statement.
32. Red and Black Box Braids
Mix that fiery red with darker roots and opt for this red and black look. This contrast is one of our favorites of the collection.
33. Rainbow Box Braids
Why stop at just one or two colors when you can go for a rainbow of braids? This transition from red to purple and back is so beautiful and eye-catching.
34. Knotless Box Braids
Knotless box braids are ideal for those who are looking for a flatter base to their braids and a style that sits closer to their scalps.
35. Jumbo Box Braids
Make a statement with jumbo box braids! Pair this size with a fun and vibrant color for a major impact.
36. Grey Box Braids
We are big fans of every shade of grey hair over here and we love this grey box braids style for more mature women. This style is proof that box braids are beautiful at every stage!
37. Feed-In Box Braids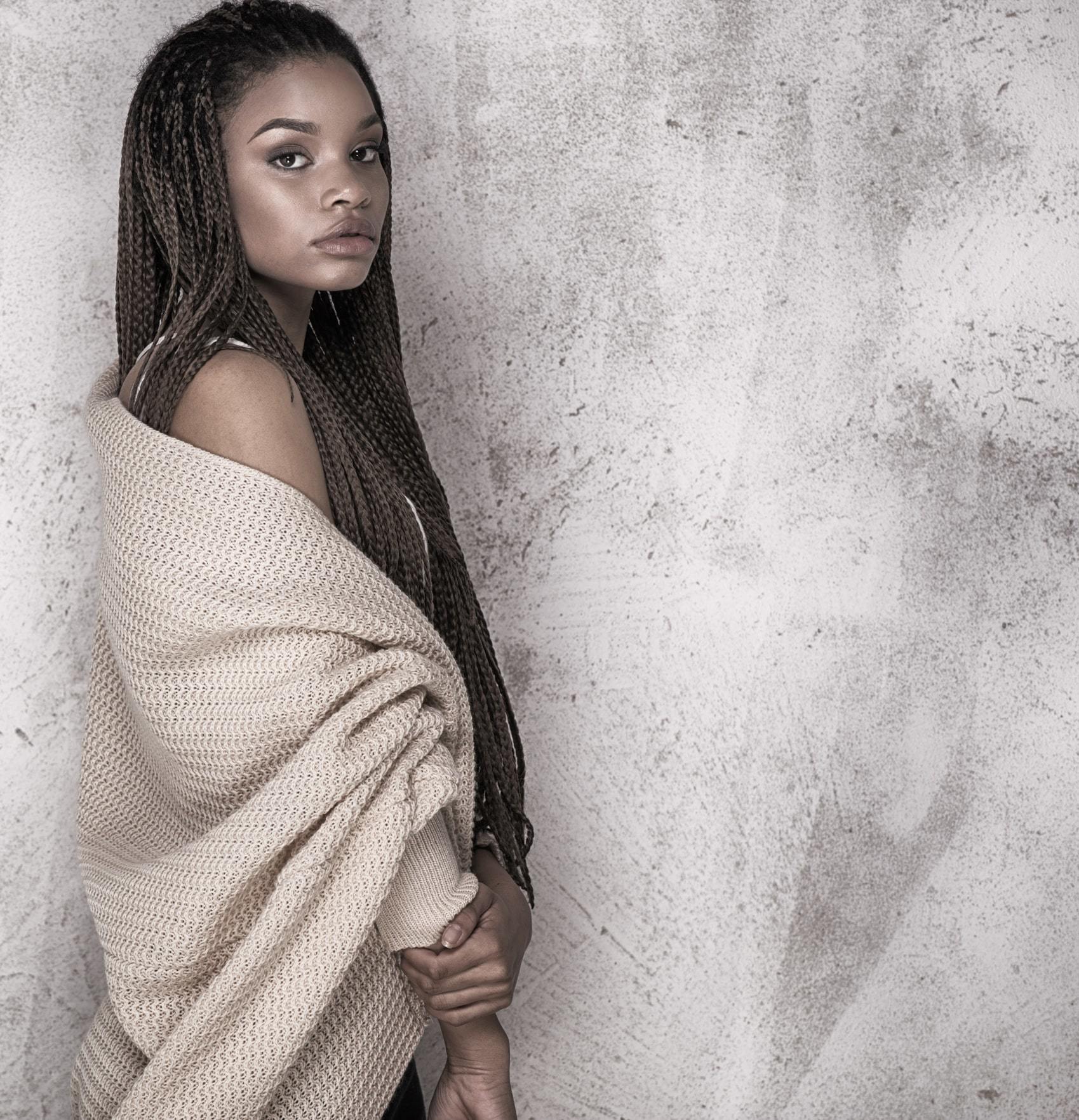 Feed-in box braids combine two of our favorite styles: cornrows and box braids. We love how chic and cool this style is.
38. DIY Box Braids
DIY box braids can be quite time-consuming and they definitely take some time to perfect but the outcome is definitely worth it!
39. Cornrow Box Braids
Cornrow box braids are perfect for the girl who wants her hair out of her face without sacrificing style! We love this beautiful style for anyone looking for something unique and different.
40. Brown Box Braids
Go a little lighter than your classic back braids and opt for brown box braids instead. This lighter color is super flattering and we recommend giving it a try!
41. Box Braids with Shaved Sides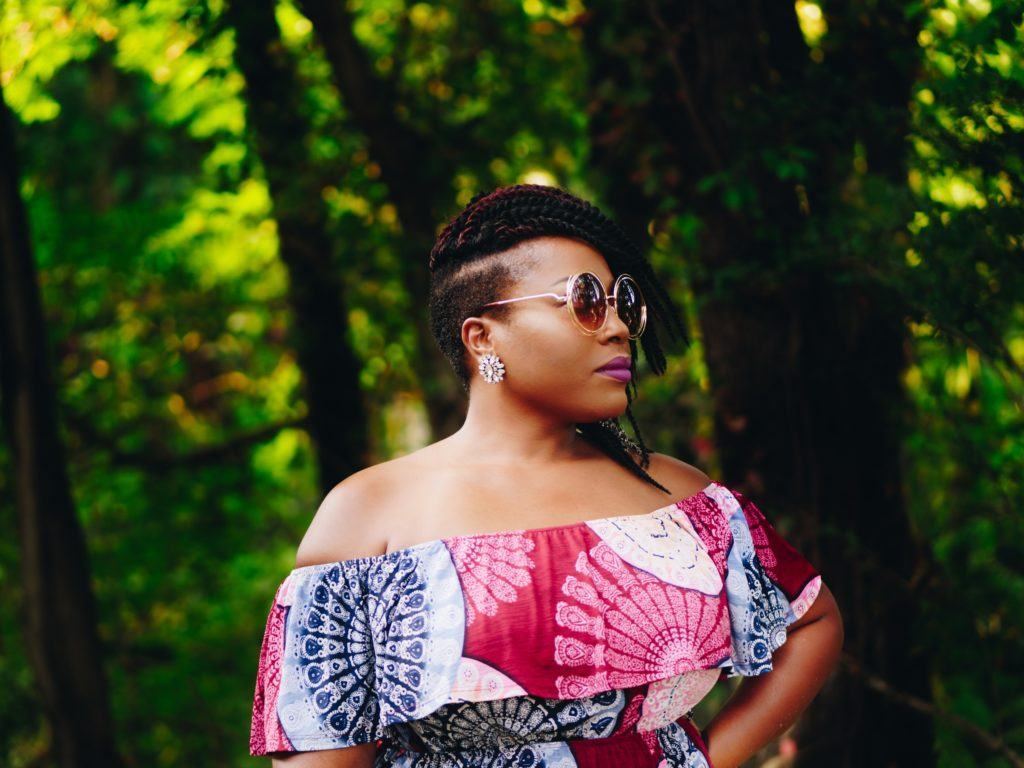 Double dip into two trends at the same time with this box braids and shaved sides style. This combination is cool and edgy in the best way.
42. Box Braids with Color
Add a touch of color to your braids by asking your stylist to weave lighter strands into your braids. This subtle addition makes all the difference in adding some dimension to your look.
43. Box Braids with Accessories
Accessorize your braids with unique beads or metallic clamp-on gems! This is a great way to change up your style with easy additions.
44. Blonde Box Braids
Go lighter than you've gone before with blonde box braids that have a bit of a golden hue!
How to Do and Style Box Braids
Although it can be time-consuming and feel a bit complicated at first, you can do your own box braids! This process can be broken down into a few easy steps: Sectioning off your hair into layers, grabbing even smaller sections with each larger area, and creating braids using braiding hair that extend farther than the length of your actual hair. This is just one way to achieve box braids and there are actually many different techniques used to create protective styles.
What Is the Best Type of Hair for Box Braids?
Most stylists will recommend using synthetic braiding hair to create different types of box braids. Some women are allergic to the materials used to create synthetic hair and will instead opt to use human hair!
How to Wash Box Braids
1. Use a clarifying shampoo.
Grab a bottle of clarifying shampoo like Suave Sulfate-Free Cleansing Shampoo and gently massage your roots with the shampoo. This is the best way to treat different types of box braids.
2. Condition, condition, condition!
Moisture is essential to maintaining your braids. Follow up with Suave Moisturizing Curl Conditioner. Smooth the conditioner through your braids starting from the top and moving in a downwards motion. Let it sit for 3-5 minutes and then rinse thoroughly!
3. Towel dry and go!
Gently towel-dry your braids and go!
Are you thinking about trying out one of these different types of box braids? Be sure to grab a picture and tag us @AllThingsHairUS!
Prev Article
Next Article
Article
Tutorial: How to Create the Milkmaid Braid in Less than 15 Minutes
Calling all Swiss misses! The milkmaid braid puts the fun in functional, and is also this year's answer to the flower crown.
See article
All Things Hair on Instagram