Tutorial: How to Do Fade Haircuts at Home plus a Bonus Clipper Guide and Styling Inspo
Still baffled by the mid-fade taper haircut? We can't blame you for the confusion. What was supposed to be a pretty straightforward look—hair fading downward—has now gathered layer upon layer of complexity, depending on both the stylist and wearer. Thus, street trends have catered to this variance, coining up with new nicknames and buzzwords for a hairstyle that's as old as time itself.
We know the fade haircut can be a tad confusing, but there's no need to worry. We're here to help you decipher the differences between fade variations. Plus, you'll even learn how to achieve the style at home. And scroll down to the top ten bald fade haircuts you need to try.
Types of Fade Haircuts and How to Get Them
This easy-to-follow infographic illustrates the basic fade haircuts in current (re)rotation. For future reference, gentlemen:

1. Classic Fade Haircut- Clipper guard: #3, #2, #1, 0
The classic fade haircuts leave a healthy length of hair up top (>3") and taper down from one part line until it lightens up significantly towards the neckline. Some guys like to play with the back part, leaving a "tail" or tuft, versus an all-over taper.
2. High Fade – Clipper guard: #2, #1, 0
High fade haircuts or "high and tight" taper haircuts have strong military leanings. The "high" in its name comes from the somewhat high point on the head where hair starts to sharply thin out, as opposed to other, more gradual fades. This looks pretty crisp with a suit or a regular shirt.
3. Mid-Fade Clipper guard: #3, #2, #1
Guys with thick hair can go with a mid-fade as a starting point. You'll want to keep some volume up top still—freeing you to play around with your pomps and quiffs as you wish—but will keep the sides precisely clipped. Mid-fades are also a great match for sharp temple edges, especially if you have an angular forehead—it'll make your features look more chiseled.
4. Low Fade Haircut – Clipper guard: #4, #3, #2, #1
Try a low-faded version of the scissor crop if you want to update your textbook's clean-cut style. Guys with curly, wavy, or otherwise kind of fluffy hair can also ask for a low-fade haircut to keep things neat on the sides. This will still keep some fun, malleable texture up top.
How to Style a Mid Fade Taper Haircut
Once you've got the fade haircut you want, it's time to style! You don't need to put any product on the fade part of the style, but depending on the length you have going on top, you might want to add in some product.
1. Wax
For a light texture and hold, we recommend adding some AXE Messy Look Wax. This is the perfect product to use if you want to add a lightweight hold to your look but doesn't want to deal with a stiff, crunchy texture. Plus, this wax also adds a bit of shine to your hair.
2. Hair Glue
If your style requires a more intense hold, go for AXE Spiked Up Look: Extreme Hold Glue. This hair glue is a great option if you need your style to stay locked in place all day. Windy day? No problem! The glue will give you an extreme yet precise hold that you can count on.
3. Pomade
For those who want to create a natural texture, apply SheaMoisture Men Argan Oil & Shea Butter Waves Pomade. This pomade helps to keep your hair moisturized and soft while providing a lightweight hold.
Fade Haircut Inspiration
Now that you either have your new fade haircut or are ready to try one out, it's time to get some style inspo. Keep scrolling to check out some of our favorite fade haircuts.
1. Mohawk Fade Haircut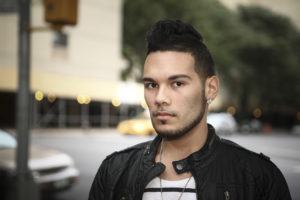 Make a statement with a mohawk fade hairstyle. Achieve this by using Bed Head for Men by TIGI Power Play Firm Finish Gel. All you have to do is apply a small amount of gel to the longer lengths of your hair and style it in an upward motion.
2. Mid Fade Taper Haircut with a Full Beard
Is a beard your thing? Pair your signature facial hair with a trending fade haircut, and you'll be the most stylish guy around. The medium fade haircut paired with a chic beard trim is bound to elevate your look all around.
3. Blonde Number 2 Fade Haircut
A number 2 fade haircut is when the sides and back of your hair are cut to a 1/4 inch length using the #2 setting on your clippers. If you want to switch up your typical fade style further, opt for a bright blonde look!
4. Dreadlock Fade
When you think of a fade hairstyle, most people don't think of dreadlocks. But it's totally possible to pair this style will your dreadlocks! Whether you have baby locs, faux locs, or growing locs, the medium fade haircut is a great way to transition between looks.
5. Facial Hair Mid Fade Taper Haircut
Not sure what style to pair with your facial hair? You can never go wrong with a fade. This mid-fade haircut starts thinning out between your temple and ear, which makes it the perfect haircut to blend into facial hair seamlessly.
6. Deep Part Fade
Need to change up a classic style? Add a deep side part! It can seriously make such a huge difference. Plus, the side part instantly gives your hair a put-together look. The perfect look for the dapper man looking to take his look to the next level
7. Layered Fade Haircut
Add layers to make a typical haircut like this standout. A layered style like this adds a bit of edginess to your cut that you wouldn't typically have in a traditional fade hairstyle. This is also a great way to trim grown-out hair without causing significant changes to the growth of your hair.
8. Slicked-Back Style
A slicked-back fade style is a great option to go with if you want your beard to be the focus of your look. Slicked-back also instantly gives you a professional look, perfect for going from work to a night out.
9. Textured Medium Fade Haircut
Have curly or wavy hair? Let your texture shine with this style. Use AXE Messy Look: Matte Wax for a lightweight hold that will last all day. Simply run in the product for the edgy yet dreamy look that lasts all day.
10. Sleek Hairstyle
A sleek style like this instantly looks super professional but is also perfect for everyday wear. You'll be ready for anything that comes your way. Not to mention, this medium fade haircut works great for anyone looking for a low maintenance style.
11. Choppy Mid Fade Taper Haircut
A choppy twist to this hairstyle helps add extra dimension. Plus, the mid fade taper haircut is a great length to try if you're new to the fade style. This cut will gradually start getting thinner between your temple and ear, making the change noticeable but not too drastic.
12. Accent Color Style
If you like to be daring with your hairstyles, try dyeing the front section of your fade. This will make your style stand out in the best way possible. Not to mention that blonde or single streaks have been making a major comeback among hair trends in the past year.
13. Fade with an Undercut
Want to take your style a step further? Shave the bottom section of your hair to add an undercut to your fade. This classic take on the medium fade haircut will have you yearning for this to be your signature hair look.
14. Medium Fade Hairstyle on Natural Hair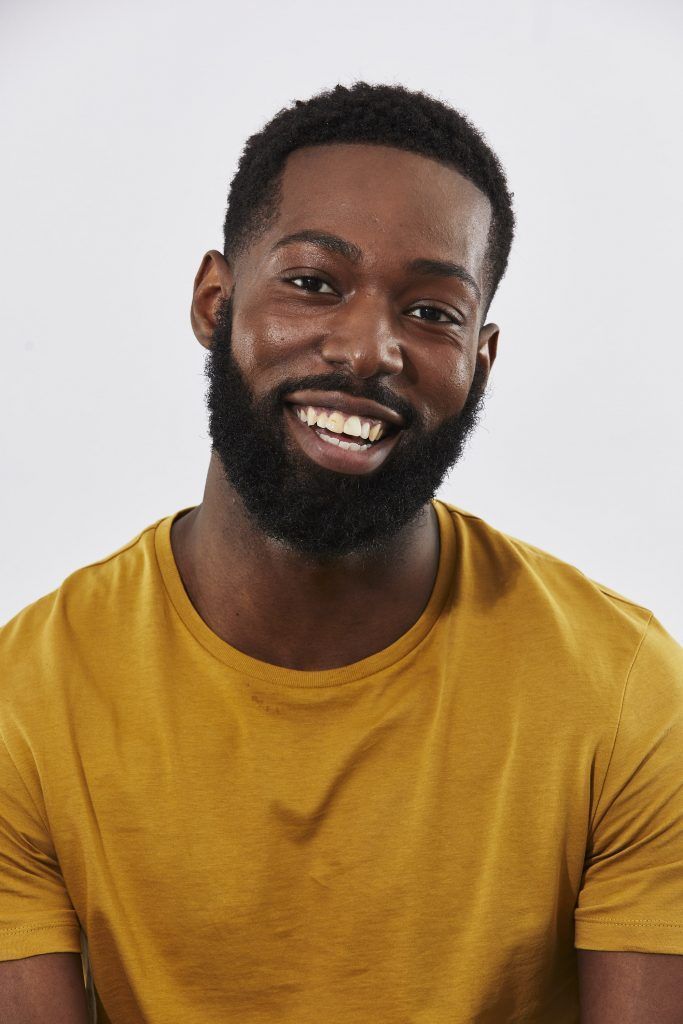 For guys with natural hair, a fade is a great option if you like to keep your hair on the shorter side. By opting for a medium fade, your hair will begin to thin out and get shorter between your temple and ear. This is great if you're just starting out with a fade cut. That way, you don't have a drastic change right at first.
15. Ponytail Fade
You can even sport a ponytail with your fade if your hair is long enough. Wearing a ponytail like this helps emphasize the shortness of your hair on the sides and around the back. This style also looks great when worn as your hair continues to grow out over time.
16. Fade Hairstyle for Curly Hair
This type of style is perfect for curly hair because it makes your strands a lot easier to manage, and they won't feel overwhelming. If you are worried about cutting too much curl off, opt for a short or medium-fade haircut.
17. High Fade Hairstyle
Play around with various lengths throughout your style. Adding layers to your high fade haircut is not only a great way to help create a unique look! However, it is a great way to create the appearance of volume within your look.
18. Classic Fade Hairstyle
Lastly, you can never go wrong with a classic fade. This style is sure to be around for many more years. Plus, with a little bit of wax or pomade, you can easily achieve the flipped-up front style.
Lately, the bald fade is the biggest style in the game. It's a classic look that just about any guy can rock, and contrary to popular belief, it's very versatile to style. Check out some of our favorite bald fade hairstyles and try one out for yourself:
9 Bald Fade Styles You Need To Try This Season
1. Buzz Cut
If you're just looking for a fresh cut that's easy to maintain, then a buzz cut with a bald fade is the best way to go. This cut is simple, clean, and perfect for going days without having to do any excess styling.
2. Taper-Fade
A Tape-fade combination is great for having a sleek, clean style to your fresh cut. Style your hair with AXE Urban Look: Flexible Paste to give your hair a messy and sexy look. Adding in a side part is a great way to sleek out the look as well.
3. Curly Fade
For those of you with curlier hair, a simple bald fade is perfect for maintaining a simple and clean cut without having to style it all the time. Just a simple shave of the sides is all you need to get this look.
4. Chin Strap
Combining a bald fade with a chin strap is a great way to add some spice to your style while looking modern and fresh. Or if you really want to go all out, try growing a beard and styling it with beard oil and balm.
5. Afro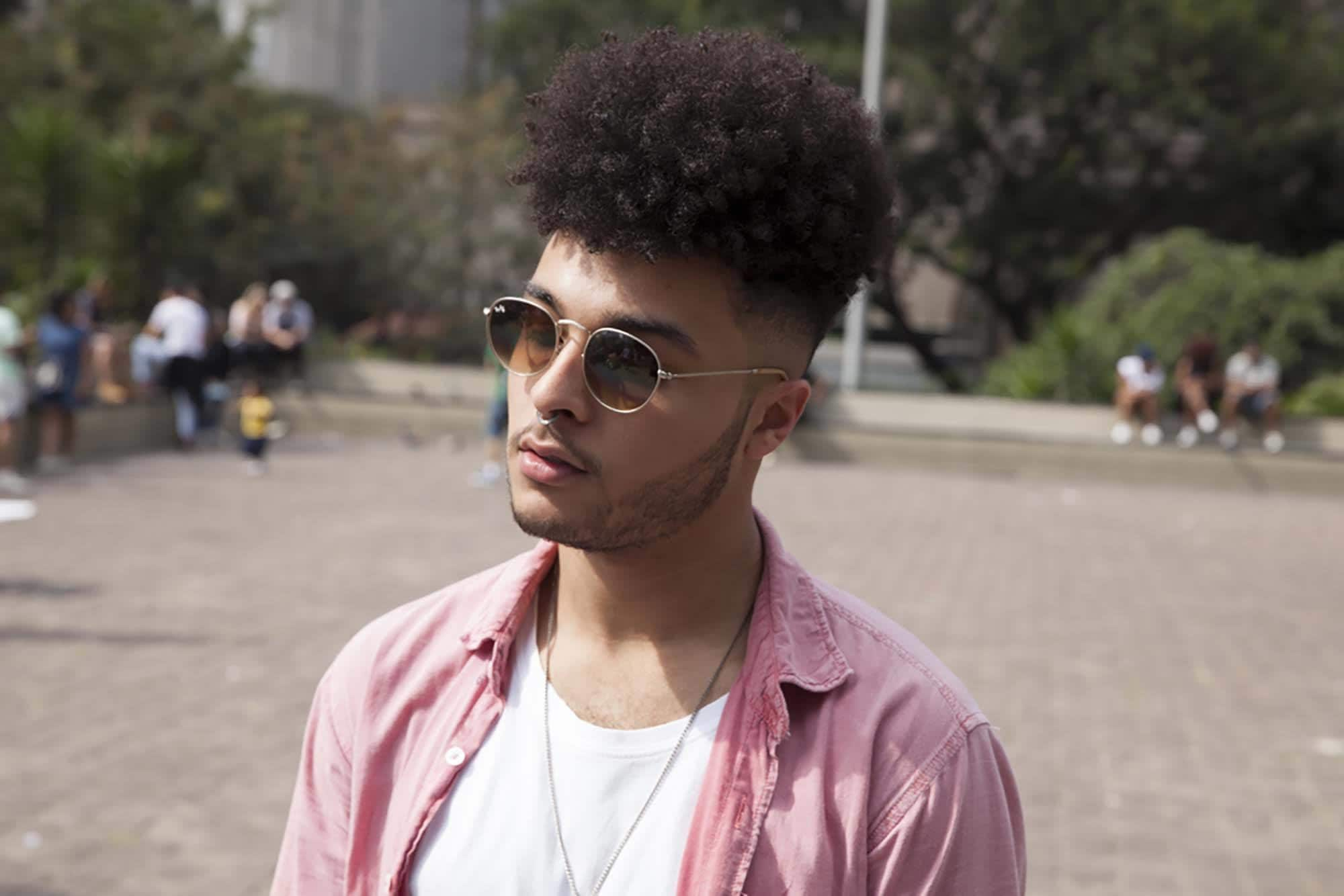 If you go minimal with the hair clippers, an afro with a bald fade is the best stye for you. This look is funky and fresh, and your hair will stand loud and proud against everyone else's basic styles. Tame any frizz or puffiness with AXE Clean Cut Look: Classic Pomade for the ultimate styled afro.
6. Combover
When you think of combover, you usually don't think of "sexy." But, when there's a will, there's a way to make any cut look good, and the comb-over has definitely gotten an upgrade. Just style it with AXE Smooth Look: Shine Pomade for a sleek finish to your hair.
7. Side Bang
If you have long, naturally straighter hair, a side bang is a great way to incorporate a bald fade into your style without cutting off most of your hair. This big, bold bang is easy to style and gives off a rocker feel.
8. Grown Out Curls
If you're tired of going to the barber all the time, let your curls grow out and do their thing. Just trim the sides to a bald fade into your curly hair and let those curls loose for the perfect medium fade haircut look.
9. Bowl Cut
This cut was a big trend back in the day, and now it's making a daring comeback. This style is not for the weak, and if you style it with AXE Natural Look Softening Cream, you can upgrade this look.
If you're looking for more ideas to change up your hair, then check out these high-top fade styles we're obsessing over. Whether you have dreadlocks, curly hair, or fine, straight hair, a fade style out, there will work for you! Also, for more haircut inspiration, be sure to check out and subscribe to our newsletter below!
Prev Article
Next Article
All Things Hair on Instagram