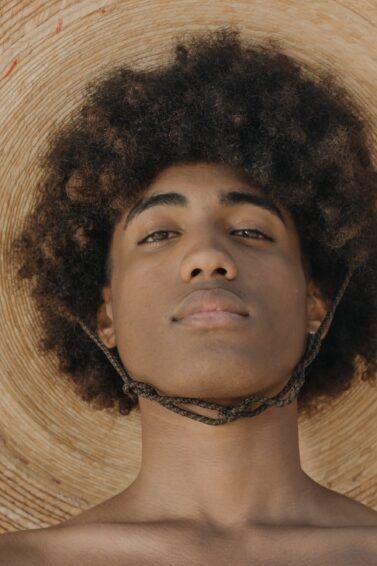 How to Get Curly Hair for Men Who Don't Have Time to Fuss
The quickest and easiest guide you'll find on styling your curly hair.
Life gets busy and oftentimes the first thing that gets dropped is self-care. We're talking skipping dinner for a late night meetings, missing your morning workout for an early flight for a business trip or simply letting your grooming and hair routine fall to the wayside. This is especially evidenced during the crazy holiday season when you have to find that perfect gift for your family and friends and tie up last-minute projects before you take your holiday vacation. Today, we're talking about how to get curly hair for men who are really crunched for time. We're doing our part to help you stay on track—at least in the hair department.
We've created a quick routine that you'll easily get the hang of, scavenged for the best products for your hair type and compiled our best tips for how to get curly hair for men who simply don't have the time to fuss over their 'do. Keep reading for our expert tips on how to get curly hair for men. Trust us, you'll be a pro in no time:
How to Get Curly Hair for Men Who Don't Have the Time
1. Wash + condition your hair.
Curly hair maintenance all starts with clean hair. No matter how busy you are, you can always make time to wash and condition your hair, especially with so many awesome 2-in-1 options out there. Jump in the shower and wash with AXE White Label Night 2-in-1 Shampoo + Conditioner. Using two products at the same time is a classic time-saving move and you'll immediately be one step closer to clean, defined curls.
2. Apply your product.
One pump of Dove Style+Care Curls Defining Mousse is all you need to get your curls going. A lightweight product, this mousse will define your curls without giving you that greasy, crunchy look. Another plus to this  mousse is that it has a faintly citrusy smell, a.k.a it won't distract with the carefully chosen scent of your cologne.
3. Air-dry.
Save your blowdrying skills for another day and simply let your hair air-dry. Help it along by scrunching your fingers throughout your hair to create some texture. The mousse helps give definition and structure to your curls as they dry. Give a your locks a bit more control with a tiny application of gel, like Dove Men+Care Control Gel, before you hit the road. The holidays are coming and as far as your hairstyle goes, you're all set.
Looking for more curly hair inspiration for men? Check out our roundup of 10 hairstyle ideas for curly hair men to try in their 20s.
Prev Article
Next Article
Article
Bang For Your Buck: How to Use Hair Pomade in 3 Ways
Not just your dad's hair product.
See article
All Things Hair on Instagram