Juice Haircut and High-Top Fades: 10 Looks We Love
As some of you may already know, the juice haircut was coined by one of the most talented and popular rappers in hip-hop history. Today, the look continues to live on. What exactly is a juice haircut? It is a high-top cut that mimics the square shape of a juice box, but the hairstyle isn't complete without a very distinctly curved or straight side part—and it's this particular detail that makes the look.
Juice Haircut: 10 Ways to Wear this Style
We've rounded up a few of our favorite juice haircut and hi-top fade ideas that you can try today:
1. Juice Haircut with Curls
Give your juice cut a modern twist by embracing your natural hair texture. Use a gel, like Dove Men+Care Control Gel, to define your curls. You can play around with color to give the look an even more unique look. We love how this blonde hue makes the cut stand out.
2. Classic High-Top Fade
Take inspiration from the '90s hip-hop culture and go for a classic high-top fade. The key to maintaining this look is all in your hair-combing technique and your ability to keep your hair moisturized. Use an afro pick to detangle and shape your hair when styling or take pointers from model Kevin Noah. According to Kevin, "This style is sometimes called a box cut. To style, I pick out the hair with a comb and work it into the classic square shape."
3. Textured High-Top Fade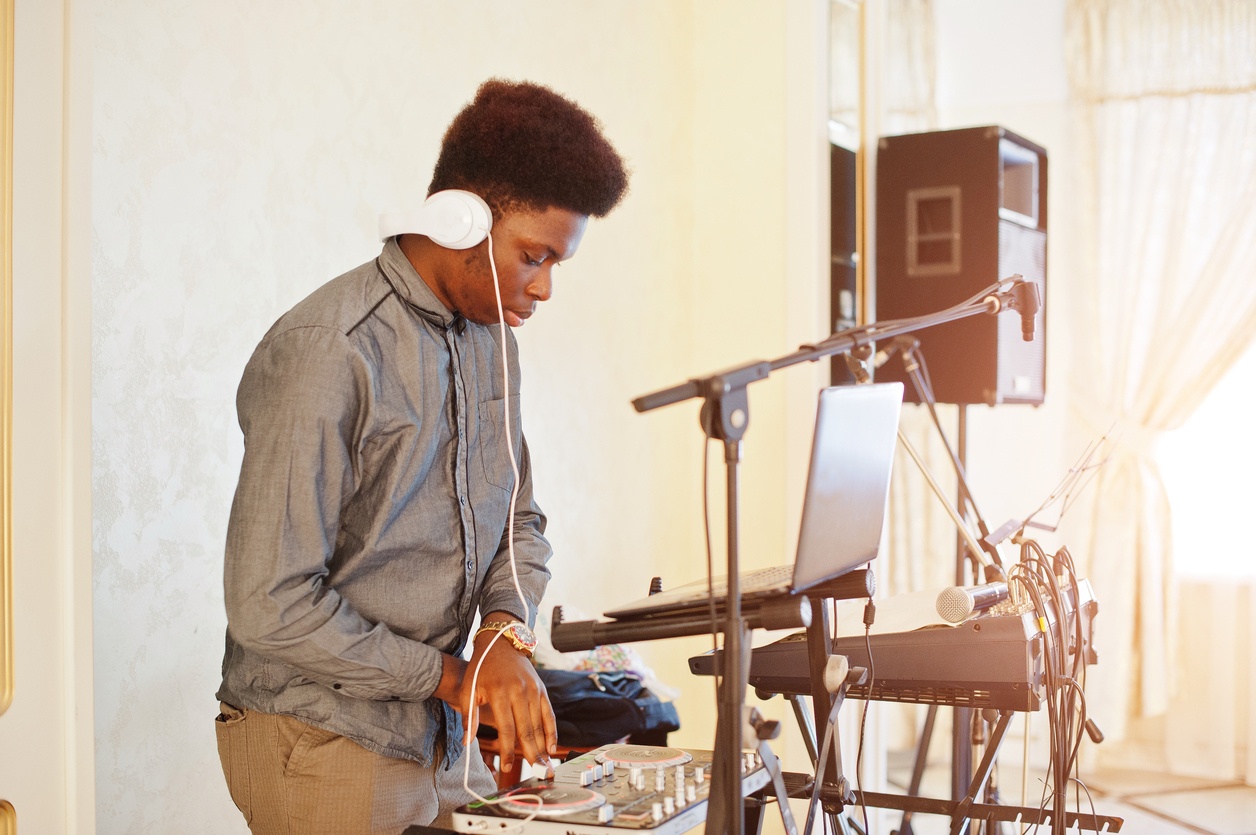 There's nothing wrong with wearing the slightly uncombed look to give your cut a bit of texture. If you want to create more definition, you can use a sponge brush to define your natural texture with the help of AXE Natural Look: Softening Cream to add moisture. Need a quick tutorial? Here's how you can define your curls using a sponge brush.
4. High-Top Clean Shape-Up
One of the many reasons men tend to go for high-top haircuts and juice haircuts is for the simple fact that maintaining the look is easy and budget-friendly. How so? All you have to do is ask your barber for a shape-up. A clean shape-up keeps your style looking fresh and well-groomed.
5. Juice Haircut with Curved Side Part
Last but certainly not least is the classic juice haircut. This haircut remains a staple to this day. This look can be worn for just about any occasion; you can even get away with wearing it to the office with a nice clean-cut suit!
6. Twist Fade
Incorporate double the trend power into your juice haircut by opting for a twist fade style. This classic men's hairstyle hits a few trends at once for a super cool finished look.
7. Temple Fade
Somehow both subtle and impactful, the temple fade haircut is as cool as it gets when it comes to juice haircuts. We love how edgy this style is! Define your curls up on top with SheaMoisture Men Argan Oil & Shea Butter Defining Cream.
8. Dreadlocks
Why settle for one style when you can opt for two? We love how dreadlocks complement this style.
9. Classic Fade
The classic fade progresses from heavy to light as it moves down towards your neck. Some extra volume up on top makes this style the perfect juice haircut.
10. Bearded
Pair your juice haircut with a full beard for a very Brooklyn iteration of the juice haircut. We can't get enough of the beard trend!
Are you thinking about trying one of these styles? Be sure to take a picture and tag us @AllThingsHairUS!
Prev Article
Next Article
All Things Hair on Instagram