16 Unique High Fade Haircuts Men Want this Season
Update to a whole new fade with these inspiring looks.
The high top fade haircut is a totally classic hairstyle. While we dig this look, even the favorites deserve an update every now and again. For the fade, we are all about a higher top that allows your natural texture to get the attention it needs. You can also easily incorporate newer styles into the mix, like an undercut or juice haircut styles.
16 High Top Fade Styles
Ready to revive your fade or get in on this haircut style? Read on for fresh and new ways to totally upgrade your high fade haircut:
1. Grown Out, Wavy Pomp
Guys with wavy or curly hair should take the new year as an opportunity to grow out that mop. The wavy pomp automatically looks much cooler than its perfected beginnings. And, as an added bonus, if you already have wavy or curly hair, that means so much less styling effort. All you need to do is dry your hair backward to prep for the pomp. Then, take a dab of AXE Clean Cut Look: Classic Pomade to help mold and ensure that your style stays in place.
2. Side Part
The side parts are suddenly cool. This once-very-preppy style has a unique look when worn with an undercut or high fade. You don't need to fuss with too much styling, either! Just blow-dry your hair to one side if your hair is hard to work with. Or if you have hair that air dries well, just toss it all to one side and let it do its thing.
3. Bowl Cut Fade
Bowl cuts? Not really a style for the faint of heart. But this old school-turned-new again style is becoming much more popular. The bowl cut is best for dudes who like to keep right on top of the trends. We prefer to style this look with a matte texture to make it easier to wear. Just work a little Bed Head by TIGI Manipulator Matte Cream through your hair to get the hold and look you like.
4. Add Clipped Designs
If you prefer a much shorter look all-around, add a little extra interest with clippings. You can get just about any design you like! We're particularly partial to a straight line or two, you get that faux part look, and it won't ever come off as too much.
5. Switch to an Undercut Fade
Undercut and fade combinations are surprisingly not all that common. Generally, we'll see one or the other, but they do make a cool statement when you combine them. You can get this style with any look you want to match with an undercut. Then, just have the edges faded to make sure you get that high fade haircut you are looking for.
6. Fade With Dreads
Oh yeah, you can wear a fade with dreads. We suggest working with shorter dreads for an easier-to-style look. This style adds structure and shape to your dreads, which is a cool way to modernize this historically rich look.
7. Structured Styles
No need to wear casual bed head styles if that's not your jam. A good high fade haircut works equally well with perfected, structured styles. These waves can be achieved by using a strong-hold gel to ensure that your hair is shiny while still being able to hold those waves.
8. Fluffy Afro High Top Fade
Take advantage of your afro's ability to become voluminous. Gently pick out your fro for a voluminous finish. This hairstyle looks great on 3a-4c hair types and is great for all occasions, from formal to casual.
9. The Modern High Top Fade
Looking for a style that is bound to turn heads and set trends while remaining out of the box? This is the modern-day version of the high-top style. Wear it with a bit of a disheveled finish to add texture to your look for an edgy finish.
10. Side Part High Top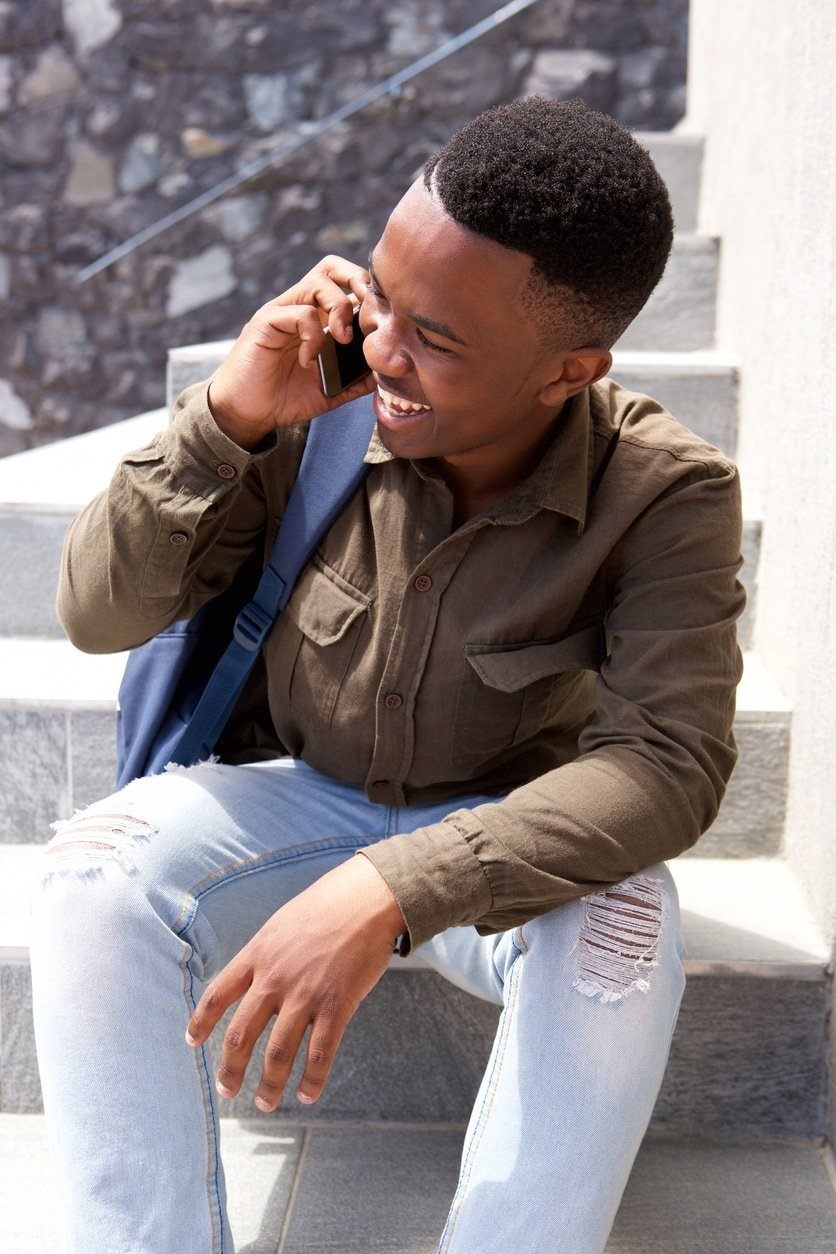 If you're the guy that has to do all things with finesse, this side-part high-top look is calling your name. To take the look up a notch, opt for zig-zag hair parts instead. These hair parts can be achieved by asking your barber during your next appointment for a cut!
11. Fade With A Twist
Add character to your high fade haircut by adding twists to the ends. Use some AXE Spiked-Up Look: Extreme Hold Gel to add a firmer hold to your twists. This is the perfect everyday look for students and professionals alike.
12. Classic High Top Fade
Stick to the basics with this clean high top fade style. To maintain the look, pick your hair out with an afro pick to style until you achieve the perfect shape. Without a doubt, this is a timeless look for afro hair textures.
13. Undercut High Fade
We're partial to undercut haircuts on men, and we love the look of this undercut high fade. The only difference between this cut and a standard high fade is the sides and back of the head are shaved down first like an undercut then the hairline is faded to complete the look.
14. High and Tight Fade
The high and tight fade is a classic haircut for a reason. This modern military haircut is not only stylish, but it can also be easily styled thanks to some hair paste, like Bed Head for Men by TIGI Pure Texture Molding Paste that'll give you a nice shine and high hold. The perfect look for the dapper man!
15. High Fade Pompadour
The pompadour is such a fun '50s style cut. It will give you a vintage vibe and can be paired well with more modern styles like the high fade haircut. We like that this particular cut is extra long on top; it gives a nice contrast to the high fade on the sides and back.
16. High Fade With A Quiff
The quiff is the pompadour's less voluminous brother. This style works well if you like the vintage appeal but don't want to deal with longer hair or a haircut that creates such a strong look.
Are you thinking about trying out one of these styles? Be sure to grab a picture and tag us over @AllThingsHairUS!
Prev Article
Next Article
All Things Hair on Instagram