Long Men's Hair: 6 Styling Tips You Need for Your Mane
Dealing with your long locks has never been easier.
Long men's hair is a big hair trend that seems to ebb and flow throughout the years. If you've decided that this is going to be your new look for 2017, you'll also need need to figure out some new styling tips and hair care products to ensure that your long hair stays healthy and nourished. To break down the long-haired basics, read on to learn our top styling tips for those who have long men's hair.
Tips for Long Men's Hair: How to Style Those Long Locks
1. Keeping your hair clean and conditioned.
When you start growing your hair out, your washing routine becomes much more important. It's not all about keeping your hair looking clean! You also need to keep your scalp healthy and your ends hydrated and moisturized. Use the Suave Men 2-in-1 Ocean Charge Shampoo + Conditioner all over your hair as you give yourself a nice scalp massage. An important last bit about washing your hair is to make sure you've totally rinsed out your shampoo. Shampoo residue on long hair can make your hair look greasy and might even cause dandruff.
2. Learn to dry your hair.
We suggest long-haired men let their hair air-dry. Using a hair dryer is super-helpful when you're going for a quiff or a pompadour hairstyle. But for seriously long hair, air-drying is your best bet. The problem with blowdrying long hair is that it tends to look a little too done and perfect for most dudes. Instead, just squeeze most of the moisture out of your hair and let it dry. We suggest you use a hair oil just on the ends of your hair to hydrate and prevent frizz. Just one pump (or half a pump!) of the Nexxus New York Salon Care Oil Infinite Nourishing Hair Oil throughout your hair for some serious shine.
3. Start with some basic styling a.k.a master the braid.
There are two easy and stylish ways for men with long hair to get that hair out of your face. First up is the braid! Braiding hair is surprisingly easy for long hair, trust us. For a step-by-step tutorial, follow our guide to braiding hair for men. Then, you can wear man braids in a bunch of different styles.
4. Try out the man bun.
We know you know how to do a simple, messy man bun. It takes you two minutes, and it's really easy. But, if you want to amp up the style of your man bun a little bit, try shaking it up. You can incorporate a braid or two, for sure. But we're particularly partial to the dapper twisted man bun.
5. Understand greasy roots.
As an FYI, dry shampoo isn't just for the ladies. If you're really going for long hair, you'll probably get on an every-other-day hair washing schedule. On those days in between, make sure your hair still looks super-clean. Spray a couple of mists of the Dove Detox & Purify Dry Shampoo throughout your hair that will do it's magic to soak up those hair oils.
6. When in doubt, go for grunge!
If you're on the fence about long hair because you don't want to look feminine, try the grungy look. It's really simple, especially for guys. Just let your hair air-dry to allow your natural texture to come out. Then, take a small dab of the Axe Smooth Look: Shine Pomade and run it through the ends of your hair. This gives that super-casual look and prevents your hair from looking too perfect.
Want more information geared towards long men's hair? Check out these dapper styles. 
Prev Article
Next Article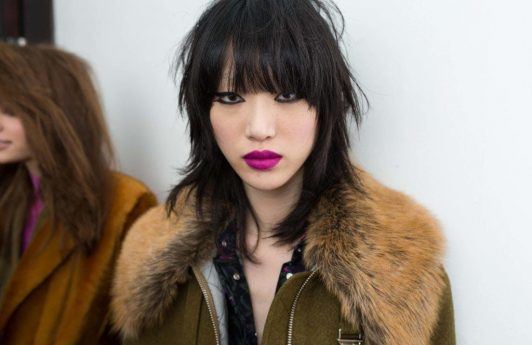 Gallery
7 Ways to Wear the Perfect 70s Retro Feathered Hairstyle
We've got 70s feathered hair fever and it's highly contagious.
See article
All Things Hair on Instagram