How To Find the Best Types of Hairstyles for Your Face Shape
An easy method to find and style frame you have
In this day and age, there's really no right or wrong when it comes to deciding on what hairstyle you want to wear. With an infinite amount of hairstyles out there, you can have a go at any style you fancy and even create new ones that don't exist yet! However, some might find comfort in sticking to the rules as they look for options that complement and flatter their face types.
Need help finding a new haircut that flatters your face? You're in the right place! First of all, find your face type by standing in front of a mirror and outlining your face on the mirror using a China marker or a lip liner. Step back and evaluate the shape you created. Was it a heart, oval, circle, or square? After that, read on to find some of our favorite hairstyles for your face type:
Finding the Right Types of Hairstyles for Any Face Shape
ROUND FACE TYPES
---
---
With an even shape all around the perimeter, the round face shape has a solid structure. Hairstyles that take away from the fuller parts of your face, like the cheeks, work best. Stay away from haircuts with one length, as they can make the fullness of your face your focal feature. Layered hairstyles add breadth and depth to your face. Try out a short haircut with tapered ends.
1. Subtle Layers
Add subtle layers to your cut to help create the illusion of a longer face shape. Styles like waves and textured looks are ideal if you want to take the attention away from your round face shape. To maintain your look, one of your go-to stylers should be a volume spray, like TRESemmé One Step Volume 5-in-1 Volumizing Mist.
2. Short and Curly
Try this side updo on naturally curly hair to create symmetry within your round face shape. To define your curls, apply TRESemmé Flawless Curls Defining Gel throughout your strands while they're clean and damp, and then air-dry or use a diffuser.
3. Micro Bangs
Here's something you may not know: While micro bangs aren't everyone's cup of tea, the style does serve a purpose for many. Try this version of the fringe to help elongate your face shape.
4. Pixie Cut
Are you all about finding the hairstyles that make your face shape stand out? You can't go wrong with a pixie haircut. Go really short and add layers to give your short 'do movement and body.
---
---
OBLONG FACE TYPES
---
---
This face shape is slim with a delicate structure. The ideal hairstyle for this face shape will help add width to your face and take away the long appearance. Curly and wavy hairstyles work in your favor by giving you a more elliptical shape. Try out a long, voluminous, and curly hairstyle.
5. Long Layers
Fake the look of long layers on your hair but add curls or waves to a few sections of your hair. This technique helps create the illusion of a wider face shape on oblong face types.
Voluminous blowout styles work well with oblong face shapes. Do an at-home blowout to create that salon look you love on a dime!
---
---
HEART FACE TYPES
---
---
The eyes and the cheeks are the center of attraction for this face shape. Opt for hairstyles that make these features of your face the focal point. Short layers on a short haircut would do a disservice to your face shape, so opt for longer layers that draw attention to your best features. Within the heart face shape, the chin tends to be quite pointy or prominent for many. Layers that are full of body and waves flatter your face frame. Give a layered medium-length hairstyle with side-swept bangs a shot.
7. Grown-Out Lob
Lobs are great for heart face shapes. As the haircut grows out, it looks even better and accentuates your face frame. To soften up any lines, opt for adding waves or curls to your ends.
8. SOFT CURLS
Try a fun and flirty look like soft curls. Use your curls to frame and accentuate the shape of your heart face shape. Set hair with TRESemmé Compressed Micro Mist Hairspray Extend Hold Level 4 to give your curls staying power.
---
---
OVAL FACE TYPES
---
---
This face shape is said to be the most versatile of all face shapes because the facial structure is balanced from top to bottom—narrow at the temples and along the jawline. Hairstyles offered in varied lengths will all work in your favor. To get the most out of a short haircut on an oval face shape, go for layers that highlight whichever features you want to bring out. For instance, you could ask for layers that highlight your eyes or your lips. You want to stay away from hairstyles that are too heavy or voluminous at the top area of your hair as they will stretch your face frame in appearance, making it look longer. Opt for a blunt cut.
9. Updo Styles
What better way to put your oval face shape front and center than with an updo? Pull hair up into a bun or a curly ponytail style.
10. Low Bun
Low ponytails and buns are also great on oval face shapes. Wear this style when you're looking for a hairstyle that's suitable for more serious occasions.
---
---
SQUARE FACE TYPES
---
---
This equal-sided face shape usually has a wide forehead, cheeks, and jawline. The goal of this face shape is to use the softening technique. Employ hairstyles that soften up any feature you want to downplay. For instance, a hairstyle with face-framing layers will help take the edge off your jawline. Avoid hairstyles and haircuts with one uniform length. This will only draw more attention to your face shape and create a more square and boxy appearance to your face frame. In other words, the classic bob haircut may not be the best choice; try out a long layered hairstyle that frames your face.
11. Off-Center Parts
The way in which you part your hair can help offset the perfect symmetry that comes naturally with your square face shape. Try an off-center hair part to add dimension.
12. Short Hair
There's a way you can get away with wearing a short cut, and we've got the formula for you. Use waves to soften hard lines around your jaw area and break up the perfectly square shape of your face by pulling one side of the hair behind your ear.
Best Haircuts for Different Hair Types
Your face shape is not the only thing to consider when finding which hairstyle works best for you. Your hair type will tell you which styles you should go for and avoid, too! If you have thin hair, you should avoid too much layering so prefer blunt and short hairstyles, like a bob that keeps maintaining strength in your length.
If you have medium hair, you can use different lengths. I'd layer text you to help with movement and don't remove any weight. Lastly, if you're blessed with thick hair, you can really go crazy with layering as long as it makes your hair more manageable, and I'll see you with day-to-day styling.
Prev Article
Next Article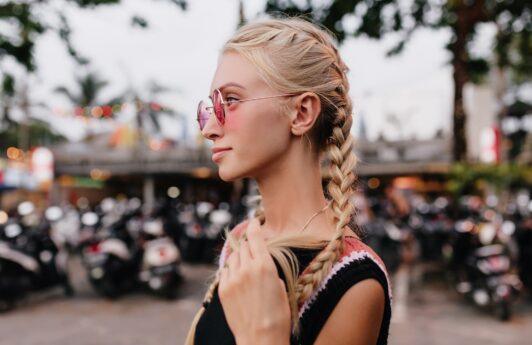 Article
Different Hairstyles for Face Shapes: Braids that Flatter Long Faces
You'll be a braid master in no time.
See article
All Things Hair on Instagram