How to Keep Natural Hair Straight: 5 Tips to Know
No reverting allowed! These strategies will help you maintain your straight natural hairstyles.
It doesn't matter what season it is. Every girl with natural hair has a mini heart attack every time she steps out into the great outdoors after straightening her hair. Truth: you just don't know if your fresh style will stand the test of time.
Lucky for you, dear reader, I've been there. Since I am so determined to wear any style I choose during any season, I did some digging. I went on a hunt to find the effective methods we all should be considering when wearing straight hairstyles on natural hair. Read on to learn some of the tips that I've mastered on my natural hair.
5 Ways to Keep Natural Hair Straight
1. Sometimes less is more.
You may think when it comes to heat protection, the more the merrier. Wrong. Less is certainly more. Applying generous amounts of different heat protecting agents will cause your hair to weigh down, thus causing your style to look limp and not last for long. All you need is a one-hitter-quitter. Pick one heat protectant of your choice, then begin styling. One option that never fails is the TRESemmé Thermal Creations Heat Tamer Spray.
2. Use silicone-based products.
Some like silicones and some don't. While there are some oils that can give you heat protection and shine benefits like silicones, they aren't formulated to perform exactly like them. Silicones help protect your hair and the ones that are optimized for heat styles are typically light weight. Use a product like Nexxus New York Salon Care Oil Infinite Nourishing Hair Oil after heat styling your hair to help extend the life of your straight hairstyle.
3. Add a hairspray into your styling routine.
One product you probably won't find in a natural haired gal's cabinet is a hairspray. One reason you should get one ASAP: It sets your straight natural hairstyles and prevents frizz. To enjoy the flexibility of wearing your natural hair straight, opt for a hairspray that provides a flexible hold like Dove Style + Care Strength and Shine Flexible Hold Hairspray.
4. What you use to wash your hair does matter.
Styling your hair begins with your wash and care system. When you know you are definitely going to be wearing a heat style on your natural hair, go for products that tame frizz and strengthen the hair. The TRESemmé Repair and Protect System is ideal for these days. The lightweight formula of the shampoo and conditioner is infused with Biotin and works to repair mechanical, heat damage as well as to strengthen the hair.
5. Invest in quality heat styling tools.
Repeat after me: Quality over quantity. This is serious business. There are some styling products you can skimp on, but unless you're getting a high-quality heat styling tool on sale, you're kidding yourself when buying the cheaper version. The right heat styling tool will allow you to glide across each section with one pass leaving you with straight, sleek hair and no need repeat a second or third time (ahem, this also causes heat damage).
In addition to this, the right quality heat styling tool will cost you some bucks, don't be afraid to fork up some change to invest in a tool that will contribute to healthier looking hair in the long run. You do want your curls to pop back into action during your next wash day, right?
Looking for more tips for your natural hair? Head over to our Natural Hair Care and Natural Hairstyles page for everything you need to know.
Prev Article
Next Article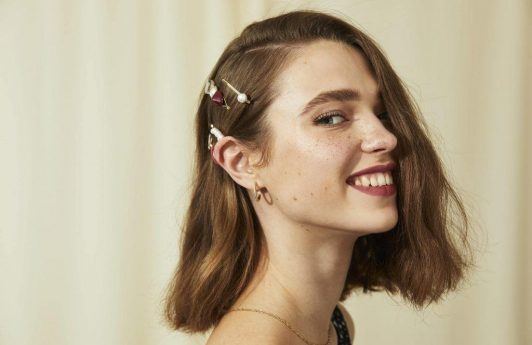 Gallery
Keeping it Short and Sweet: Our Fave Short Hairstyles for Heart-Shaped Faces
Highlight your best assets and put those cheekbones to WERQ!
See article
All Things Hair on Instagram