30 Best Bangs for Round Faces: The Super-Flattering Looks We Love
'Cause round faces deserve some fringe benefits too!
With beauty, it's okay to shake up old rules. When it comes to the hairstyles that flatter their face shapes and bangs for round faces, many people like to stick to the guidelines. However, we feel that you shouldn't have to limit yourself: If there's a look that you like and really want to try out, go for it!
Sometimes one person's experience with a certain look may not be the same experience for you. If you want to go against the norm or try out a new look, we've rounded up some of our favorite standout styles that can work really well for bangs on round face shapes. Read on:
The Best Bangs for Round Faces We're Loving Now
Looking for a new style with fringe that compliments your round face shape? Don't worry, we got you covered! Keep scrolling to check out the best bangs for round faces looks.
1. Side-Swept Bangs for Round Face Shapes
Swooping your bangs to the side creates an angled effect. This is ideal if you don't want your bangs to draw more attention to your face shape. Mist your bangs with a light spray of TRESemmé Compressed Micro Mist Hairspray Smooth Hold Level 2 to keep your bangs at the perfect angle all day long.
2. Ruffled Bangs for Round Face Shapes
Rough-dry your hair to create this layered and textured look. This is a great option for anyone wanting to try out a short pixie cut. Use a hair dryer and hair brush to dry your pixie cut and target the nozzle in different directions to create a rough texture.
3. Piecey Bangs
Create a few parts within your fringe to make lines of symmetry. This fringe is perfect for those testing out bangs, but don't want to commit to a full, straight across bang. On the days when you aren't feeling a bangs style, you can pull those strands back and pin them out of the way.
4. Micro Bangs
Instead of taking the attention away from your face shape, maybe you want bangs that help define it? Try this micro bang style for a bit of that edgy definition. Pair it with a pop of bright pink hair color for a super edgy style.
5. Parted Bangs
Create a center hair part within your bangs to draw attention away from your rounded shape. This style of fringe looks great when paired with updos. Also, talk to your stylist about blending your bangs with the rest of your haircut with face-framing layers.
6. Piecey Micro Bangs
Looking for a set of bangs to slightly frame your face? Go for this piecey micro bang look. Baby bangs like this will help create the illusion of a longer forehead, making your face appear less round.
7. Layered Hair with Bangs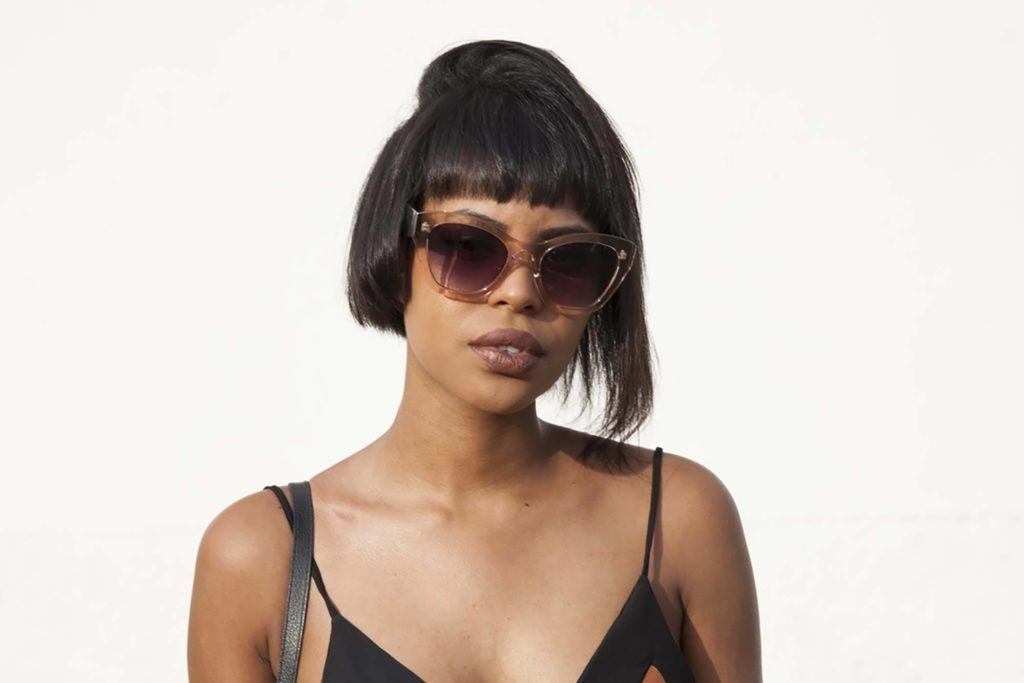 Have a multi-length haircut and looking for the right bangs to match? You can't go wrong with a simple fringe for your face shape. The edginess of this style is only exaggerated by the harsh difference between the bangs and the rest of the style.
8. Extra-Long Bangs for Round Face Shapes
Whether your bangs are growing out, or you have them long on purpose, this look works for your unique face shape. If you want to elongate your face shape, sweep your bangs to the side.
9. Braided Bangs
If you're after something on the trendy side, opt for braided bangs. Try a chunky braid for a more trendy approach. This is the perfect way to try out the illusion of bangs without committing to them full-on.
10. Bowl-Cut Bangs
Many women with round face shapes tend to stay away from short haircuts. We love how this bowl cut and bangs look suits your face frame without overwhelming your face shape. A haircut like this requires meticulous upkeep so keep that in mind before you take the plunge!
11. Blonde Highlights
Update your bangs with bright blonde highlights. When washing your hair, make sure to use a system for color-treated hair like Love Beauty and Planet Blooming Color Murumuru Butter & Rose Shampoo and Conditioner to make sure your highlights stay vibrant!
12. Blunt Pink Fringe
A sharp set of bangs offsets the rounded shape of your face and adds dimension. If you're looking for ways to make your face appear longer, pair your fringe with a longer length. This contrast style creates an illusion of a longer and more angular face shape.
13. Airy Bangs for Round Face Shapes
This is one of our favorite looks for fine hair on a rounded face! The airy look adds texture while also giving thinner hair a fuller look. Ask your stylist to use a feathered technique to add some texture to your ends.
14. Classic Bangs for Round Face Shapes
When in doubt, keep it simple with a classic fringe cut. This bobs and bangs combo works with so many different hair types! Use a curling iron or hair dryer to curl the hair under to create this streamlined style.
15. Gelled Bangs
There are so many ways to style your fringe these days so the question of "Should I get bangs?" shouldn't make you feel as if your styling options are slim to none. This gelled bang style is perfect for fancy occasions. Smooth hair down with Dove Amplified Textures Shine & Moisture Finishing Gel and allow it to dry in place.
16. Layered Hair
Take cues from the French and go for an undone look every single day. Wondering how this would look with a fringe? Here's proof that you get to take full advantage of all the benefits a fringe has to offer.
17. Micro Bangs
We're obsessed with this micro bang style. Contrary to popular belief, just because you have bangs doesn't mean your hair has to be perfect every single day. Try this textured and undone look to create a super airy, natural vibe.
18. See-Through Bangs
Bobs are more fun when you pair the look with a fun fringe. We love the idea of giving your bangs this see-through effect. Achieve this style by finger-combing your bangs.
19. Side Part Bangs
There may or may not come a time when you feel like you're over your bangs. Don't let that get you down! Instead, opt for changing the direction you usually part your hair to give your style a new look.
20. Swoop Bangs for Round Faces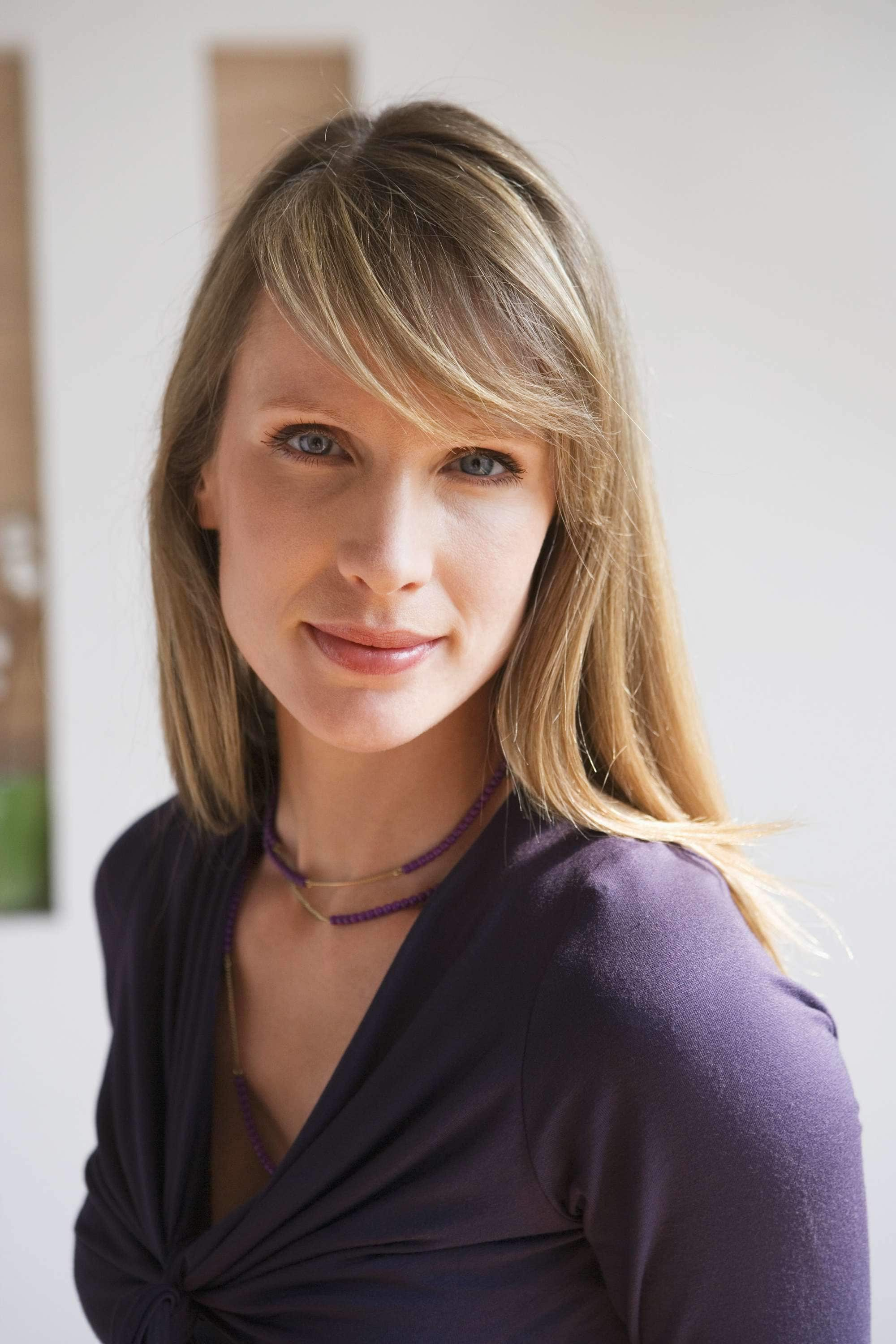 It's not every woman that can stand having her fringe in her face all day. If your bangs are getting the best of you, that shouldn't cramp your style. Instead, sweep them over to the side to keep them out of your face. If needed, use a hairpin to secure in place.
21. Fringe Updo
Every day won't be a good hair day but there's definitely a way to make it work. Prep hair with a dry shampoo like Dove Refresh+Care Detox & Purify Dry Shampoo to absorb yesterday's oil, and then gather your hair into a loose updo style. 
22. Wispy Bangs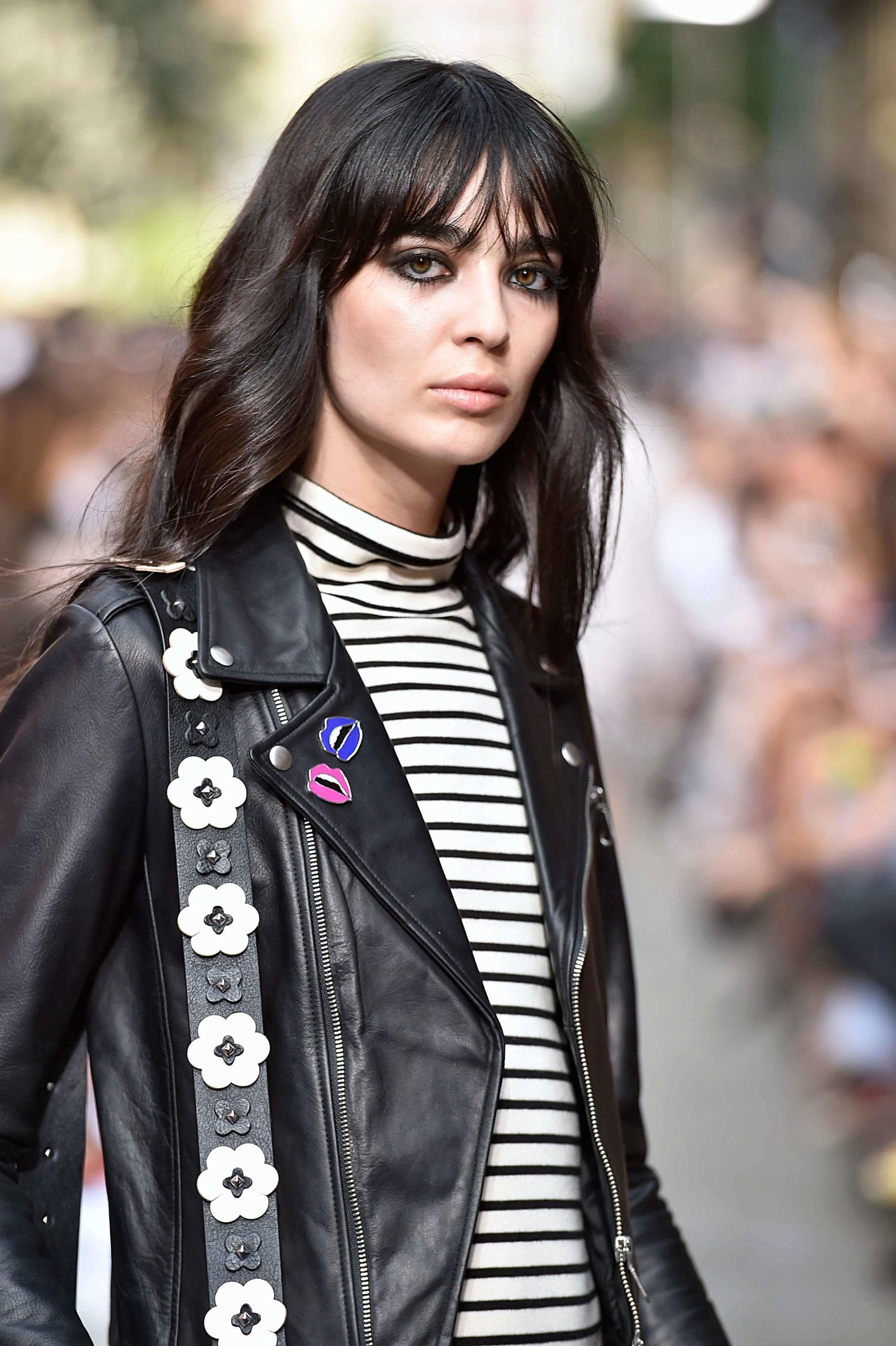 Want to break up the neat finish of your style with a little bit of edge? Pair polished waves with wispy bangs to create the perfect contrast in your look. These slightly longer bangs are thin enough to be wispy and ethereal.
23. Brunette Bangs
Looking to get a complete makeover? Try changing the color of your hair, chopping into a bob, and getting bangs. Don't you love this brunette 'do as much as us? Style your look into this bouncy and wavy style with the help of Dove Style+Care Flexible Hold Hairspray.
24. Long Wispy Bangs
Want bangs that are easier to style? A longer wispy style compliments a variety of haircuts so well. Plus, it's a great option for bangs for round faces. Use a thin curling iron or hair straightener to create these loose easy waves.
25. Blunt Bangs for Round Faces
You can never go wrong with a blunt bangs look. A look like this can help elongate your face and take away some of the natural softness of the shape.
26. Curtain Bangs for Round Faces
Curtain bangs are the trendiest fringe styles of the year, so why not try it out? This style is very flattering on round faces because the fringe fans outwards and gets longer towards the ends.
27. Textured Bangs with Lob
A textured look will add height to your hair, making your face appear longer. To help add more texture and lock it in, use TRESemmé Dry Texture Finishing Spray.
28. Piecey Side Bangs
A pixie and a side-swept style? Sounds like the perfect combination for bangs for round faces. Use a hair dryer to add some rough texture to your style and to create this windswept look.
29. Extra Thick Fringe
Want to make an extra bold statement? Then go for an extra bold bang. This fringe style is sure to draw attention in the best way possible. This is another style that requires frequent upkeep – especially in the bangs department!
30. Ultra-Micro Bangs for Round Faces
Looking for a quirky look that'll accentuate your round face? Go for micro bangs! You can pair your micro bangs with longer or short strands, whichever you prefer. We love how this ear-grazing style looks paired with micro bangs.
If this is your first time trying bangs with your round face shape, stick to the basics. Go for the classic look to keep things simple and sweet, and don't forget to tag us @Allthingshairus!
Prev Article
Next Article
All Things Hair on Instagram