10 Best Cute Blonde Hairstyles with Bangs
Update that look with a fringe.
It's common to have the urge to update your look throughout the year: There's nothing like a fresh new hairstyle, after all! So if you're reading this and are on the hunt for perfect blonde hairstyles with bangs as a way to switch up your look, we're here to help.
Why bangs? This hairstyle option allows you to keep your length while also adding some dimension and texture change to your overall look. What's more: There are tons of blonde hairstyles with bangs options to choose from, whether you want a parted fringe, side fringe, or even long bangs.
10 Blonde Hairstyles with Bangs
Ready to try out this new look? Read on to check out our top 10 favorite blonde hairstyles with bangs that are sure to inspire your latest chop:
1. Long Side Bangs with an Updo
Maybe you want bangs, but don't exactly want the full short chop. In that situation, go for extra long side bangs. You can leave your long bangs straight for a sleek look or curl them for a more romantic effect with a chic updo. Add a little texture with Love Beauty and Planet Coconut Milk & White Jasmine Salt Spritz Texture Spray.
2. French Braids and Side Bangs
We love how edgy and elegant this braided hairstyle and bang combo works on blonde hair. A simple braided style may not seem edgy but paired with gentle side bangs, the style goes from sweet and simple to downright exciting. Increase the contrast of this look by braiding your hair as tightly as possible, so it pairs gorgeously with side-swooped bangs.
3. Long Bangs and Extra Textured Hair
Long bangs are a style in and of themselves, but add in a lot of gritty texture and you've got yourself a look. All you need to do is spritz in Suave Dry Texture Finishing Spray on your straight, dry hair. Don't scrunch it in, leaving it straight will give a textured, rock 'n roll look.
4. Pixie Bangs
Go for a chic short cut with a pixie and bangs combo. Go for a piecey cut to add texture and drama to your look.
5. Side Bangs and Turban Headband
Bangs look super cute paired with a headband. We love how blonde hairstyles with bangs can wear literally any color headband and look awesome. Try out a fun turban-style headband for a bold look during any season.
6. Full Bangs and Polished, Shiny Hair
Polished straight hair and full bangs are a classic style for a reason. It will never be outdated or too trendy. To get mega-watt shine, use Dove Style+Care Smooth and Shine Heat Protection Spray before blow-drying your hair straight.
7. Faux Bangs
Haven't made the cut yet? Test out blonde hairstyles with bangs by faking them. You can fake swooping side bangs like these by just pinning the front section of your hair behind one ear. You can also fake full bangs by following our hair tutorial.
8. Side Bangs and Half Updo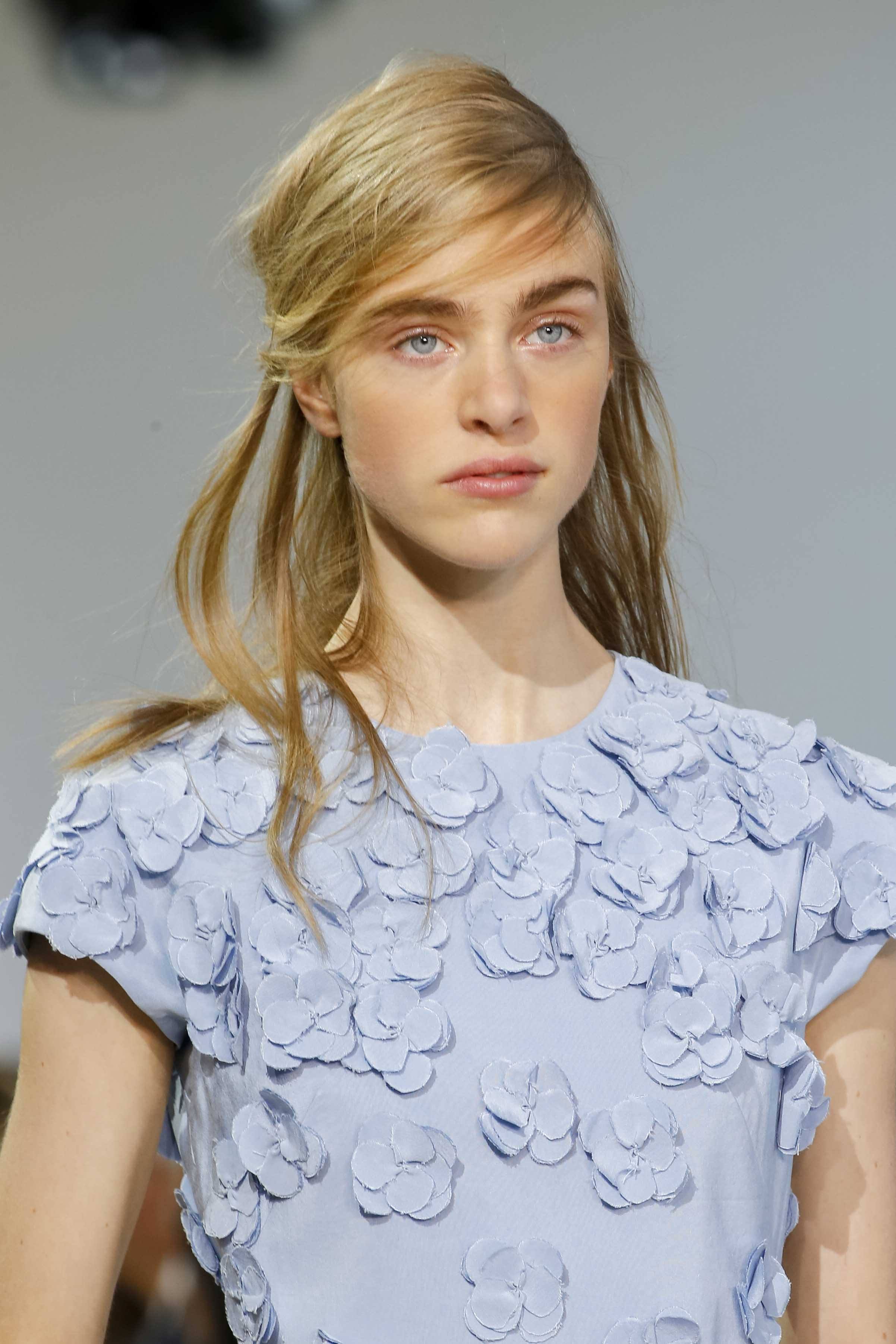 Pair your long side bangs with a sleek half updo. This is another good style you can test out with fake bangs. Just brush a small section forward to cover your forehead before swooping it all back into a half-up ponytail.
9. Curtain Bangs and Model-Off-Duty Hair
Model off-duty hair is our new favorite style. Follow our step-by-step tutorial to try model-off-duty hair and pair it with curtain bangs. Create the curtain effect by just parting your bangs down the center and you'll be set!
10. Extra Long Bangs + Wavy Hair
Long bangs are one of our favorite hair trends. Grow out your standard eyebrow-grazing wispy bangs for a couple of extra weeks to see if this style is right for you! If not, you can always trim your bangs at home or clip them back until they grow out.
Are you thinking about trying out one of these styles? Be sure to grab a picture and tag us over @AllThingsHairUS!
Prev Article
Next Article
Gallery
31 Layered Haircuts With Bangs to Try this Fall
These layered haircuts with bangs turn blah to aah with a few strategic snips.
See article
All Things Hair on Instagram