31 Layered Haircuts With Bangs to Try this Fall
These layered haircuts with bangs turn blah to aah with a few strategic snips.
Layered haircuts with bangs hit a fever pitch in the late 1990s, and it seemed like afterward, haircuts would never be the same. Suddenly we had options; not every look needed to be a be-all-end-all of length; we could play and tailor things around, without the hassle of full-time commitment. We could wear our hair long and luxurious and still enjoy some swing and movement, without the weigh-down. Layered haircuts with bangs helped us have our cake and eat it too.
That said, we're always going to have a soft spot for this eternally flattering style—it's seen us through the most finicky of hair days and has given us hope of a good hair moment when there was none. Scroll down for 30 stylish long layered haircuts with bangs for all sorts of tastes and hair types:
Best Layered Hair with Bangs
If you're into shags, feathered looks, or just want an all-over swingier look, a layered haircut that features both a fringe and some side layers is just the thing. This length can look super subtle to seriously rockstar, depending on the chunkiness of your layers. Keep scrolling for style ideas!
1. '80s Fringe With Feathered Layers
This glorious throwback look features a (quite wearable) light fringe paired with whisper-thin layers on the sides. This feathery fading technique will give your hair some serious shape and dimension. Talk to your stylist about creating a cut that gives your strands some movement to keep your look fresh and up-to-date.
2. Asymmetrical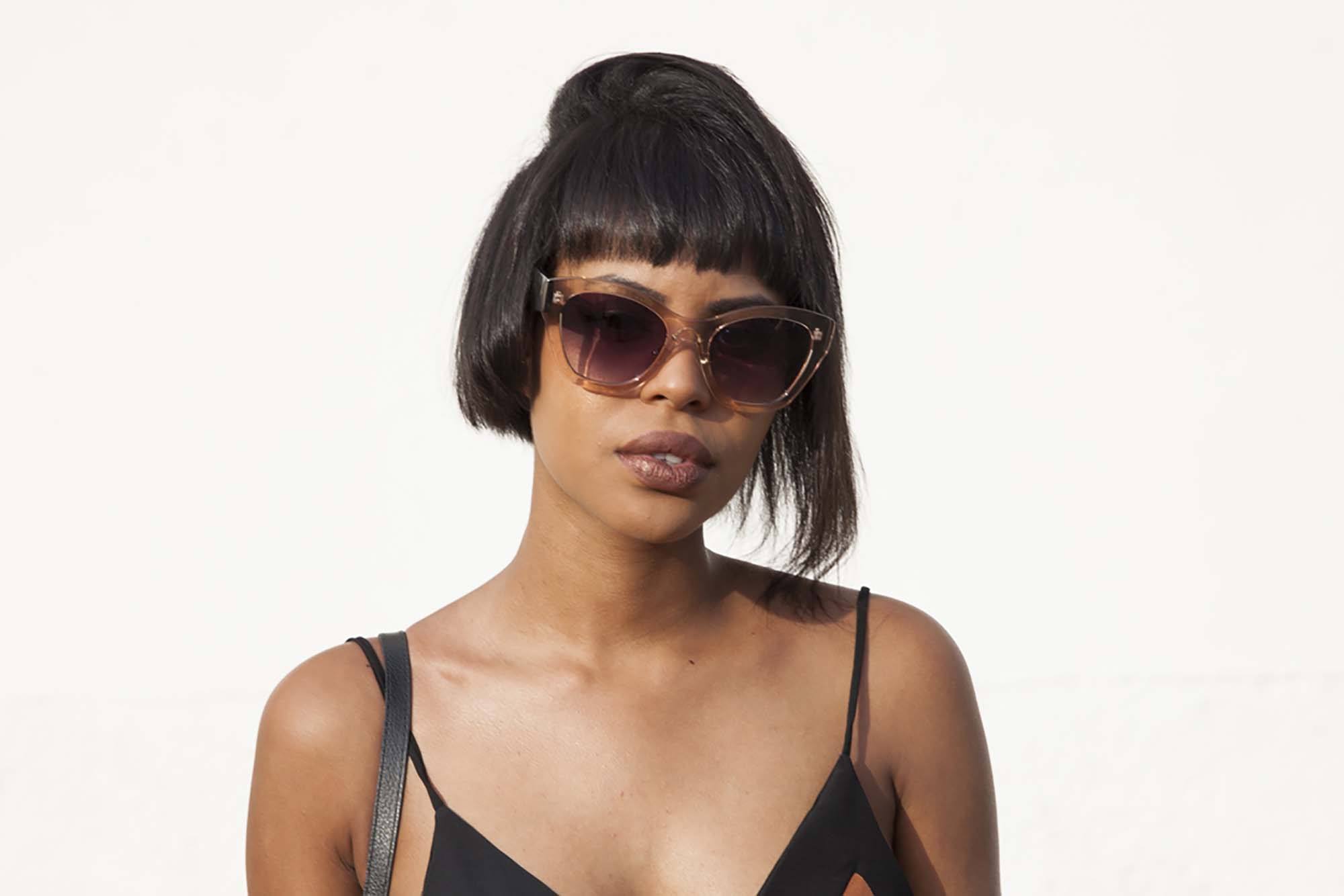 If chunky layers are your thing, then an asymmetrical haircut teamed with a blunt bang hits all the graphic notes. This multi-length style helps you nail one of the edgiest trends of the season – the uneven cut that gives your strands a blunt and cool feel instantly.
Secure your styling with a high-hold, long-lasting hair spray like Bed Head by TIGI Hard Head Hair Spray.
3. French-Girl Shag
A shaggy bangs look gets grounded by a luxuriously dark color and perfectly cut log layers. Effortless and easy to maintain, this shag is the epitome of an 'I woke up like this' style that requires minimal maintenance.
4. Blunt and Swingy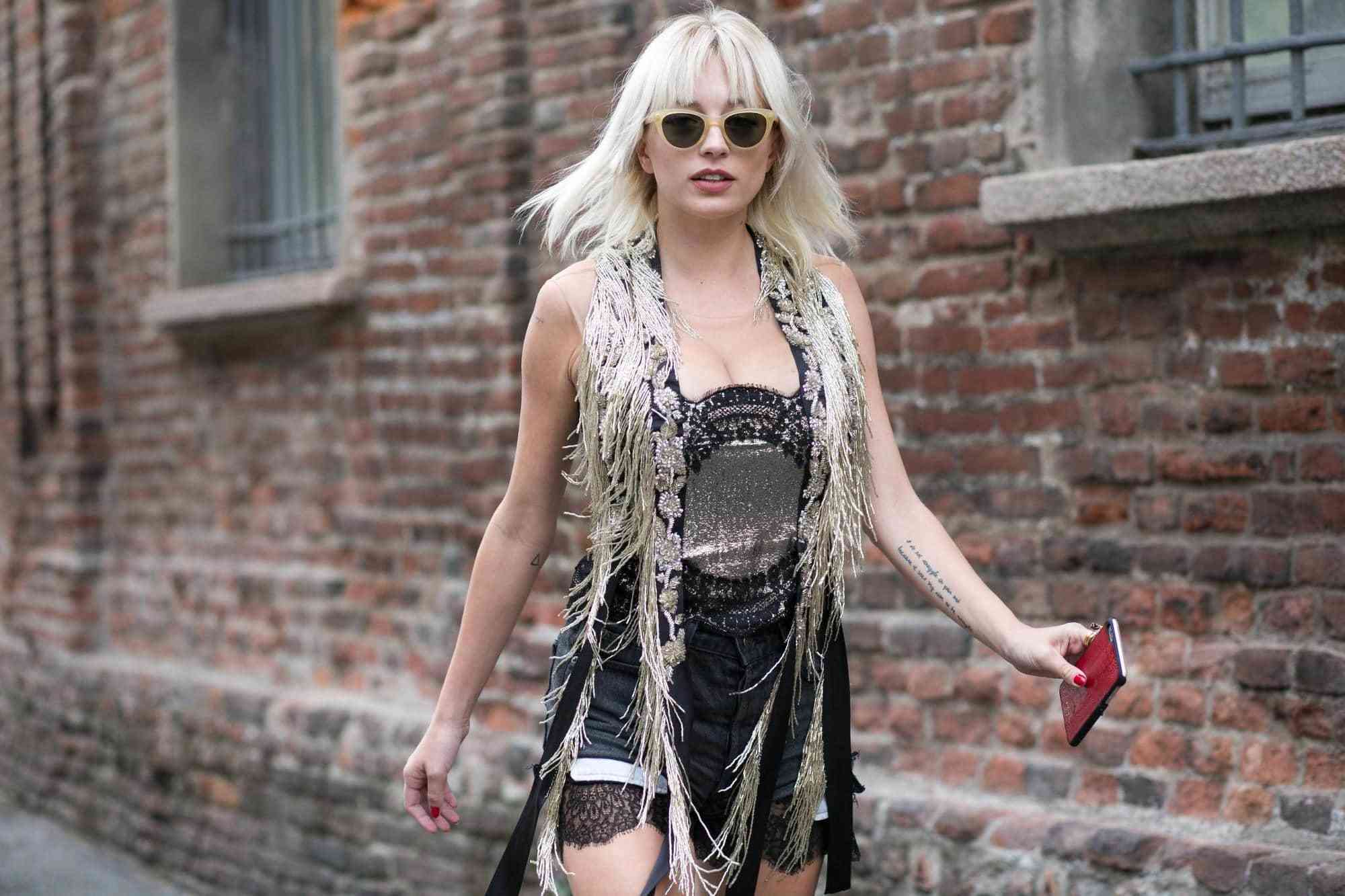 This 1970s-inspired half-moon fringe bangs—long on the temples, short in the middle—is the ideal foil for a matte, textured lob. This is an ideal example of how strategic haircutting can make or break a look.
5. Razored
Another '70s staple, the razored fringe bangs goes hand in hand with feather-light layers that all find their way to the collarbones. Ideal for women who have thicker strands and are looking to cut down on the weight of their hair without losing impact, this look is a guaranteed crowd-pleaser. The secret to flawless layers? A spritz of Suave Simply Styled Anti-Frizz Smoothing Serum before styling. No frizz and gleaming strands are guaranteed!
6. Straight Across
A medium-bronde shade finds even more crispness with a precise bang and subtle end layering. There's something about the blunt edges of these layers that give a choppy and high-fashion feel to the look.
7. Long Layered Hair
Take the East Asian route and go for the hyper-trendy see-through fringe bangs trend—this slightly '90s look amps up any regular lob in minutes.
8. Layered Hair with Bangs
Pair your layered strands with layered bangs for a truly impactful style. If you opt for this style, you will certainly need to bring this photo as inspiration to your stylist as this exact look can be hard to describe!
9. Tightly Textured Layered Bangs
Not a crimp, not yet a full curl—this melée of texture is a surefire way to add interest to a shoulder-length lob with a full fringe. If you are hesitant to get bangs when you have curly hair, this inspiration image above should be all the convincing you need!
10. Wet Curls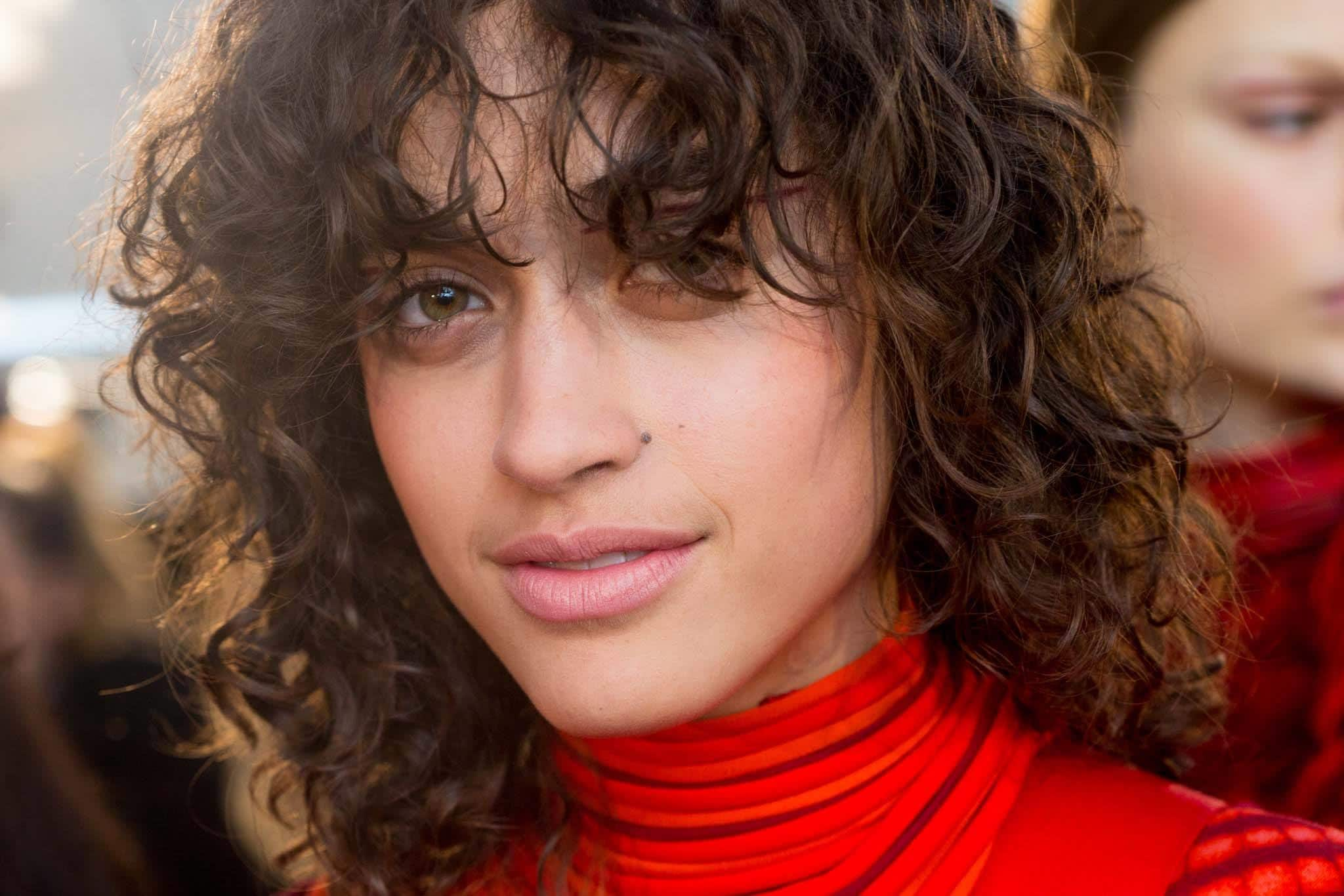 Arguably one of the hottest looks this season, curly, softly layered bangs check all the boxes: chic, easy to wear, and unusual. Set this style with TRESemmé Compressed Micro-Mist Level 2 Hold Curl Hair Spray for a soft hold.
11. Grown-Out Bangs
Stuck in that awkward in-between stage? Split your bangs in the middle and let them blend into some soft layers. This is the chicest way to grow out your bangs for a full fashionable look.
12. Swingy Lob
Another iteration of the brow-hitting bang, but this time with more delicately cut layers. We love this look for more mature women.
13. Straight and Ashy
Poker-straight hair types can also find more dimension with a unique color—and some bang layering near the cheekbones. This bang length draws the eye to cheekbones and accentuates your facial structure for an elongating effect.
14. Perfectly Outlined Layers with Fringe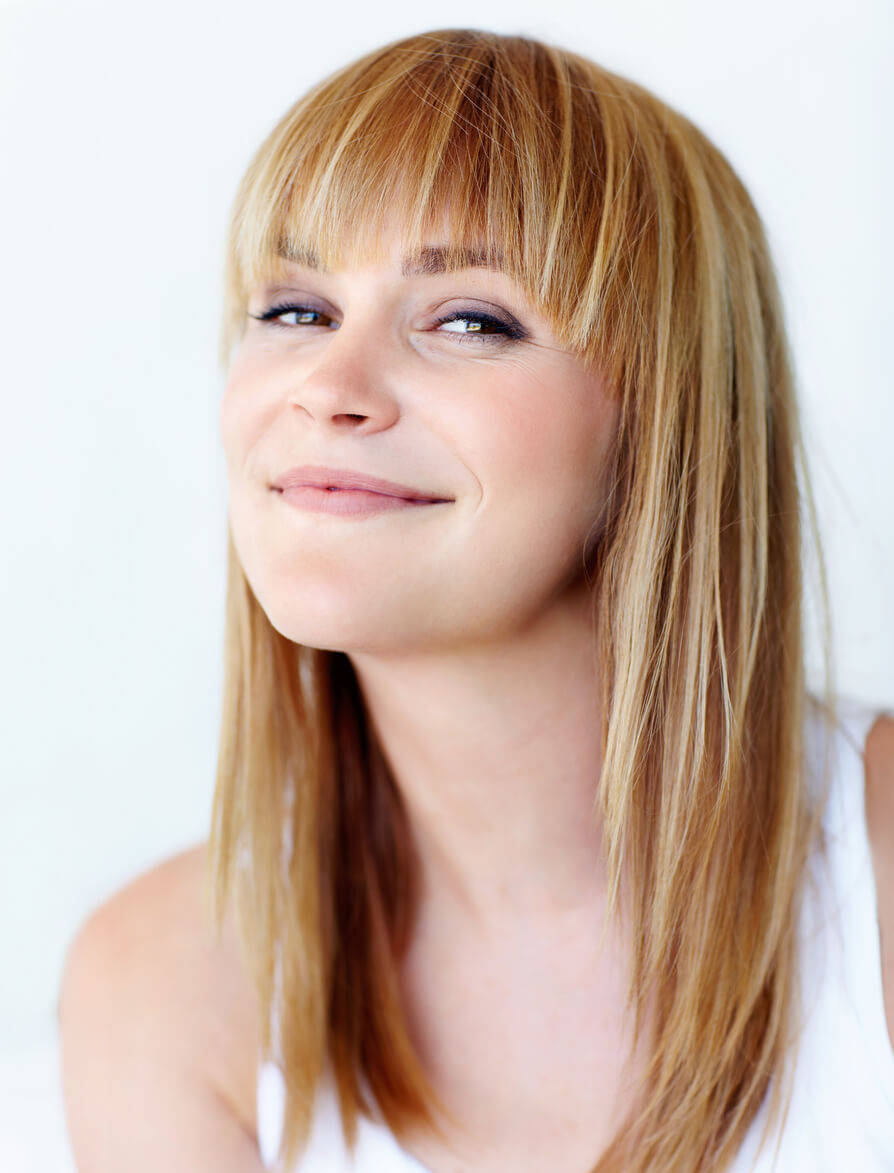 A seamless temple-to-side silhouette creates a modern, even futuristic layered bang that's great for edging up rounder and heart-shaped faces. This is one of our favorite long hairstyles with bangs.
15. Curved Fringe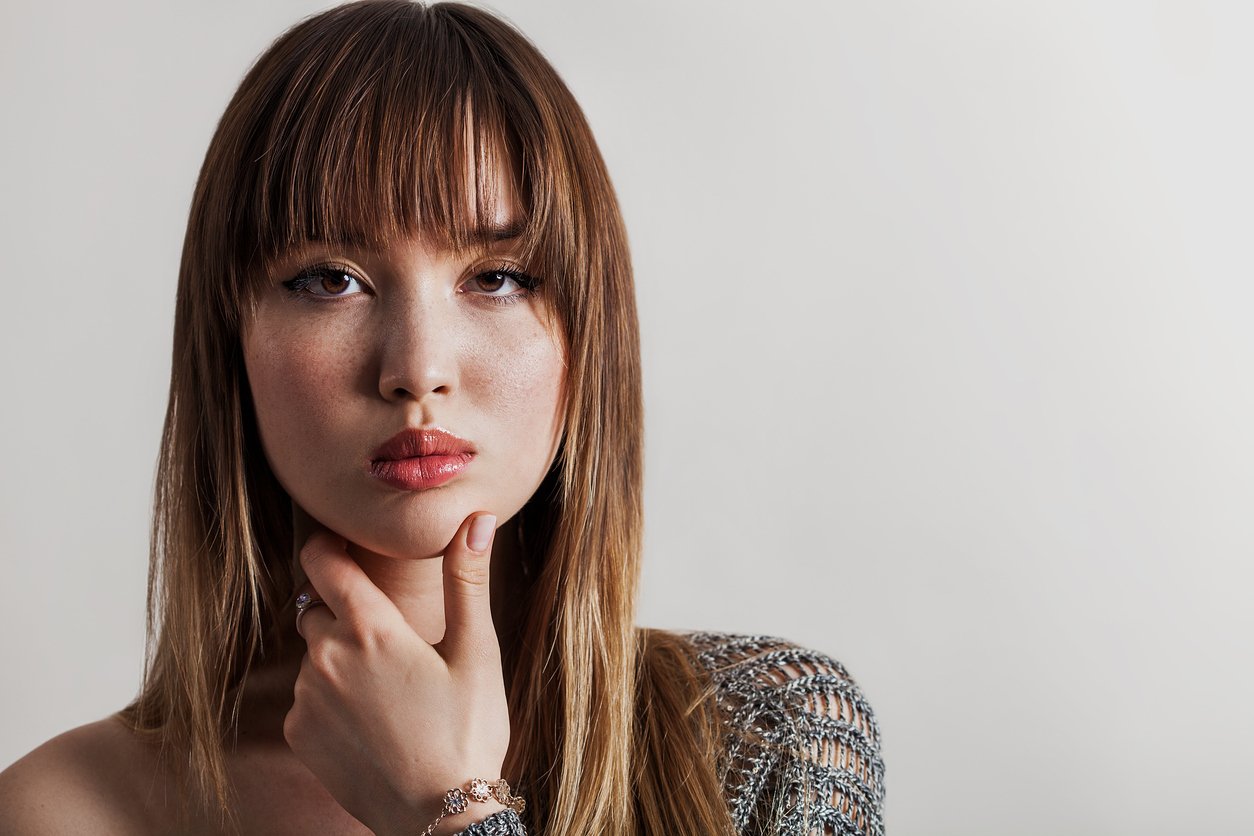 Similar to the previous look, this style features a bang area that's been snipped slightly unevenly for a more natural look. If you're hoping to stay away from that neat fringe look, try this anything-but-tidy alternative.
16. '80s Side Sweep + Bang Combo
Don't lie, we know you loved this look once! We're actually feeling this latest remix, tbqh: It does away with the insanely exaggerated height popular in its heyday and instead goes straight to the 'cute haircuts with bangs' category.
17. '90s Long Layered Haircut with Bangs
A spin-off of the '80s bang, this version has that definitive early '90s pieceyness(JPG) and bounce that seems to emanate from the middle of the forehead. Looks great on those with thicker, straighter textures.
18. See-Through Bangs, Long Version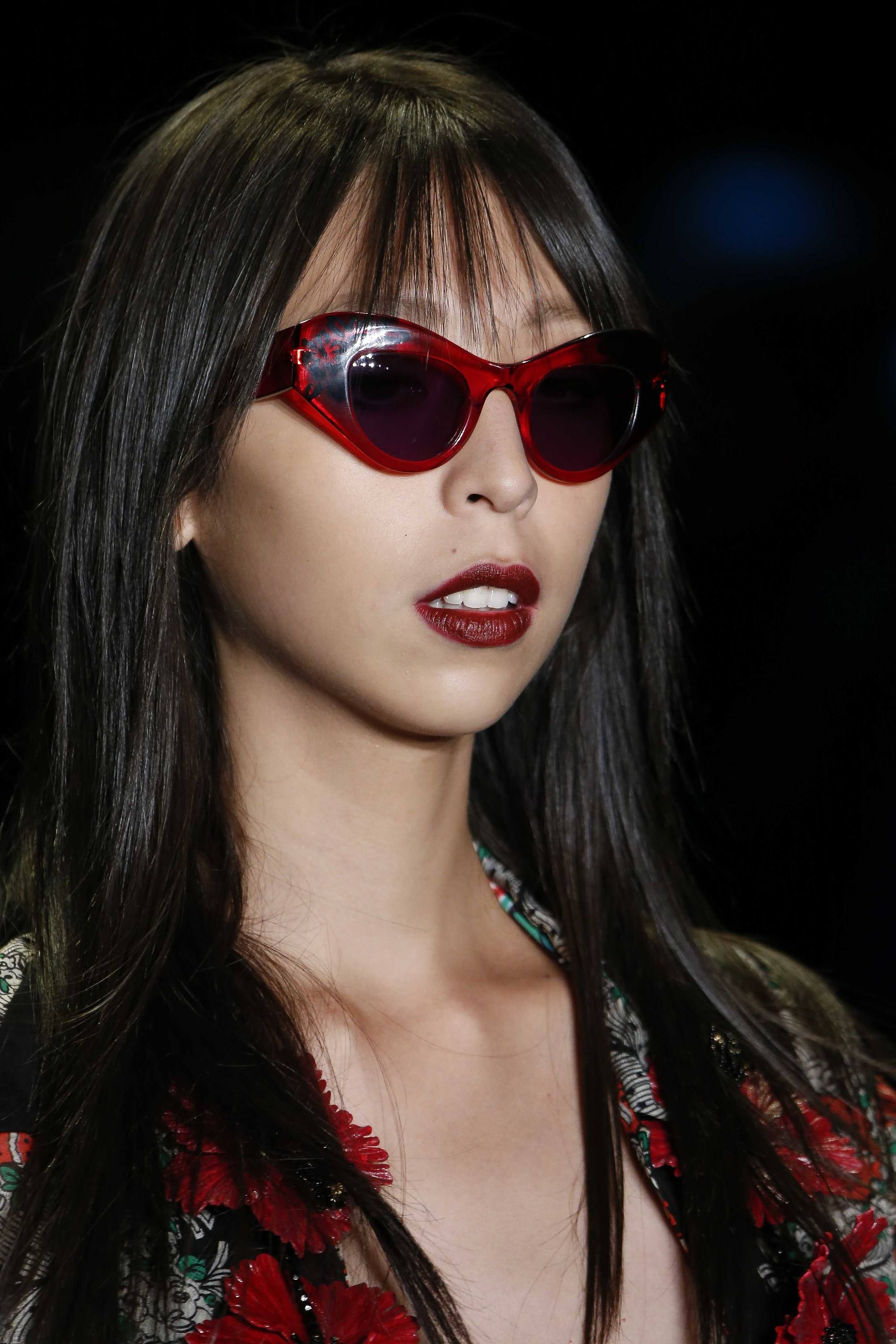 Yup, we're still not over the versatility of this layered bang look. Ask your stylist for a thin, choppy fringe, and leave the layering to the bottom half of your hair. Style by tucking your sideburns behind your ears.
19. Relaxed Layered Bangs On Long Hair
Women with relaxed or rebonded hair can also access some layered haircuts with bangs. A look that only has layers at the ends plus thick curtain bangs is a universally flattering choice.
20. Blonde and Fine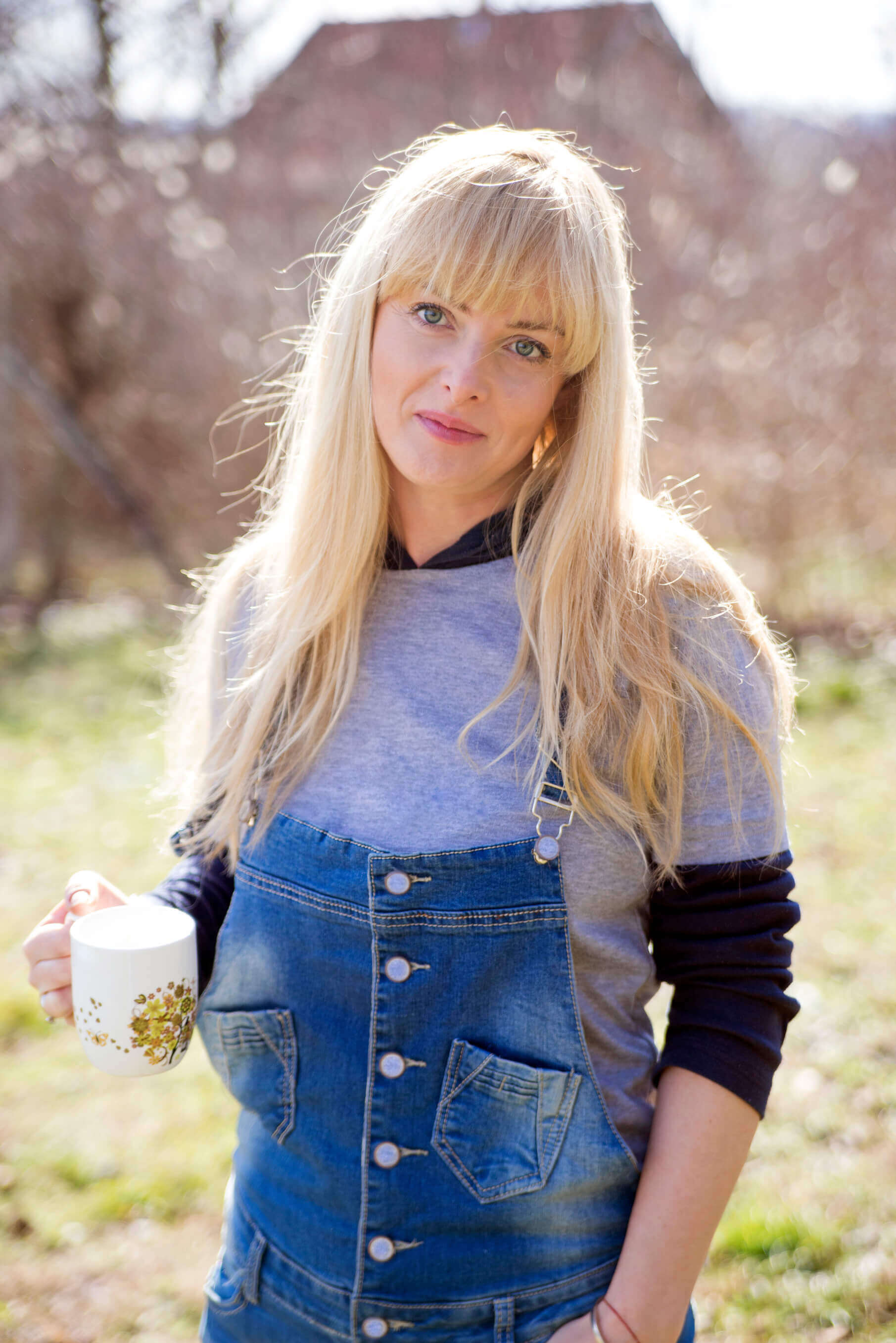 A full, sexy fringe teamed with perfectly layered ends nails the long layered bangs aesthetic to a T. This classic but stylish look is one for the ages.
21. Grownup Layers With Thick Bangs
Layered haircuts with bangs can look polished too—just keep the ends subtle and not as chunky, and the fringe blown out. This style is chic and easy for a woman on the go.
22. Air-Dried
Always a certain je ne sais quoi with the French, non? This popular European haircut features a lived-in full layered bang and easy layers on the sides.
23. Baby Bang
If by chance you do want to edge it up, a baby bang is a totally boss move. This short fringe is the perfect addition to any style.
24. Mod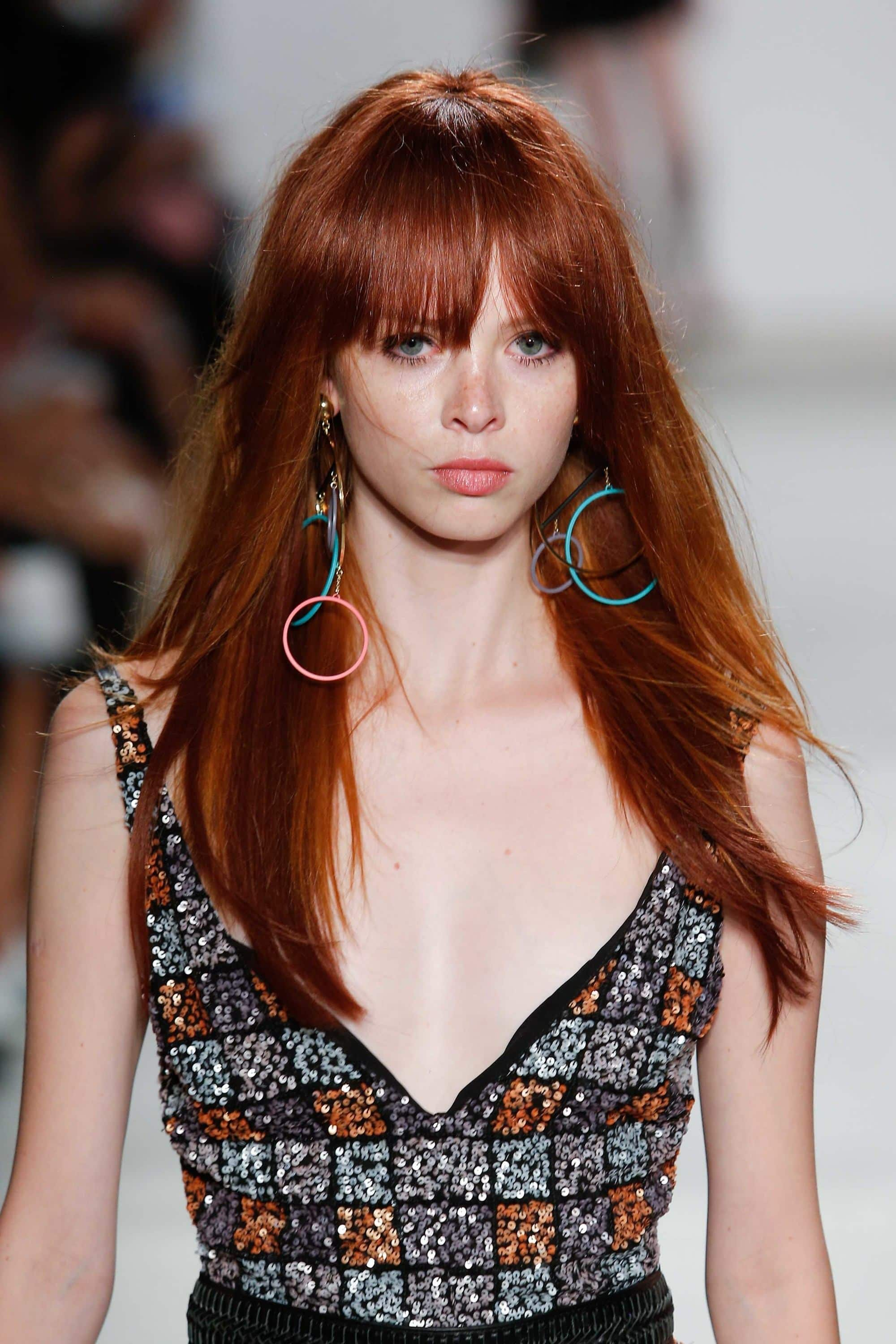 Make like a legendary 1960s groupie with a full, retro-inspired bang paired with super-long locks. We love this throwback style for anyone looking to make a statement with their strands.
25. Long Shag
Because we can't get enough of the rock-chic leanings of this hairstyle, here's another fun—and surprisingly manageable—way to wear long layered haircuts with bangs and loose curls.
26. Extra Long Layered Bangs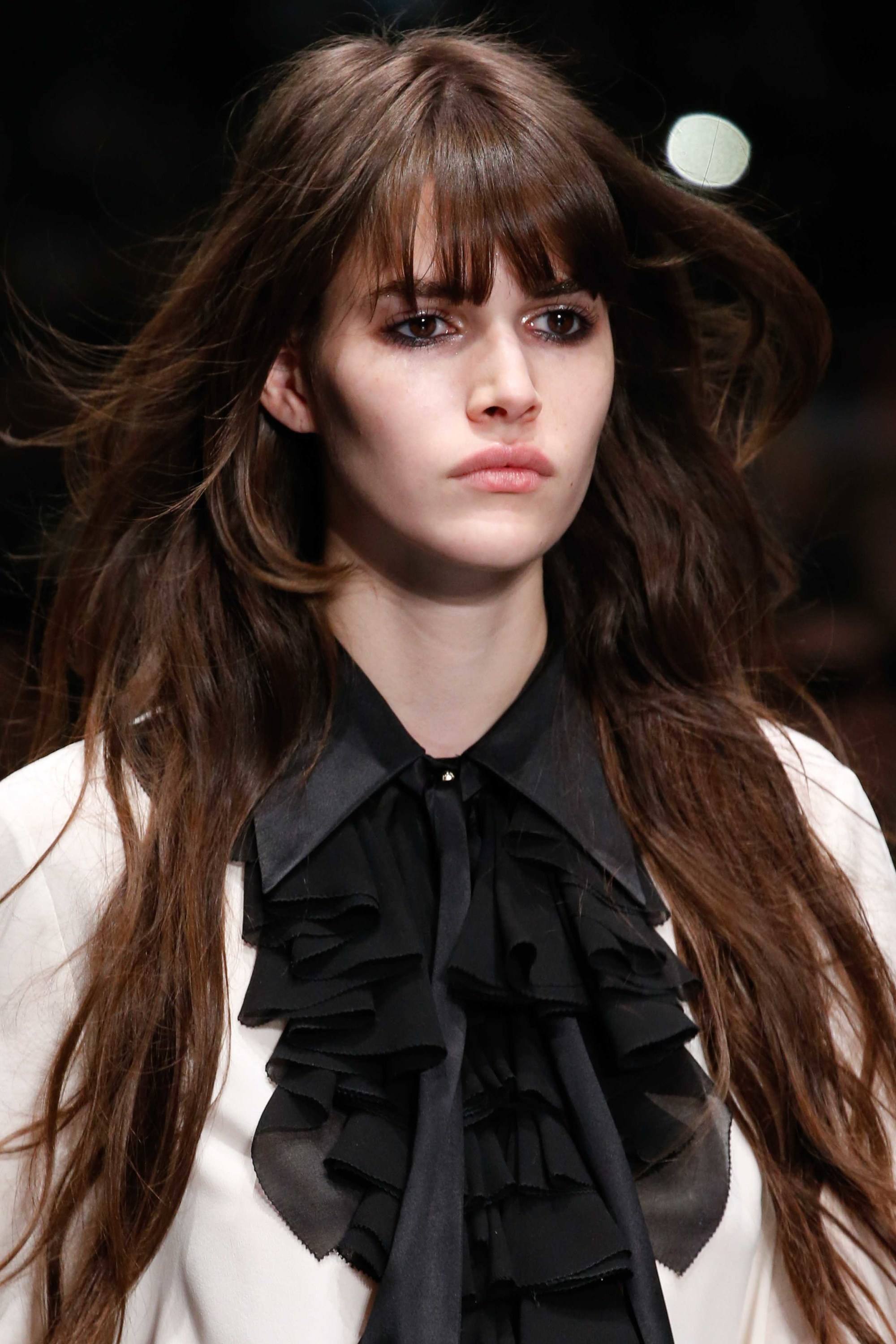 Break up all that length with a pretty, brow-hitting fringe. The long layers incorporated into this style take the whole look up a notch!
27. Ladylike
Made for those I-want-a-change-but-not-something-too-drastic moods, this low-key soft fringe melds seamlessly into the rest of her lengths.
28. Super-Micro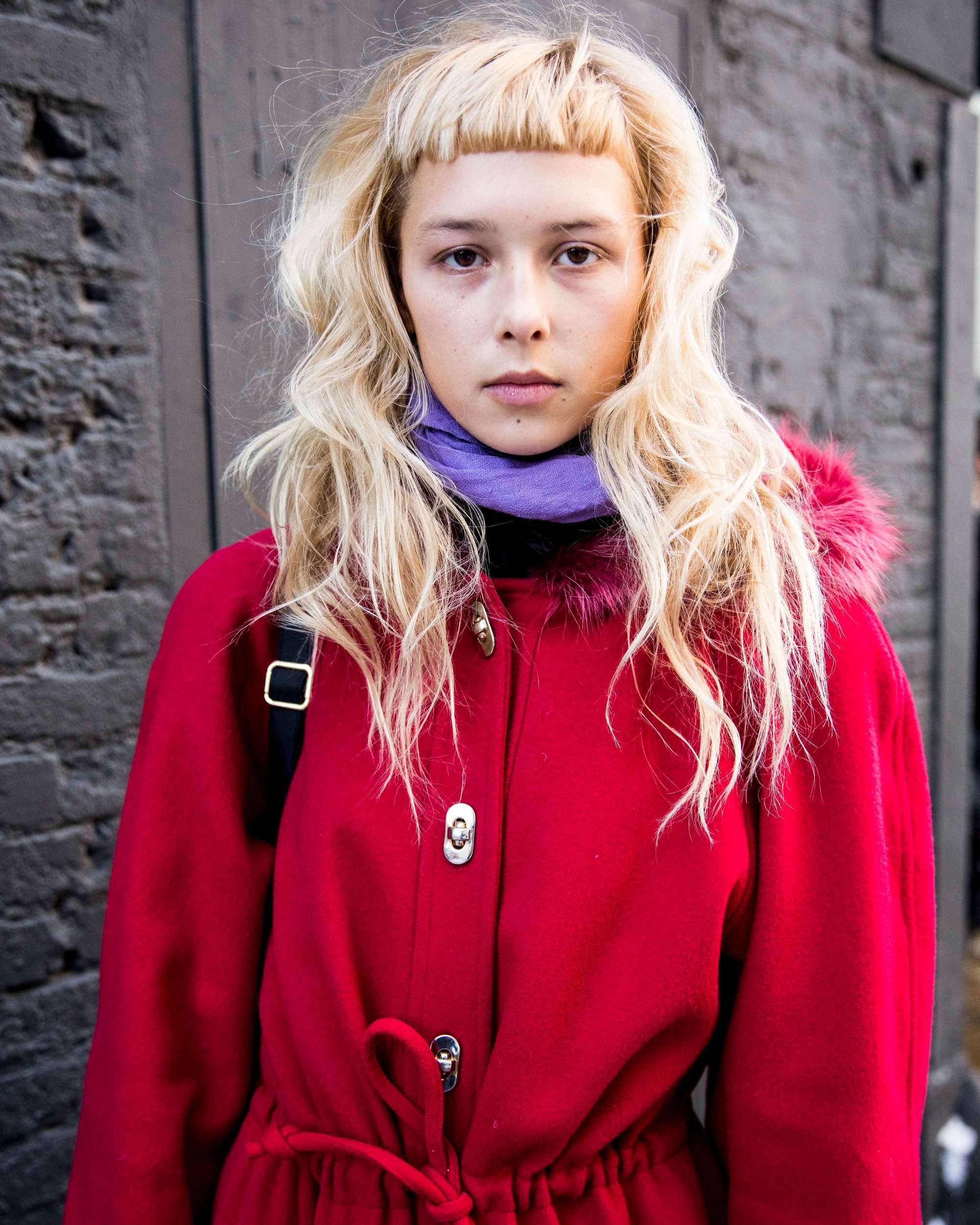 Like a baby bang on steroids, this version of layered bang haircuts definitely adds a techno-punk feel to any haircut. If you need help keeping your micro bangs in place, feel free to use a hair spray. We love Nexxus Weightless Style Ultra Light Hair Spray because it leaves a soft finish on your hair without weighing it down or feeling stiff.
29. Side Swept
A.k.a. the best way to grow out any layered bang fringe—or to wear the best of both worlds. Side-swept bangs require minimal upkeep and a lot less finessing than full bangs generally do.
30. Textured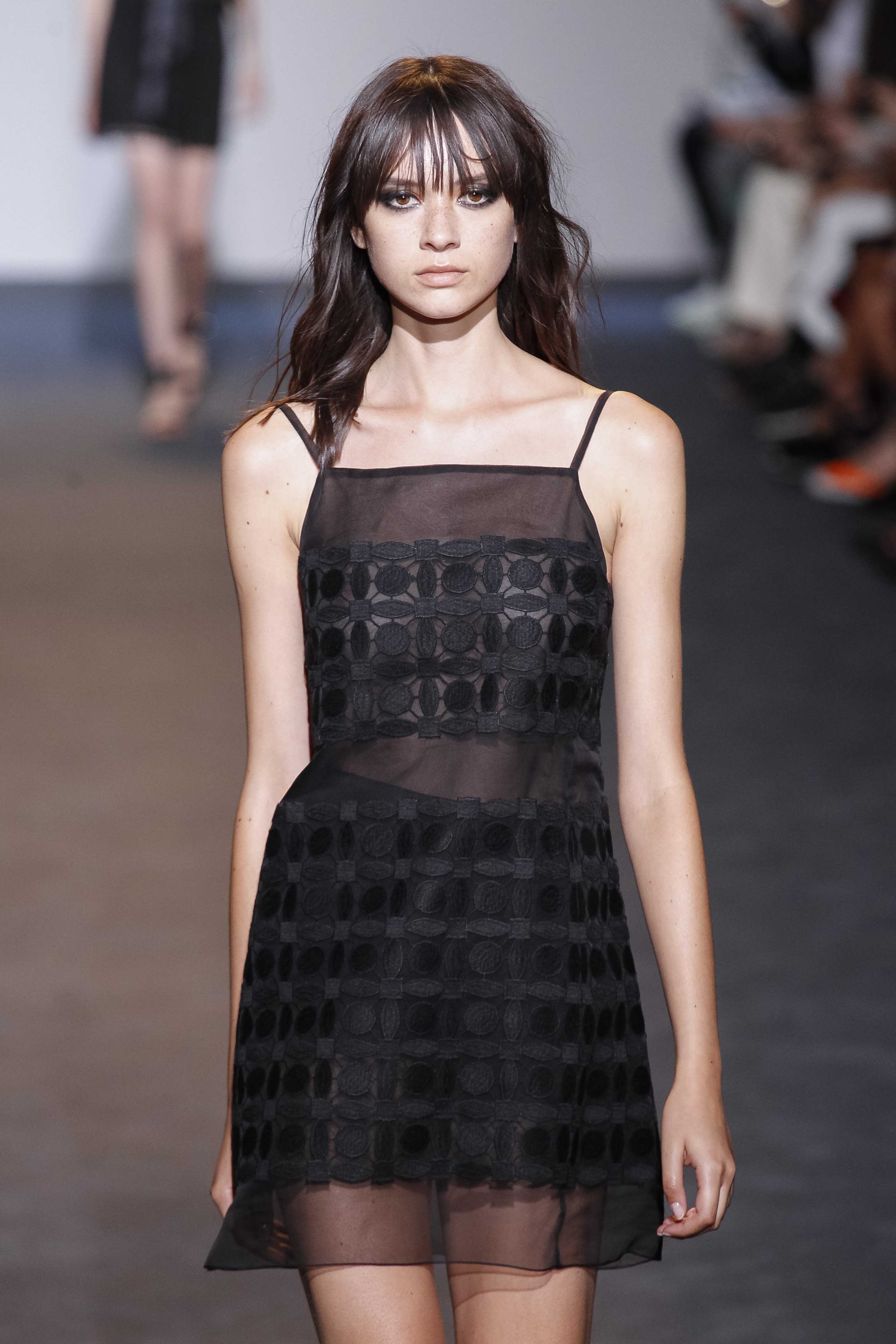 The non-committal, almost sticky-looking see-through fringe in this look is super directional. The style is great for those who want to push the envelope while still looking, you know, pretty.
31. Curly Layered Bangs
A layered shag with bangs haircut was practically made for curly hair! This cut shows off the beautiful natural texture of your curls. With a quick squirt of curl cream, we love Suave Luscious Curls Curl Defining Cream, you'll be on your way to so many amazing hair days
Whether you're choosing short choppy layers or sleek long layers, there are so many ways you can try a layered haircut with bangs.
32. A-Silhouette Cut with Bangs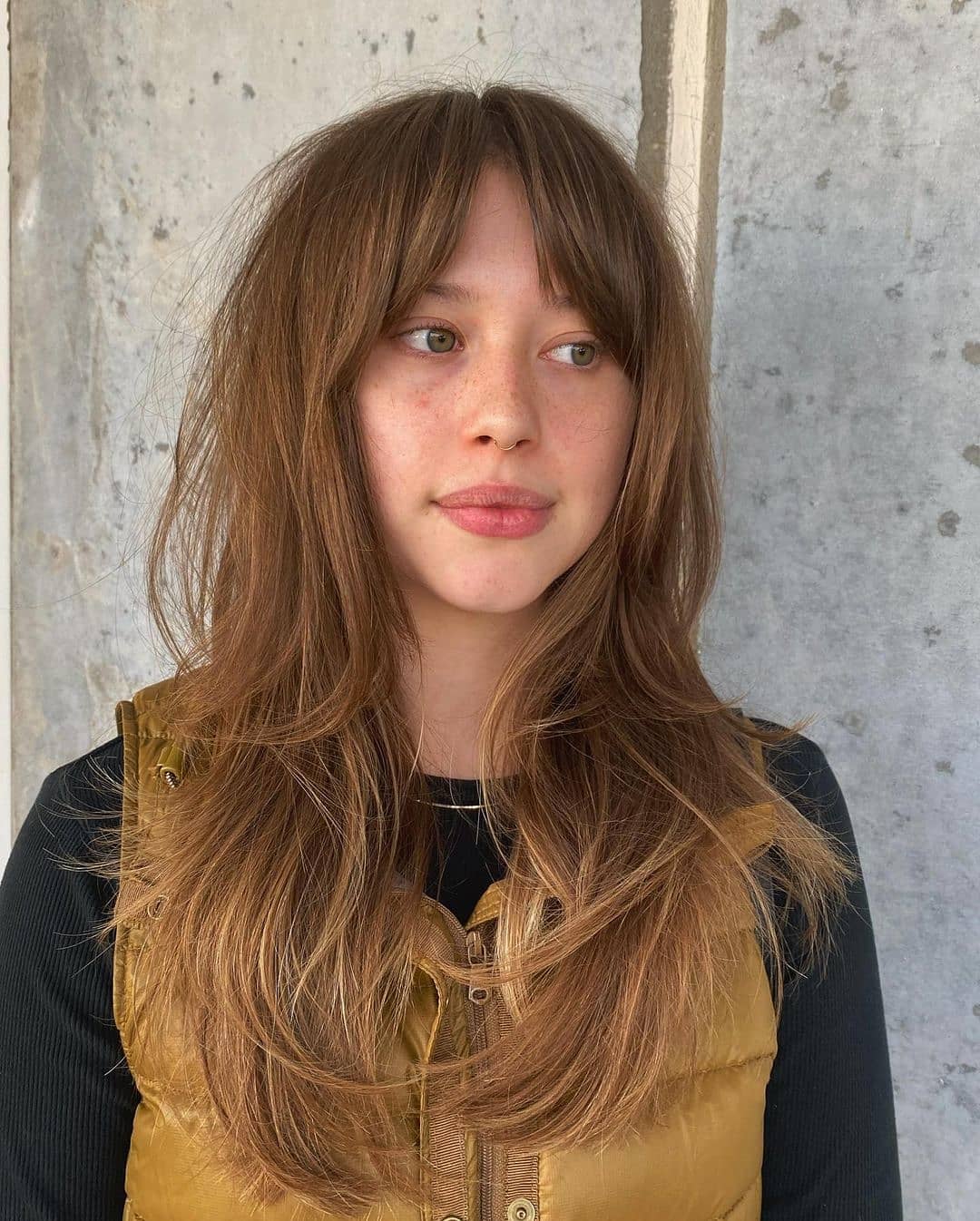 If you have a long face, this A-shaped haircut is perfect for you. A bit rock 'n' roll, very stylish, it will look cool in any season.
33. Layered Bob with Bangs
We love a layered bob and we love it even more with a messy blunt bang. Recreate these waves using TRESemmé Pro Pure Volume Invisible Styler, ideal to create long-lasting volume and body for natural styles.
34. Ghost Layers
Prev Article
Next Article
Article
How to Wear Curly Hair With Bangs
Bangs are not the usual top-of-mind hairstyle for most curly girls. They require a bit more work to seamlessly blend into curly hair, and aren't as straightforward to style as, well, straighter hair. Not to say that wearing curly hair with bangs is a no-no though. On the contrary: Bangs, as seen with summer's sleeper […]
See article
All Things Hair on Instagram