How to Wear Curly Hair With Bangs
Bangs are not the usual top-of-mind hairstyle for most curly girls. They require a bit more work to seamlessly blend into curly hair, and aren't as straightforward to style as, well, straighter hair. Not to say that wearing curly hair with bangs is a no-no though. On the contrary: Bangs, as seen with summer's sleeper hit, the shag, can lighten up an otherwise bottom-heavy look or breathe new life into a run-of-the-mill curly 'do.
Scroll down for a few tips on copping a cute fringe to go with curly hair. We love the look on an awesome, bright hair color too (like copper), for extra oomph! Read on to learn more about how to style curly hair with bangs:
How to Style Curly Hair With Bangs
1. Go brow-length or longer.
Since curls tend to shrink your actual hair length, it's best to ask your stylist for bangs that are cut at the brow or just a bit past it. It's a highly flattering (and versatile) length, and goes with most curly hairstyles, like with the tight curls as above, or even paired with a loose, gender-neutral shag.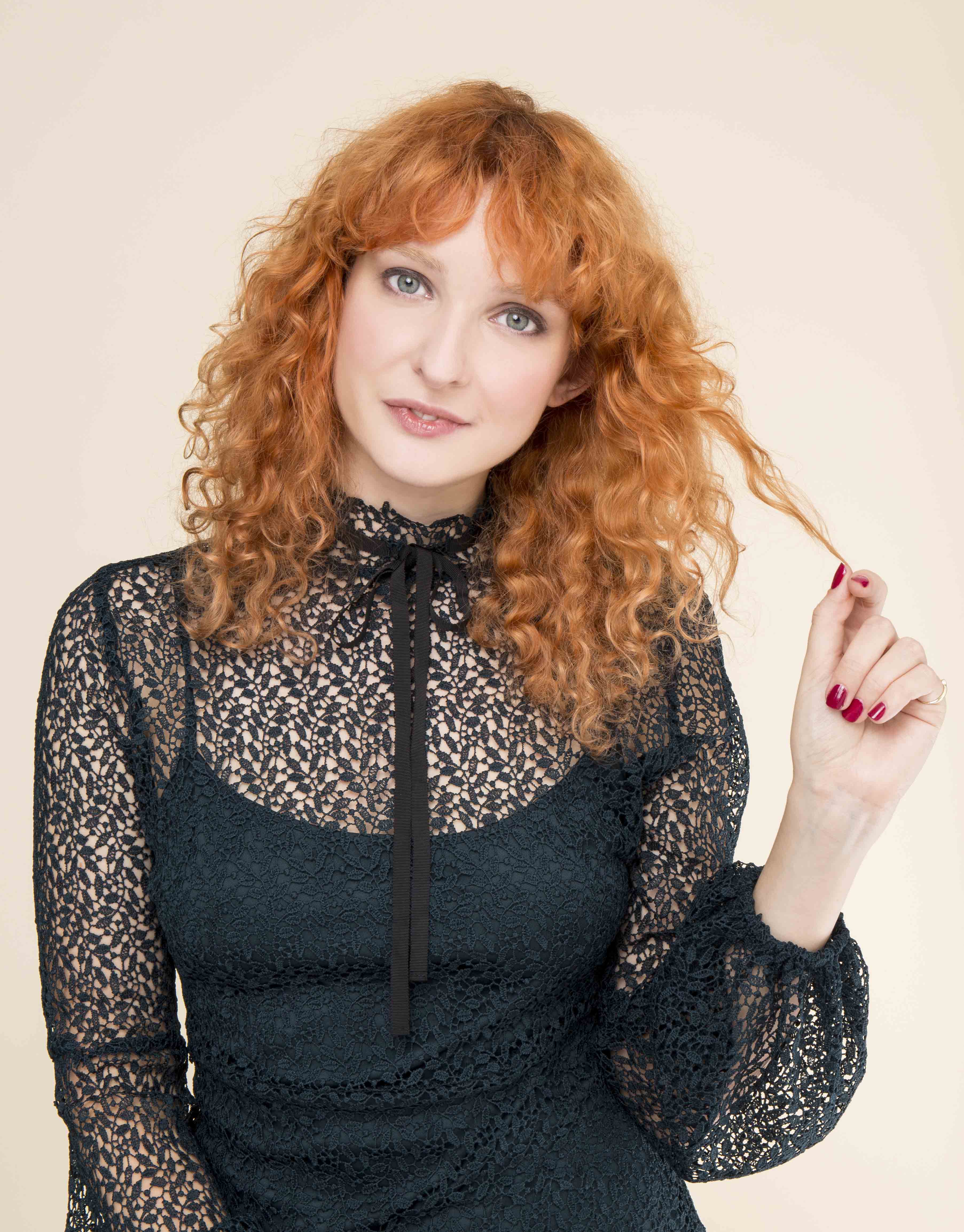 2. Get them slightly longer on the sides.
Wearing curly hair with bangs in a curtain style, or middle-parted, gives your regular hairdo quite the pretty style upgrade. A bit vintage, a bit rock n' roll, parting curly or wavy bangs in the center opens up your forehead ever so slightly without foregoing texture. Keeping them slightly longer on the sides also helps the ringlets blend more seamlessly into the rest of your spirals.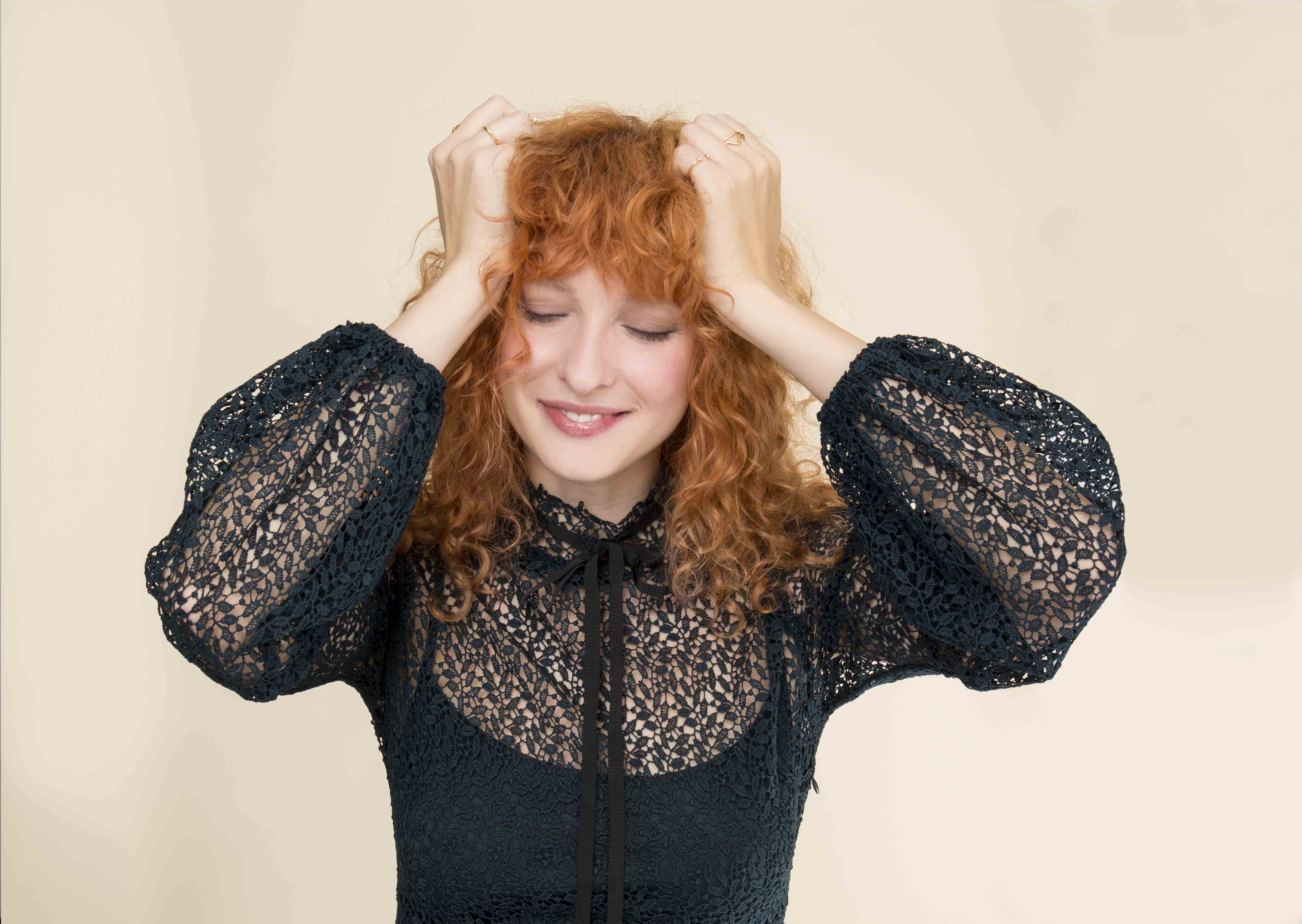 3. Condition carefully.
A caveat: Although curly hair has a tendency to be drier than other hair types, bangs are more susceptible to greasing up easier since they're flat on your forehead. To keep your hair in optimum condition, wash with a system specifically made to condition curly hair types (we love Dove Quench Absolute Shampoo and Quench Absolute Conditioner) and follow up with a mousse, like TRESemmé Flawless Curls Mousse, to help style and keep your ringlets bouncy and light.
4. Dry your hair with a diffuser.
To preserve the shape and integrity of your curls, utilize the diffuser attachment on your blowdryer. Position the nozzle underneath (near your ends) pointing upwards, and wiggle onto hair till completely dry. Repeat with your fringe, drying from the ends of the hair with the nozzle pointing upwards, so the curls don't separate and frizz out. Finish with a small amount of curl-defining cream coated on strands, such as Bed Head by TIGI On the Rebound, for more structure.
Love this article on how to wear curly hair with bangs? Check out more curly hairstyle tips and tricks from our editors.
Prev Article
Next Article
Gallery
15 Ways to Wear Side Bangs in 2022
Take your hair to the side with this chic option for your bangs.
See article
All Things Hair on Instagram