10 Best Bangs for Women with Thin Hair
Use our expert tips to navigate this tricky hairstyling category. 
There are a number of strategic ways to work with fine hair to create the illusion of more volume. By creating more body at the roots and throughout the rest of your hair, you can fake thicker and fuller-looking strands. Hairstyles like bangs for fine hair are a great way to switch up your look. With the right cut and styling techniques, you can amp up finer strands to make them appear thicker and give your hair the bounce and volume you crave. We've compiled a collection of ways to wear bangs for fine hair that will nudge you towards the thick hair camp. If you want to get in on the bangs trend but you aren't sure how best to go about it, then read on to find out how to achieve thin bangs on long hair.
Bangs for Fine Hair that Step Up Your Style
Just because you have thin hair doesn't mean you need to stray away from bangs. Check out these top bangs for thin hair looks.
1. Split Bangs
A great way to adjust a set of full bangs so that it flatters finer hair is to style it by splitting it down the middle, a.k.a curtaining them. Your fringe will blend into the rest of your hair and create less of a separation between your bangs and the rest of your style, making the most of your gorgeous finer strands.
2. Sideswept and Teased
A quick and easy way to make your roots a little fuller while simultaneously creating the illusion of thicker hair is to tease the roots of your bangs. Sweep your bangs to the side and use a comb to tease just the roots of your strands to give them a touch of volume. Use a strong-hold hairspray to keep the teased roots in place for an all-day volume that doesn't wear off. We love Dove Style+Care Extra Hold Hairspray.
3. Cropped Bangs
Ask your stylist to incorporate more of your hair into your bangs to create a bit of a thicker fringe. Add even more volume to your hair by combing Suave Professionals Firm Control Boosting Mousse through your roots when they're still damp from your shower.
4. Piecey Thins Bangs
Get in on the piecey bangs trend. The best part about this style is that it doesn't use up too much of your hair. You'll have tons of leftover strands to work with. Maintain that piecey look with a light spritz of TRESemmé Volumizing Hair Thickening Spray all over the style.
5. Layered Bangs for Thin Hair
Layers are a great trick to use if you're looking to add more body and movement to a style. Ask your stylist to cut subtle layers into your bangs. Even a thin layer of fringe will seem thicker when paired with the movement that comes with a layered style.
6. Feathered Thin Bangs
Blend feathered fringe into the front layers of your style. This creates a soft and simple look that flatters every hair type. The feathered look makes your fringe extremely wearable whether you wear your hair up or down.
7. Choppy Bangs
Consider choosing a style that doesn't require very much hair, like these choppy bangs. Pull double the statement by adding a strong dose of texture, and spray TRESemmé Dry Texture Finishing Spray and comb it through your hair.
8. Blunt Cut
Let your bangs take the lead, and choose a bold, blunt haircut to show off your gorgeous feathery strands. Opting for a blunt bang will create a thicker look.
9. Slightly Uneven
Deciding to go for an uneven cut will definitely make you stand out in the crowd. This cut will add texture and drama to your style immediately, just don't go overboard.
10. Cropped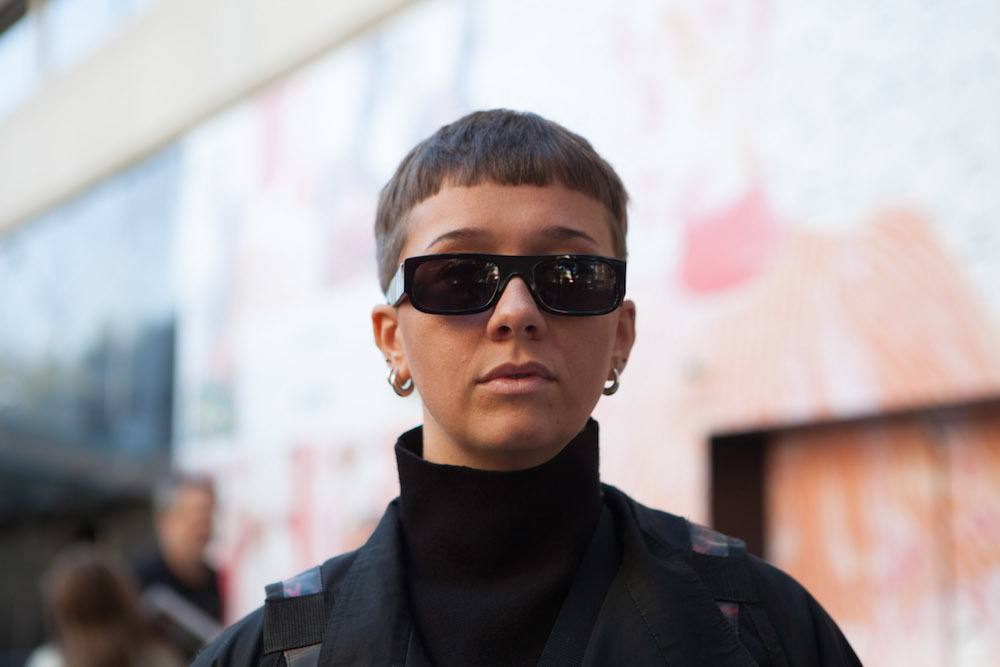 If you're feeling extra fearless, we recommend the cropped bang style. This short length will have all the heads turning. Plus, the baby bangs are short enough that you don't need to worry about them becoming piecey.
If those looks don't convince you that bangs for fine hair are a great idea, then we don't know what will! Try out a new bang style this year and feel confident in your fine hair.
Prev Article
Next Article
Gallery
Tutorial: Piecey Layered Bangs, Plus 5 Looks That Make Us Want a Fringe (Yet Again)
An edgy style update for your fringe.
See article
All Things Hair on Instagram