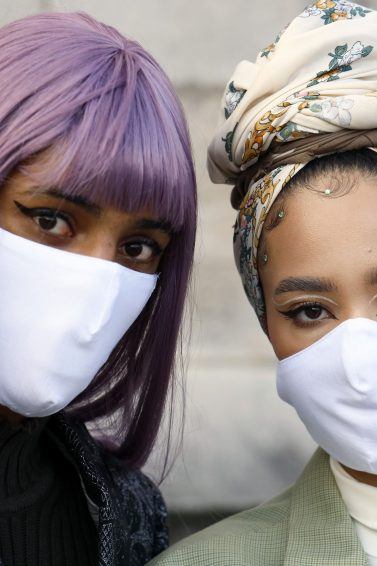 Working From Home May Be Affecting Our Mental Health More Than We Think
Self-care is key to cope with our new ways of working.
Working from home has become the new norm to so many people. With many companies switching to remote-only work or a combination of in-office and remote working, it's no surprise that a year and a half later, this is causing more of an effect on our mental health more than we thought it would.
From burnout to feeling like you can't disconnect to actually having more time on your hands now that you're commute-free, learn how working from home is both positively and negatively affecting our mental health. Plus, can your hair routine and actually getting ready for yourself be the mental health boost you need?
How Working From Home is Affecting Our Mental Health Positively
Since many of us have had to switch to a work-from-home setting over the past year and a half, a lot of people have found this to be beneficial to their productivity and mental health. Not dealing with a rushed commute sounds like a bonus to us! Check out ways this has been positive on people's mental health.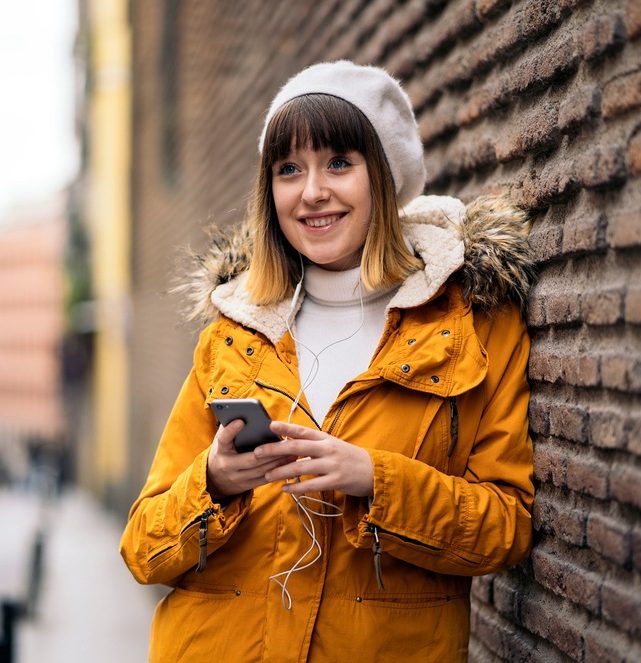 Improved Overall Well Being
When conducting a survey with All Things Hair readers about their experience working from home, it was found that 52.36% of people believe working from home has improved their overall well-being. This can simply be because we have more time. Let's face it, the additional one to two hours at the start and end of our day makes a huge difference.
Whether it's devoting more time to making your own meals and coffee at home, being able to actually have time to watch tv at the end of the day, or having free time to pick up a new hobby, all of these things may seem minor, but we don't realize how much they improve our overall well being until we have the time for it.
Better Normal Daily Routine for Mental Health
An improved, more positive daily routine is something that has positively impacted the mental health of so many people just by making the switch to working from home. When conducting our survey we found that 43.64% thought working from home improved their routine while 25.18% of people didn't notice a change with 31.18% thought it caused a negative impact on their mental health.
How Working From Home is Affecting our Mental Health Negatively
While some people thrive in work-from-home settings and love the benefits that come along with it, others may not have such a great experience within this work environment. Whether it's an increase in workload that wouldn't normally happen, additional stress and anxiety, or feelings of burnout, many people are craving that pre-pandemic work life. Learn how the popular remote setup is negatively impacting some people's mental health.
Increase in Work-Load
A lot of people have noticed their workload increase since starting remote work. A lot of times this is the result of layoffs within a company. Based on the survey we conducted, 57.36% of participants have taken on more work since they started working from home. If you're expected to do more work than you're used to in the same amount of time, it's no surprise how this can be negatively affecting mental health over a period of time.
Added Stress and Anxiety
Increased stress and anxiety have been very common among workers who are now remote. This is often because of taking on a bigger workload and not have a clear separation between their work and where they live. Adjusting to a new way of working with more expectations definitely isn't an easy thing to do. Based on the survey we conducted, 41.09% of people have felt more anxious since working from home and 38.82% of people have felt the same with only 20.09% of people feeling less anxious.
When it comes to feeling stressed, a majority of people have felt a significant increase. In fact, 79.05% of people have become more stressed since working from home. Just like with anxiety, that added stress is often caused by more responsibilities and longer work hours. However, changes to your life at home, like having kids do remote schooling and not having a distinct work area can all lead to added stress that you don't need to deal with while in an office.
Higher Levels of Burnout Affecting Mental Health
With more stress and anxiety while working, it's no surprise that people have been feeling burnt out quicker and more often while working from home. According to our survey, 50.82% of people report feeling burnt out over the past year as a result of remote work.
One of the biggest causes of burnout has been the lack of separation between home and work and feeling trapped at home. While many activities in the country are feeling normal again, working from home is something that many people are still doing or may have permanently switched to. Plus, it's so easy for people to continue working well past when they normally would in the office. We know it may sound like a good solution if you're bored and don't have anything to do, why not get ahead of your work? However, sticking to a regular work schedule and having a distinct work area in your house are two things you can do that can significantly help you feel less burnt out.
Boost Your Mental Health With Your Hair and by Getting Ready
We've all probably experienced this at some point: You've been wearing leggings or sweat pants for the past few days and have no motivation to do anything and feel like you're in a rut. If this sounds like you, you'll be surprised how actually taking the time to get ready for the day improves your mental health so much.
Take the Time to Get Ready
To make sure you feel like your best self when working from home, take the time to get ready. That's right, ditch the sweatsuit and opt for an outfit you'd actually wear into the office or something that makes you feel good!
Do Your Hair
Just like getting ready for the day, taking the time to actually style your hair and do a look you like can have a huge positive impact on your mental health. Hey, if you look good, you feel good, right?
The first step is starting with freshly washed hair. We love Dove Coconut & Hydration Shampoo and Conditioner because it intensely nourishes your hair and uses coconut water to hydrate.
Once your hair is washed and dried, it's time to start styling! You can never go wrong when curling your hair. You can create tighter curls, or brush them out for looser curls and waves. Trust us, having your hair done like this will instantly improve your mental health and make you feel so much more productive. When your hair is all curled, cooled, and brushed out, lock your style in with hair spray. TRESemmé Compressed Micro Mist Level 2 Hold Curl Hair Spray is one of our go-to sprays because it holds your curls in place without making your hair feel crunchy.
Whether you've experienced positive or negative mental health effects from working from home, taking the time to get ready and style your hair is a great way to further improve your mental health.
Prev Article
Next Article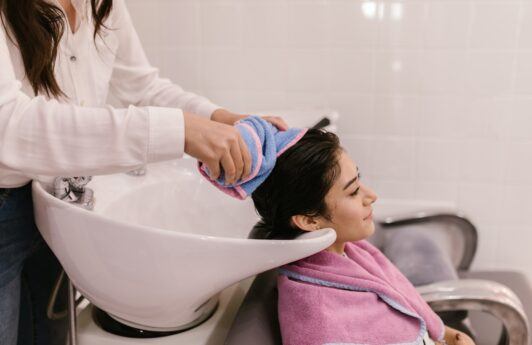 Article
The Benefits of Neem Oil for Hair and How to Use It
Treating scalp problems naturally. 
See article
All Things Hair on Instagram