How Do I Determine My Face Shape?
This easy trick will be a game changer.
For as long as I've been reading beauty and fashion magazines I've been trying to determine exactly what my face shape is. The most enticing part of learning how to choose a style based on your particular face shape is that it helps better cater your beauty routine.
Real talk, though: I never really understood how to determine my face shape. While so much of our appearance stays the same, your face shape can fluctuate through the years with weight loss or gain. Many women find their faces thinning out as they move into adulthood and determining the best haircut and style for their face shape can be complicated – and fluid. I've learned that the secret to figuring out your face shape is breaking your face down into different sections, determining the shape of each section, and seeing which category you fall into based on that combination. Keep reading for a quick and easy to guide to determining your face shape:
How to Determine Your Face Shape
1. Round Face
You have a round face if the shape of your face looks like a circle a.k.a you have wider cheekbones and a thinner jaw and forehead. Style your hair in sleek face-framing bobs using Suave Professionals Luxe Style Infusion Weightless Blow Dry Spray for frizz-free and bouncy hair.
2. Square Face
You would fall into the square face shape category if your face is wide at all points—we're talking forehead, cheekbones and jaw.
3. Oval Face
Women with oval-shaped faces have a wider forehead, narrow cheekbones and a thinner jawline. Pull your hair back to put your face shape at the center of attraction. Create center part styles and finish your look off with Suave Professionals Luxe Style Infusion Anti-Humidity Hairspray for a frizz-free finish.
4. Heart Face
A heart-shaped face looks like a broad forehead paired with wide cheekbones and a small chin.
5. Diamond Face
And lastly, a diamond-shaped face is categorized by a narrow chin and forehead and wider cheekbones. Try wavy looks on this face shape! Enhance your wavy styles using Suave Professionals Sea Salt Texturizing Spray to enhance the look and feel of your waves.
Prev Article
Next Article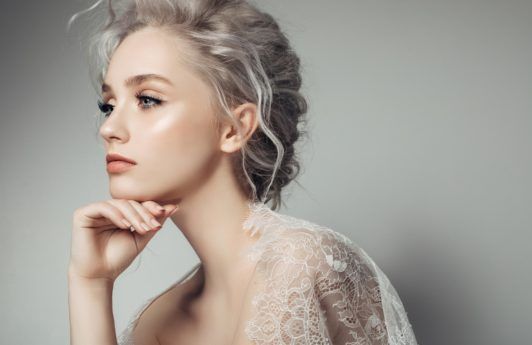 Gallery
Best Hairstyle for Face Shape: 7 Days of Styles that Flatter Absolutely Everyone
A flattering hairstyle for every single day of the week.
See article
All Things Hair on Instagram