28 Stunning Dark Red Hair Colors To Try in 2023
In search of dark red hair color ideas ? Check out these dark red hues that will inspire your new-season vibe.
Are you thinking about going bolder with your hair color? Consider a fun, vibrant color like dark red hair. Going for dark red hair hues (as opposed to gingery pumpkin spice shades) makes this color a little more wearable on different skin tones. This shade flatters a variety of hair textures and complements every length, making it one of our all-time favorites.
Read on to learn about dark red hair color ideas and check out some of our favorite shades of dark red hair color to inspire you to rethink red:
What to Know Before Going Red
From the right shade for your skin tone to the upkeep, there are a few things to know before committing to dark red hair.
Red is Different Than Going Copper
This may seem obvious, but opting for a deep red color may not be as easy as dyeing your hair a shade of auburn or copper. Dark red hair has deep orange, violet, or burgundy undertones. Since these are darker shades, this color can be more difficult to remove than a traditional red hue.
Red Hair Color Demands a High Upkeep
If you want to maintain dark red hair for an extended amount of time, you'll have to be prepared for the upkeep. Depending on your base and undertone, you may have to touch up your color every 6-10 weeks. This is due to the fact that the red color molecule is large so it cannot penetrate your hair as deeply when it is dyed. Therefore, more color is washed away with each wash than other hair colors you may have tried out in the past.
To help reduce fading between touch-ups, use Nexxus Color Assure Shampoo and Conditioner. This set will help nourish your hair and help your color stay vibrant for up to 40 washes.
It May Be Difficult to Remove
Like any deep color, it takes more work and may be more difficult to remove if you anticipate going lighter. Since lightening hair multiple times may cause damage to your strands, this is something to think about, too, if you are concerned about your hair health.
25 Gorgeous Dark Red Hair Color Ideas
One reason we love dark red hair so much? There's a shade for every skin tone. Whether you have a deep skin tone or your fair, there's a dark red hue on there that'll complement your features and look great. Keep scrolling to check out our top picks.
1. Light Burgundy Red
This bright burgundy shade was made to be swept up into a ponytail. It's just dark enough to avoid a cherry-red hue but not so dark that it leans plummy. It's a great option if you're thinking about red hair color ideas. If you are going for a big color change, like dark red hair color, make sure to use color-protecting products. The Good Stuff Color Protect Milk helps to sure that your bright red color lasts so much longer and keeps your hair moisturized throughout the day.
2. Dark Auburn
Dark red color ideas work really well with brown hair. In fact, this dark red-brown hair shade is perfect if you have brown hair and want to kick things up by adding in some dark red tones. It's also great for natural gingers who want to go a little darker without leaving red altogether. This warm, orangey tone works best on women with warm to neutral skin tones.
3. Dark Roots to Orange-Red
Who could say no to color like this? This bright red is so cute, contrasted with dark roots. Dark red color ideas run the spectrum from primary red to deeper shades.
4. Deep Ginger
This photo would pop up if you could list the perfect red hair color in the dictionary. This dark ginger shade has just enough orange to keep it looking real without looking too citrusy. The depth of this color makes it flattering to every skin tone. Add some bangs for an incredibly glam look.
5. Burgundy Dark Red Hair
Jewel-toned hair enthusiasts rejoice! This trend has many great dark red hair color ideas, including this perfect red tone. If you've dyed your hair red before, you'll know it washes out quickly! It can go from burgundy jewel-toned red to deep, dark brownish-red in a flash.
Keep those strands vibrant by skipping an extra day between washing. You can wear a hat or simply refresh your hair by using Love Beauty and Planet Coconut Water & Mimosa Flower Dry Shampoo on second-day hair.
6. Burnt Amber Red Hair
How magical is this dark red hair, a burnt shade of red color? This dark brown take on red hair melds the best of both colors. This is a rich deep dark brown-red hair hue whose depth makes it an easy transition from brunette to red.
7. Garnet Red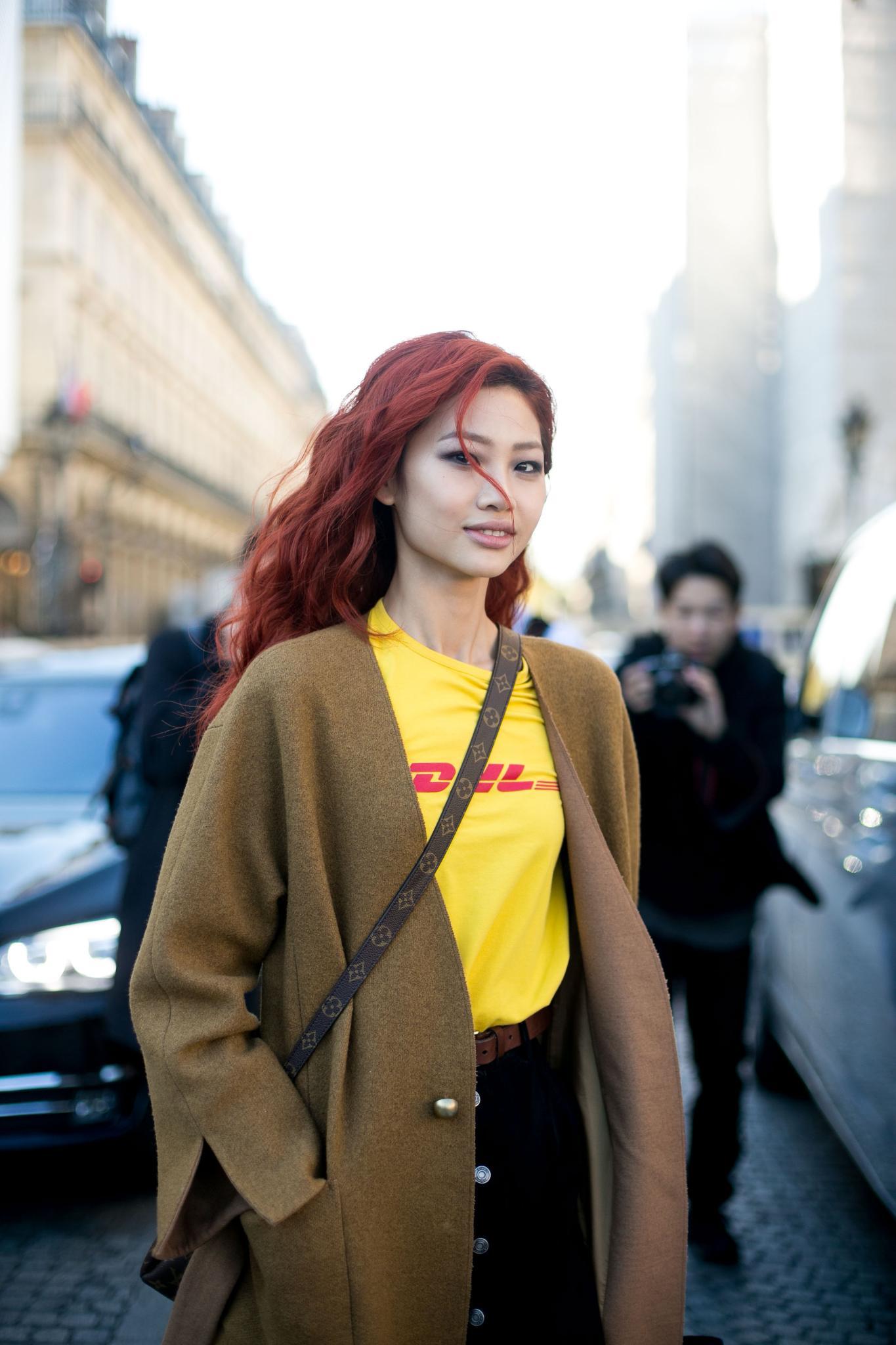 We're totally in love with these mermaid hair vibes! Long, wavy garnet-red hair is an absolute dream. Get those beachy vibes by creating waves with the help of an extra-large three-inch curling iron. When you're done, spritz and scrunch in Suave Dry Texture Finishing Spray for that extra beachy effect.
8. Cherry Red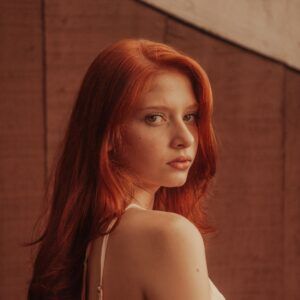 Next up is this adorable cherry red. Woven together with deeper burgundy shades and lighter, almost pinkish highlights, this multi-tonal look is a work of art.  It's the perfect combination of light and depth that can be worn year-round!
9. Black Cherry
Deep red hues are perfect if you plan to complement the cooler temps. Opt for a black cherry hair color for the fall and winter seasons. As you transition to the warmer months, you can add a few highlights to brighten up the look.
10. Deep Scarlet Hair
Just like the darker version of ginger, this deep scarlet hue comes with a rich orange undertone. Consider this color if you prefer a deep red color on the lighter end of the spectrum.
11. Deep Orange Shade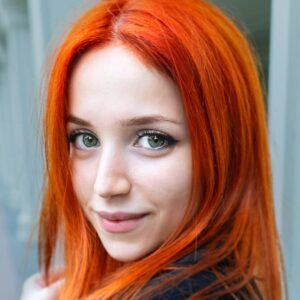 This deep orange shade is perfect for natural redheads who want to try out a darker look. Thanks to the orange undertone, you don't need to give up the warm undertone, which makes your color stand out.
12. Brown Meets Deep Auburn
Can't decide if you want to try a medium brown hue or auburn? Opt for this brown-meets-auburn hue. This is also a perfect color for those with naturally brown hair who want to warm up their tone.
13. Dark Auburn Hair
Copper is a popular hair color for the fall and wintertime, but why not switch it up? Instead, opt for a deeper shade in the same color family. This can help bring new life into a color that's sported a lot.
14. Deep Red Cornrows
Looking to make your cornrows stand out? Try a deep berry hue! Dark red berry hair is very flattering on deep skin tones. Plus, a shade like this blends very well with naturally dark hair.
15. Dark Red Ombré
If you're looking for a subtle touch of red but want to keep your roots dark, this deep red ombré look is for you! This is a great look for anyone who wants a hint of red without having a vibrant copper shade.
16. Subtle Auburn
This dark red hair color is perfect for anyone who already has dark hair or wants to go darker and try out red hair but doesn't want their hair to scream "red." With its almost brownish hues, this look is bound to make a wow statement.
17. Bright Red Shade
Feeling bold? Try this bright red hue. To help blend the color a little more, keep your roots dark. A shade like this makes a big statement; it's practically an accessory itself! This hair color will also look great when paired with various natural hairstyles.
18. Berry Braids
If you have dark skin, opt for a deep red color with violet undertones. This deep berry color compliments darker skin tones extremely well! Dark red hair looks great for Fall and the holidays!
19. Deep Burgundy Braids
You can never go wrong with a deep burgundy shade when trying out dark red hair. This color is perfect for any season. Keep your scalp fresh and sleek while wearing braids with SheaMoisture Aloe Butter Scalp Moisture Cream.
20. Dark Red Wine Hair Color
Feel like a mermaid with this romantic deep wine color! To keep your color vibrant, use a shampoo and conditioner set like Suave Vivid Color Shampoo and Conditioner. We love how this set uses an Amino Acid complex to help strengthen your hair and protect your color for up to 40 washes.
21. Ruby Dark Red Hair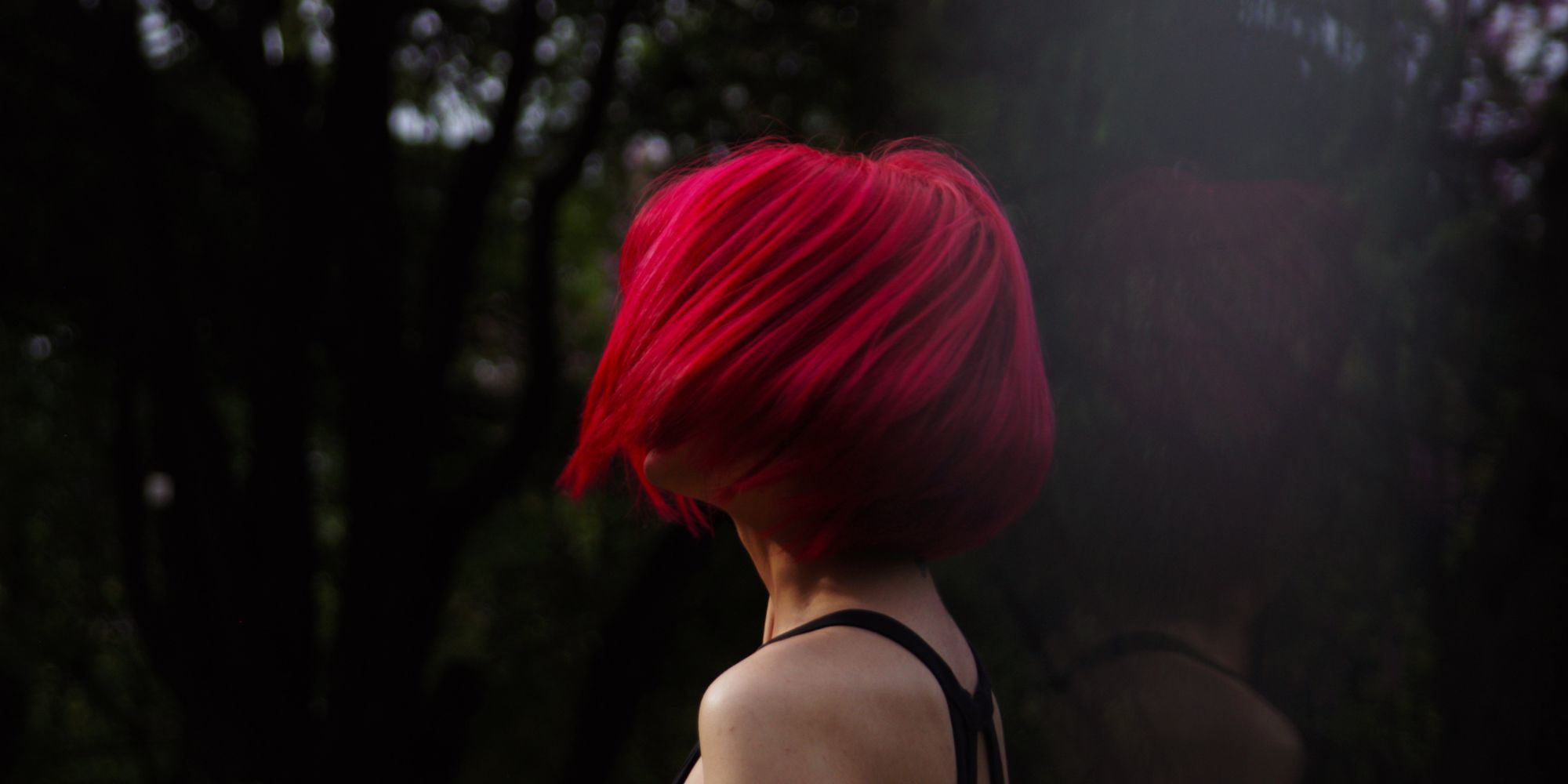 Are you ready to make heads turn? This dark ruby tone is not for the faint of heart, and it's a real statement look. It works best with neutral and warm skin tones but can suit any skin tone if you're up for a challenge. Keep it bright and stunning by refreshing it every 6 weeks.
22. Dark Brown Red Hair
They usually say a redhead transition favors the blondes, but brunettes can rock red hair too! The best option is to choose a dark hue that perfectly blends with your natural tone, creating a rich and velvety effect.
23. Dark Red and Purple Tones
Purple and dark red is a winning combo if you want to try a more daring color. The violet and red tones complement each other, creating an interesting shade. Since this is a less natural color, you can really take it to the next level with a statement haircut like blunt bangs or a bob.
24. Dark Red Hair With Highlights
Give a touch of light to your red hair with highlights! You can go red on red or choose shades of blonde or light brown to add volume and texture. This quick style will revitalize your look and keep it fresh for days.
25. Mahogany Red
If you prefer darker tones to more vibrant red hues, mahogany is what you're looking for. This brownish-red hue is trendy and sophisticated at the same time, making it a perfect choice for redhead first-timers. It also naturally suits those with a dark hair base.
26. Auburn Balayage
Attenuate your new-found dark red hue with auburn ginger hair. This autumn leaves-inspired balayage is perfect to show off all the best shades of red.
27. Neon Dark Red
If you don't want to go unnoticed, we dare you to try this bold neon red tint. It's fun, it's fashion and it's sure to be trendy all-year-round.
28. Dark Ginger Hair
We've talked about dark red hair, but what about dark ginger hair? This enticing shade sits in between darkness and light and will give you a fabulous allure all-round,.
From deep copper shades to violet berry hues, there are so many dark red hair colors to try, so you're sure to find one that is perfect for your skin tone. For more hair color inspiration, subscribe to our newsletter below!
Prev Article
Next Article
Gallery
10 Ways to Rock Jewel Toned Hair Colors
Precious gem-inspired hair colors we adore.
See article
All Things Hair on Instagram