14 Brown and Red Ombre Hair Ideas for 2023
Get killer hair with the ultimate traffic-stopping hue. 
Point blank; we love ombré hair. And we're not the only ones: With looks popping up on celebs and in magazines every day, this is definitely a bandwagon we're happy to keep hopping on. Long story short, ombré locks—known for having traditionally darker roots that gradually become lighter towards the ends—give a subtle sex appeal to whoever wears them. And despite many people opting for more natural hues, brown and red ombre hair has been making its way into the scene as a new favorite.
Whether you're nervous about an all-over drastic dye job, are looking to disguise your damaged ends, or simply think that brighter equals better, red ombré hair is the perfect go-to for your next vivid 'do.
Brown and Red Ombré Hair Color Ideas to Inspire You This Season
Up or down, chopped or flowing, braids or waves—keep reading to find out how to set the stage for your new favorite hairstyle with our quick D.I.Y.  brown and red ombré dye guide. Keep scrolling to try one of our top favorite red ombre hairstyles below:
1. Red Ombré Curls
You can get the red ombre look on your braids by mixing in red-colored braiding hair. Mixing red colored braiding hair tends to look the most natural when mixed in with black hair. For a more elevated look that still appears natural, we recommend mixing in brown braiding hair for a gorgeous brown and red ombre hair look.
2. Thick Asymmetrical Bob
Have thick hair? Try this asymmetrical style on your new ombre red hair. If you have naturally brown hair, let your roots shine through to create the perfect brown and red ombre look! If you don't naturally have brown hair, create a cool ombre effect by starting with brown hair coloring and making your way over to red hair dye.
3. Beach Waves
Recreate this beachy wave style by embracing your frizzy texture. Don't have frizz? Create your look with a salt spray, like Suave Dry Texture Finishing Spray. This is a great look if you are looking to accentuate your new brown and red ombre hair look.
4. Bob Hairstyle
The bob hairstyle is an easy short haircut idea for any hair color or hair type. We also recommend styling your hair with cute accessories to elevate your look. For the current Fall Season, we recommend chunky headbands, silk bows, and berets.
5. Curly Hair
Whether you have curly hair or not, you can create this style with the help of a hair wand. Be sure to protect your mane with a heat protectant. One of our favorite heat protectants is the TRESemmé Thermal Creations Heat Tamer Spray.
6. Brown and Red Ombre Unicorn Braid Hairstyle
Spice up your new brown and red ombre hairstyle by creating an on-trend look with your ombré hair. This unicorn braid adds a fun touch to your look. This style is gorgeous enough to be worn as a half up, half down hairstyle. Or, you can tuck the remaining pieces of your hair into a ponytail or bun to dress up your look for more formal occasions.
7. Spiky Pixie
Showcase your hair color and your haircut with this edgy style idea. If you don't want to commit to an ombré look all over, focus the color only on the mohawk portion. This is a gorgeous way to let your brown roots/ natural hair color shine while experimenting with fun and bold hair colors.
8. Straight Red Ombré Hair
When you can't think of any other hairstyles to wear, you can always count on a straight hairstyle. After straightening your strands, apply Nexxus Clean & Pure Nourishing Detox 5-in1 Hair Oil to make strands extra smooth, soft, and shiny.
9. Textured Hair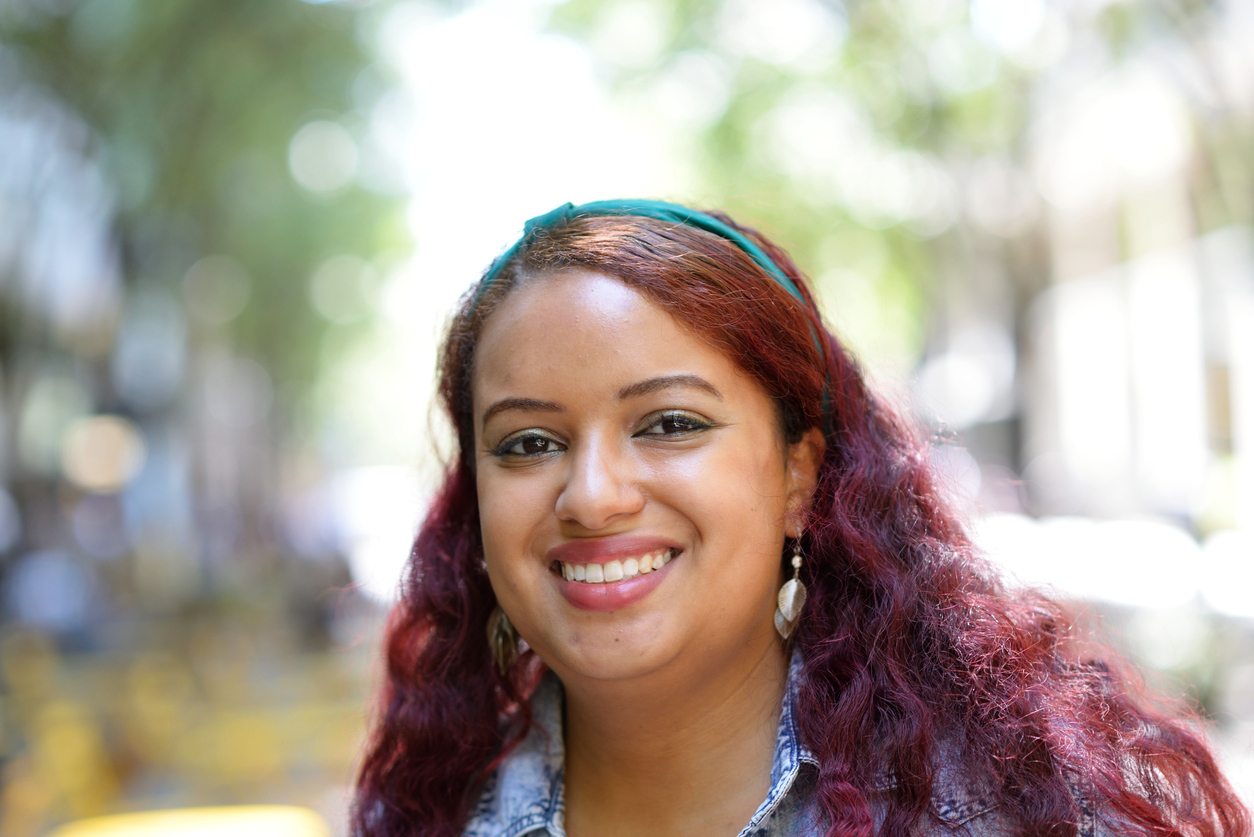 For women with natural hair types, you can embrace your texture with your red ombre style in many ways. Try this wavy look by setting your hair with braids to create a wavy curl pattern.
10. Tousled Brown and Red Ombré Hair
Sometimes a fresh blowout style is all you need. Add a few loose curls and brush them out to blend it all together, creating a tousled effect. These relaxed curls look on brown and red ombre hair is the perfect way to transition into the Fall hair looks of your desires!
11. Red Ombré Roots
Reverse your hair color and opt for red ombré at the roots of your hair. Now you've got a red-to-blonde ombre style that sets you apart from the crowd! For the Fall season, you can even experiment with an ombre transition into a brown hue.
12. Bright Copper Ombré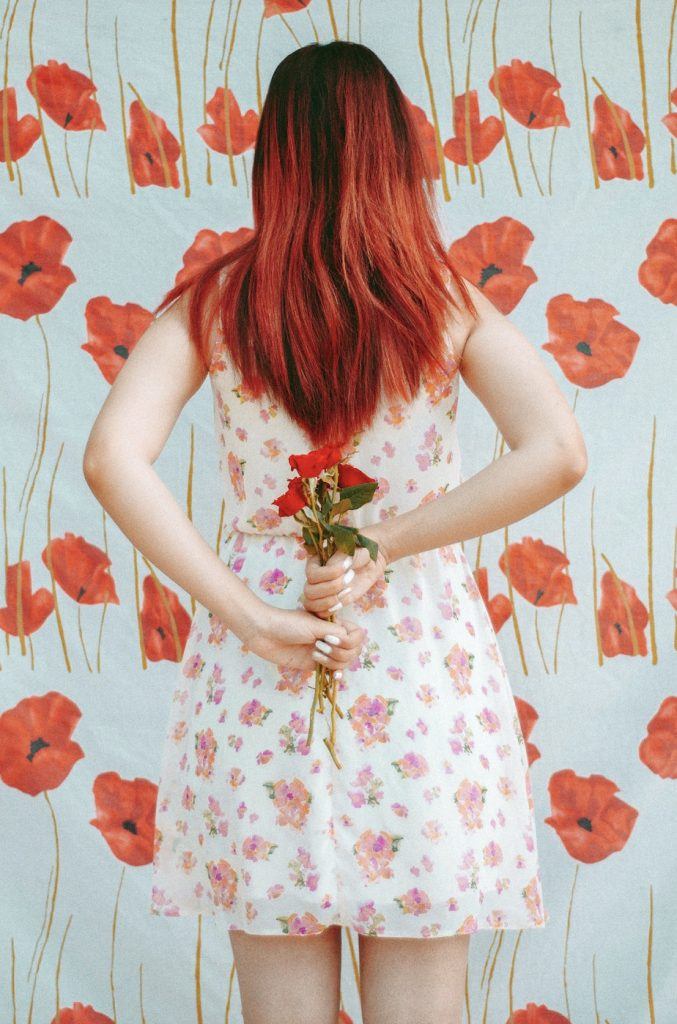 Can't decide what shade of red you like most? Try out this mixture of bright red and copper. This gives you a unique color, and you won't have to worry about how it will look as your roots grow out.
13. Berry-Colored Braids with Brown Roots
We love how these berry-colored braids create a subtle ombré look that isn't overpowering. This is a great option for anyone who wants to try out red hair without going with a drastic bright color.
14. Black to Red Ombré Braids
If you're looking to try out a bolder hue in the red family, incorporate the color into your braids. This will give an easy transition from your dark hair color to the red shade. For a smoother color transition, we recommend transitioning from brown to red ombre hair. For a bolder transition, go from black to red.
How to D.I.Y. Red Ombré Hair
Are you up for the challenge of trying dyeing your hair at home? Learn how-to below.
Step 1: Detangle.
Before you begin your D.I.Y. ombré, make sure that your hair is detangled because the smoother your locks, the better the application will turn out. Detangle your hair from the ends up with a detangling brush.
Step 2: Prep your tools.
Slip on a bathrobe or an old shirt to protect your regular clothes from the hair dye.
Step 3: Comb and rough-dry hair.
Using a blowdryer, rough-dry hair using your fingers or a detangler brush till damp (or 90 percent dry). Comb your hair into sections to make the dye job more manageable.
Step 4: Segment your sections.
Using a few rubber hair ties (you can snip them off once done), segment your sections as if creating a bubble ponytail: Tie on an elastic every couple of inches throughout the length of the section.
Step 5: Start from the bottom (or start bleaching!).
A good place to start your red ombré hair is about three inches from the tips of your strands. If you have longer hair, starting around the jawline should do the trick. (Note: If your base color isn't already lifted, you might have to bleach your ends first to strip your hair of any prior dyes or pigments.)
Step 6: Apply red dye to the ends.
If you want a more subtle look, brush the dye on vertically, going slightly past the bottom-most elastic for a more natural line. For a starker, more contrasted look, apply the dye in horizontal strokes onto hair that's been fanned out.
Step 7: Foil it.
Once you finish applying the dye, wrap your hair in foil to let the color set, then repeat on all sections. Remember to check your older foils periodically as you move across all sections, as they can be set before you're even done with the dyeing process.
Step 8: Do a time check.
Depending on how bold you want to go, you can leave the dye in for longer, but we recommend leaving the red dye to set for at least 20 minutes and following it up every so often with a little peek to see how the color is coming out. Once your strand test appears as the hue you're aiming for, it's time to remove your foils.
Step 9: Snip off your hair elastics.
If you did the bubble-pony trick, carefully cut off your elastics. If needed, you can lightly smudge your new red ombré hair color with your fingers to remove any telltale demarcation.
Step 10: Rinse and condition.
Using tepid water, rinse your hair and follow up with a color-safe system, such as Nexxus Color Assure Shampoo and Color Assure Conditioner, to nourish your freshly treated locks.
Whether you go to the salon to get a new ombré look or you try red ombré hair at home, there are many variations and hues to this trend.
Prev Article
Next Article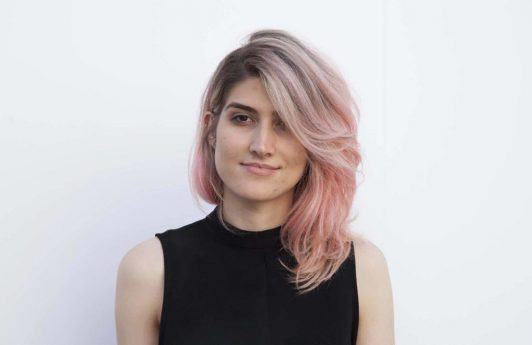 Gallery
20 Trending Pink Ombré Hair Looks You Should Totally Try
What's cuter than pink? Gradiated pink, that's what.
See article
All Things Hair on Instagram