Blorange Hair: Tips & Inspo for Getting Blood Orange Hair Hues
This peppy hue is getting us all warmed up for the new season.
When it comes to orange hair, it can be tricky to find the right blend of wearable and bold. We've seen rose gold blonde and peach, and now gorgeous blood orange hair has won our hearts. We'd like to say with blorange hair, you kind of get the best of both worlds, as it's cross between pumpkin spice hair and rose gold blonde.
For all of you that are excited to try out the trend (because we know many of you are), we've enlisted the help of hair stylist Jaclyn Lacy, who styles hair at Studio Posh North Salon in Columbus, Ohio to give us the lowdown on how this amazing blood orange hair color is achieved, what to watch out for before taking the plunge and how to make blood orange hair work for your skin tone:
How to Go Blorange Hair: Tips from Jaclyn Lacy
All Things Hair: Can you walk us through the process of getting blorange hair?
Jaclyn Lacy: The first step to achieving blorange hair is to lighten the hair to about a level 7 or higher (just depending on the exact shade or brightness the client is trying to achieve) once you've lightened the hair, you need to formulate depending on how the client lifted. If someone lifted with a more light yellow undertone, you'd apply a toner that is more pink toned because pink and yellow make a peachy orange tone, and if they lifted a more light orangey brassy tone then you'd apply a toner with more of a sheer red base to help give the hair the kiss of pink that blorange hair is known for.
If the hair lifts with crazy undertones or very unevenly you'll want to tone the hair as close a neutral or gold undertone as you can and then apply a combination of a soft peach tone, pastel pink and a mixture of the two colors in alternating sections for the best dimensional look.
What variations are women asking for?
I have found most of my clients like to rock the blorange trend with a balayage or sombre, but it looks amazing on someone who has all over light blonde hair or a bright blonde ombre and wants a fun change that doesn't have a heavy commitment.
Any tips for caring for blorange hair at home?
Blorange is technically a fashion color so I tell my clients to follow the same rules my bright fashion color clients follow and those are:
1. Shampoo your hair in COLD water.
Cold water closes your hair's cuticle and fashion colors live in the cuticle, so the cooler the water the longer it'll stay.
2. Try to avoid washing your hair every day.
Invest in a good dry shampoo and if you must shampoo every day a cleansing conditioner is a great alternative for shampoo and really does help the life of your color.
Editor's note: Opt for a dry shampoo like Suave Professionals Keratin Infusion Color Care Dry Shampoo 
3. Invest in good products!
Only use shampoo that is sulfate-free or has lower sulfates, if you're going to pay to get your hair done then invest in the best products so that your amazing color will last as long as possible. It'll be worth it when your color still looks flawless six weeks later.
Editor's note: Try out Nexxus Color Assure Shampoo for colored hair and condition with Nexxus Color Assure Conditioner.
4. Turn down your flat iron.
Nobody needs to use 450-degree heat to straighten their hair.
5. Use a heat protectant.
Every time you use a hot tool, the heat from your flat iron can fade fashion colors easily.
What should one take into consideration before going blorange?
It is a little bit high maintenance and with improper care it will fade fast, but it fades out beautifully and once you are light enough you can just reapply a toner and be back to a beautiful blorange glow. This color will be a little harder to achieve if you have layers upon layers of dark colored hair, but with patience and the right products, you should be able to achieve the level of lightness for blorange to work. Just know that blorange will require bleach if your hair is already in rough condition take the time to get it to a healthier state before you make the jump towards blorange.
1. Vintage Vixen
The romanic '50s look.
We're obsessed with this romantic '50s style that's a gorgeous representation of our favorite Hollywood curls tutorial. This style is great for blood orange hair because the curls are soft to contrast the bright color. These curls also show off the multi-tones of this look.
2. Full Bangs
Long bangs are gorgeous for this color.
To bring even more of this great shade to brighten up your face, go for full bangs. Make sure, if you're dyeing your hair this bright shade, to wash and condition your hair with a color-safe system. They'll make sure your red shade won't fade too quickly. We recommend TRESemmé Keratin Smooth Color Shampoo and Keratin Smooth Color Conditioner, especially if you'll be straightening your bangs regularly.
3. Wavy Pixie Cut
If you have wavy or curly hair, we suggest making this bright shade short! We love how it turns into an instant statement. The blood orange shade is gorgeous on its own but once you add in your waves and curls, you've hit the jackpot of style.
4. Pin-Straight Blowout
You can always go straight with your blood orange hair! To get the voluminous but straight look be sure to use a very large round brush, or a paddle brush. We also recommend you start off this style by adding in shine. We love using TRESemmé One-Step 5-in-1 Smoothing Cream. It's got some shimmer and gold mica to bring out the glimmer in your blood orange hair.
5. Smooth Waves
For a simple but beautiful style, go for smooth waves. The easiest way to go for this style is to curl all of your hair in the same direction with a one-inch curling wand. When you are done curling your hair, brush it down with a boar bristle brush. The bristles smooth down your hair and pull out the curls for a soft look.
6. Natural-Looking Curls
Not everyone has the patience to recreate the look of natural curls. We recommend mousse for a realistic looking volume. Use Nexxus Mousse Plus Volumizing Foam on wet hair before blow-drying. Then, you'll need to curl very small sections of hair with a small half inch curling iron. Curl in different directions to get that natural look.
7. Blood Orange Ombré
If you have this badass shade of a blood orange ombré, we're actually jealous. We love the smooth transition from natural brown to ginger to blood orange hair. Wear this style with a super cool unicorn braid.
8. Blood Orange High Ponytail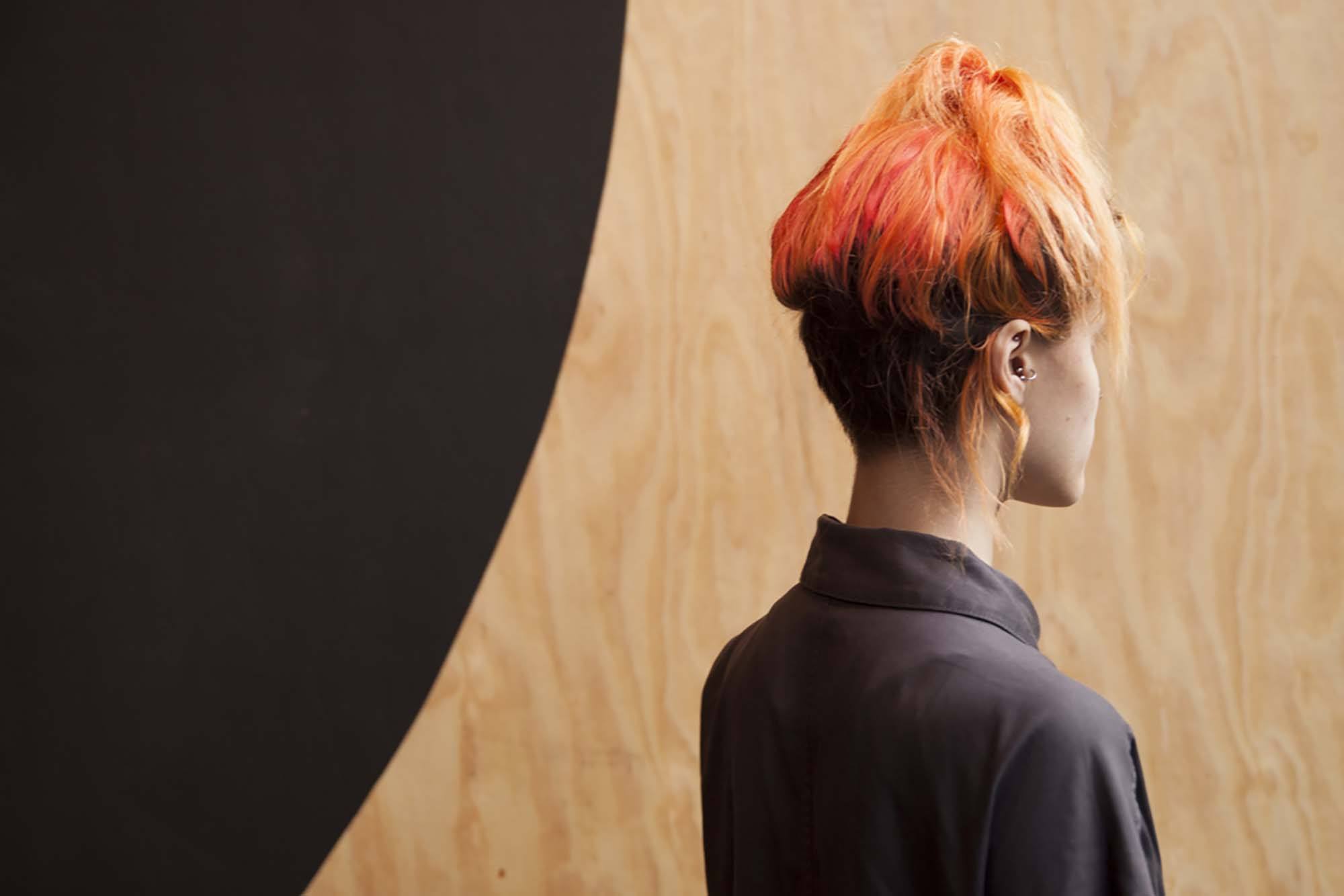 Want an easy way to show off your cool blood orange color, and undercut? Go for the ultra high ponytail. All you need to do is pile all of your hair way up on top of your hair and secure in place. Let your undercut shine by styling the tail to the sides.
9. Bowl Cut
A little bit of sass and a whole lotta style, this blood orange and bowl cut combo is the ultimate look to try out if you're down for some risky hair action. Opt to get this rounded haircut at a salon where you can also pick your deep or light orange hue.
10. Bright and Waves
Another look we are loving is the really bright blood orange hair. A harder (but not impossible) shade for those with dark hair to master, this look is all about the neon-like tones that look gorgeous when paired up with a modern wave.
11. Orange Lob
Lastly, if you're loving your lob but want to mix it up a bit, try this style. Try out this take on the trend by rocking a vivid blood orange hue. Scrunch in some sea salt in your hair to create those mussed-up mermaid vibes.
Prev Article
Next Article
Gallery
21 Types Of Hair Color Ideas To Switch Up Your Style
Upgrade your look with some fresh color.
See article
All Things Hair on Instagram