Easy Braids for Medium Hair: Styles We Love
Got medium length hair? We've got braid ideas.
We'll be the first to admit, we kinda really miss when braids were the pinnacle of hair styling. Sure, we might have more pressing things to deal with than doing our hair in a perfect plait each morning, but what can we say? When it comes to medium hairstyles, medium hair braids will forever be on top tier, regardless of the year.
To continue our love affair with one of the greatest hairstyle throwbacks of all time, we put together a list of a few of our favorite easy braids for medium hair looks that go perfectly with your all-season get-ups. Scroll down:
Easy Braids for Medium Hair: 10 Looks We Love
1. Fishtail Pigtails
A top-biller for sure, fishtail braids are one of the most popular braid hairstyles we've seen to date. The telltale herringbone plait remains a cult fave look amongst bloggers, designers and style setters. Easy enough to achieve but comfortably directional for those who want to stand out, fishtail braids—especially when rendered in a more casual, beanie-friendly take, such as built-in pigtails—strike that Holy Grail balance between cute and sexy. Beginner? Learn how to ace a basic fishtail in five minutes.
2. Accent Braid
A fun hack for medium hairstyles, braids such as skinny accent plaits or "hidden braids" do a good job of elevating any basic down-do. Quick and easy as pie to recreate (even on the fly, or at your desk pre-happy hour!), accent braids feature a regular three-strand plait, or even a box braid interspersed with your natural strands. Go coed-chic with a plait near your fringe area, or go full-on #festbest by wearing multiples at a time.
3. French Pigtails
French braids seem a more logical choice over Dutch braids: The plaits are sunken in, and won't bump or get in the way of any hats or hair accessories. We're still heavily crushing on the pigtail variety for French plaits as well, and rendered with a loose-tendril situation, are an uptown/downtown way to look put-together under all those layers. Ed's note: Try keeping things frizz-free with a humidity-defying hairspray, such as TRESemmé Compressed Micro Mist Hairspray Extend Hold Level 4.
4. Pull-Through Pony
Braid newbies can rest easy: a pull-through "braid" is the style for those who like the Pinstagrammy look of a plait but are, alas, somewhat dexterity-challenged. For those with medium length hair, braids that make the use of a trompe l'oeil effect, like a pull-through pony, which is essentially just a series of ponytails looped through themselves, are a clever way to rev up your everyday look. Tip: A serum, such as Bed Head by TIGI Control Freak Serum, helps with traction and smoothness when creating medium hair braids styles like this. Need direction? Learn how to do a flawlessly pulled-through hairstyle with our tutorial.
5. Regular Three-Strand Braid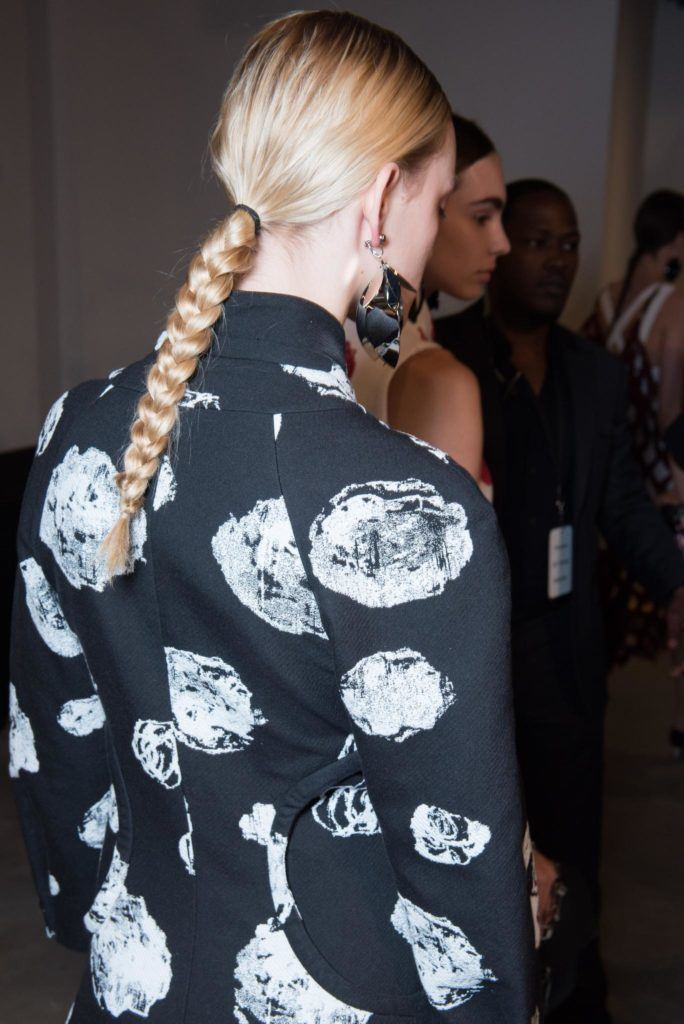 A classic for a reason! The regular three-strand braid gets major style points this season. Nothing quite looks as neat and chic as a snug little ponytail plait. Especially when tied off with an accessory of the moment, i.e. leather or velvet ribbon, or some metallic tinsel. For an easier go at the look, first secure at the base of the ponytail with a hair tie, then proceed to braid till the ends. The result: an instant shot of glam that can take you from day to night. A shine spray, such as Bed Head by TIGI Headrush Shine Hairspray, can provide some pap-worthy gleam to your plait.
6. Waterfall Braid
Go for a more unique braid style with the waterfall braid. This style looks way more complicated to create than it actually is, in fact, you can do it in just 5 easy steps! Add some extra texture with a few spritzes of Nexxus Maxximum Finishing Mist.
7. Braid Band
Create your own headband with your hair! This micro braid will keep hair off your face and create a fun illusion of an actual hair accessory.
8. Knot Braid
We are absolutely obsessed with the knot braid, it's a must-try.
9. Boxer Braids
Looking for the ultimate athleisure braid style? Then you have to go for the boxer braids. Not only is this style perfect for working up a sweat, but it can last up to a week without looking unkempt and stale.
10. Chunky Braid
Take those pancaking skills and put them to the test with the ultimate, chunky braid. Perfect for gals looking to increase volume and texture in their style.
Prev Article
Next Article
Video
Video: Cute Milkmaid Braid Tutorial
You won't believe how easy this trending look is.
See article
All Things Hair on Instagram