17 Hot Box Braid Looks that Will Demand Attention this Summer
Box braids, natural hair, what else could you possibly want?
Box braids are a go-to protective style for women who might be looking to change up the length of their strands and experiment with different hair colors.Many people opt for extensions to create a box braid look, but if you want to keep your natural locks intact, we have news for you: you can easily create box braids on natural hair, too!
Want to learn how? Then check out our steps and tips below, and make sure also to take a look at the amazing styles we hand-picked just for you to try out with your new hairstyle.
How to Create Box Braids On Natural Hair
Step 1. Start with clean hair.
First off, you're going to want to start with clean hair. Wash your hair with any shampoo and conditioner of your choosing. We recommend SheaMoisture Papaya & Neroli All Day Frizz Control Shampoo and Conditioner to keep frizz and flyaways tamed.
Step 2. Section your hair.
Once your hair is dry, section it into four separate parts. Make sure that your sections are four equal and straight squares. Have clips on hand to hold your separate sections in.
Step 3. Create your parts.
Take a small part of the first section, and part your section with it. The parted piece should be no thicker than a pinch, and make sure your parts are of equal size.
Step 4. Braid each parted section.
Braid each parted section from root to tip. Make sure to secure each braid with a small elastic hair tie. When you run out of hair from your section, braid the pinched part and create a new one from the unbraided hair. Ensure all your sections are perfectly parted, looking like little squares or "boxes."
Step 5. Braid every other section.
Braid the rest of your sections, and your head should be filled with a bunch of tiny box braids!
Now that you know how to create box braids with natural hair, check out these hot styles we're completely obsessed with.
17 Styles To Try With Box Braids On Natural Hair
1. Messy Crown Braid
Take the average crown braid to another level with a messy look created by natural box braids. This chic undone style combines the best of braided hairstyles for a truly unique look that will bring you endless compliments.
2. Fishtail Braid
This classic braid style is getting a major twist with these tiny box braids. Gather your tiny boxy braids into one side braid that sits on one shoulder. This is the perfect way to show off your braids while also keeping your strands out of your face.
3. Dip-Dyed
Have some fun with your hair by adding a pop of fun color. Add some flair with dip-dyed ends. Most beauty supply stores now offer the option of braids with dip-dyed ends so you can choose a color that best suits you.
4. Halo Braid
This classic style is a major staple for any event. From a major gala to brunch with the girls, this style will give your look a chic edge. This look can be styled on both box braids and natural hair.
5. Side Part
Try a deep side part to show off your edges and try a change of perspective. Changing up your part is a simple change that has a big impact as braids age. Side parts tend to stay looking refreshed a bit longer than the middle part.
6. Bob
This classic bob with oversized braids is one of the chic styles in this collection. The perfect everyday look! When in doubt, bob it out! This shoulder-brushing length is as chic as it gets and we can't get enough of the ease of this style.
7. Oversized Braids
These larger supersized plaits make a major statement. They are the fastest braid style to install and are great for anyone who likes to switch hairstyles fast. Make your style go a long way with a little neutral color.
8. Blue Braids
Get in on the pastel color trend and try this beautiful blue hue. Pastel braids come in various gorgeous colors aside from blue such as pinks, greens, and more! Which pastel color will you choose to make a statement with?
9. Half-Top Knot
Pull your braids up into a cute half-up style. This style looks great regardless of what type of box braid style you choose to wear, including jumbo braids. We recommend wearing this hairstyle while your box braids are still fresh.
10. Pulled Over
Add some volume to your style by trying this pulled-over style. If it's your style, you can even adjust this style by laying your edges. Keep your strands hydrated and glowing by applying Emerge Glow Off Oil Serum.
11. Pink Ombré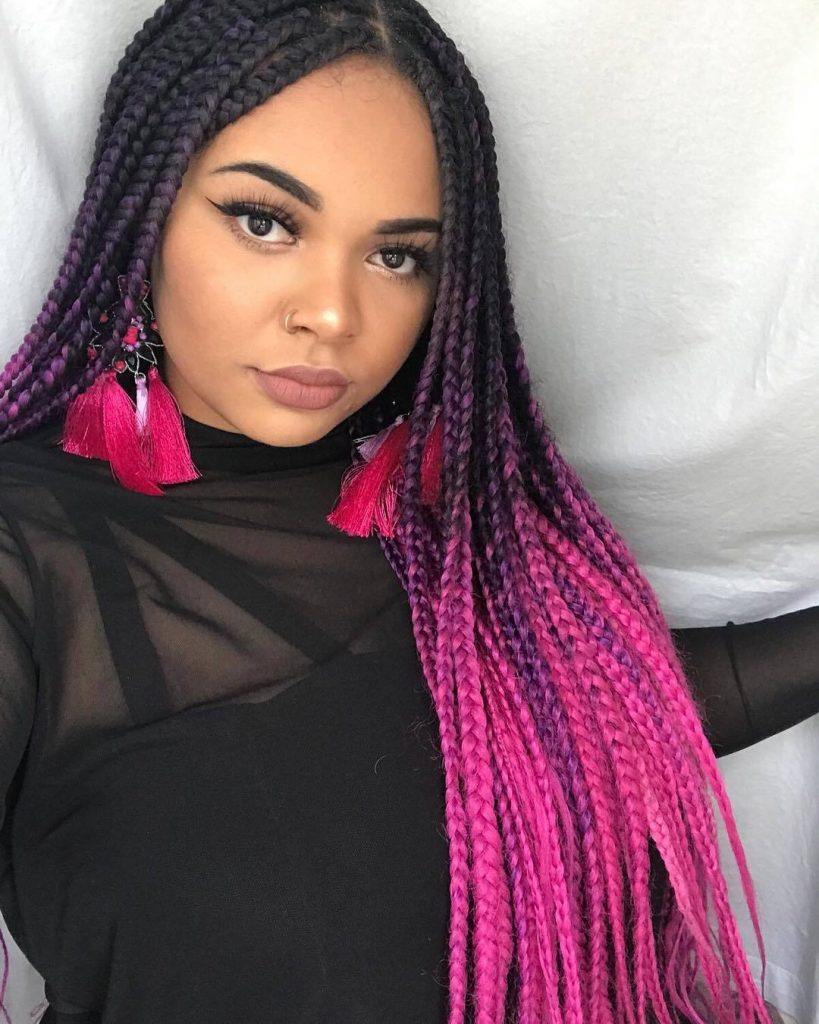 Not quite ready for a full head of bright hair? Try this easy ombré style. Ombre hair looks not only look great with neutral colors but with bold colors such as this one as well! Live your boldest life with this look!
12. Lob
The lob is here to stay, and we love this braided iteration. We love the look of rubber bands at the end, making this style look trendy and achievable simultaneously! We love this look for school and work.
13. Loose Half-Updo
Ease the tension on your braids while still nailing a pulled-up hairstyle with this loose half-up look. We love this look for a casual day out and errands! We have no doubt that you will quickly fall in love with this style and keep coming back to it over and over again.
14. Chic Updo
Does it get any chicer than this beautiful braided updo? This style looks great on natural hair without braids as well. We love the angles it creates on your face and we can confidently recommend this hairstyle to women with all face shapes.
15. Bright Pink Bun
Pull off a pop of bold pink hair color and twist your strands up into this loose bun. Pair it with a fun scrunchie and jewelry for a super bold look. If you are ready to experiment with color without doing any damage to your hair, this is the protective style for you.
16. Bleach Blonde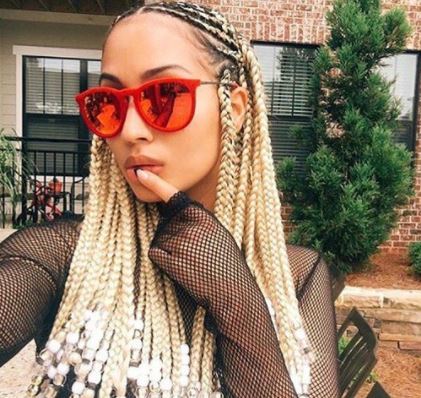 Go lighter than you've gone before with this ultra-vibrant bleach-blonde hue. We also love this half cornrow, half box braids hairstyle. This combination style makes a major statement without dipping into super bold hair colors.
17. Colorful Braids
Sure, these pink and blue colored braids might not be for the faint of heart – but we say if you're going to do color, why not go all out? Plus, with such head-turning hues, you can afford to keep your actual style super simple – just a basic low pony will do.
Give it a go at home, creating your own box braids on natural hair. Learning how to do it on your own can save time and money and be relaxing! What box braids hairstyles will you be trying?
Prev Article
Next Article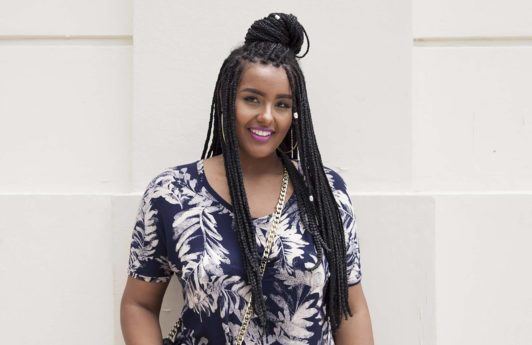 Gallery
How to Style Box Braids in 5 Ways
There are tons of cool ways style your box braids. Check out a few of our favorites!
See article
All Things Hair on Instagram