How to Create a Space Puff Hairstyle on Natural Hair
A cool, funky and easy space bun-inspired style for natural hair. 
You Will Need
Ladies, as you know: space buns are back! And while we love this modern version, we're also all about having options with our hair, like in this case of this fun space puff style. You know, that style your mom created for school every morning back in your elementary school days. Yes, that hairstyle.
Now let's be honest, this hairstyle isn't that practical. You probably won't be able to pull this off at the office. However, this space puff hairstyle does have a time and a place. For the summer season, we suggest trying this look out for beach outings, summer parties, concerts or festivals. It's a fun and easy look to create and can be instantly elevated with the help of accessories. Flower afro anyone? Ready to try your hand at this cool space puff style? Read on to learn more about how you can get the look at home in just a matter of minutes.
Tutorial: Space Puff Hairstyle for Natural Hair
Step 1: Start with clean hair.
The key to getting the perfect puff is to make sure your afro is light and airy. It's probably best to start clean if your hair is weighed down with hair products and oils. Wash with a shampoo and conditioner, or simply use a dry shampoo, like Dove Detox and Purify Dry Shampoo, to soak up any excess oil in your hair.
Step 2: Detangle your hair.
Take an afro pick, detangling comb or detangling brush to detangle your hair from ends to roots. Your goal is to achieve a fluffy texture. If your hair is wet, prep with TRESemmé Thermal Creations Heat Tamer Spray and blow-dry after detangling.
Step 3: Create your pigtails.
Part your hair in the direction you prefer. This can be a zig-zag style if you're feeling funky, or even a clean straight part to keep it on the classier end of the spectrum. Gather each side into a ponytail and secure with a hair elastic.
Step 4: Smooth your base.
Use a gel, like the Nexxus New York Salon Care Exxtra Hold Sculpting Gel, to smooth the base of your pigtails and to tame any frizz. Allow the gel to dry completely using a hairdryer on a cool or warm setting.
Step 5: Fluff your space puffs.
Use your fingers to fluff your space puffs, then you're done! If needed, you can insert some hairpins into your puff to ensure that they stay in place when the wind blows.
Loved this look? Try another cool natural hair style! Here's how to create a chic side Bantu knot hairstyle on your hair for an off-duty look. 
You Will Need
Prev Article
Next Article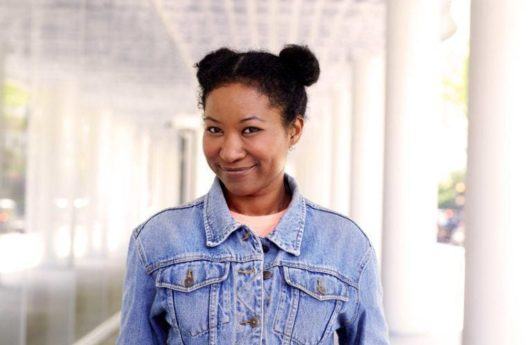 Gallery
Protective Styles for Short Natural Hair: 20 Styles Beyond Braids
It's not just about braids. 
See article
All Things Hair on Instagram