Floral Afro: How to Decorate Your Natural Hair with Flowers
Four ways to get your 'fro to bloom all season long. 
While decorating natural hair is something that you can do to your hair pretty much all year round, there's just something about the warmer seasons that present a host of ways to decorate with flowers. Most of us are sick of floral crowns, but we promise this new take is much better. Ok, this trend is not so new, but, as of late, our social media feeds have been filled with gorgeous iterations of the floral afro trend. Naturally, we had to join the bandwagon, too!
The art of decorating your afro with flowers is pretty simple to do. There's no real formula to follow, it's all about having fun and getting creative. Your afro is your crown, and it is up to you to adorn it as you please. To give you a hand, we're providing you with four floral afro ideas to get started with using some of the most coveted blooms of the season.
4 Floral Afro Ideas for Natural Hair
Editor's note: Before we dive into our spin on the flowers in natural hair trend, please note that you don't have to break the bank to try your hand at it too. Fresh flowers can be pretty expensive, a little messy if you're not careful, and for those who are allergic…well, you know how that goes! Artificial flowers are ideal for creating this look and you can use them over and over again.
Floral Afro with Gerbera Daisies
Look 1: Mix colors.
As mentioned before, it's totally up to you to create the kind of mix you like. You can pick flowers using one color, stick to one flower family, or mix in others. We're showing you how we like to create a fun and colorful mix, combining primary, secondary and tertiary colors together. We've found that this formula is a simple way to create visual interest without feeling like it's all over the place. In this example, the primary color is orange, the secondary is purple, and the tertiary is magenta.
Look 2: Floral afro with neutral tones.
If the first one felt a little too colorful, but you still like it, you can also opt for breaking the palette up with pops of neutral hues like white and black. Adding these colors in creates balance and tones down the overall look.
Floral Afro with Carnations and Babies Breath
Look 1: Adorn one side.
This is a popular idea that has been worn to events like weddings, summer parties and more. To create this look, you can combine a cluster of flowers together, use a single flower or add some more detail with tiny flowers like babies breath.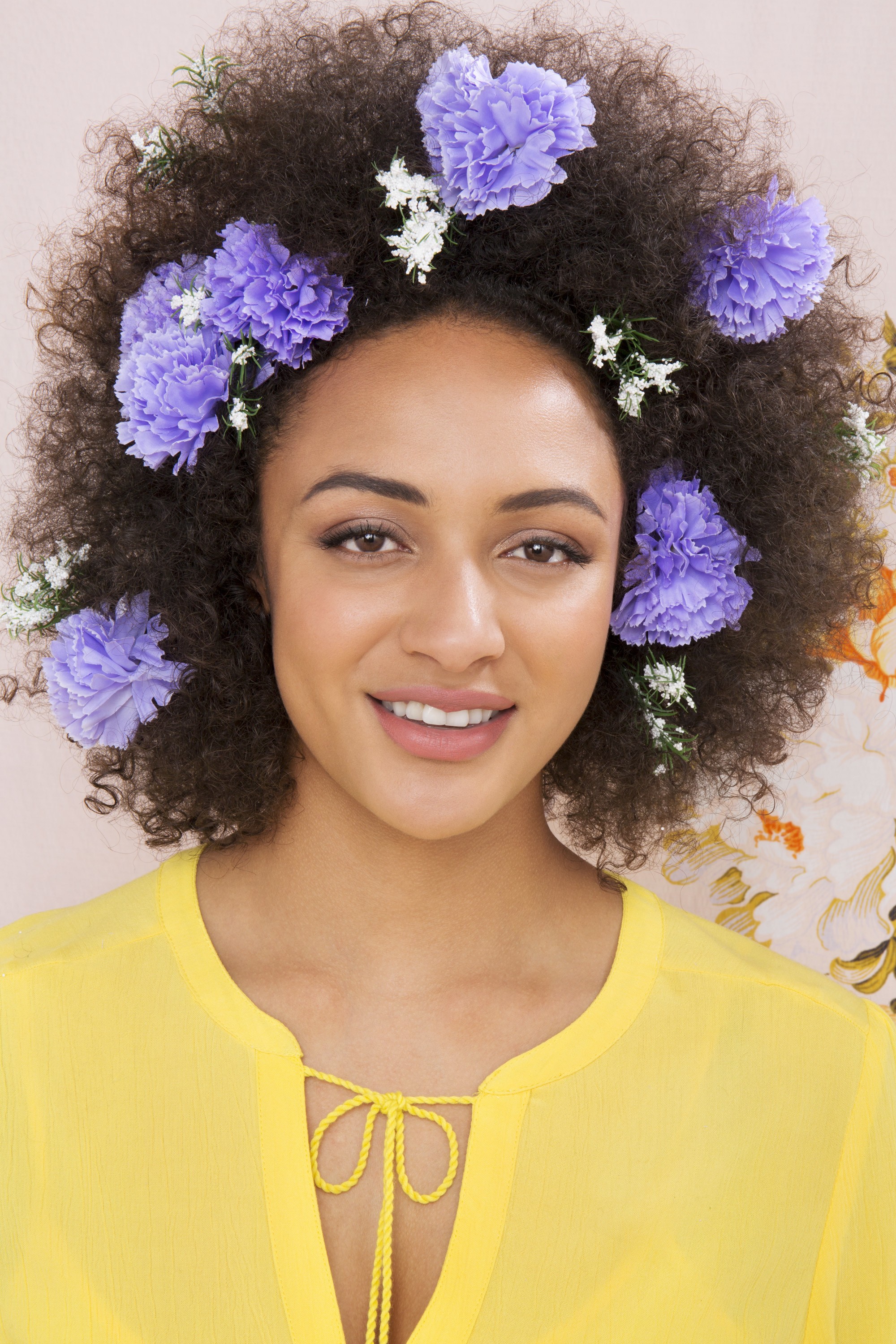 Look 2: Frame your 'fro.
Create a frame around your afro or create a floral crown- inspired look by placing flowers along the edges. To get your flowers to stay in place, opt for flowers that have wire stems that you can bend around your curls to fasten them in place. We suggest sticking to one big flower per section to avoid weighing the hair down and distorting your hairstyle.
Try wearing flowers in your afro this season and don't forget to have fun! Want more ways to style your natural hair? Here's how you can shingle your way to your best curls yet. 
Prev Article
Next Article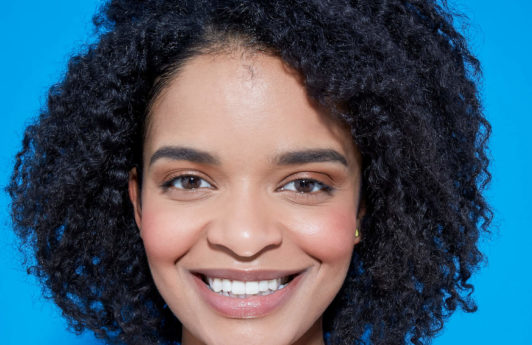 Video
3 Ways to Wear the Braid-Out Hairstyle on Natural Hair
Your guide to creating and styling braid-outs.
See article
All Things Hair on Instagram