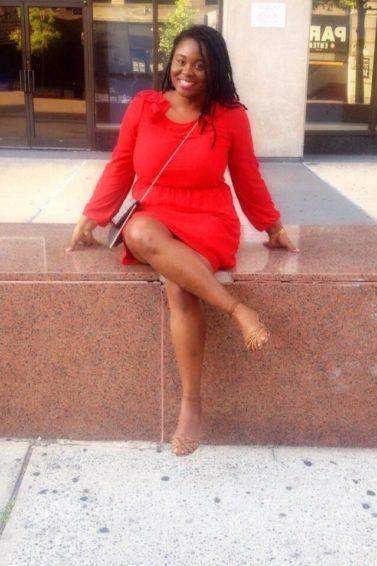 5 Minutes with Afika James: From Locs to Loose Natural Hair
A naturalista explains her journey.
Afika James, a Behavior Therapist/Teacher at a school for children with autism in Chelsea can be best described as an individual with a significant amount of patience — with her career, and her hair. Afika recently transitioned from locs back to her natural hair texture. Like any other woman that has experienced the natural hair transition, Afika had to learn her hair all over again — what it needs, what styles work, and how much time she needs to dedicate to the entire hair care process. Read more to find out about this naturalista's journey from dreadlocks and back to her loose natural hair texture.
Talking Locs & Loose Natural Hair with Afika James
All Things Hair: How long did you wear your locs and what inspired you to remove them?
Afika James: I started my locs on my birthday 7 years ago.
Truthfully, when people ask why I took them out, I would say " because I wanted to." However, I think deeply rooted in me is this thing:  Whenever I'm going through changes in my life, I try to showcase an outward manifestation of those changes. Seven years ago I was going through a devastating breakup and loc-ing my hair was an idea I toyed with for years prior, so I did it. This time around though, removing my dreadlocks wasn't due to a breakup, I'm doing some major makeovers in my life and I decided to just go for it.
All Things Hair: How long did the process take you? Did you face any issues?
Afika James:  I went back and forth with the idea removing my dreadlocks for more than a year. I would say to my friends "I'm taking my locs out" and they never believed me because I was saying it for so long with no action. Then one day, I went for it, I took one loc out and I started to cry. I realized that the process was just emotional as it was physical. I started reliving emotions I felt during the period I started loc-ing (that break-up period lol). Despite that, I was also excited run my fingers through my loose hair.
Over a course of three months after that, I started removing one or two every other day or when I had free time. Eventually, I realized that half of my locs were gone. So one day I told my partner in crime, that he has to help me with the other half. On September 28th, 2016 we both sat in my bathroom armed with an arsenal of conditioner and dental picks and worked up until midnight. September 29th, 12:13am, I no longer had a single dreadlock, as per my Facebook post that morning.
Coming to grips with the amount hair that was shedding was one of the most difficult parts of the process. I was convinced I wouldn't have any hair and that terrified me, my face is big you know, I need hair lol. I was reminded though that, all that shed hair was hair that wasn't able to naturally fall over the past seven years because of the locs, and that brought some sort of peace.
All Things Hair: Do you miss your dreadlocks?
Afika James: A big resounding YES!!! Locs are relatively low maintenance and my morning routine for work was worked out down to the last minute where I just took my head scarf off and ran through the door. Now, I have to style and make sure that my hair isn't doing anything crazy. That takes anywhere from 15-30 mins. The first two weeks were really frustrating so I bought a wig! Aside from that, I'm still getting used to my curls and I'm comforted by the fact that if I truly want to install dreadlocks again, I can.
All Things Hair:  Have you changed your hair care routine? 
Afika James:  One intimidating factor while I was going through the unlocking process was all of these videos and blogs online explaining the wash day process for natural hair. Although my dreadlocks took a long time to dry, washing was pretty straightforward. I was afraid that I would never have the time for a "wash day," thereby doing my hair an injustice. However, I'm a very simple girl and after doing more research I realized that I don't need all the bells and whistles per se.
As I am trying to learn what products work best for my natural hair, I stick to one shampoo, one conditioner, one styler at a time and a little bit of oil for my ends. One major change: I now wash my hair every week versus every two or three weeks when I was loc'd.
All Things Hair: What hairstyles are you excited to try on your hair now?
Afika James:  I'm looking forward to the day when I would have one of those bomb twist out hairstyles like the girls on Instagram. Ok, not really, I think as a community, naturalistas are so focused on the other girls' texture and how her hair looks, that we try to achieve styles like them and we become disappointed when it doesn't look the same. Right now, I'm just trying to get my hair as healthy as possible and also to retain length. I'm also trying to find great protective hairstyles for the upcoming winter.
Looking for even more hair interviews? Check our chat with Kim Kimble and learn all about her hair care tips.
Prev Article
Next Article
Article
How to Start Dreads: 3 Different Methods to Achieve this Cool Look
Create dreads at home with this simple tutorial.
See article
All Things Hair on Instagram