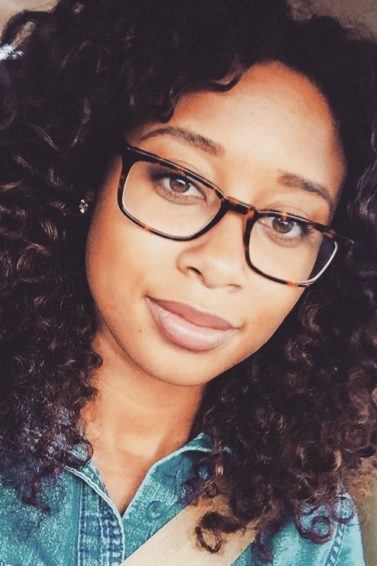 Bouncy Natural Curls with Jill of Orange Green and Natural
Jill is spilling her tips and tricks. 
We recently fell down an Instagram rabbit hole while scrolling through Jilyian Kelly's account. Her feed is filled with all things a relaxed, transitioning or natural hair girl needs when it comes to styling inspiration. Jilyian, otherwise known as Jill, is a naturalista who runs a natural hair YouTube channel called Orange Green and Natural where she gives tips and tricks for getting the best curly hairstyles, product reviews, straight styles and more. We tapped Jill to get some insight on her hair routine and how to create bouncy natural curls. Read on to learn more!
How to Get Bouncy Natural Curls with Jill of Orange Green and Natural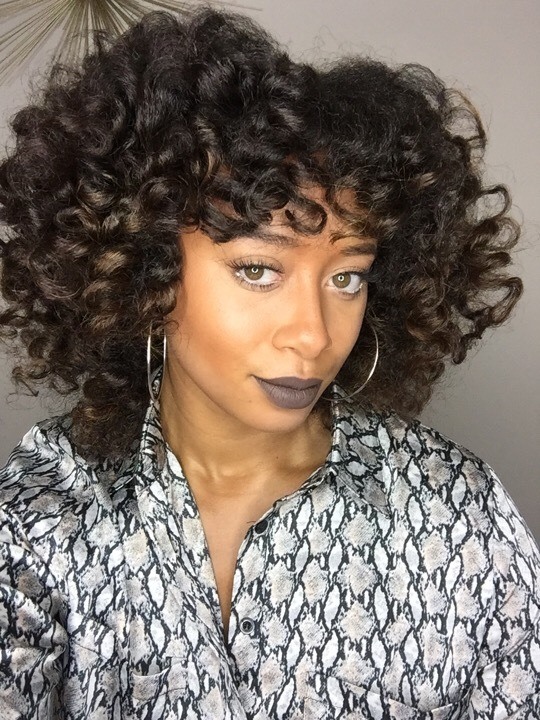 All Things Hair: Explain your hair type and the types of hair-related issues you deal with.
Jilyian Kelly: Like most naturals my hair is made up of several different hair types. At the nape of my neck the curls are smooth, well defined coils, like 3B hair. At the crown of my head my hair is more 4B, a coarser texture and in front, the hair grows almost as it did when I relaxed my hair, not a curl in sight.
While my individual strands are dense and I don't have a problem retaining length, my hair is stubborn when it comes to holding a particular curly style (with or without heat), retaining any moisture and is prone to frizz. I also combat my natural, sandy brown hair color that leaves my hair with little to no natural lustre (thank goodness for shine serums and lightweight oils).
To encourage moisture retention I am a serial deep conditioner, my steamer is my best friend and I'm very conscious about product ingredients (when using heat I make some exceptions). My hair doesn't need any help drying itself out, so I steer clear of sulfates, alcohols, silicones and mineral oils. I also use heat and protein sparingly as they too can result in dry hair if used too often.
All Things Hair: What's your signature hairstyle?
Jilyian Kelly: My signature style would be bantu knots. They were the first protective style that I mastered after I went natural almost 11 years ago. The style is easy to do and lasts for days with simple maintenance at night.
All Things Hair: Walk us through your hair care routine.
Jilyian Kelly: Once a week I start with a pre-poo hot oil treatment and scalp massage after I gently detangle my hair. Doing this every week encourages blood flow to the scalp and clears debris from the hair follicles to promote healthy hair growth.
I follow this up with a moisturizing shampoo and a moisturizing deep conditioner and use either my hair steamer or sit under a bonnet dryer for maximum conditioning. If I'm going to be heat styling, I will opt for cleansing and conditioning products with silicones to act as a barrier for my hair against any heat damage.
Depending on whether my next steps involve heat, I grab my favorite moisturizing leave-in, heat protectant, styling crème, serum and/or medium-hold gel to create my desired style.
For wet styling, about 95 percent of my products are organic or almost entirely natural. And again for heat styling I opt for products with silicones and light oils to coat my strands. One of my favorite heat protectants is TRESemmé Thermal Creations Heat Tamer Spray.
Tips for getting bouncy natural curls with heat:
Step 1: Start with clean, stretched, detangled hair. Hair should be coated with heat protectant or serum during blow-drying and before applying any hot curlers, wands or rollers. Note: I opt for sprays and serums when heat styling instead of heavy crèmes, butters and oils so that my hair is protected but not weighed down.
Step 2: Only turn up the heat as much as necessary. Most tools reach 450 degrees but I've found I can reach my desired sleekness at 380 degrees using smaller sections of hair.
Step 3: For tighter curls, once you release your hair from the barrel hold the curl in your hand (This is where that heat resistant glove that comes with every wand comes in handy.). Holding the curl in your hand for a few seconds or even pinning them gives you a more defined curl.
Step 4: If you aren't short on time, try roller sets under a bonnet dryer with perm or flexi-rods, or steam rollers for gentler heat-styled alternatives.
Step 5: Fluff and separate for maximum volume and fabulousness. I like my curls to have a little frizz and natural pattern, so I use a pick or my fingers coated in oil to separate each curl.
Editor's Note: Use an oil like Suave Professionals Moroccan Infusion Styling Oil to separate your curls.
Tips for getting bouncy natural curls without heat:
Step 1: Whether starting with dry stretched hair or damp, towel-dried hair, I have found that using a combination of a leave-in styling crème or a lightweight conditioner/water mix and a medium-hold gel, I get just the right amount of hold and moisture on my soft, bouncy twist-outs, bantu knots and roller sets.
Editor's Note: Consider using a gel like TRESemmé Flawless Curls Defining Gel as a styler.
Step 2: Make sure each section of hair is coated with an adequate amount of product to so that each curl is smooth, shiny and has the same amount of hold.
Step 3: Allow your hair to dry completely. I'm not ashamed to admit I've spent all weekend in the house if necessary to make sure my curls were ready to go Monday morning. Not allowing the hair to dry completely can result in awkwardly formed, frizzy curls and waves. If you have to leave the house without drying all the way, once you create your desired look don't touch your hair to avoid frizz.
Loved these bouncy natural curls tips and are looking for more hair style interviews from our favorite Instagrammers? Check out how Afika James is getting acclimated to her loose natural hair after years of wearing dreadlocks. 
Prev Article
Next Article
Gallery
45 of the Best Haircuts for Curly Hair of Every Length
The best haircut for curly hair is one that marries style and sustainability.
See article
All Things Hair on Instagram