Shampoo for Curly Hair: The Products that Both Moisturize and Define
The curly hair shampoo quest stops here.
We're sure you know that every hair type is different, with its own varying needs. For those of you with curly hair, this might mean that your hair is more susceptible to dryness and need moisture more often. Luckily, there are several specialized formulas of shampoo for curly hair made specifically for your hair type. The best shampoo and conditioner for curly hair are systems that are formulated to get your hair clean while ensuring that your curls also receive proper moisture and hydration.
Ready to revive your curly hair? Read on to learn more about some of our favorite curly hair shampoo options for the best, most hydrating cleanse yet:
Shampoo and Conditioner for Curly Hair: The Best Options to Try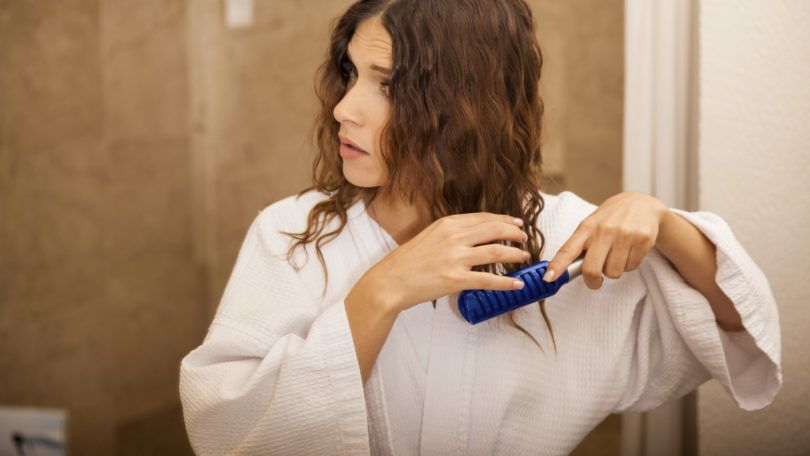 1. For Defined, Hydrated Curls
If hydration is at the top of your list, we've got exactly what you need. Dove Amplified Textures Hydrating Cleanse Shampoo and Super Slip Detangling Conditioner, infused with a proprietary Dove Moisture Amplifying Blend, work to keep your hair supremely moisturized, shiny, and frizz-free. The sulfate-free formula makes it a great shampoo duo for permed hair as well, as it smoothly coats the hair strand without deflating your new curls. Tip: Make sure you totally saturate your hair with water before shampooing for a better, more thorough coverage. Afterward, rinse off completely, and follow with the conditioner for totally nourished, defined and manageable curls. Oh, and that subtle floral scent is to die for!
2. For Easier to Detangle Curls
As gorgeous as curly hair is, it can be hard to work with at times. Tangles and knots can form, and are usually the result of dryness and even damage. A gently cleansing shampoo that gives hair hydration while maintaining body, bounce and slip is key. Case in point: TRESemmé Botanique Curl Hydration Shampoo is infused with a botanical blend of shea butter and hibiscus does the job of efficiently moisturizing, all without having hair go limp, making it a great curl-enhancing shampoo option. Followed up with TRESemmé Botanique Curl Hydration Conditioner, and you're left with tangle-free ringlets. Bonus: The system is paraben- and dye-free!
3. For a Frizz-Free Boost
Both curly and wavy hair are susceptible to frizz and are rather vulnerable to changes in humidity. The best shampoo for wavy hair and curly hair alike is a system that keeps these hair types well-moisturized from the inside, so they don't need to absorb any outside moisture. Otherwise, the outer protective layer of your hair, a.k.a the cuticle, raises off to absorb humidity in the air, and it's this raised appearance that we perceive as frizz. If you're looking to nix the frizz, we suggest Nexxus Oil Infinite Shampoo and Nexxus Oil Infinite Conditioner. The duo is chock-full of six different oils to help nourish your hair, resulting in some seriously hydrated locks. Bonus: this combo is silicone-free as well, so it's also one of the best shampoo options for permed hair as it doesn't weigh down your locks.
4. For Dry, Damaged Hair
For lightweight moisture that gets to the root of the problem, try out Suave Professionals Coconut Oil Infusion Damage Repair Shampoo and Suave Professionals Coconut Oil Infusion Damage Repair Conditioner. Together, they work to cleanse and condition your hair, while providing lightweight moisture.
Prev Article
Next Article
Article
How to Get Voluminous Curls for Iconic Curly Hairstyles
We like big curls and we cannot lie!
See article
All Things Hair on Instagram