22 Best Wavy Hair with Bangs Ideas for Your Hair Type
Get inspired by these stylish fringe ideas.
Wavy hairstyles are one of those styles that aren't going away anytime soon! Sitting somewhere between straight and curly hair, this hair pattern doesn't usually start right at the root of the hair. Instead, wavy hair is often thinner until mid-shaft where it starts to curl into a loose pattern. Specifically, wavy hair with bangs has been one of the most popular styles this year.
This wavy look is fun, flirty, and easy to style. Plus, the fringe gives an instant update. If you have naturally wavy hair or are looking for new ways to style your hair with bangs, why not give wavy hair with bangs styles a try? We've rounded up wavy hair with bangs hairstyles that you can easily recreate at home, with little to no fuss.
Wavy Hair with Bangs Style Inspiration
Whether you have naturally wavy hair or you're a pro at adding waves with your favorite curling iron, there are so many styles you can achieve with this combo. It's the perfect style for people who want a little bit of volume mixed with texture. It creates the perfect go-to look that can be worn for a variety of occasions. Keep scrolling to check out our favorite wavy hair and bangs styles.
1. Natural-Looking Waves on a Bob with Bangs
We're obsessed with the natural effect of this wavy hair bob. Creating loose waves is a great way to add a bit of texture to your bob without worrying about creating perfect curls. Plus, this gives a nice contrast when paired with short, straight bangs.
2. Side-Swept Wavy Bangs
The messier the hair, the harder they stare—with good reason, of course! Go for this effortlessly undone hairstyle to match your laid-back look. Add some texture to dirty hair and give it a refresh by spraying the roots with Love Beauty and Planet Coconut Water & Mimosa Flower Dry Shampoo.
3. Thick Fringe
Go for a full effect by getting a thick fringe. Make sure you balance it off with texture. Case in point: Add waves to the rest of your hair to create balance.
4. Naturally Thick Hair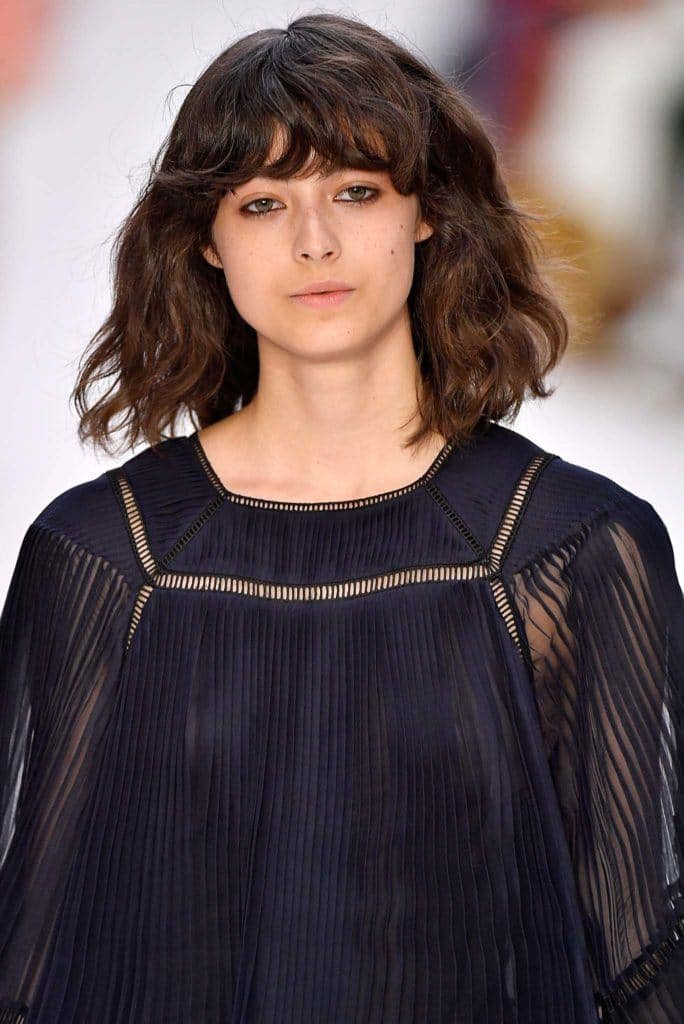 If you're in the market for a new 'do and have wavy hair, you can't go wrong with this wavy hair with bangs combo. A style like this is perfect for an easy wash-and-go look. Add even more volume to your textured strands by washing your hair with Love Beauty and Planet Rice Oil and Angelica Essence Curls and Waves Cleansing Shampoo Milk and Conditioner. We love how this set adds moisture and hydration to your hair while keeping it bouncy.
5. Hint of Waves with Bangs
You don't have to create a head full of waves to get in on the rich-girl hair trend. Add a couple of hints of waves here and there to recreate this look.
6. Wavy Bangs
If you want to go full-on with the waves, add it to your fringe, too! Creating waves like this in your bangs can be especially helpful if you're bangs are on the longer side or you're in the process of growing them out. The added texture will help add more grip to the style, making them blend in easier with the rest of your wavy strands.
7. Side-Swept Bangs
Turn waves from a playful to a more sophisticated look with side-swept bangs. We love how polished this side-swept look is, and it even pairs well when wearing your hair up. Plus, this style is a fool-proof option for those that may have overgrown fringe or want to grow their bangs out. Maybe you just aren't feeling the blunt straight across bangs? Side-swept looks never disappointed.
8. Curtain Bangs with Waves
It's no secret that curtain bangs are the absolute "it" bangs style right now. Separate your bangs down the center to create this modern take on the curtain bangs style. This trick is especially useful if you have bangs that are on the longer side.
9. The Shag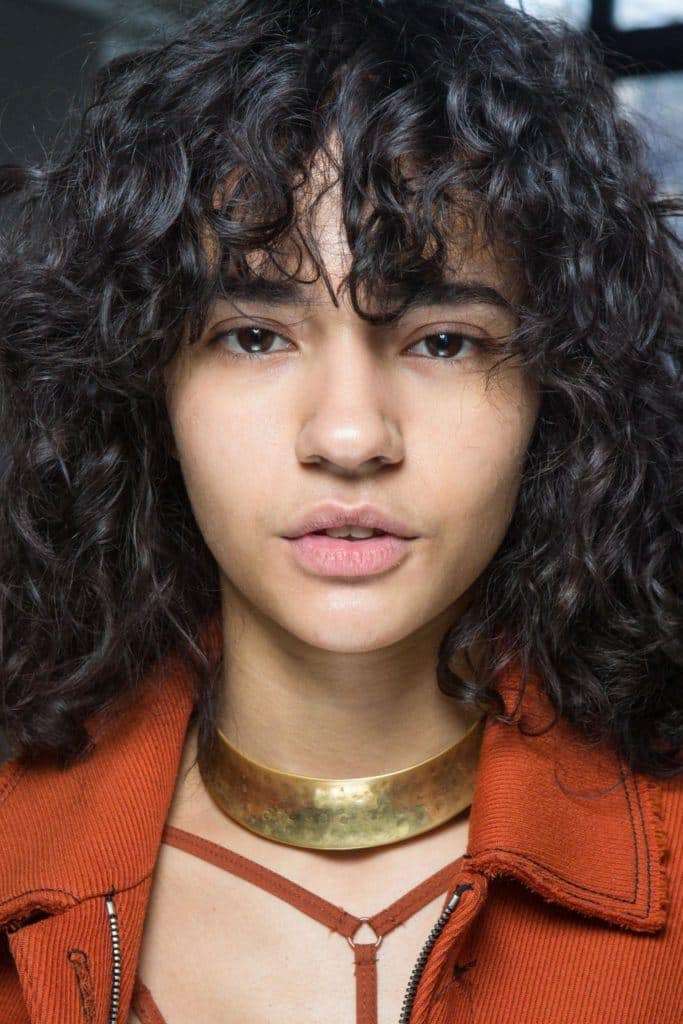 Looking for something in style at the moment? Opt for the fun shag haircut. This cut is especially flattering on people with natural waves or texture to the hair, but if your hair is on the straighter side, feel free to had in waves with a curling iron.
10. Vintage-Inspired
Turn an old hairstyle into a modern look. This style is inspired by vintage waves, the messy effect makes it more off-the-moment.
11. Natural Waves
Have naturally wavy hair? Embrace your texture to recreate this wavy bangs style. When caring for naturally wavy hair, we love using Suave Smooth Performer Shampoo and Conditioner.  This set will help keep waves smooth and frizz-free throughout the day.
12. Mushroom Cut
Whether you call it a mushroom or a bowl cut, besides the shag, this is the cut to have this season. Wear it straight or update it with waves.
13. Micro Bangs
Stand out from the crowd with a micro fringe and take it a notch up with an über messy texture. This combo gives your look an overall more unique twist.
14. Long and Flowy
This is the perfect wavy hair with bangs style for special occasions. To achieve waves like this, loosely curl your hair with a 1-inch curling iron and once your hair is cooled, gently brush out the curls to create a soft wave effect.
15. Defined Waves
Go for a more polished look with defined waves. To help add definition and eliminate frizz, use TRESemmé One Step Wave for Wavy Hair. This product also helps protect your strands from heat damage.
16. Lob and Wavy Hair with Bangs
Update your lob style with waves as you play with the direction of your fringe. A lob is turning into one of those classic styles that keep popping up every season. You can never go wrong opting for a length like this. Plus, if your fringe is on the longer side, you're able to easily blend it into the style especially if you have layers too.
17. Bang and Waves with Layers
Want a cut with lots of movement? Think layers, layers, and more layers. A drastically layered cut like this helps add more volume towards the top and through the mid-lengths of your hair. It almost gives off the appearance of a shag haircut but isn't as drastic.
18. Wavy Hair with Bangs and Highlights
Add a few ribbons of highlights to help add dimension to your waves. Highlights like this add an overall warmth to your look and can even help create the appearance of more shine too.
19. Undone Bangs
Going for an undone fringe look? Make sure the rest of your hair matches too. Opt for subtle waves with loads of messy texture. If your hair is naturally wavy, this is a perfect style to go for because it involves minimal styling, however, you'll still be able to create that effortless look that is completely on-trend.
20. Accessorize
If wearing your hair on its own isn't enough, don't be afraid to play around with accessories! The cutest hat can draw attention to your hairstyle and complete the whole look.
21. Platinum Blonde
Try a super bold platinum hair color to add some edge to your style. When caring for platinum hair, make sure to use a purple shampoo, like Nexxus Color Assure Purple Shampoo and Conditioner. Using a purple shampoo will help keep your hair vibrant and prevent any brassiness.
22. Extra Long Bangs
What to do with grown-out bangs? Embrace them and add some waves to the rest of your hair to keep the look polished.
Whether you're going for a lob with side bangs or trying out thick blunt fringe, there's definitely a wavy hair with bangs look out there for you!
Prev Article
Next Article
Gallery
15 Ways to Wear Side Bangs in 2022
Take your hair to the side with this chic option for your bangs.
See article
All Things Hair on Instagram