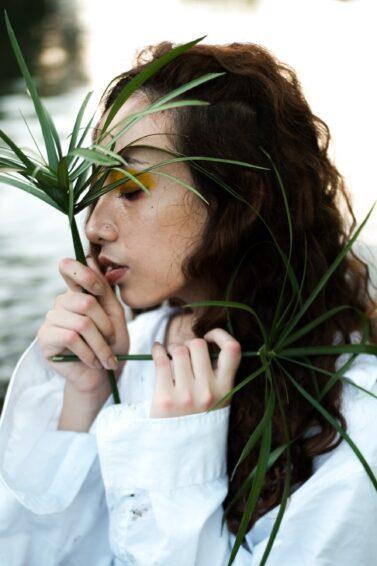 Wavy Hair Guide: Best Tips and Styling Hacks for this Texture
We've got the 411 on taming and styling for full-on luscious waves.
If your hair isn't straight but isn't curly either, then it sounds like you have natural wavy hair! Wavy hair is a type of curly hair that has a ripple-like pattern and texture. It also has bends and waves with texture to it. Unlike most curly hairstyles, wavy hair is flatter, closer to the scalp, and has waves towards the bottom.
Wavy hair is so appealing because it can be achieved with different techniques. It also looks great in all styles, lengths, and textures. Whether your wavy locks are au naturel or courtesy of a curling wand, it's important to get to grips with the best tips, tricks, and techniques for messy, wavy hair. Read on to learn the best hacks for caring for short wavy hair, long wavy hair, wavy curls, and more:
Types of Wavy Hair
Did you know there are multiple types of wavy hair? Knowing your texture type can determine how you care for and style your hair.
Type 2A
This type of hair is categorized as mostly straight, while a slight "S" curve in the hair. This wave is more fine and straight at the root and then forms subtle waves and volume towards the ends.
Type 2B
2B wavy hair has slightly more defined waves but is still straight at the root. This type is more prone to frizz but acts well with curl-activating and defining creams.
Type 2C
This is the waviest and thickest type of wavy hair. 2C hair is close to forming curls rather than just waves and it is the most voluminous of the three types.
Best Products for Wavy Hair
No matter what finish you're looking for, the key to creating waves that last throughout the day is to start with the right products. When you wash your hair, use moisturizing formulas to keep it from looking frizzy or dry. If you have been wondering how to style wavy frizzy hair, take notes.
Shampoo and Conditioners for Wacy Hair
We suggest trying Dove Amplified Textures Hydrating Cleanse Shampoo and Dove Amplified Textures Super Slip Detangling Conditioner. This formula helps remove product build-up to leave your hair moisturized and shiny without weighing your waves down.
Oil to Help De-Frizz Wavy Hair
To further help eliminate frizz on wavy hair, use one pump of Love Beauty and Planet Sandalwood & Grapeseed Natural Oils Infusion on damp or dry strands, focusing on the mid-shaft and ends before styling.
Hair Spray to Help Lock in Your Waves
When post-styling, keep your tresses in place with TRESemmé Compressed Micro Mist Hair Spray Extend Hold Level 4. Mist it over just-waved hair if you're using a heated curling tool, or spray it onto naturally wavy hair and scrunch with your hands. This will add definition to the waves and, most importantly, ensure that they stay in place from a.m. to p.m.
How to Get Wavy Hair with Heat
If you weren't born with natural waves, you could always achieve the look with the help of a curling wand or straightener.
Large-Barrel Curling Iron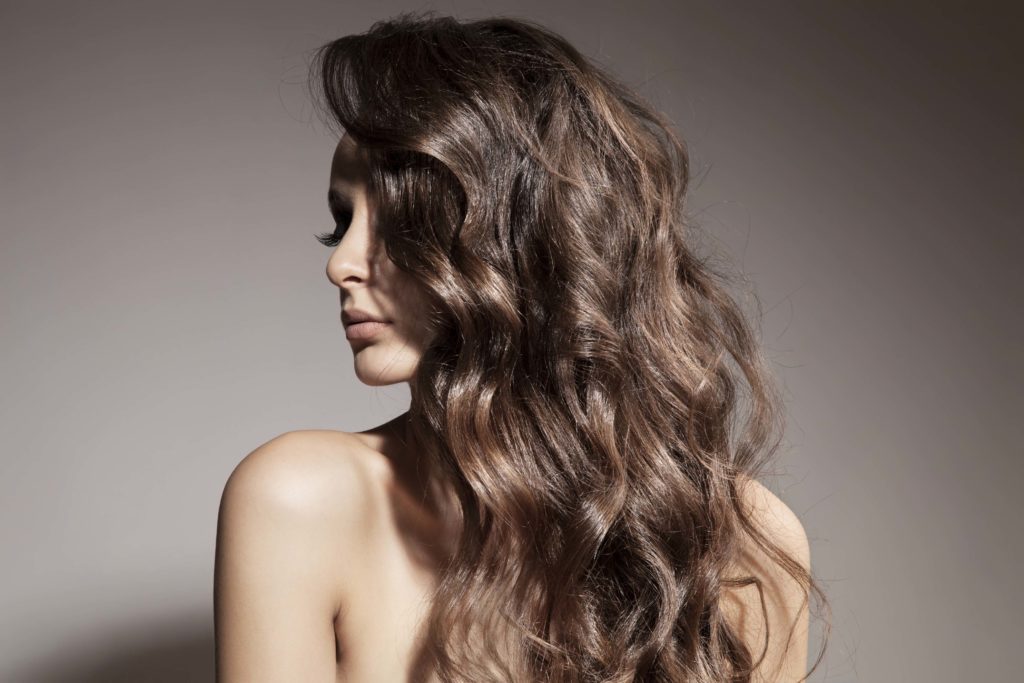 To achieve waves with this technique, start with clean, blown-out hair, then prep strands with a holding product to help enhance your curls. Afterward, section your hair into two halves by parting from ear to ear. Secure the top section of your hair to keep it out of the way. Beginning with the back section, pull out a subsection of hair and, using the curling iron, curl it towards your face.
Oftentimes with straight hair, it's harder to keep a curl as you continue to curl the hair and pin it towards the scalp, which forces the hair to set the curl. Repeat the same routine with the top section of your hair until the entire head is curled. Allow the hair to set for about five to 10 minutes. Release all of your curls and brush your hair with a boar-bristled paddle brush.
Flat-Ironed Twists
This can be done with a curling iron or a flat iron. Simply twist a section of your hair from root to tip, then wrap locks around the iron. If you are using a flight iron, gradually clamp it down on the twisted section. This technique will create a looser curl, resulting in beach-like waves.
6 Ways to Style Wavy Hair Without Heat
Don't have a curling wand handy? Don't sweat it! There are still plenty of ways to create no-heat waves; here are our top wavy hair tips:
1. Sock Curls
Sock curls are by far one of the easiest methods to create no-heat waves. Simply cut the toe off a clean sock and roll it into a hair donut. Tuck your hair around the donut and leave it in overnight to form messy, undone waves.
2. Slept-In Braids
Isn't it nice to get your hair styled while you sleep? This two-in-one hair strategy with braids will let you achieve effortless waves while catching up on some zzzs.
Start by brushing hair so that it's free of tangles, then spritz with a holding spray. Weave each section into two three-strand braids or French braids, depending on where you want the waves to start. The looser the braid, the tighter the curl. Then, secure the ends with a hairband.
In the morning, untie the hair and run your fingers through the hair to loosen the waves. You can also leave the braids in the next day to ensure your hair is fully dry. Plus, you'll get an easy hairstyle for the day if you do this. After taking out the braids, spritz hair with a shine spray or serum to finish.
3. Twisted Bun
A twisted bun is a great multi-tasking for day-to-night styling. Twist the hair into an updo during the day, then unravel the style at night and finger-comb your hair to release the waves.
4. Sea Salt Spray
Salt spray is typically designed to be used on the ends of hair and assists in creating a natural beach wave. As the hair is coated with the salt in the spray, your hair cuticle begins to swell, resulting in that coveted beachy look.
5. Pin Curls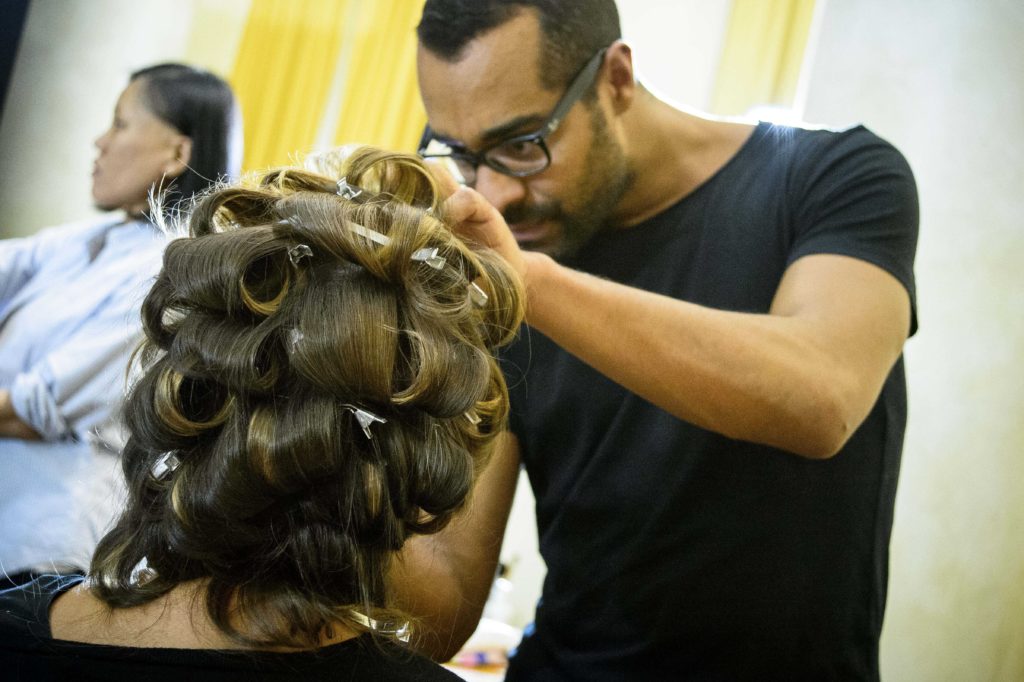 Step 1: Start with damp hair that's at least 90 percent dry—wet hair will not hold a wave or curl at all. Run a ping pong ball-sized pouf of mousse, like TRESemmé Flawless Curls Extra Hold Mousse (less if you have shorter hair), onto your entire head, distributing evenly throughout strands.
Step 2: Divide hair into vertical sections for a wavier look. They don't have to be perfectly even. If you want a curlier look, make horizontal sections.
Step 3: Start rolling one section away from your face with your index finger (some find it easier to begin near the temples or hairline), curling inward, and even looping twice or thrice around the finger if the hair is longer. Secure in place with a duckbill or darby clip, checking that the bottom prong is against your scalp and the upper prong is holding the curl in place.
Step 4: Repeat the process on all sections until you've pinned your entire head, from one side to the back and all the way to the opposite side. Don't stress about making the curls perfect or uniform—randomness is cool!
Step 5: Go about your business until your hair is fully dry, or for about two hours.
Step 6: Finally, release clips and gently shake out your curls, aligning the waves for a truly retro vibe.
6. Twist-Braid
Step 1: Start with damp hair, or spritz on some texturizing spray all over the lengths and ends to moisten strands before you begin.
Sea salt spray is typically designed to be used on the ends of hair and assists in creating a natural beach wave. As the hair is coated with the salt in the spray, your hair cuticle begins to swell, resulting in that coveted beachy look.
Step 2: Part your hair into two main sections. Split the first section, which is closest to your temple, into two. This is where your first twist will anchor.
Step 3: Begin by putting one lock above the other. By the second twist, grab a new lock behind your current sections—like when you're French braiding—and do the same till you've reached your nape (and run out of sections to grab). By now, you'll just be twisting the two original sections together and then creating a cinnamon bun over your ear. Secure with a hair tie.
Step 4: Repeat the process on the opposite side. This style is cute enough to wear outdoors, but if you're sleeping on it, make sure the buns are secure—they tend to unfurl in the middle of the night.
Step 5: Lastly, gently uncoil your buns in the morning and shake off the twists. Flip your hair over a few times for some lift and set it with some hairspray, like Nexxus Styling Maxximum Finishing Mist, to keep away the frizzies and flyaways.
How to Style Wavy Hair Without Frizz
Leave-In Treatment
While undone, model-off-duty waves are always a style we're trying to emulate; frizzy locks are most definitely not. The battle against unwanted flyaways starts with your styling products. Try using a moisturizing leave-in treatment, like Shea Moisture 100% Virgin Coconut Oil Hydration Leave-In Treatment to keep hair moisturized and nourished.
Hair Mask
Replacing your conditioner with a hair mask once a week can help add so much moisture to your strands, which will result in less frizz. We love using Nexxus Humectress Moisture Restoring Masque because it has Elastin protein and glycerine to add shine and deeply moisturize your strands, leaving them soft for days.
How to Make Wavy Hair More Defined
Define with a Curling Iron
When it comes to wavy hair, curl definition is often a top priority. You can easily create a more 'done' finish to your waves by using a curling wand. There's no need to divide the hair into sections as you go; simply pick a few pieces at random to curl. These perfectly-formed spirals will add an appearance of volume to the hair and leave you with a more finessed finish.
Hair Plopping
For naturally wavy hair, you can also try using the hair plopping technique to create more precise waves. This method keeps the hair compressed to the top of the head while it air dries. Giving loose curls more of a refined look than simply letting them dry loosely.
Use Defining Cream
Adding a cream, like Nexxus Weightless Style Shape & Define Multi-Styler is a great way to help define waves. All you have to do is apply a small amount to the mid-shaft through the ends of your hair and then comb to distribute. Scrunch your hair to help define the waves.
Do You Brush Wavy Hair?
How to Brush this Hair Type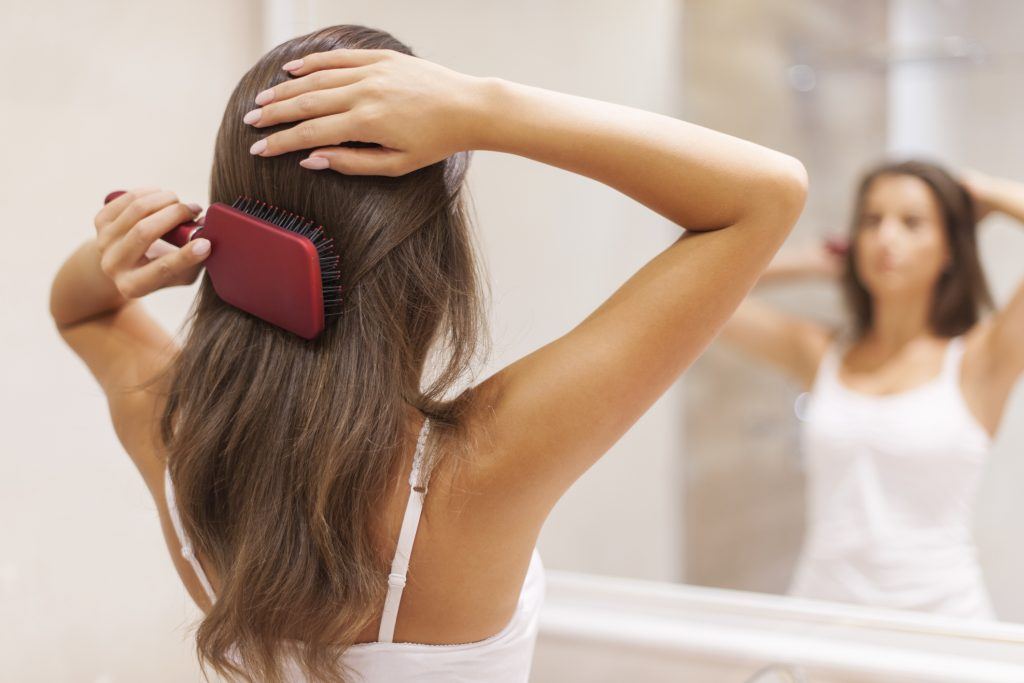 Depending on your hair type, thickness, and grooming routine, you might need to brush through your curled or natural waves to style them. Before you do, it's important to take into account whether you have fine or thick hair and what your styling needs are when choosing your hairbrush.
Whatever tool works for your hair, it's important to follow one golden rule when brushing wavy hair: Be gentle! As curls and waves are manipulated by the brush, it's important not to be too rough, as this can cause damage to the surface of the hair, leading to frizz.
Best Wavy Hairstyles
Looking for a little hair spiration? Here are four easy wavy hair tips and looks that work with all hair types:
1. Sleek and Chic
As the perfect finishing touch to literally any outfit, polished waves make a statement all on their own. The go-to 'do for many women as glamorous, soft curls look sophisticated and go with any look, day or night.
2. Boho Vibes
Take a walk on the wild side of wavy hair trends by sporting voluminous, untamed curls. Add an extra woke-up like this touch to the look by backcombing your roots and mid-sections of the hair. Pair the look with a mixture of braids and hair accessories for instant festival-worthy appeal.
3. Teased and Untamed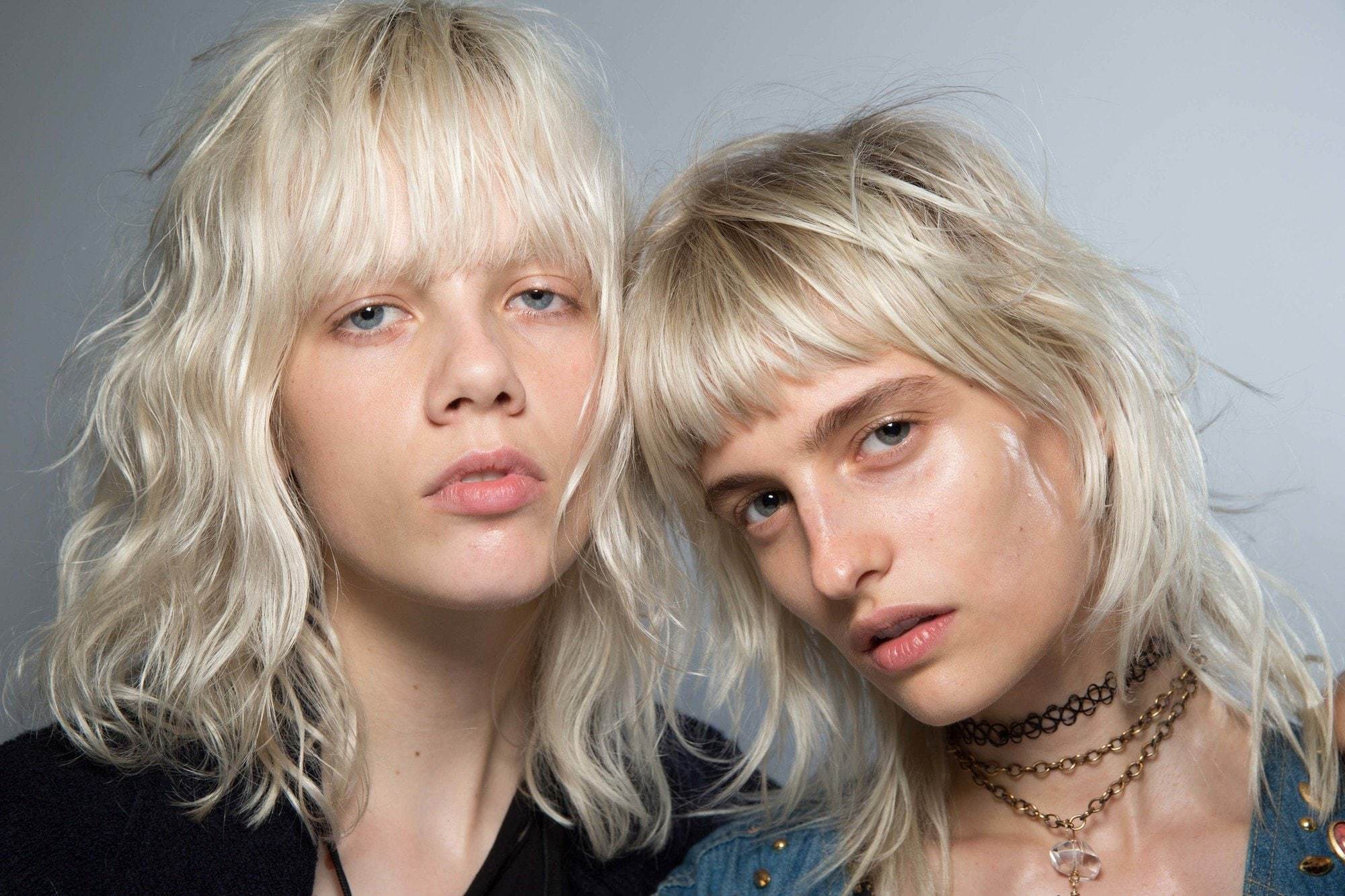 Back-from-the-beach hair will always be a winner in our books, no matter what the weather dictates. Bring the sensation of the beach to your life on an average day with a comb-teased wavy hair look.
4. Romantic Retro Waves
This retro hairstyle adds loads of texture and body to your look while staying loose and carefree. Bring your waves to the next level by adding a bold middle part to bring attention directly to your face. This style is great for date nights and special events.
5. Wavy Lob
For a super-chill look, try your hand at a wavy style that's effortlessly cool and easy to style. We love how this short wavy hair can be air-dried, creating an easy wash-and-go style that anyone can master!
6. Flirty & Bouncy Waves
Whether you have somewhere to go or are just lounging with the girls, flirty, bouncy waves are always a good idea. To create this look, on second-day hair, refresh with Dove Refresh+Care Volume and Fullness Dry Shampoo. Prep your hair with a heat protectant, then use a flat iron to create your fun and flirty short wavy hairstyle. Remember to seal the deal with hair spray for a long-lasting style.
7. Defined Curls
If you're in the mood for a more polished look, consider curly short hairstyles like the above. Nail this look by washing your hair with a hair care system that helps smooth and moisturize strands, then apply your leave-in of choice.
8. Wavy Side-Parted Bob
Bob haircuts can look really fantastic—and they don't need to be super sleek and smooth to look stylish. When it comes to short wavy hairstyles, a softer, textured bob is definitely one of our favorite looks, as it gives a more feminine and laid-back feel. Also, working in some subtle layers can really help to enhance fullness and movement, giving your mane a real style boost. Try it with a deep side part and a soft sweeping fringe styled across your forehead before working in some mousse to add body to your waves. We suggest Nexxus Styling Mousse Plus for maximum body and fullness.
9. Short Shag Cut
at the same time. To create this hairstyle (best for those with medium to thick hair), add lots of layers at varying lengths to produce a lighter and more dainty, feminine feel. And don't forget to pair it with a full, choppy fringe to perfectly complete the look.
10. Layered Long Bob
Want a cropped 'do but worried about your voluminous mane? Say no more because short hairstyles for thick wavy hair are easier than you think. All it takes to transform your wavy tresses is to get yourself a long bob and add plenty of layers to it. Not only will this enable you to keep the length a little longer around your face, but it'll also help to frame your pretty features too.
11. Soft Pixie Cut
If you've got gorgeous soft waves, a grown-own pixie cut is a great option if you're looking to go a little shorter. For a naturally-tousled pixie, scrunch in some gel and let it air-dry for a frizz-free, defined curls effect.
12. Dramatic Part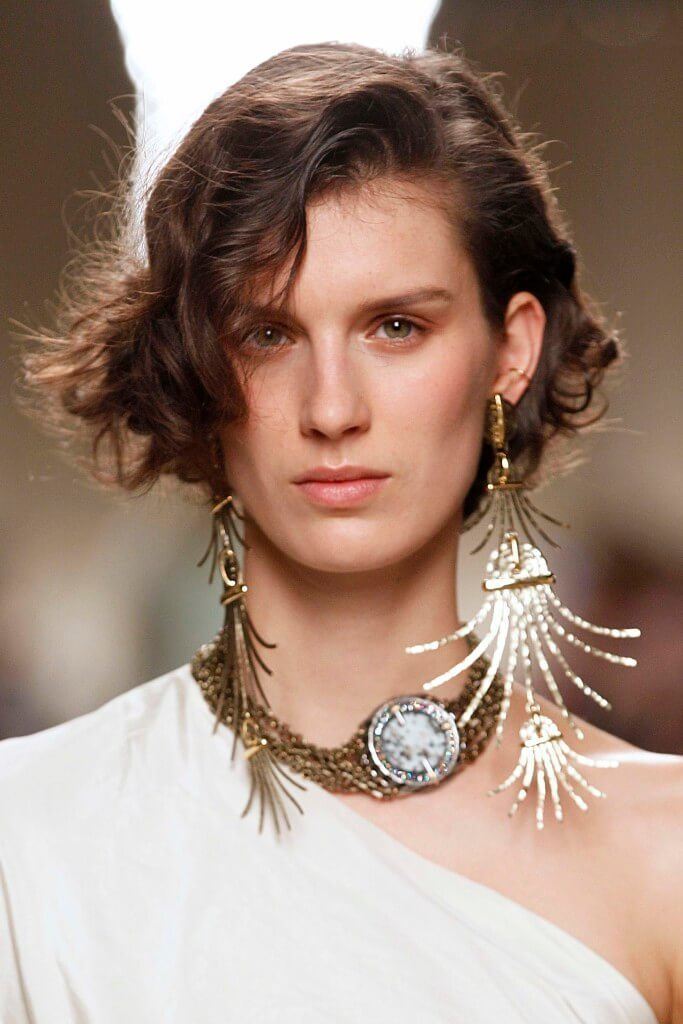 Changing how you style your part can be a great way of mixing up short wavy hairstyles. Swap your classic center part for a zig-zag to create a more relaxed, rock'n'roll-inspired look, or try a deep side part for a more dramatic and voluminous effect. It's really just as simple as switching up how you normally wear your hair, creating a new and somewhat dramatic style.
13. Unicorn Braid
Getting short haircuts for wavy hair might make you think that you're limited in the styling department, but you're not! To achieve this unique unicorn braid style, brush your wavy lob or bob and part your hair down the middle. Create a small braid in the middle of your head that will go towards the back of your head or upwards towards your crown. For an edgy effect, opt to leave out the end pieces of your hair to create quasi-bangs.
14. Flat-Iron Waves
Use your flat iron to create these easy and chic waves. With a little bit of practice and just a flick of your wrist, you can create these easy waves. Alternate the direction of each wave to create the most natural-looking texture.
15. Wet Wavy Hair
Depending on your hair type, the method you use to create the damp and wavy style can create more shrinkage than you actually want. If you have naturally curly or wavy hair, here's a trick, dry your hair completely straight to avoid shrinkage when styling. Once your hair is dry, apply a gel of your choice to the very ends of your hair to create a semi-wet look. Crunch hair with your hands to create waves, and your style is complete.
16. Textured Curls
Give your long textured hairstyles some volume by tussling and teasing your locks. Make your style fuller while controlling flyaways by using TRESemme Beauty-Full Flexible Finish Hairspray.
17. The Wavy Braid
Wear this look poolside or while you kick back and scroll through Instagram (check out our Insta feed, if you will) for days on end during your quick winter weekend getaway. Dry your hair and finger-comb back into a low ponytail and braid the lengths of your hair. Pull out some face-framing wavy bangs to give the look a cutesy finish.
18. Hollywood Waves
These waves are downright perfection! They are so soft and flowing and just scream old Hollywood glamour. To achieve this look, check out our long wavy hairstyle tutorial and be sure to have some hairspray on-hand to lock in this awesome hairstyle.
19. Wavy Half-Updo
We love a one-two punch! The trending half-updo look matches up perfectly with some loose, tousled waves for a spring vibe that's just all about relaxed chic.
20. Side-Swept Waves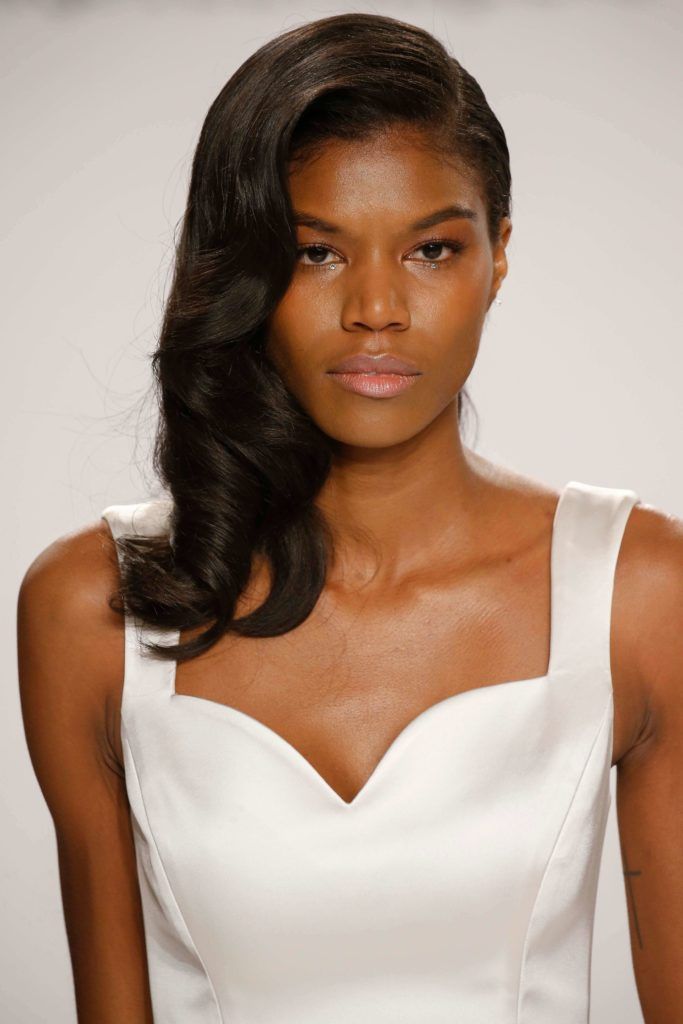 Another way you can wear wavy looks for formal events is to create a side-swept look with a deep side part. To achieve this look, use the TRESemmé TRES Two Extra Firm Control Gel on the shorter side of your part to slick that hair back. Complete this style by pinning your shorter side in place.
Looking for more hair inspiration? Be sure to check us out over @AllThingsHairUS, as well as subscribe to our newsletter below.
Prev Article
Next Article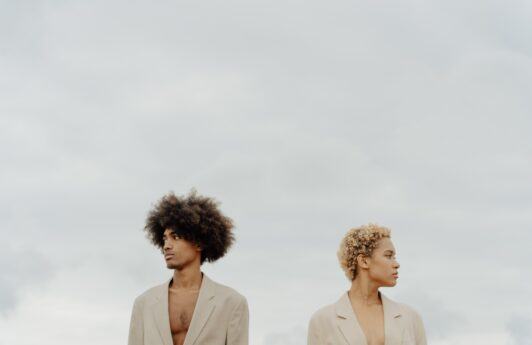 Article
Curly Hair Type Infographic: Learn the Different Kinds of Curls
Your ultimate guide to curly hair types and how to care for them.
See article
All Things Hair on Instagram