Hair Hacks: How to Get Thicker Hair in 5 Ways
Add some thickness to your hair stat.
How to get thicker hair? It's something you've been trying to figure out for a long time and no matter the length of your hair, the Rapunzel-esque opinion that the thicker, the better stands to be pretty universal. What can we say, there's just something about a head full of hair that requires only two hair tie loops. Let's be real, who else is a little envious? Well guess what? There's no need to be because short hair, long hair; fine hair, frizzy hair; with a little effort and patience, you too can achieve those must-have luscious locks.
Read on to discover how to get thicker hair with some of our insider hair hacks. Before you know that question of how to get thicker hair will quickly be your reality.
How to Get Thicker Hair?
1. Use a volume-rich shampoo and conditioner.
Those who have hair that's on the thiner side will a boost, of sorts, in the form of a volume-rich shampoo and conditioner. Try out the TRESemmé Beauty-Full Volume Pre-Wash Conditioner and the TRESemmé Beauty-Full Volume Shampoo. This system works to make your hair clean as it imparts volume to your hair. Plus, this system won't leave your hair feeling weighed down!
2. Tease your hair.
One of the easiest ways to add some volume and lift to your is to tease it. Work section-by-section as you use a comb to lift and fluff your hair. Check out our full guide to hair teasing to help you along the way.
2. Skip the towel tugging.
Look, we get it–hop out of the shower, dry off and throw your hair into a twisted towel turban until it's dry. Quick and easy, just the way we like it. Unfortunately ,what seems like a harmless way to dry your hair while keeping it out of your face, is actually having the adverse effect. When you twist your hair up to dry, you're leaving your hair prone to breakage, making it thinner and weaker. That said, next time you hop out of the shower, try being more careful with your soon-to-be flowing tresses by patting them dry, followed by air-drying the rest of the way. 
3. Get layers.
Another way to create thicker hair is to add some layers to your hair. This will add depth and dimension to your hair while also giving off the appearance of fullness. Ask your stylist for some blunt ends, which can also help create thickness to your hair.
4. Switch up your part.
To add thickness to your hair, you can also switch up your part to the opposite side where you normally wear your hair.
5. Use hair rollers.
Curls work wonders to add depth to fine hair. Try out some of our favorite heatless rollers, like perm rods or foam rollers to achieve bouncy and full locks. Lock this style in my using some of the Dove Style+Care Extra Hold Hairspray. 
In need of more thick hair tips? Check out our cheat sheet for thick commercial-worthy hair. 
Prev Article
Next Article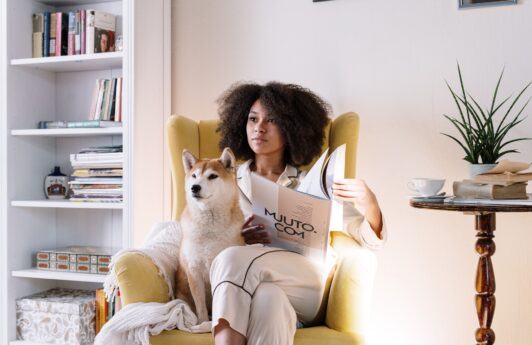 Article
The Best Hair Gel for Natural Hair You Need this Spring
Found: The right hair gels for curly girls.
See article
All Things Hair on Instagram