11 Braids Hairstyles for Men With Long Hair
Yes, man braids are definitely a thing.
The struggle becomes very real when men with long hair often feel the need to update their style. Some guys with long hair would rather slick their mane back into a low ponytail or a man bun and call it a day. We completely get that. It can get confusing and challenging when you have to decide which hairstyle you want to try next. Why not stay on-trend and experiment with a cool hairstyle by rocking braids? Braids for men are hot at the moment. You can wear them casually or try out more complex styles, such as cornrows with funky designs.
Whatever you're feeling, we have you covered with these ideas for long hair with braids:
10 Best Men's Braids Hairstyles
Looking for new ways to show off your braids? From ponytails to fade haircuts, check out these styles below!
1. Straight-Back Cornrow Braids
Cornrows are a neat hairstyle but may need the help of a hairstylist to achieve. Style your hair with five or more long cornrow plaits from the front hairline to the nape. This style can also be achieved with long dreadlocks. Tie the braids together at the ends with a hair tie to secure them, or let them simply hang loose. If you have a silkier hair texture,  secure the ends to keep the braids from unweaving on their own. You can have fun with this style as you wear it to a formal event, work, or casual weekend.
2. Braids For Men With Undercut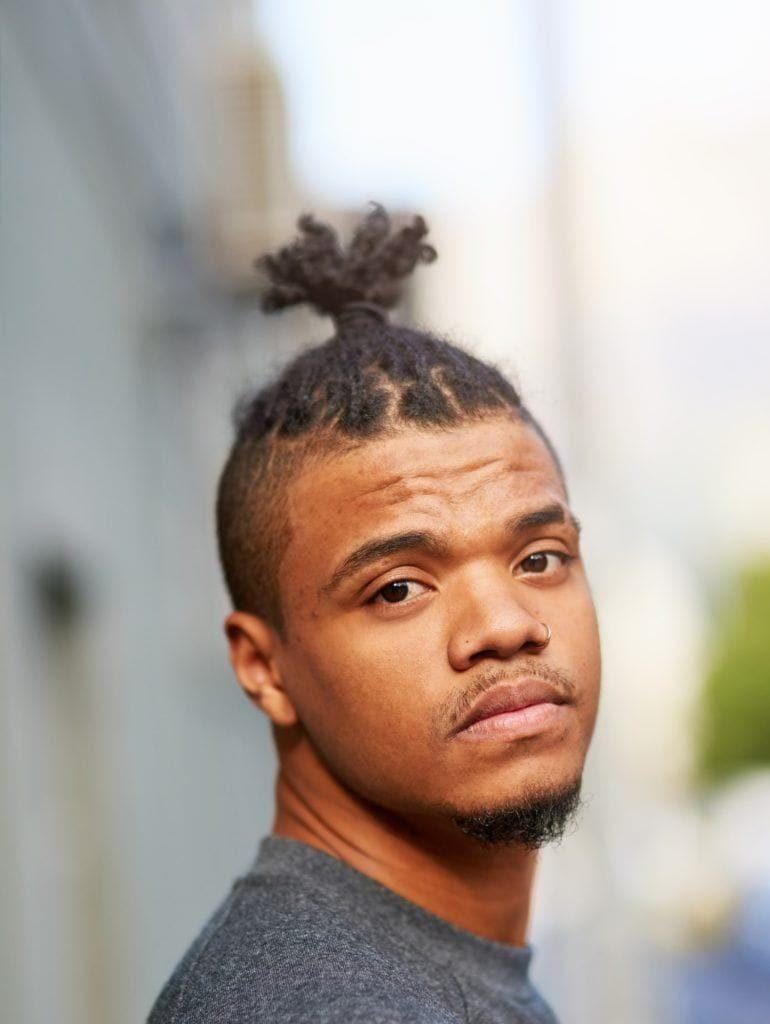 Give your long hair a fashionable makeover by shaving the lower back section of your head. You can get more creative and have your undercut shaven into a "V" shape to fake a mohawk effect—giving off an edgy and defined look. Braid the middle section of the box braids into one French braid and twirl the ends into a neat bun. Show off your personality and rock this cool hairstyle anywhere you, please!
3. Sleek Ponytail Braid
This is a super casual style for work or play. Instead of letting your mane hang low with loose ends, finish things off with a braid. Smooth with a styling pomade like AXE Clean Cut Look: Classic Pomade and place hair back into a middle or low ponytail and plait the ends with a neat braid.
4. Braids for Men, Ponytail Style
Do you already have your long hair in braids? If you're looking for a way to keep the braids out of your face, pull them back into a ponytail. This is one of our favorite men's braided styles for every season.
5. Subtle Man Braids
Ditch your man bun and spruce up your top section with a braid or two. Since you may be used to slick your hair back tight, give your hairline and roots a break with a loose plait.
You can keep it simple with French braids or opt for a more complex braid. Some guys like to switch this look up at times and opt for a more effortless textured look—thanks to the braid(s). For a more playful look, release your worn-in braid(s) to reveal a curly ponytail, or let your fresh curly mane hang loose and wild. Before starting this look, make sure your hair is freshly cleansed. Use Dove Men+ Care Hydration Fuel 2-in-1 Fortifying Shampoo and Conditioner.
6. Half Updo Ponytail Braids For Men
Need your hair pulled back in a way that's effortless but is still put together? Try a half-updo look! You can leave it as a ponytail or a half-updo bun if you prefer that look. We especially love this style with locs.
7. Braided Bun
Piling your braids on top of your head into a big top knot is such an easy way to keep them out of your face. Plus, this look is very trendy and can definitely be worn casually or for a more sophisticated event.
8. Men's Braids With Fade Short Hair
Can't make up your mind? Try out two trending styles! Creating a fade haircut with your braids is such an eye-catching look. The style allows you to try out braids without committing to an all-over look.
9. Undercut With Braids
Want to wear braids in a subtle way? We love how these short halo braids pair with an undercut look. The braids add more interest to a typical undercut style.
Before braiding your hair, apply Suave Men Leave-In Conditioner With Shea Butter & Coconut Oil to deeply moisturize strands.
10. Long One-Sided Braids
Want a look that'll make you stand out in the best way? Opt for these long, one-sided men's braids. This is a great way to try out a long look if you want something more unique.
11. Men's Braids Viking Style
Whether you want have long or short hair, braided hairstyles are a cool and unusual way to style your mane. Try them all and find the perfect look for you!
Prev Article
Next Article
All Things Hair on Instagram