10 Man Bun Fade Hairstyles to Try this Summer
Add in a fade to sharpen things up.
We know that the man bun hairstyle isn't always considered to be the most formal hairstyle. But with the right outfit and hairstyle, like the man bun fade, you can tap into a more formal look. Typically, the man bun fades hairstyle is when your hair is shaved down towards the back and sides of the head, like an undercut, and then fades the edges towards the hairline.
The Man Bun Fade
We love how this hairstyle option adds clean lines and a lot of appeals to your average man bun. Read on to check out five different ways to wear the man bun fade:
1. Extra-High Cut
Most man bun fade hairstyles just fade down the sides of your head. But if you've got super thick hair, there's no reason you can't shave part of the top of your hair, too. We like how this cut is angled and defined on the sides, which adds a lot of extra interest without you needing to do any work styling. Style your man bun with this type of cut as far back on your head as you can. It will help to give you that super clean-cut look for your formal event.
2. Loose Messy Man Bun
Your man bun fade doesn't need to be perfectly slicked back to be appropriate for formal occasions. We like loose messy man buns because they are less serious. Just make sure that your hair looks moisturized, not dried out, because then the loose style tends to just look sloppy. We recommend washing your hair with Suave Men Thick + Full 2-in-1 Shampoo + Conditioner to make sure your hair is hydrated, clean, and healthy for your formal event.
3. Extra Sleek Man Bun
For the most formal of occasions, a sleek man bun fade is probably your best bet. It lets you keep your relaxed style while still cleaning up your look. All you need to do to create a sleek-styled man bun is to add in a little pomade. We suggest using AXE Smooth Look: Shine Pomade when styling their hair for a sleek look. Apply the pomade to the top of your hair and slick back into a man bun.
4. Extra Long Fade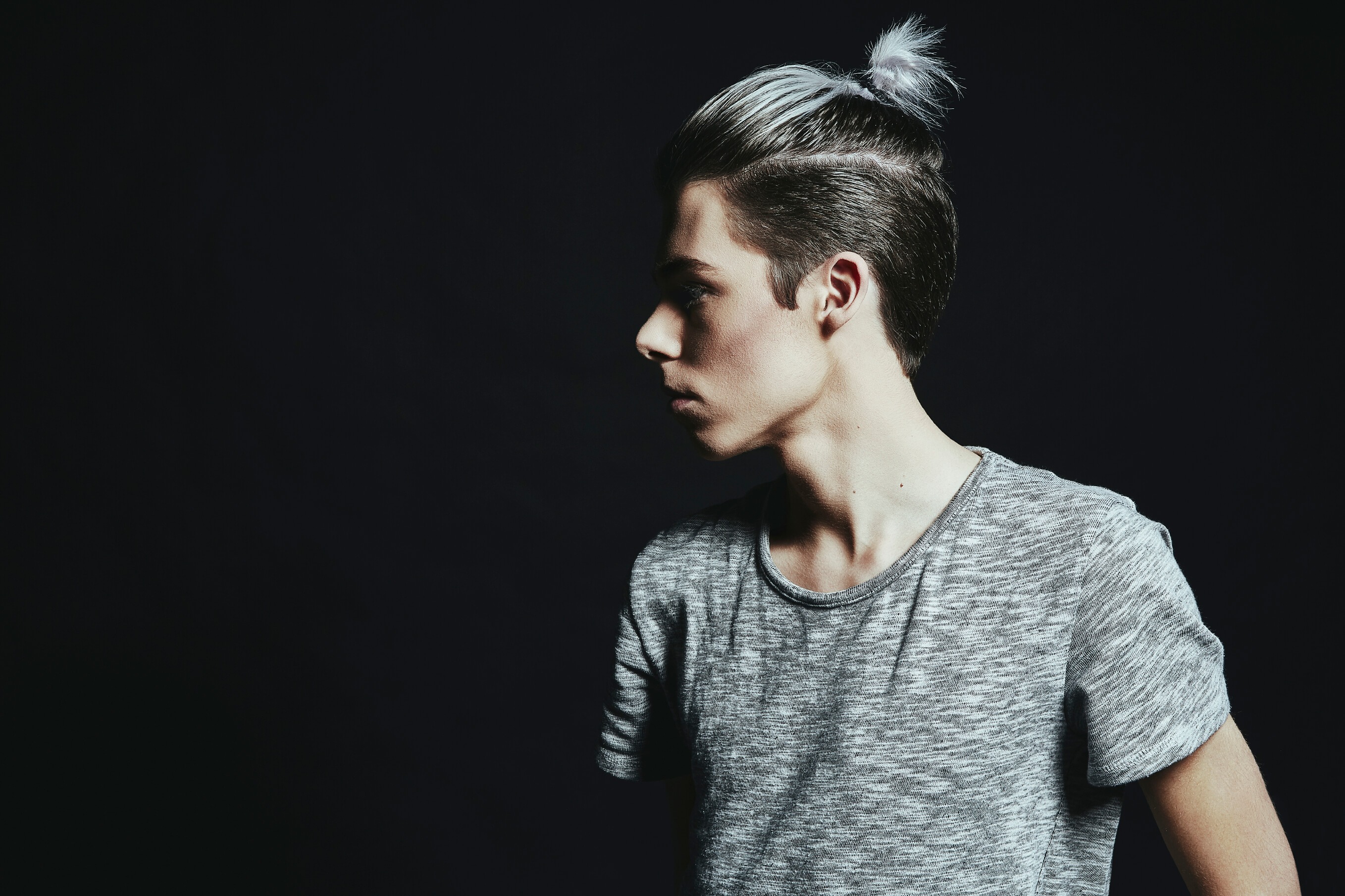 Going for a man bun fade doesn't mean you need to shave your sides down to the scalp. A longer fade can have a more formal look, even though it isn't as precisely cut. We like this look because it has a more well-rounded appearance, unlike the contrast of a tight fade and a man bun.
5. Big Man Bun Low Fade
If you've got a thick head of hair and like the big-bun look, you don't need to trim down all of the sides of your hair. We suggest doing a fade just on the back of the neck or even a temple fade. These little details will help to clean up your hairline and give you a clean-cut look. Plus, you won't have to deal with those baby hairs that tend to stick out around your hairline.
6. Braids
We love this combination style that includes a man bun, undercut, and braids up on top. Define your ends with SheaMoisture Men Argan Oil & Shea Butter Defining Cream. This cream will add some shine and definition to your ends.
7. Hard Part
Add a sharp edge to your style by opting for a hard part between your man bun and undercut.
8. Clean-Cut
Keep it sharp by streamlining your man bun and pulling it back into a sleek style. It will result in a seamless transition between your man bun and undercut.
9. Subtle
Not quite ready to take the leap? Opt for a super subtle shave that includes just your sideburns!
10. Close Shave
Leave two pieces of hair out of your man bun for a different look when you pull your hair back.
Are you thinking about trying out this style? Be sure to share the results with us over @AllThingsHairUS!
Prev Article
Next Article
All Things Hair on Instagram