17 Man Bun and Beard Combos We're Kinda Obsessed With
It seems more and more like the man bun and beard combination is slowly becoming known as a new classic in men's grooming: It's an easy hairstyle for men with mid-length to long hair, and those with short hair are even finding clever ways to take part. And these days, in particular, man bun and beard looks are having a major moment, as we're all trying to find ways around our current no-barber situations and ride the regrowth in style.
Man Bun and Beard Combos
Scroll down to see several trendy ways you can wear a man bun and beard combo:
1. Wear it With Some Stubble
What's nice about the top knot style man buns is that they're an easy go-to look for just about any occasion. Wear it neat for daytime or with a slightly disheveled finish for the night.
2. Wear it Low
If you're wearing the man bun and beard style every day of the week, try a new position with your bun to keep the look fresh. We like the low bun style for the office.
3. Pair With Beard and Curls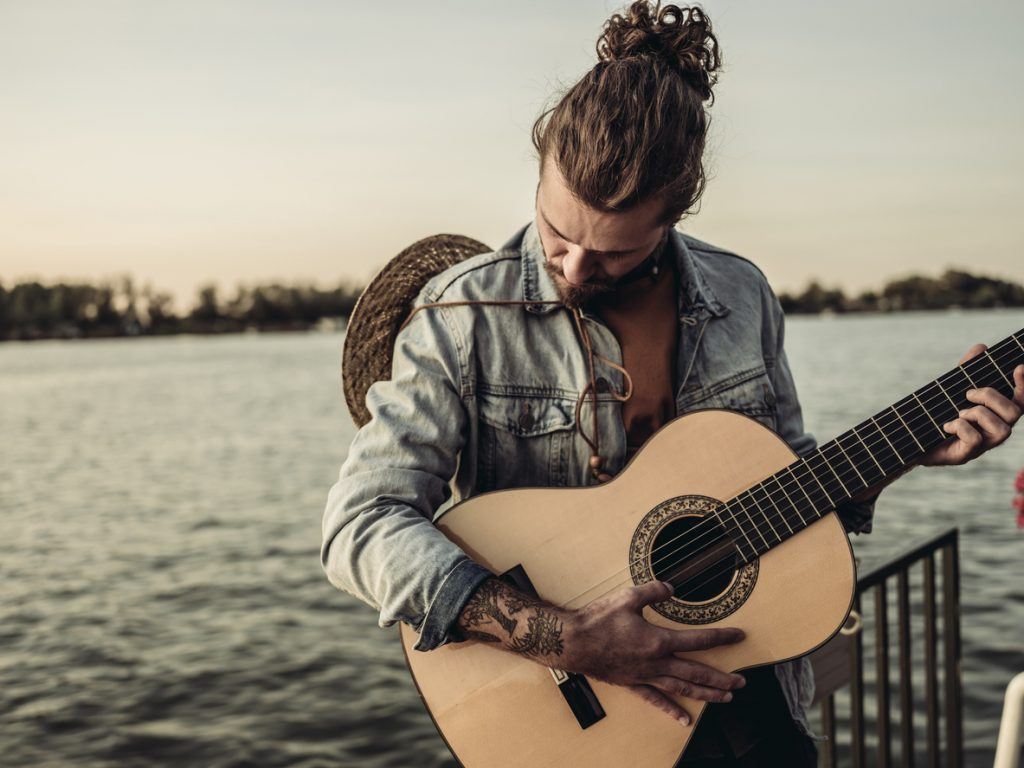 Textured styles like this contrast nicely against thick beards. For defined curls, rub a fingertip's amount of Dove Men+Care Defining Pomade throughout your damp hair, then air-dry.
4. With a Salt-and-Pepper Man With Beard
The man with beard and bun style has no age. Whether you have a few strands of grays or are full-on silver-foxing, the look works for any hair type. Pair up a salt and pepper beard with a full gray man bun. To keep your beard soft, use SheaMoisture Men Maracuja & Shea Oils Beard Conditioning Oil. This is a great oil to use for all beard types.
5. Halfway Loop
We're into this lazy bun look. Loop your man bun through a hair elastic halfway to recreate this fanned bun effect.
6. Half-up Man Bun and Beard
From women to men, the half-up hair trend is a universal trend that we simply can't get enough of. Try the look with a lived-in texture.
7. Smooth Look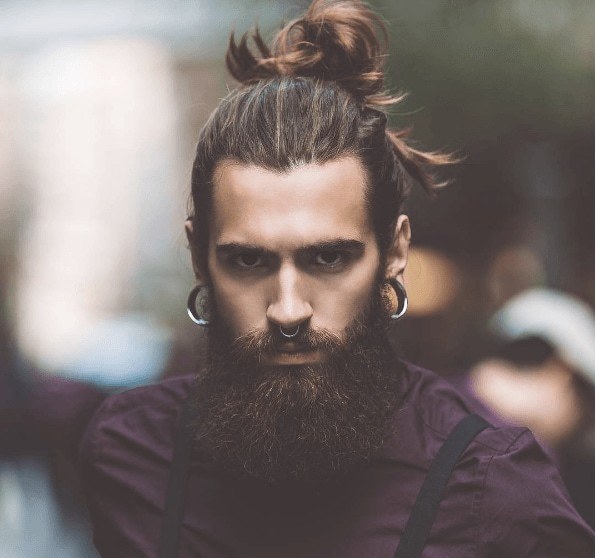 Want a clean and smooth look? Try this sleek style. Use AXE Smooth Look: Shine Pomade to create a shiny and tamed finish.
8. Wear it Loose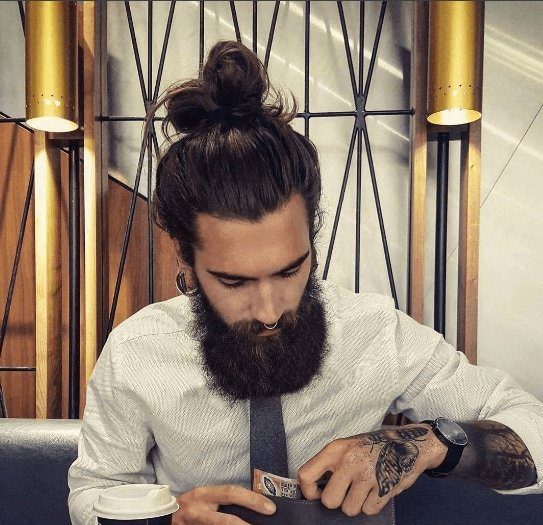 Fellas, we hate to break it to you but super tight man buns can create tension on your hairline and cause hair loss. Give your hair a break from time to time by creating a looser man bun style. We love the juxtaposition of this loose bun and thick beard.
9. Sharp Undercut
Need a fresh and new way to wear your beard with your man bun? Pair it up with a super sharp undercut style.
10. Shorter Length Bun
Got short, fine hair? You can still give the man bun and beard trend a go! Gather your hair into a mid-bun, or whichever position works for your hair length, and loop the ends through a hair tie.
11. Sleek Undercut + Full Beard
Amp up your well-trimmed beard with a polished man bun hairstyle. We like that this look incorporates an undercut, and keeps the look from getting to be a little too much. To slick down your hair for this man bun, we suggest using a firm-hold gel to the base of your bun. Comb through so you're free of any bumps, then tie the rest of your hair into a man bun.
12. Half-Up Bun + Medium Beard
If you've got lots of hair, show it off! We're a little obsessed with this half-up man bun, which looks particularly good on guys with wavy to curly hair textures. You can follow this tutorial to recreate this half-up man bun hairstyle. Pair it with a good trim on your beard, paying attention to the notches on your sideburns and cheeks, so the overall look isn't too scruffy.
13. High Bun + Yeard
For a laid-back, somewhat Pacific Northwestern style, you can't go wrong with a year-long beard (or "yeard") and a high-knotted bun. If you are a champion hair grower, rock the look! Just keep your beard trimmed as you go along, so you still look neat (and, yes, approachable) even while pulling off that grungy scruff.
14. Low Bun + Stubble
Do you like to keep your facial hair on the shorter side? Or did you just forget to shave for a couple of days, and are now kinda digging the look? Either way, good—we've got a look for you in the low man bun. This relaxed version of the man bun and beard combo gives off a somewhat clean-cut look, but with a bit of chill. All you need to do is tie your hair into a bun at the nape of your neck instead of on top of your head, and you'll be stylin' in seconds.
15. Dreadlock Man Bun
Gather your dreadlocks up into a high man bun to show off your strands and keep your hair out of your face. We love the height and drama this look provides.
16.  Quarter Pony + Short Beard
Guys with thinner or shorter hair all-around can still rock the boho-chill vibe of a man bun and beard by just adjusting the proportions. Instead of a full-on half-ponytail where you take hair until the ears, just gather up a smaller section of hair on your crown area for your bun. The rest of your strands can remain a bit natural and tousled so you get fuller-looking hair. Keep your beard short and natural, with softer edges so you don't look too patchy.
17. Shaved Sides Man Bun
Want a more dramatic man bun look? Try shaving the sides of your head to emphasize the style more.
Are you thinking about trying out one of these styles? Be sure to grab a picture and tag us over @AllThingsHairUS!
Prev Article
Next Article
All Things Hair on Instagram