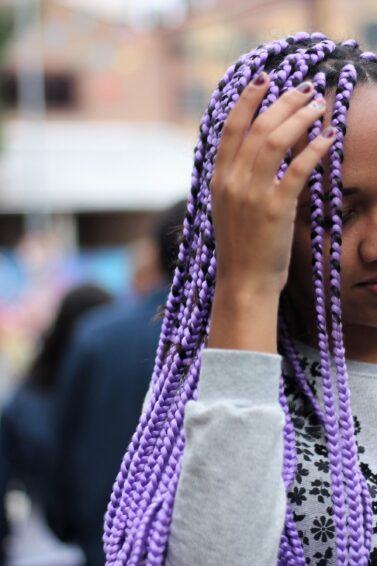 Tress Trick to Try: How to Tuck Colored Hair Into Braids and Twists
Protect colored hair while giving off a seamless look.
Whether you prefer box braids or Senegalese twists, when it comes to picking the perfect color for a new protective style, there always seems to be one big underlying dilemma—the color conundrum. Either your hair is its natural hue and you'd like to try something totally new, or you're growing out a color and you'd like to hide the evidence. Either way, there's a cool technique you can try before you start braiding or twisting: hair tucking.
Have You Tried Hair Tucking? Now's The Time.
Tucking might be a totally foreign concept to many, but it's actually a great way to keep your hair, well, tucked away so that it's protected from the elements. If you've never tucked before, but thinking this might be right up your street, keep reading for the lowdown.
First Things First
Tucking is a method that completely eliminates the extreme color contrast that can often feel so visually disjointing in braids and twists.
Here's how it works: First, cleanse and condition your hair with a paraben-free, nutrient-rich moisturizing duo that leaves your strands looking silky, feeling soft and smelling incredible. (We love the TRESemmé Botanique Nourish & Replenish Shampoo and TRESemmé Cleansing Conditioner for the job.)
Next, gently detangle your hair (try Suave Cream Detangler Spray) so that your strands are free from kinks and knots, and follow up with an intensive moisturizer (Nexxus Humectress Moisture Restoring Masque) before blow-drying your hair.
Time to Tuck
Then, part your hair accordingly, and separate each section into pieces (three for braids and two for twists). Secure each piece with a holding product like TRESemmé TRES Two Extra Firm Control Gel to ensure it stays in place for the next several weeks.
Finally, take a pinch of the extension hair and portion it so that it completely covers each piece from the aforementioned section. Make sure the extension is fully spread and enveloped around each piece, so your natural hair is effectively "tucked" in between the intertwined extensions, and the current color won't show through. (Repeat until the style is finished.)
It's as simple as that!
Fair warning: Depending on how quick you are when styling your hair in a head full of braids and twists, performing this technique might slow you down just a bit. But for a gorgeous protective style that's one cohesive shade, it's totally worth the extra handiwork.
The Final Touches
Just because you're rocking a protective style doesn't mean you should forget to care for your scalp and natural hair underneath the extensions. Ensure your scalp is cleansed and hydrated at least twice a week. If you prefer not to shampoo and condition on the same day, try a cleansing conditioner that will do both for you, like the Love, Beauty and Planet Purposeful Hydration Cleansing Conditioner. 
Then, as you would with any natural hairstyle, mist your braids with a leave-in conditioning spray on a semi-regular basis (thrice per week should do it). We trust in the TRESemmé Botanique Nourish & Replenish Leave-In Hydrating Mist for delivering tons of moisture thanks to its unique blend of coconut milk and aloe vera.
And there you have it: our top tips for how you can tuck your hair in a fabulous way that also looks after your precious strands.
Prev Article
Next Article
Gallery
27 Trendy Ways to Style Goddess Locs at Home
From a bob to purple locs, there are so many ways to style goddess locs.
See article
All Things Hair on Instagram