50+ Ways to Wear Blonde Hair with Dark Roots in 2023
Get to the root of this color trend.
Short platinum blonde hair with dark roots is re-trending! This is a good thing, 'cause let's face it: the time has come in quarantine where our dark roots are taking command. Some may see dark roots on blonde hair as an issue, but we see it as a stylish way to wear two-toned hair and a way to make a statement with your look.
Ways to Wear Your Blonde Hair with Dark Roots
Getting blonde hair is truly a commitment and sometimes life gets in the way. We've all skipped a hair appointment (or two), and believe us when we said it's not the end of the world. Lazy girls with blonde hair should rejoice because rooty looks are having a moment! Here, are some ways to pull it off.
1. Glitter Roots
This is a fun look for those that actually want to have lots of fun with the blonde hair dark roots trend. Put your roots on display, and own it with glitter! To achieve this, apply mix some glitter and gel in a bowl, and apply to your roots.
2. Voluminous Teased Hair
Let's say it's just been a couple of days since your missed hair appointment, and you're doing everything in your power to hide your roots. There's definitely a way to go about this without having to worry that people are looking at you and it's volume, volume, volume. Lift up your hairdo with TRESemmé One Step Volume 5-in-1 Volumizing Mist to make your missed appointment look like a stylish move.
3. Elegant Low Ponytail
Imagine having to attend a function after you skipped out on your root touch-up hair appointment. The ponytail hairstyle always comes to the rescue. Pair your two-toned hair color with a chic low ponytail hairstyle with an elegant twist.
4. Polished Mid-Ponytail
Turn your off-duty mid-ponytail hairstyle into something more sleek and polished. If you have super long hair, check out three ways you can update your ponytail. No matter your hair length, though, don't be afraid to draw attention to your roots with a glossy finish by using a shine serum or gel.
5. Curly and Rooty 'Fro
On most curly hairstyles, blonde hair with dark roots gives off an ombré effect. If you're looking to hide your roots though, opt for lifting the hair at the roots for volume. This technique not only gives you a big and amazing 'fro hairstyle but also blends your color in nicely.
Style your afro with Dove Amplified Textures Define N' Moisture Styling Gel, designed to nourish your curls, waves and coils while keeping flyaways at bay.
6. Ash Blonde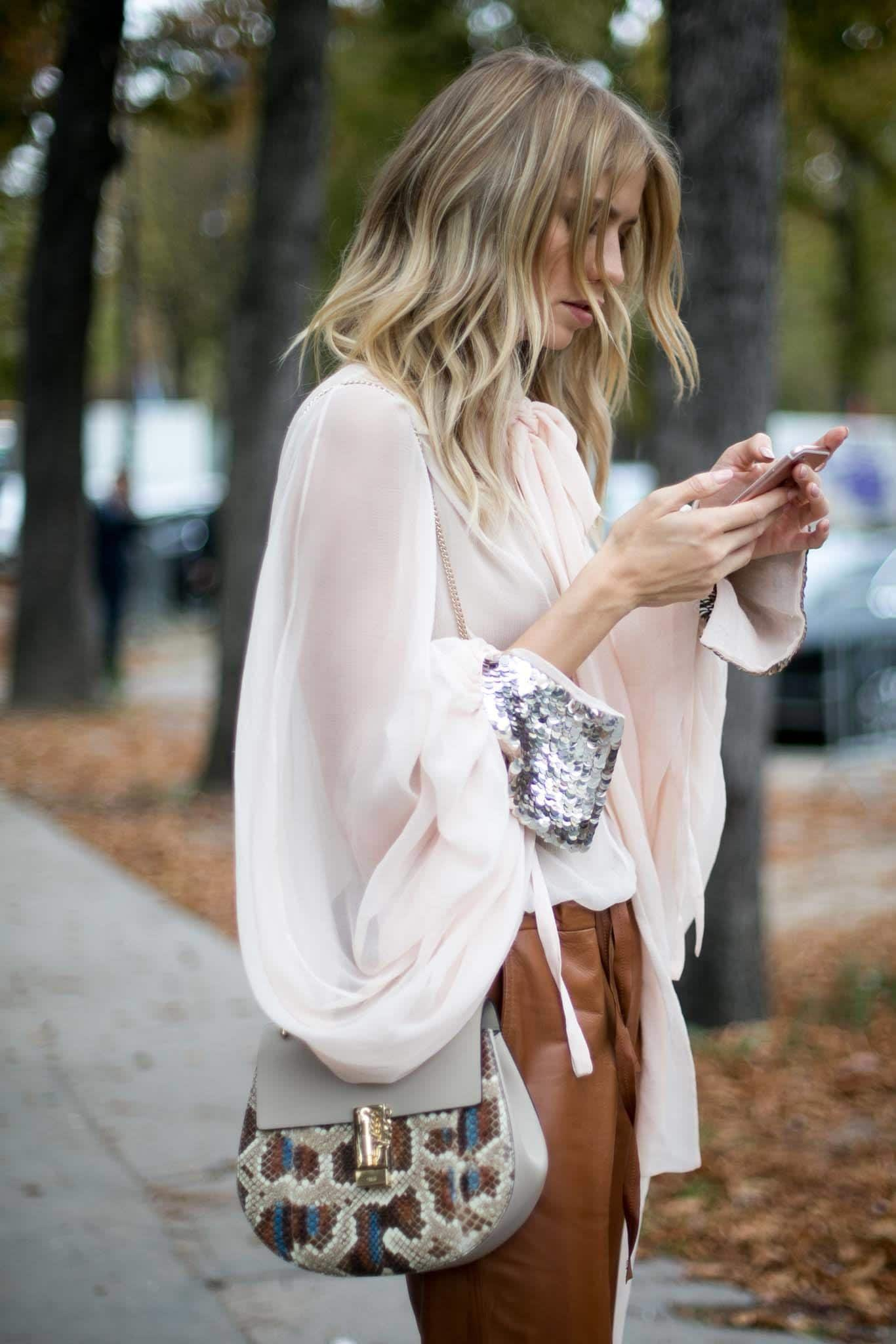 Wavy and casually beachy, just the way we love it. Recreate these loose curls using a 1-inch curling iron. Make sure to leave the tail end of each strand out of the curling iron to create this laidback texture.
7. Blown Out
A sweet blend of chocolate and caramel is upgraded by a smooth blowout. Smooth out the ends of your hair by concentrating the blow dryer on the ends for a few extra seconds. You can also run a hair serum through your hair for some extra shine!
8. Caramel
A light brown ombré gives a dark base more dimension. This caramel-colored blend is reminiscent of a latte in the best way. The great thing about a style that has roots of this length is how low maintenance the style is! You won't have to run back to the salon every 6 weeks for upkeep.
9. Golden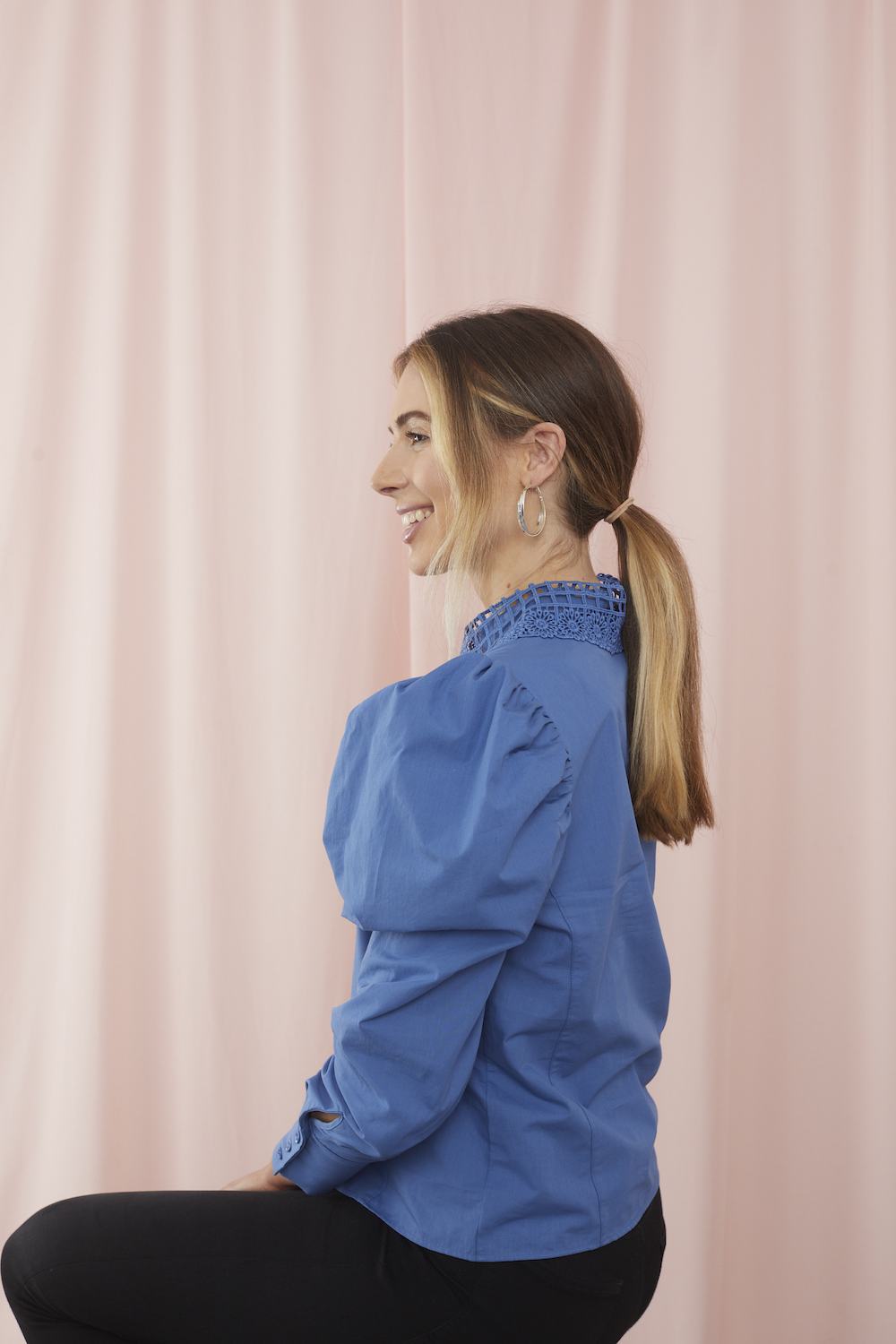 Nuanced warm blonde highlights brighten up complexions with yellow undertones. Choosing blonde highlights with dark hair is all about finding the right tones for your complexion. Your colorist will be able to help you create a color blend that flatters your skin tone!
10. Ashy White
And by the same token, ash blonde melds perfectly with an ashy brown base. Keep this white vibrancy by washing with Bed Head by TIGI Dumb Blonde Reconstructor Conditioner.
11. Criss-Cross Pigtails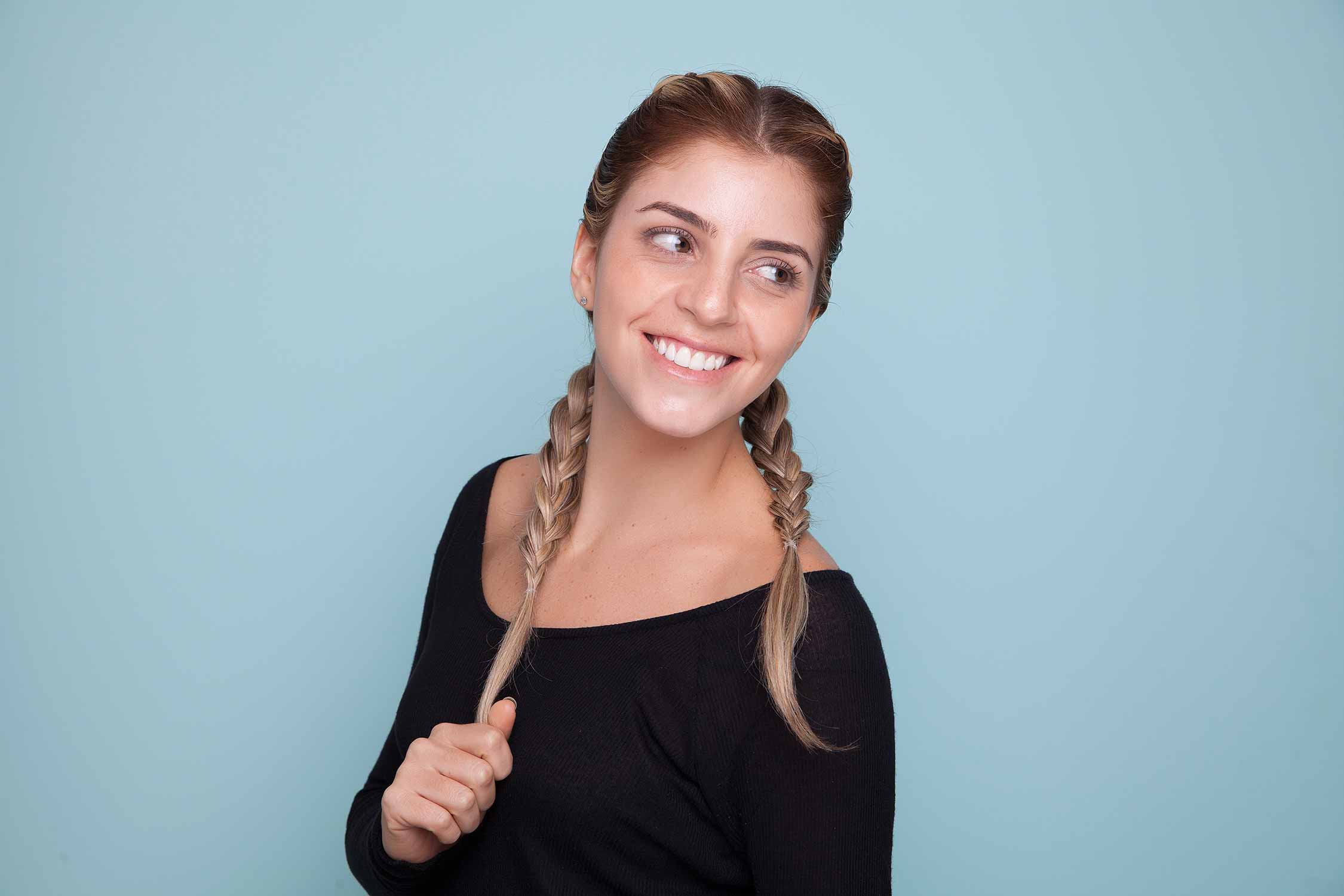 Braids flatter a streaky blonde, and this viral look has us wanting to brush up on our braiding skills. One of the best ways to show off your fresh color is by creating a braided style. This will highlight your fresh highlights like no other style will!
12. Baby Blonde
This cherubic take on blonde hair/dark roots is subtler, and especially fetching on fairer skin tones. Not for the faint of heart, this light shade of blonde hair color does require quite a bit of upkeep. Talk to your stylist about caring for bleach-blonde rooted hair before you take the plunge!
13. Honey Curls
Medium skin tones, on the other hand, are flattered by mid-tone golds and kinds of honey. This mid-tone blonde hue blends perfectly with dark roots for a subtle yet impactful color story.
14. High-Contrast Caramel
This full-on caramel ombré is a surefire way to try out a lighter look with less of commitment. Keep your roots intact and focus the blonde color on your ends for a low-damage style that requires minimal upkeep.
15. Golden Honey Lob
Be the queen bee of your hive with a shiny and glossy highlighted golden blonde. This classic golden blonde color flatters paler skin tones. Soft, feminine, and beautifully glossy, consider this rooted blonde style if you're ready for a change.
16. Platinum Ringlets
Another youthful take on ombré features a dark brown root, a golden mid-shaft, and white blonde ends—all done up in perfect spirals. Style your fresh blonde color in these voluminous curls to show off your new hue.
17. Copper Top Knot
Why rock one trend when you can do two with ease? Doing hair up in a trendy half-updo such as a top knot squeezes more mileage out of an ombré. It's also a great way to show off the contrast of colors in your rooted styles.
18. Dishwater
The stereotypical dirty blonde shade cleans up with a tighter root and cooler-toned streaks. Prepare to return to your colorist frequently for fresh toner to keep your blonde hair cool and ashy.
19. Sunny Blonde
A bright, summer blonde if we ever saw one, from the natural roots to the sunny, sand-dune lengths. This bright hue is a perfect match for a natural blonde color! Fake it till you make it with this sunny blonde shade.
20. Slicked Back
A gelled lob works perfectly with dark roots and blonde hair, highlighting each shade without looking tacky. This way of styling your hair also offers a high-shine finish to your hair which is the perfect way to draw attention to your fresh color.
21. Smudged
One of the most natural ombré shades we've seen, this look features some subtle smudging past the cheekbone area. Determining where exactly the roots will transition to blonde will affect the way your face shape is perceived and can flatter your unique bone structure instantly!
22. Grown-Out and Natural
We kinda dig this deliberately grown-out blonde. The mega-texture plus the baby-light shade add to its overall punch. Keep your hair routine relaxed and low-maintenance with this grown-in look.
23. Blunt Bob
The same goes for this somewhat grungy bob, which takes an extremely rooty situation and spins it into a favorable, pretty-in-punk look. Let your hair air dry for a truly undone texture.
24. Frosted
Yep, this Early Aughts trend is still hanging by a moment, and we can totally get behind it when worn in this more natural version. Sleep with your damp hair in a messy bun on the top of your head and take your hair down in the morning for these super messy curls.
25. Drippy
A brown-to-blonde ombré can also work on shorter, straighter lengths and still look natural, provided the highlights are thinner and a bit higher. Your colorist will be able to create color and dimension tailored to your hair length and thickness!
26. Feathered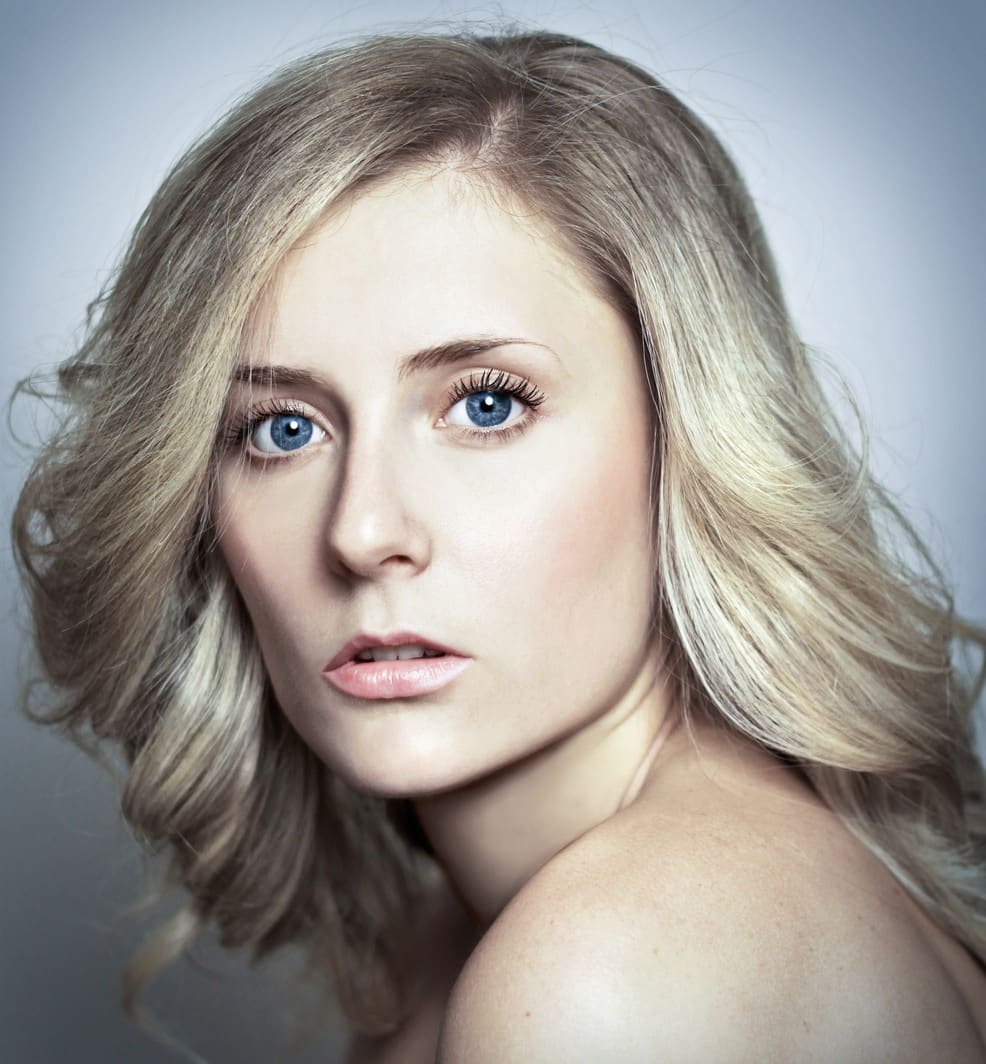 It's only logical that the shade of blonde way popular in the '70s only looks twice as good with an equally groovy hairstyle. Create the illusion of feathered bangs by blow-drying your hair in curls that fall away from your face.
27. Long and Light
Another high-contrast look, fans of the classic ombré will easily fall for this black-to-blonde rendition. These two very different shades provide a high-contrast color story that makes a major statement.
28. Bronde
We're never not loving a versatile, easy-to-maintain brown blonde! This in-between shade adds a certain softness to your style that flatters a range of skin tones. Style this color in loose waves for an overall soft style.
29. Soft Bob
A whisper-fine bob gets the illusion of more fullness with a wheat-blonde ombré. We can't get enough of this smooth transition from brown roots to blonde ends with equal portions of each color.
30. Peachy
A tad subversive, chocolate brown roots look more laid-back with peachy-pink ends that hit right at the collarbone. When paired with longer curtain bangs, this creates a face-framing flattering style.
31. Peek-a-Boo
A platinum pixie gets a grungier effect when its black roots are left exposed just a tad. Use a hair gel to comb your hair up and away from your face and to add instant volume to your style. Comb the sides down to recreate the look above exactly.
32. White Braids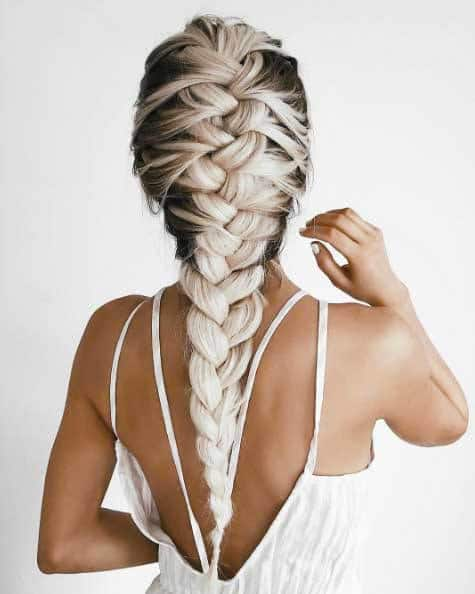 Slay like a modern-day queen of dragons with a white-hot jumbo French braid (that shows your earthier roots). Prevent damage in these super-lightened strands by using an intensive hair mask. Nexxus Humectress Moisture Restoring Masque works to bring moisture back to strands and treat chemically-damaged hair.
33. Textured Lob
Skater-chic, if there ever was such—from the grungy texture to the exposed roots. Let your hair air dry and lay off the hot tools to create this natural lived-in look. Use a salt spray or texture spray to add even more texture to your style!
34. Rope Twists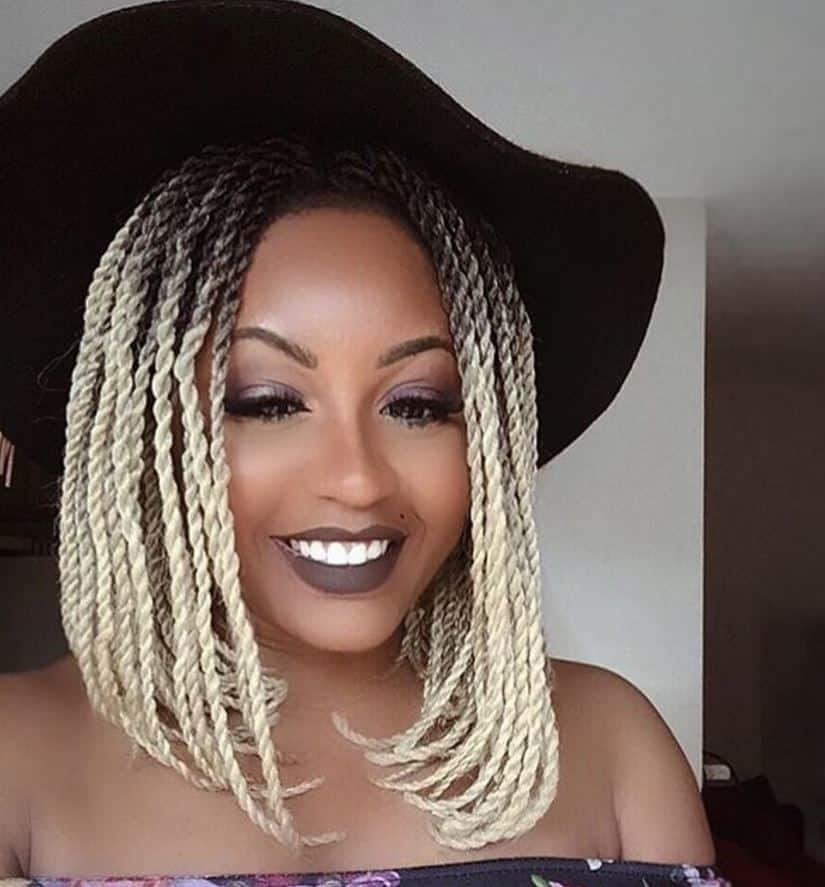 Natural hair in protective rope twists can also play with a black-to-blonde ombré. A twist style like this one is the perfect way to test out a rooted blonde hair color without doing any damage to your natural hair.
35. French Girl
Everything about this sexy, dark brown-to-ash-blonde look screams chic seductress. This Hollywood-inspired color story has movie star written all over it. The smudged roots are effortless and chic!
36. Side Spiral
A side-swept look with a quiet ombré is low-maintenance and easily flattering. Pull your hair over one shoulder and use a few bobby pins to secure the style in place. Use a curling iron to add some loose curls that will cascade over your shoulder and show off your blonde color.
37. Center Part
Another throwback look we love? The sleek center parts of the 90s, surprisingly work well with a high-contrast color. We are all about the center part these days and love how this looks with stick straight hair.
38. Smooth Curls
Diffuse that hairline via a zigzag part for more oomph. This is the secret to adding instant volume to your hair without using hot tools or any hair products. This technique is ideal for when you are in a rush!
39. Full Pixie
Satisfy your pixie and undercut cravings in one look, and keep the roots peeking out a bit to give your scalp a reprieve from that bleach. Short and sweet, this chic style is edgy and cool at the same time.
40. Silky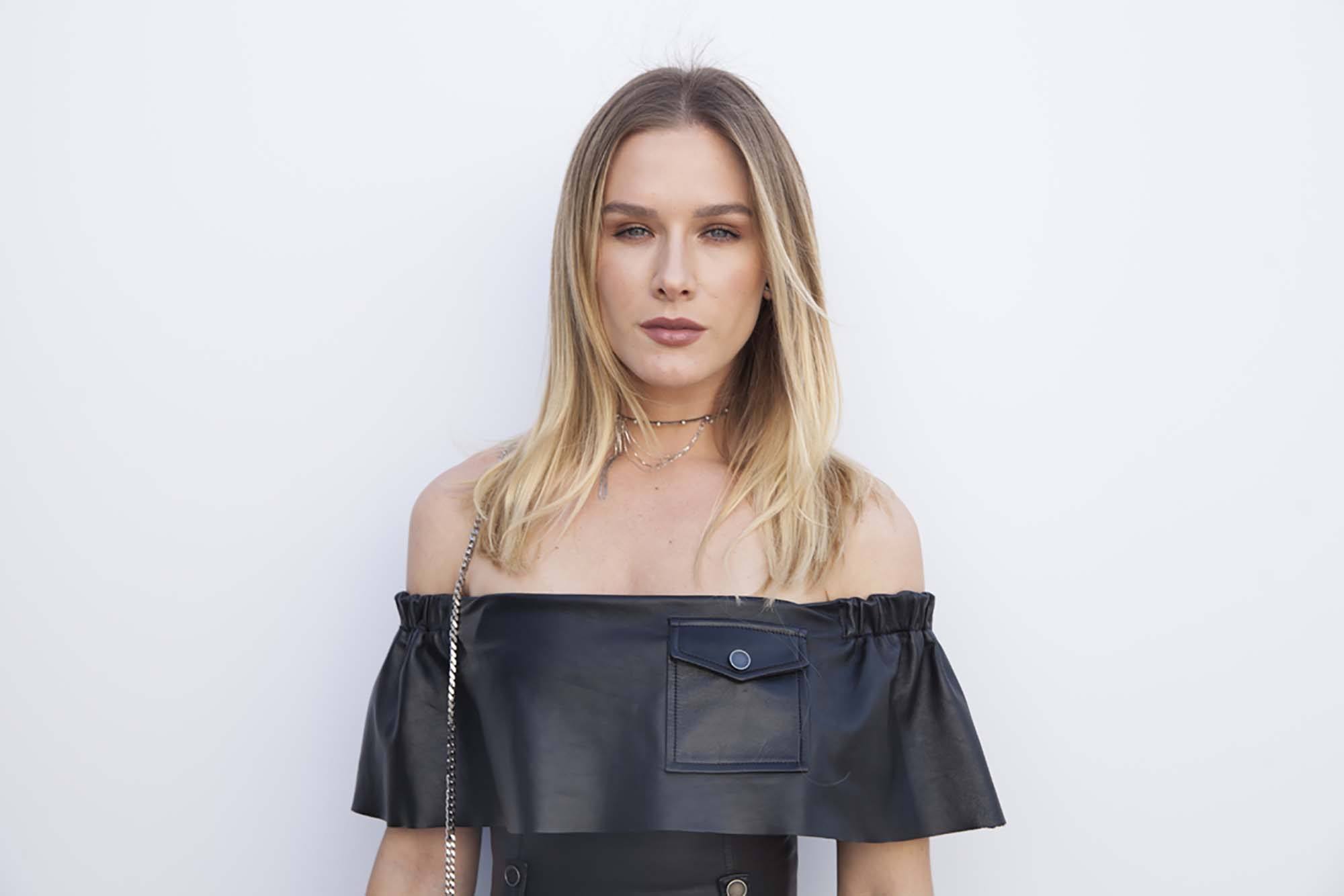 A straight, perfectly blown-out finish is the best foil for an already impeccable ombré. Use a shine serum to add a glossy finish to your fresh color. Opt for a center part to add even more of an edge to your style!
41. Long and Grown-Out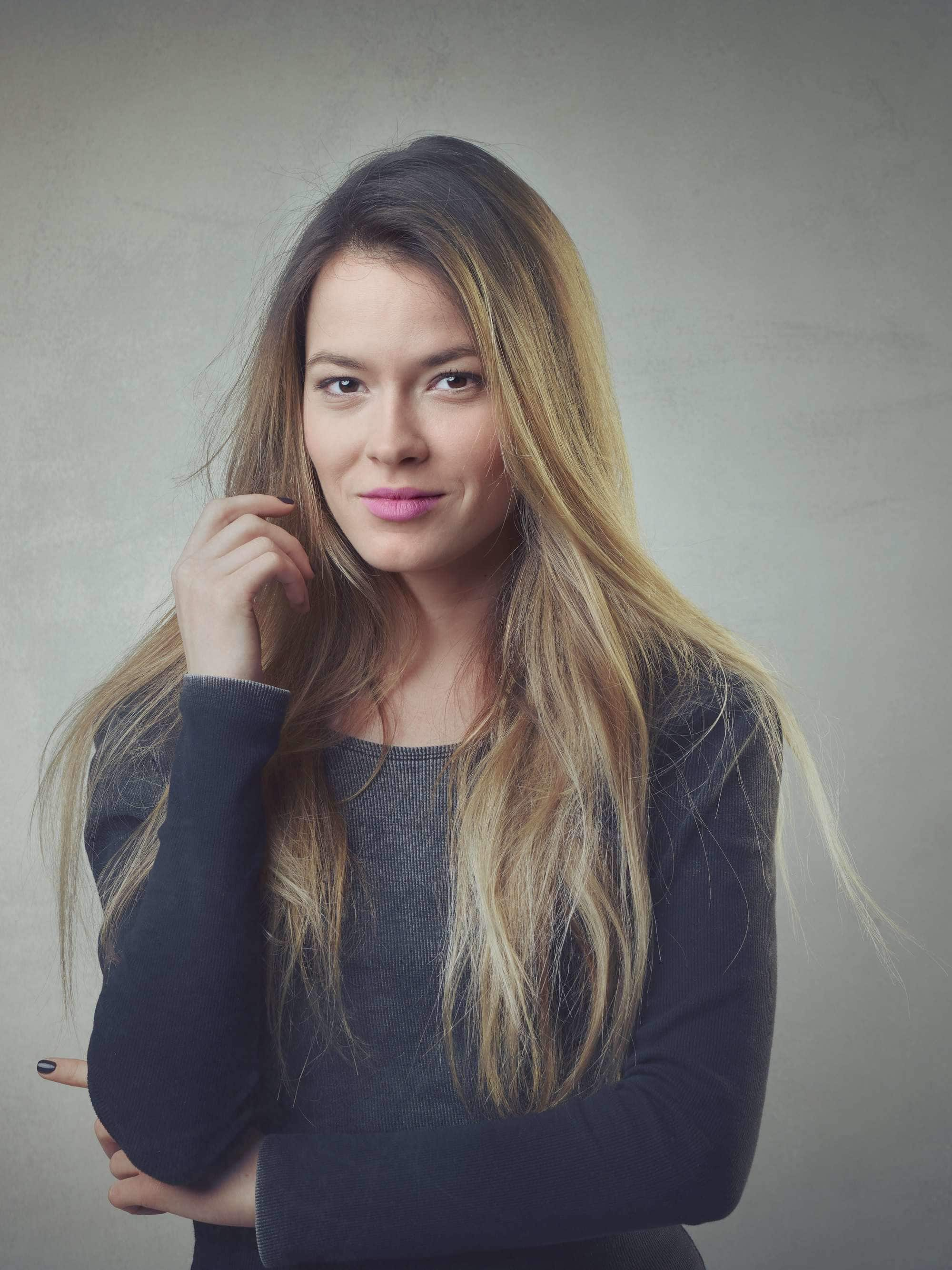 Naturalistas, rejoice: This very rooty (and semi-staticky) take is bringing us back to our simple college years. Slept-in and laid-back, this style is the epitome of an "I woke up like this" look.
42. Streaky
…And so do these bright caramel highlights, which seem to nestle into a straight, espresso-brown base just right. How beautiful does this color story look with darker brows? Talk to your stylist about dyeing your brows while you're already getting your hair color done!
43. Pinkish
There's something so cheerfully L.A. about a nutty base and washed-out pink ends (or maybe it's those literal rose-colored glasses?). Use a side part to add some instant volume to your style at the roots!
44. Loose Bob
Or: What growing out a blonde bob should look like, if only we were all this self-aware. Easy, undone, and beautifully textured, this is the way to wear a short-mid-length style.
45. Coiled
Highlights, lowlights, grown-in roots plus a 3C/4A texture—yet it all works. Give your curls the boost they need with a pump of mousse. We love Dove Curls Defining Mousse for adding definition without leaving a crunchy finish.
46. Perfect Bun
A super-correct topknot is ideal when you want to show off the nuances in your blonde (but also want to skip a wash or two). Use a comb or hair brush to gather your strands straight up into a true top knot.
47. Two-Tone short platinum blonde hair with dark roots
Bored of a traditional ombré? We hear you—and so does this clever take on the trend, which, gasps, goes for a vertical gradient. #mindblown By pairing this color with a set of textured bangs,  you will nail that rocker chic look.
48. Loose Waves
Beautifully on-point, whether you're dolled up in Sunday's best or are totes in the Netflix and chill zone. We can't get enough of this versatile style and love this blend of warm brown and blonde hair colors.
49. Lazy Waves
Let your hair air-dry naturally to urge in those second day bends. On day two and three use dry shampoo to add some texture to your style. Dry shampoo will also absorb any oil in your roots!
50. Classic short platinum blonde hair with dark roots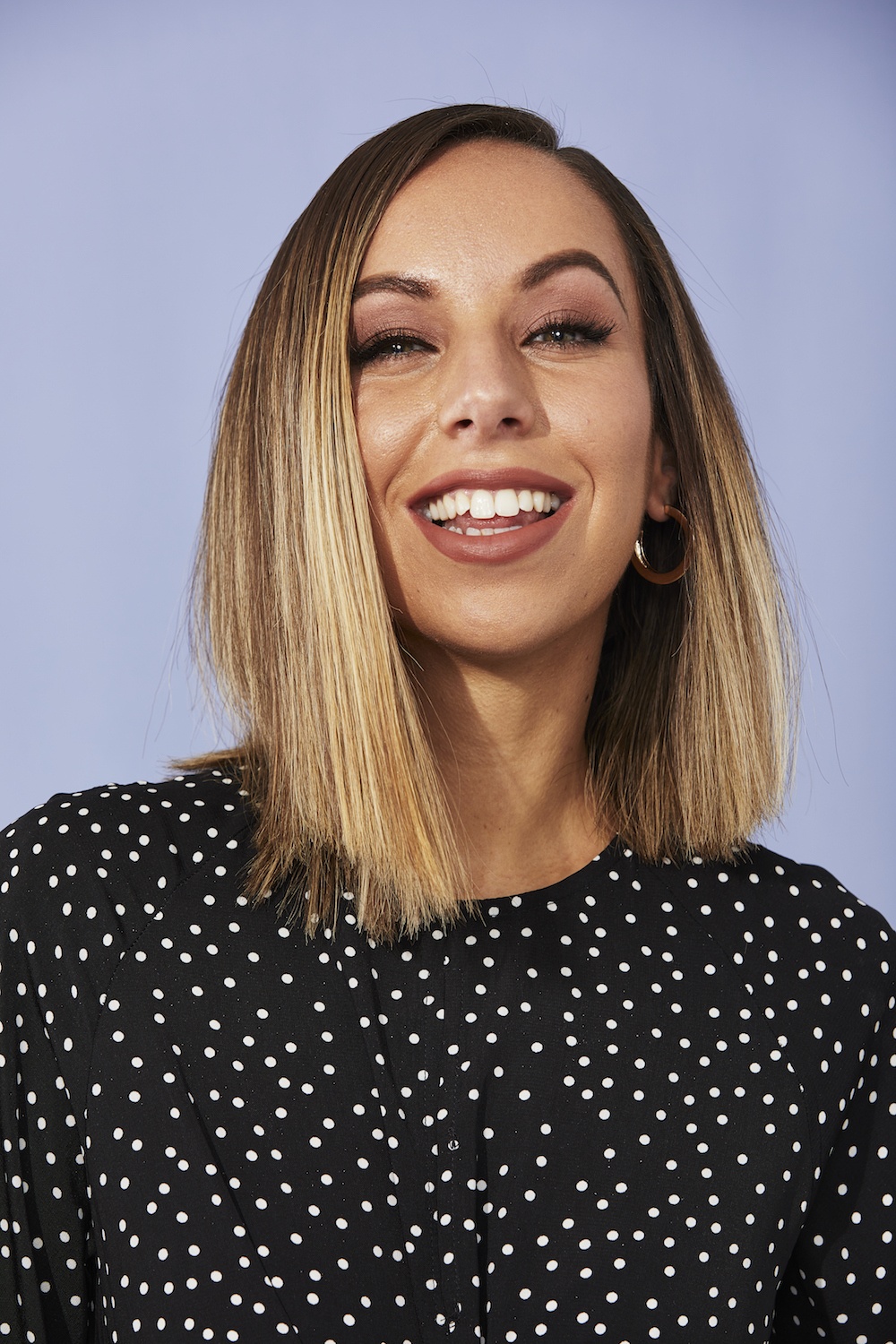 One for the books is the drippy ombré—which features blonde hair with dark roots, in a messy, low-key wave—which has been everyone's go-to for the past half-decade when approaching the short platinum blonde hair with dark roots look.
51. Chunky Short Platinum Blonde Hair with Dark Roots Bob
Cut hair to jaw length, and style with a flat iron to get that rich-girl kink in your lengths. Bend your curls in alternate directions to create this undone air-dried inspired style.
52. Tight Highlights
Take your streaks up higher, particularly near the hairline, if you want a blonder look. Super subtle roots give this a naturally blonde look. This is one of the best formulas for creating a look that's super natural!
53. Sun-Streaked
As natural as a rooty, caramel-highlighted look can get. We love how this color combination looks paired with grown-out curtain bangs and super long straight strands.
Are you thinking about trying out one of these styles? Be sure to grab a picture and tag us over @AllThingsHairUS!
Prev Article
Next Article
Gallery
Cinnamon Hair Color: The Spicy Trend Almost Anyone Can Pull Off
Scoot over, basic red: Spicy cinammon is the new 'it' color.
See article
All Things Hair on Instagram