Fall for It: Cute Highlights for Brown Hair
Warm things up with some strategic streaking: These brown hair highlights transform your regular base into a stylish, up-to-date look.
No doubt about it, we're (almost literally) knee-deep into the cold season. Which means, dear fashion-savvy friends, that 'tis the season of layering clothes, going bolder with accessories and of course, opting for head-turning color. Whether this manifests for you via some striking single-process shades or via some cute highlights for brown hair, the forecast still calls for hues that warm us up, especially as the mercury dips down. (Because it will. Sob.)
Brunettes, consider this a quick trend update on perking up that base color. And if you're anything like us, perhaps even glean some inspiration on waking up an ever-sallowing complexion via your color, because #winteriscoming and if we must hibernate, might as well hibernate in style! Scroll down for cute highlights for brown hair that turn brrr into brrr-ightening:
Fall/Winter 2017 Color Update: Cute Highlights for Brown Hair
1. Chocolate Mauve
Chocolate mauve is one of the hottest hair color trends to be making the rounds this fall, as pioneered by balayage expert Hannah Edelman of Bushwick's Brush in Hand. This look features brown hair with highlights with tints of darker pinks and purples all mixed together to create a deep mauve tone, which pops against medium browns such as chocolate and chestnut. It can also give tonal dimension to more reddish browns such as auburn and cherry-burgundies.
2. Caramel Balayage
If you're looking for quieter highlights for dark brown hair, then a super-subtle caramel balayage might be just the thing to try. Ask your stylist for painted-on highlights that are literally just around two to three tones lighter than your base—like regular sun-streaks, even. Also begin at your browbone or lower, which gives your color a sexier, naturally grown-in look (and to keep all that hard work visible through your winter beanies). It's also flattering when rendered with a slight bend and a bit of a staticky texture, which fortunately this weather brings with it in spades.
3. Ashy Gloss
There's a way to work around dark, single-process browns in the fall and winter, if you're one of those who likes a solid base but could do with a bit of dimension. A gloss treatment in a dark ash brown tone can rev up that tired, mousy brown without offering any streaks, as well as give your strands a luxurious shine. It will tone out or remove brassiness to any leftover summer highlights, giving your look an overall richer, more luscious finish that looks fresh from the salon.
4. Beigey Bronde
If you have a cooler base—espresso, mocha, café au lait, even dark ash blonde—the best highlights on brown hair to get are typically those with a beige bronde, or brown-blonde hue. Beige is a neutral that can skew warm or cool depending on your preference (Ed's note: Want something cooler? Try a khaki tone instead.), and as seen above, can definitely give the impression of fuller locks—an important bonus, especially in colder, drier months where hair tends to go flat in an instant. When this happens, a texturizing balm, like Bed Head by TIGI Joyride, can help give hair swing, body and movement.
5. Golden Blonde
Lusting for a tropical vacation? Mimic those sultry, beach-bunny streaks (at least until you can get away for real) with some strategic golden-blonde highlights in brown hair. Worn higher up on the head, these highlights are better achieved with a foil method, which lifts color lighter and more evenly than a regular balayage (plus, the better to set the color in those sections underneath as well). Cooler dark browns should go for an ashier light blonde—play with flaxen blonde hues—while warmer base browns can go for true gold or even champagne, for a slightly peachier tone. If you're looking for light brown hair with highlights, check out some khaki and honey versions as well.
Want more ideas for cute highlights for dark brown hair? Check out our fall highlights roundup for more color inspo.
Prev Article
Next Article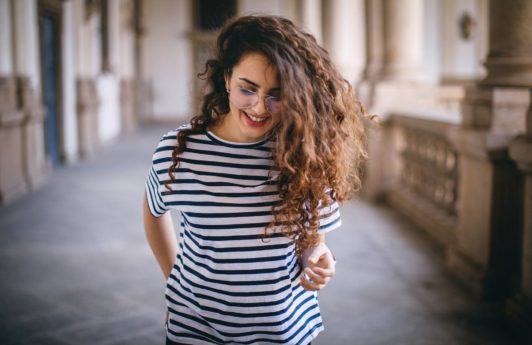 Gallery
20 Ways to Brighten Up your Dark Hair with Highlights
From subtle to striking, we've got the trendiest options for you.
See article
All Things Hair on Instagram