Balayage Hair Guide: Inspirational Color Ideas and Tips
The art of subtly lightening up.
Have you ever wondered if that blonde on the elliptical machine next to you at the gym was naturally sun-kissed, or if those caramel glints were simply a result of winning the genetic lottery? Chances are you've successfully been fooled, my friend. What you're seeing is an example of balayage hair, one of the hottest trends in highlighting to date.
With techniques like balayage, hair is painted on or highlighted freehand by a colorist—no caps, no grid-like pattern via foil. The result is a softer, "swept-on" effect, a.k.a. the most natural-looking highlights ever, in our humble opinion.
The bottom line is to have the results look as natural and as lived-in as possible, and to add dimension to an otherwise one-tone look. Since it looks so natural, the regrowth line is less noticeable and women can go longer between touch-ups. We love how it allows brunettes to enhance their hair with some blonde tones while also maintaining their brown base. We also love how it grows out beautifully without having to bother with upkeep every few months, which helps to avoid frequent salon visits. To inspire you to try out balayage, check out this collection of inspiring ways to lighten up your hair including trendy tones like rose balayage color!
14 Balayage Hair Ideas to Try
1. Balayage on Long Hair
Opting for balayage when you have long hair means that you have a large canvas to work with. This is good news because your strands will have room to transition from dark brown to a caramel tone, all the way to light almost-bleach blonde ends. This also means that the length of your hair may weigh your style down and unintentionally pull out your curls. Whether your hair is naturally curly or you've mastered the art of the curling iron, a few sprays of some hairspray will prevent that dreaded fallout and keep your curls in place.
2. Balayage on Medium-Length Hair
Medium-length hair has less room for such a full color spectrum and you are probably better off with keeping the transition a little more subtle. That means more caramel tones and less bleached ends. To avoid the brassiness that often comes with lightening brown hair, swap out your usual shampoo for the Bed Head by TIGI Dumb Blonde Purple Toning Shampoo.
3. Balayage on Short Hair
Go bold and be prepared to amp up the volume on your short hair. When you're working with a limited amount of hair, sometimes the best thing to do is to embrace the challenge and say goodbye to the very idea of subtle. Go for a quick transition from your natural color to light blonde ends as you let your curls do all the smoothing work. A pump of the Nexxus New York Salon Care Styling Mousse Plus combed through your damp hair will give you a leg up when it comes to volume and holding onto your newly colored hairstyle.
4. Bold Rose Gold Ombre
One of the best things about rose gold color is that there are a variety of tones to choose from. So, if you are growing bored with your current ombre look, know that the balayage technique can be used to achieve that striking rose gold finish. Balayage usually is suited for more natural looking highlights, but it can also be used to achieve bolder ombre look, once the right shades are selected.  If you want your hair to stand out, be sure to ask your colorist to incorporate brighter pink and peach tones into your look.
5. Multidimensional Pink Rose Gold Highlights
If your hair tends to be on the longer side, rose gold highlights can be placed throughout your tresses for a look that's totally multidimensional. To achieve this gorgeous finish, ask your colorist to include mauve, pink, and peach tones into your rose gold look. However, it's important to acknowledge that rose gold tones tend to fade fast, so maintaining your color at home is still crucial. To avoid unwanted color fade, be sure to add a good color preserving product like the Tresemmé Color Revitalize Shampoo and the TRESemmé Color Revitalize Conditioner to your hair care routine.
6. Short Rose Gold Highlights
Rose gold highlights also look stunning on shorter lengths, as flirty peach, pink, and orange tones can really give pixies, lobs, and bobs a helping hand. Again, brighter color looks can turn brassy quickly, so it's always wise to use a purple tinted shampoo to keep your strands bright and beautiful. To nip brassiness in the bud, use the Bed Head by TIGI Dumb Blonde Shampoo when you are in need of a good shampoo.
7. Natural Rose Gold Balayage
Rose gold balayage color can also look natural, especially when the root and ends of the hair are naturally blended together. To get this low-maintenance look, make sure your colorist places light pink and peach at the ends of your hair.
8. Rooted Rose Gold Balayage
Having a bit of an exposed root makes for a grungy and sexy look. If this is a style you are clearly interested in, ask your colorist to go for a sombre highlighted look, with a contrasting root as the focal point. 
9. Caramel Sombré
A light brown balayage from the mid-lengths to ends can give darker hair some movement and dimension. A warm caramel, honey or toffee hue swept around the hairline can instantly lighten up your features and even work to camouflage any facial flaws—i.e. add the illusion of width to balance out narrower or longer faces. A sombré (or subtle ombré) effect should look quieter and more smudgy, meaning there are barely any telltale color lines from where your highlights begin, as this gives a sexier, more natural result on dark hair.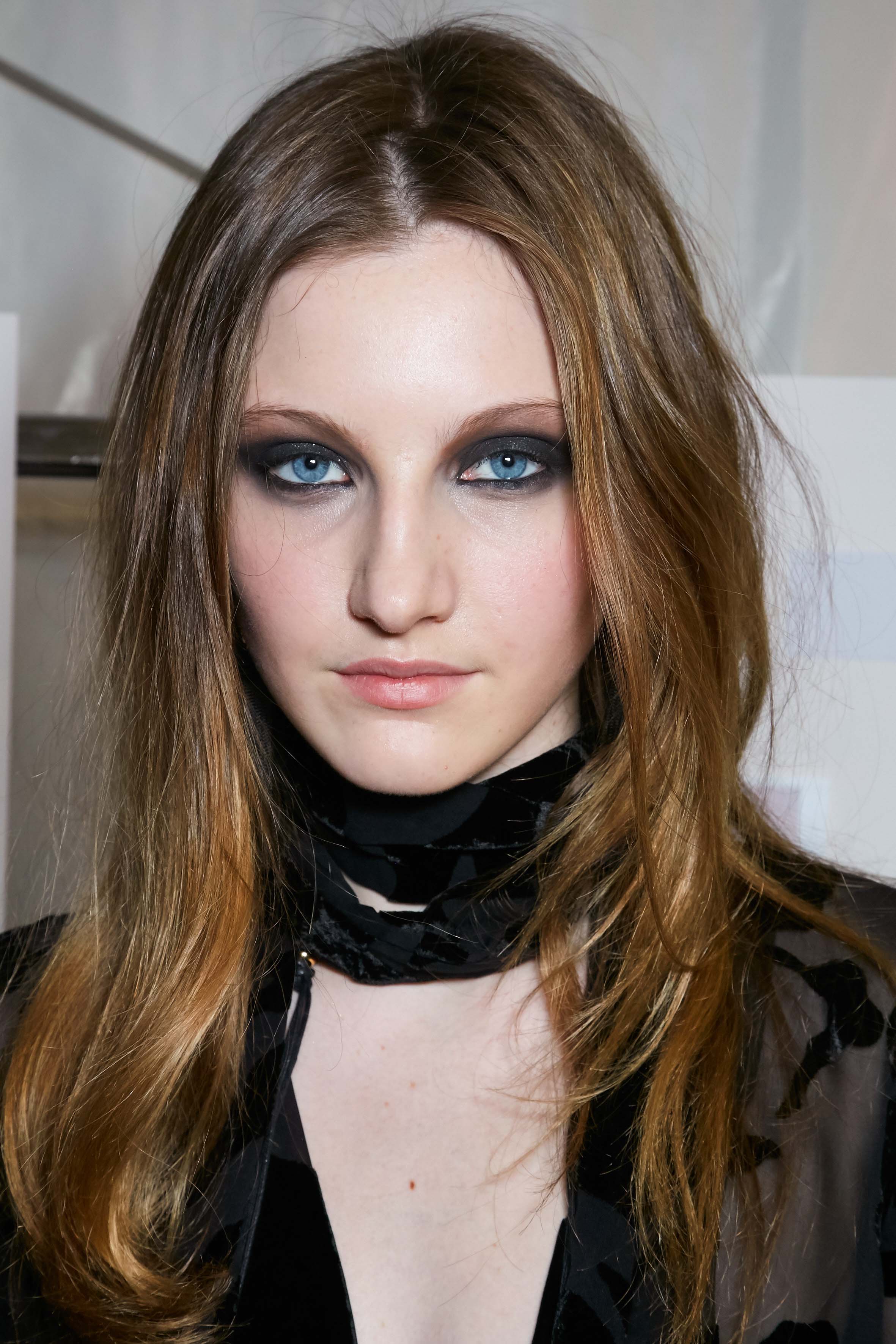 10.  Reddish Ribbons
A subtly streaky head of copper balayage hair does wonders in revitalizing brown locks. This holds especially true for warm undertoned medium-browns such as chocolate, walnut and auburn, which are complemented by the reddish tints in copper and dark strawberry. Women with peach and yellow undertones can look especially fetching with this color combo, as it enlivens their complexions and counteracts any potential sallowness in their skintone. If you've been holding on those last vestiges of that fabulous St. Barth's tan, this is also a great way to pump some warmth into your overall countenance.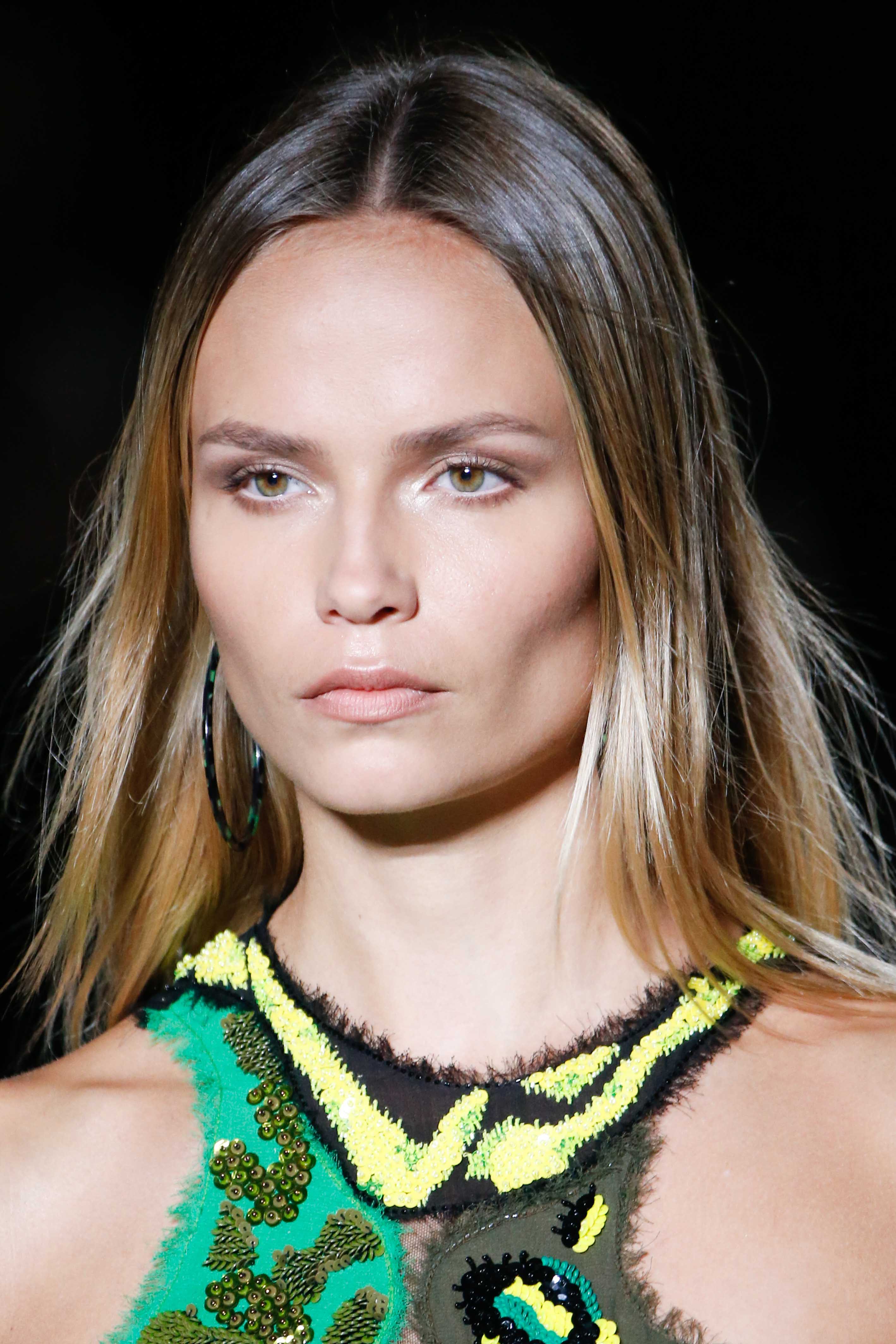 11. Beige Lengths
We didn't forget about you cool undertoned ladies out there—ash brown hair, from dark espresso to super light khaki, gets a seasonal update when upgraded with beigey highlights. It's also a classier, more seamless look for those with darker roots but are craving for blonder ends; an all-out ombré might be too harsh otherwise. This kind of balayage hair also starts tighter and closer to the scalp, but isn't exactly a halo of lightening all throughout: The trick is still keeping the overall effect natural and subtle, and perhaps further enhanced with a hair gloss treatment, which also helps to tone down any brassiness.
12. Subtle Balayage
If it's your first time getting a new hair color, consider adding just a touch of a lighter hue to your hair. Ask your stylist to add just a hint of color to your ends and a few face-framing highlights to round out the overall look.
13. Balayage and Highlight Hybrid
Sun-kissed hair isn't just for the Summer season; freshen up your look by going just a little closer to the root with this cool hair color combo. Usually, during the balayage hand painting process, your stylist applys color from the mid-shaft, down your hair. But if grown-out roots — that are extremely prominent — aren't your thing, opt for this highlighting effect instead. Ask your stylist to infuse the balayage hair technique by leaving some of your natural hair color towards the ends of your hair to create the perfect natural-looking blend.
14. Curly Hair Balayage
When deciding on adding color to naturally curly hair, be sure to inform your stylist of all the ways you plan to style your mane. If you switch up your style from time-to-time (as in wear it straight on occasion), you want your new color to complement your look no matter how you style it. To keep the look fresh and healthy all season long, don't forget to deep condition your hair weekly.
Balayage Color Ideas for your Base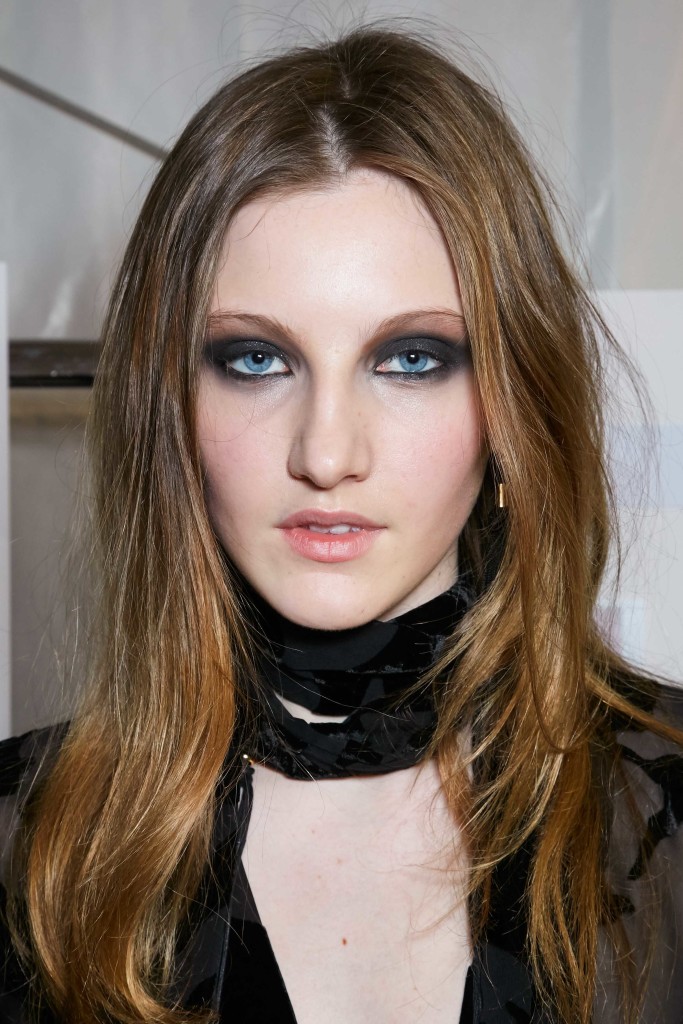 Brown Hair
Brown hair is perhaps one of the easiest to highlight, mainly because there are so many shades of brown to play with.
Cool dark brown base colors, like espresso, chocolate or dark ash brown, are complemented by highlights that have little to no yellow tone in them, such as a lighter shade of ash or a true khaki. Warmer-toned brunettes or those with those nutty-sounding base colors—I'm talking to you, walnut, toffee and mahogany—are flattered by the sugary end of the brown color spectrum, namely caramels and honeys.
Level-wise, ladies who wish to take a tamer route can ask for a sombré—the lazy-girl subset of the ombré, the former being a softer, subtler, more molten look where hair lightens somewhat gradually from the root to the tip. Dozens of celebrity brunettes have chosen this as their off-duty highlight process of choice, as it keeps them looking on-trend but like they didn't try to hard (#wokeuplikethis).
Although we recommend not going any lighter than the flecks in your natural eye color, some ladies choose this time to flirt with a very blonde shade without the commitment. If you're of this mindset, this might be a good moment to ask for a balayage ombré, where hair starts dark at the roots and is gradually lightened towards the tips, and the ends are super-saturated and/or almost completely blonde. Spoiler alert: With this method, and depending on the density of your highlights, there's a good chance you'll end up as a "bronde." Ab-fab!
Caring for your new balayage isn't as labor-intensive when you're a brunette. Plugging in a moisturizing and lower-sulfate wash and care system helps keep your highlights shiny and poppin'.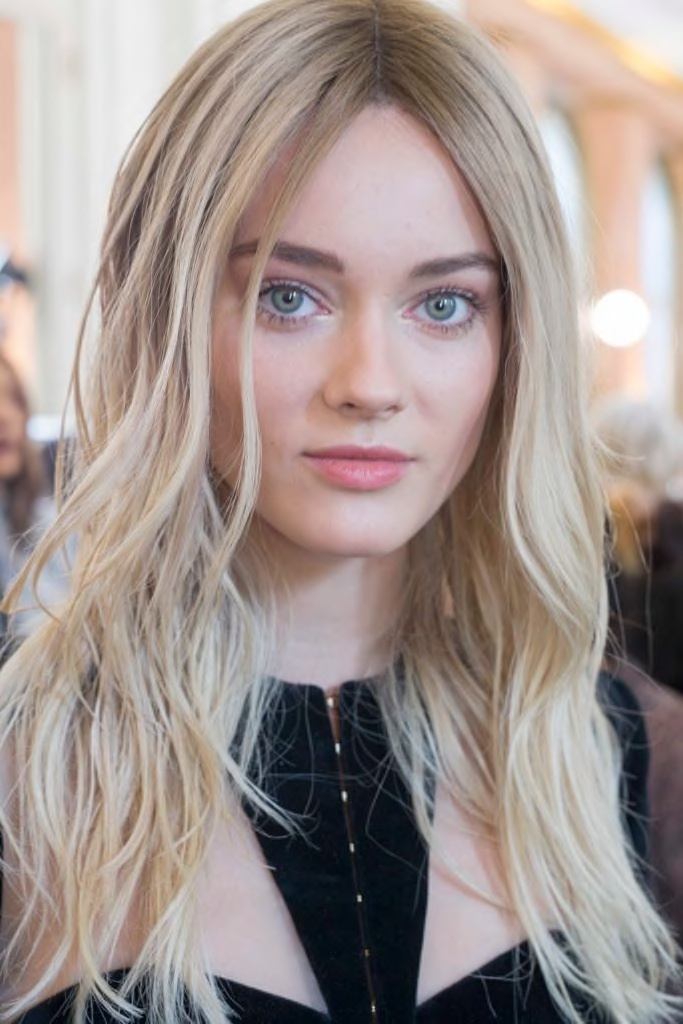 Blonde Hair
Going from light to lighter can be tricky (or, to the untrained eye, utterly useless), but the balayage hair coloring technique is key to giving depth to an otherwise boring blonde mane. Stylists can also add some darker highlights, a.k.a. lowlights, or even play with "babylights."
Babylights are another highlighting technique similar to regular highlights, but in finer sections; in the highlighting spectrum, they sit right next to balayage in terms of looking the most natural. They're called as such because they aim to mimic the natural highlights that young children get when outdoors—you know, that angelic little glint they get on the tops of their heads—and are basically for softening your darker base maybe just a shade or two higher. Brunettes have found much success with this technique since it helps lighten their base and transition their ombrés, but babylights also look really chic on blondes. They give a multi-tonal aspect to blonde hair and keep the color from looking flat. The result: very uptown.
Balayage looks best on blondes with a dirtier, or rootier base—it's not a technique that will pop on levels like platinum or white blonde. Cool blondes like light ash blonde or champagne blonde can opt for a sexy flaxen or beige balayage, which has little to no warm tones and enhances the trendy gray-green tint of your shade. The effect is an icy and very sophisticated take on blonde which ladies with pink undertones can get away with.
For the yellower, sunnier blondes—beach blonde, sandy blonde, the lighter honeys—light golden hues make the best compliment. (Not sure which blonde shade you fall under? Check out our blonde hair bible.)
Keeping your blonde highlights bright is easier once you have a toning product in your arsenal, such as a purple shampoo or spray. Use once or twice a week in lieu of regular shampoo, or as you deem necessary, whenever your locks are looking brassy.
Red Hair
Balayage can also enhance and enrich red hair, and a good rule of thumb is to play within the same color family. Cool blue-reds, scarlets and wines look most natural with balayage in the strawberry family, while warmer orange-reds get the most out of copper or ginger highlights. Brownish reds like auburn and burgundy can actually work with dark brown hair as they deliver a truly unique look.
A tiny caveat: As you probably know by now, red is notoriously fade-prone, and balayage highlights are no exception. Want to keep your glorious red highlights looking as fresh as the day you got them? Investing in a pre-poo spray like Nexxus New York Salon Care Color Assure Pre-Wash Primer can help your shade from losing its luster—it helps repel water and lock in color.
Hair Balayage: What To Remember
1. It will give a more natural look.
Unlike foils, which can saturate—and, essentially, lighten—hair from root to tip if desired, balayage leaves the roots untouched, for the most part. This means you'll end up with a hair color that gets progressively lighter towards the ends, and with less of an ashier tone.
2. Stylists have more control over foil.
It goes without saying that you should book an appointment with a stylist you trust. That said, foil still gives most stylist a lot more control over the end result than with freehand highlighting. With balayage, your stylist tackles your highlights in a more organic manner (just a brush and a trained eye), and results can vary for person to person—which is a great thing if you're into a highly personalized (a.k.a. bespoke) dye job.
3. Balayage is awesome if you're lazy.
Okay, maybe lazy is a harsh word… low on the upkeep, perhaps? Since it's definitively looser and rootier up top, a balayage process can be left to grow out for up to four months—or even longer, if you're going for the ombré look—and still look somewhat fresh.
4. How you do your hair matters.
There's a reason why balayage models are oftentimes photographed with wavy or curly hair—ringlets and waves are more forgiving on freehand color, and help highlights look more blended in. If you wear your hair straight, any telltale seams are more obvious, so make sure your stylist properly "smudges" the ends (some even backcomb while applying the dye), so there isn't a clear demarcation.
5. Be conservative with lightening.
Since balayage hair color naturally lightens and doesn't use foils to allow the color to set or "cook," there's a limit to how light you can get in one sitting. If you're starting with a dark base and want to go really pale and ashy, you'll need to either get a single-process color first and then progressively lighten via balayage, or stick to foils for a more consistent allover brightening.
Looking for more balayage hair color inspiration? Check out how to wear balayage dark hair.
Prev Article
Next Article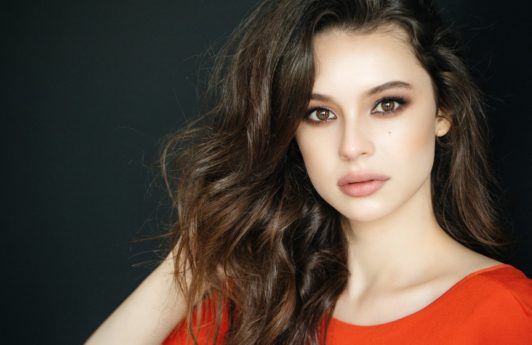 Article
Summer's Dark Horse: Dark Chocolate Hair
We give props to the Great American Brunette.
See article
All Things Hair on Instagram