Braided Updo: 15 Trendy Hairstyles to Try for Work
Looking for some cool updos with braids? Get inspired by this collection of modern and easy updos that you can rock at work.
It's no secret that braided updos are having a major moment right now on the red carpet, the runways, and amongst the street style set. However, many of these intricate and gorgeous styles fall either on the off-duty or on the formal end of the spectrum, but that doesn't mean there isn't a braided updo that's fun and office-friendly. Many of these styles can be worn throughout the week, making them perfect for when you're running late and don't have time to configure your hair!
From milkmaid braids to box braid updos to braid buns, we've rounded 12 stylish updo braids for you to try this week at work. And they're all easy braided updos, too. Score!
Braided Updo: Best Updos for Work
Looking for new ways to incorporate braids into your updos? Check out our favorite styles below.
1. Cornrow Bun
These flat intertwined braids are chic and professional that looks great when worked into a bun. No need to re-style your hair daily with this hairdo, and it's so easy to care for on a day-to-day basis. This style can last you up to two weeks before having to create another 'do. This is perfect for textured hair since the braids tend to stay in place longer with this texture, but this style can be done or worn on any hair type. If you're seeking a style that you don't have to worry about styling every day, this one's for you.
2. Milkmaid Braids
The milkmaid braid updo is a great transitional hairstyle that is appropriate for work, ideal for your lunch break workout, or even for after-work cocktails. milkmaid braids are transitional and give a slight boho vibe—you're literally conquering your day with just one hairstyle. We love this as the perfect style for the #girlboss on-the-go who wants to look put together and stylish at all times.
3. French Roll-Inspired Updo
This is a stylish updo that will have your co-workers asking who did your hair. Braids beautifully coiffed into a French roll look vintage, yet modern. This braided variation can be done on any hair type or texture that can be personalized with your own touch consisting of skinny to thick braids or cornrow to single-plait braids.
4. Braided Chignon
This style involves a slicked-back ponytail with an intricate plait with the ends tucked into a neat chignon. Opt for this style when it's time to get down to business during an important presentation or for a professional working lunch. You'll look classy and stylish and you won't have to think about your hair or its upkeep all day long.  
5. Box-Braided Bun
A set of single braids pulled up and styled into a bun is a nice and pretty option for work. This updo is rather easy to maintain throughout the week and you don't have to do anything to maintain it at night. Bonus: You'll be able to sleep in your bun! If you're currently or aiming to transition back to natural hair and are at a loss for protective hairstyle ideas, you should definitely check this one out. Whether you work in an office or a coffee shop, this style is ideal for you.
6. French Braided Bun
This style, which consists of two French braids that lead down into a low ponytail, is a fun and modern look that's also appropriate for the office. If you fancy a more corporate angle to your braided updo styles, tease your hair at the ends a bit before tucking or twirling them into a bun.
7. Braided Messy Bun
We will forever be a fan of the messy bun for its utter effortlessness without sacrificing style. When you add a braid to the mix, we're swooning even more. To get this look, start by spritzing some leave-in detangler into your hair like Suave Professionals Cream Detangler Spray. Then, braid at the top of your head and weave back to the crown in a french-braid fashion. Once you reach the crown, stop including more hair and braid what you have to the ends. In one fell swoop, sweep the rest of your hair into your desired messy bun and fasten with a hair tie. Next, spin the braid around the base of your bun and fasten with some bobby pins. Voila! Messy perfection.
8. Braided Double Headband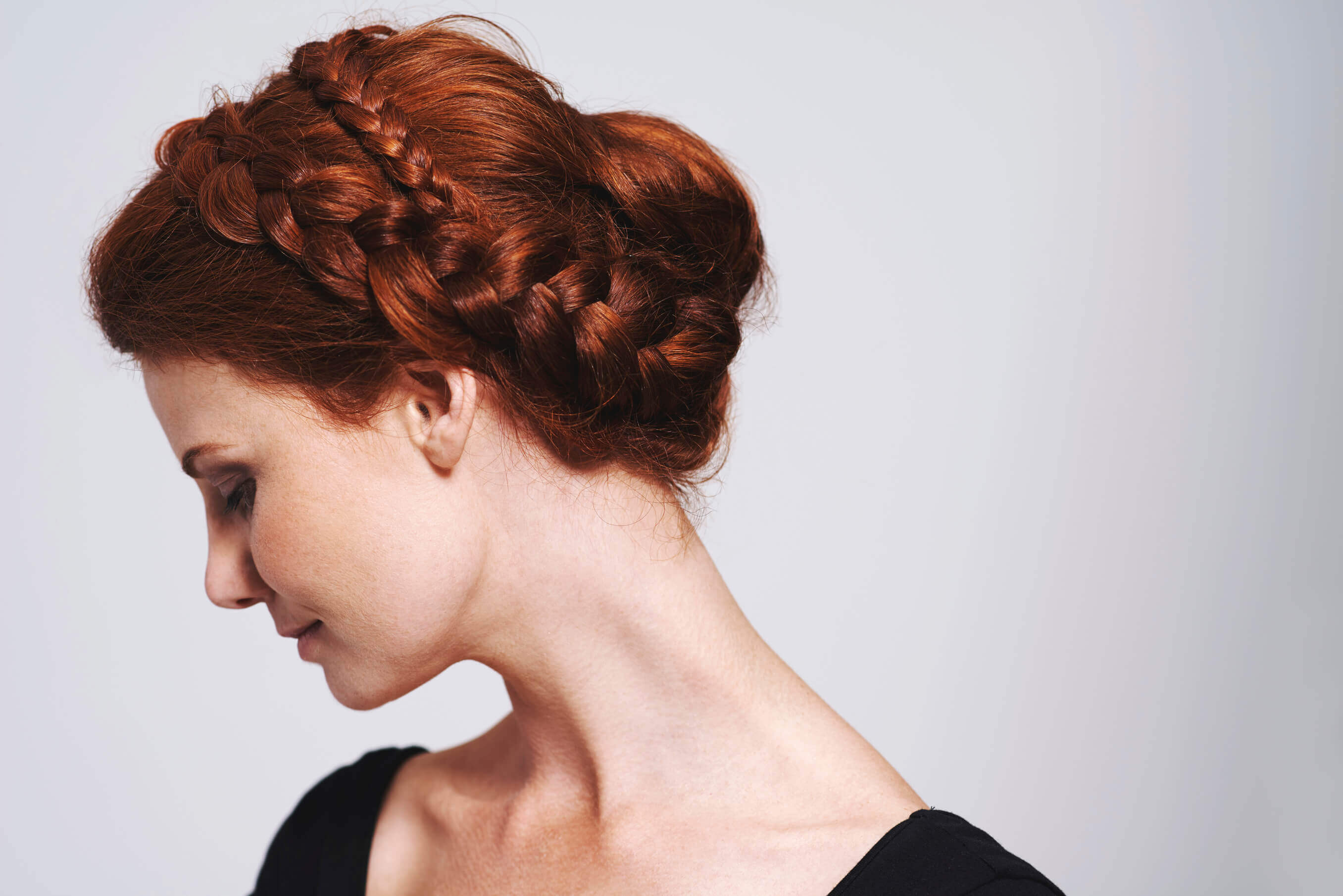 Why wear a stiff plastic headband when you can weave one out of your own hair without the discomfort? When you go a step further with a double braided headband you have the option of incorporating multiple styles of braids into one gorgeous look. And you know how we feel about braids: #YesPlease.
To add crazy shine to make your dual braids even more eye-catching, use some of the TRESemmé Keratin Smooth Serum that'll help you say goodbye to pesky flyways and hello to a flawless glossed look.
9. Upside Down Inverted Braid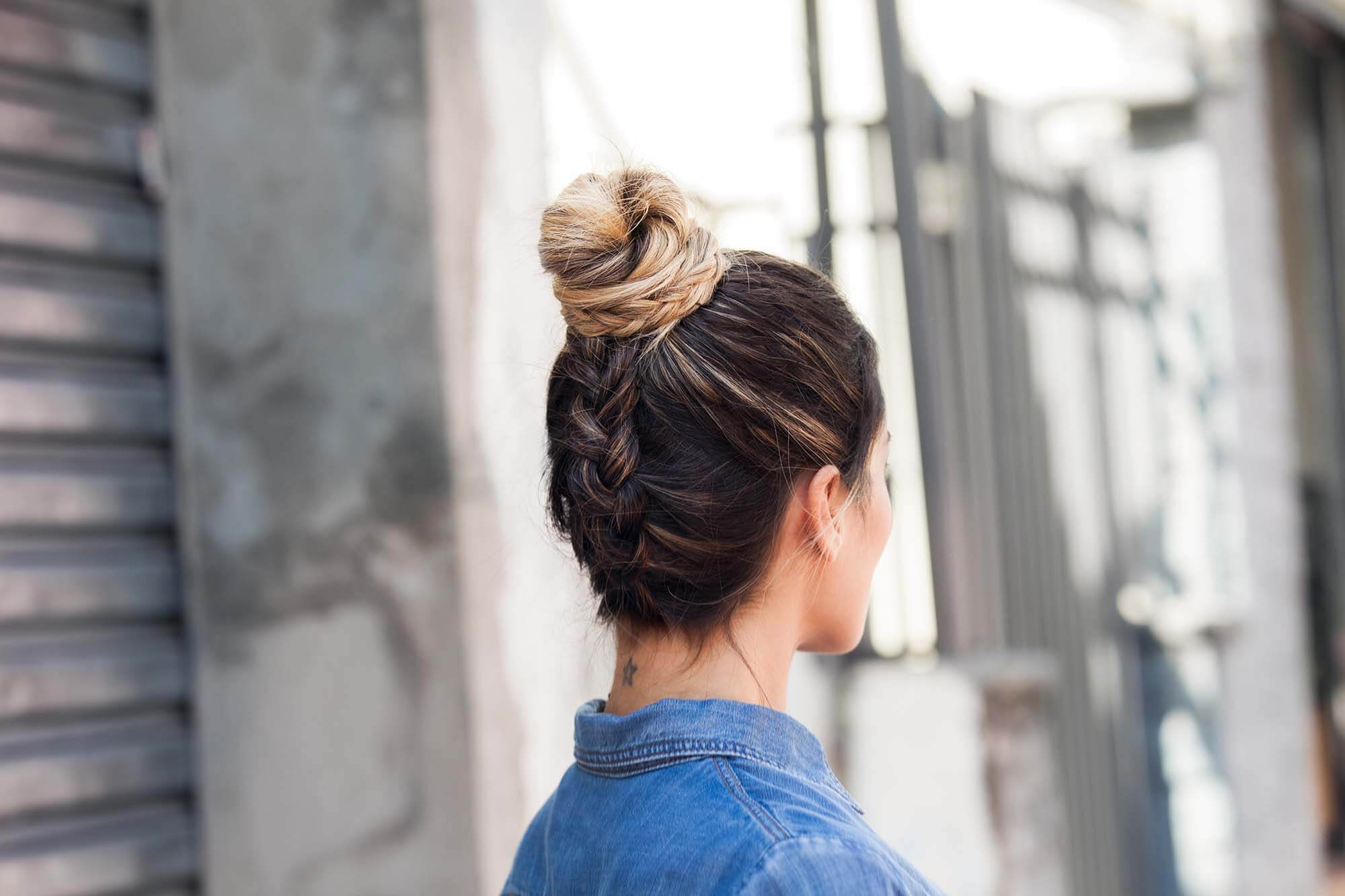 If you want to give your work updo to be a bit more texture, why not try out a cool inverted braid! When braiding your hair, simply weave under instead of over. And if you really want to go crazy, flip it upside down for a "how did she do that?" look that's sure to turn heads. Top it off with a ponytail or bun to keep the coast clear for all eyes to be on your braid.
10. Double Braided Updo Chignon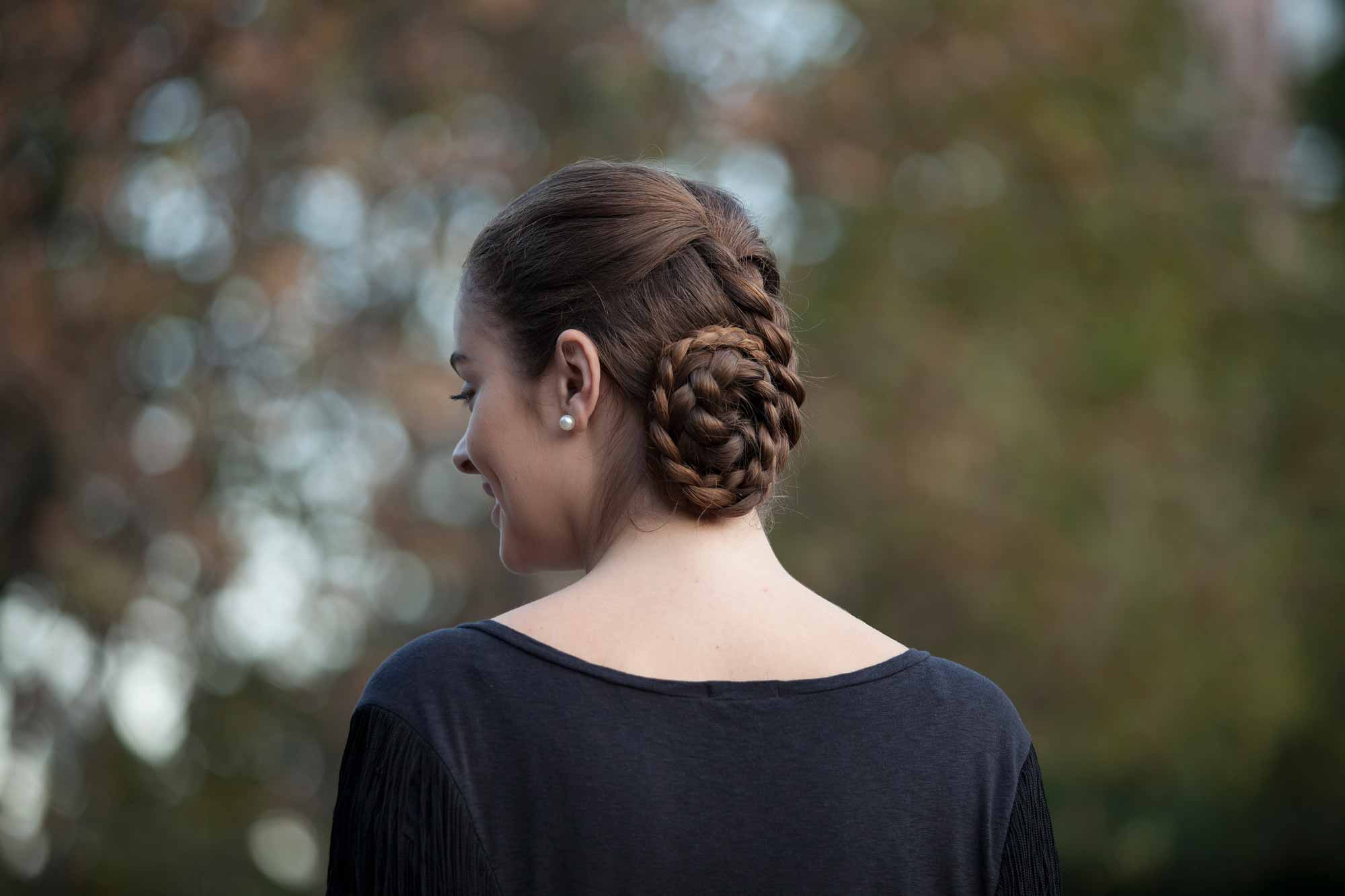 Looking for a flatter version of a bun? Try out the chic braided updo chignon that's two braids intermixed and layered together to create this chic new style. Be sure to check out our full hair tutorial on how to master the double braid chignon where you'll also discover key steps and products that'll help you master this look.
11. Side-Swept Fishtail Bun
Asymmetry can be a good thing, especially when paired with one of our faves: a fishtail. Fishtail braids have a certain allure to them due to the notion that they're super difficult to create. Here's the kicker though: they're not. Simply split your hair into two sections take a piece from the outside of the left section and add it to the right. Continue this pattern from side to side, back and forth until you reach the tail end of your braid. Once you've fastened your braid with a small elastic, twist it into a bun and secure it with a traditional natural-colored hair tie and a couple of bobby pins. To ensure that your look stays dazzling all day long, use some of the TRESemmé TRES Two Extra Hold Hairspray.
12. Twisted Braid Bun
In a rush without the time to weave a braid? Take a section from each side of your head and twist them back towards the crown. Gather both twists and the remainder of your hair and twist away until your disheveled bun is just the way you like. Talk about simple, not to mention totally trendy.
13. Half-Updo Box Braids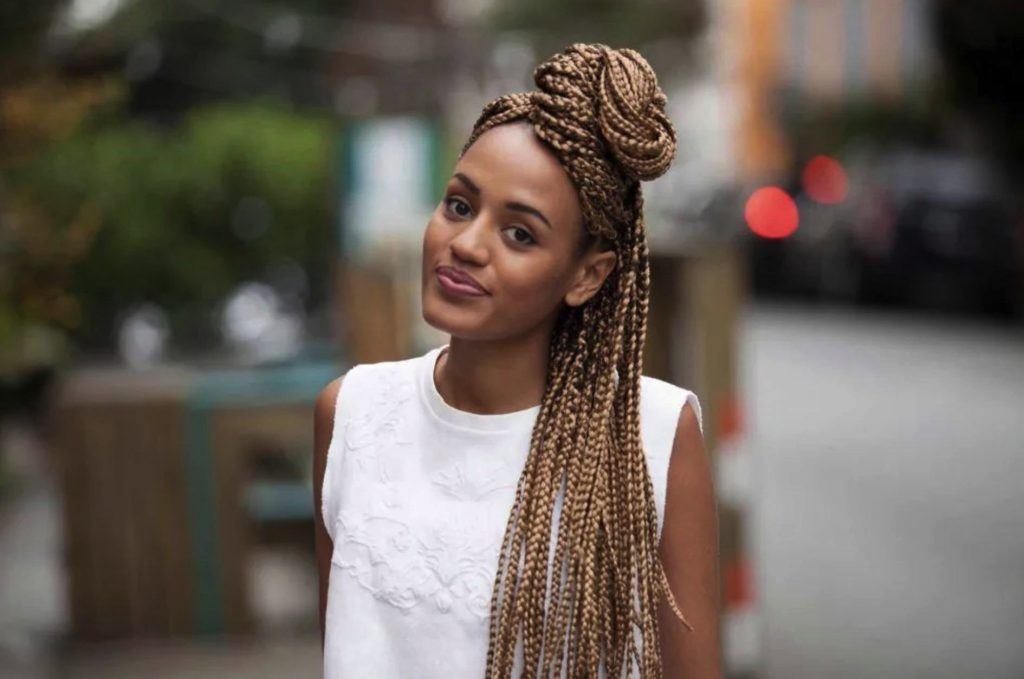 If don't feel like wearing all of your hair up, but want to keep some of your braids out of your face, this half-updo is the perfect compromise. We love how the box braids add extra interest to the bun.
14. Braided Headband
A braided headband style is an elegant updo that can be worn more formally or casually since it can have a boho look to it. When creating this updo, leave out shorter pieces of hair to frame your face.
15. Diagonal French Braid
We love french braids, but it's always fun to change up a style you typically do. Just by switching the braid to run diagonally across your head, you can bring a whole new life into the style. gather the remaining hair into a bun at the base of your neck.
Whether you're trying a new updo with box braids or a french braided style, there are many ways you can wear a braided updo.
Prev Article
Next Article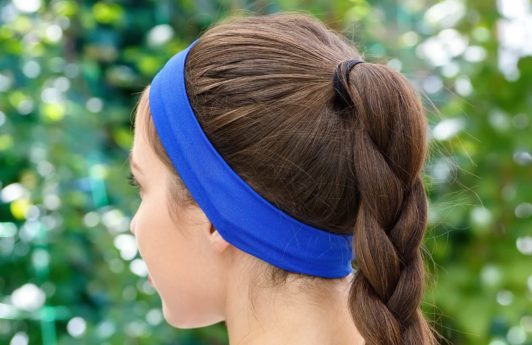 Tutorial
Gym Hairstyles: How to Create a Braided Ponytail
Break a sweat as you wear this ponytail braid to the gym and beyond.
See article
All Things Hair on Instagram